JOIN THE COMMUNITY AND SHOW OFF YOUR PASSIONS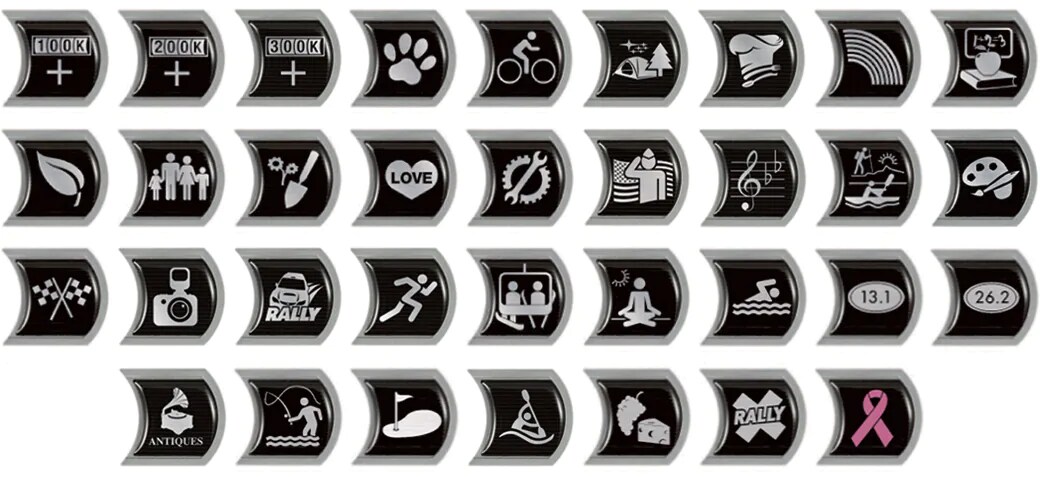 When you own a Subaru, you join a community of owners who are passionate about the things they love most. At Vic Bailey Subaru, we help match you with reliable vehicles that fit your lifestyle and support your interests. Outdoor enthusiasts love Subaru vehicles for their reliability and standard Subaru all-wheel-drive for go-anywhere capability that allows them the freedom to pursue any adventure. Families love Subaru vehicles for their high safety standards and flexibility to fit the whole family and all of their cargo. Pet lovers have plenty of help with their furry loved ones with tailored cabin solutions to keep them comfortable and safe so they can go along for the ride.
No matter your passions, there is a Subaru vehicle for any driver. Whether you are purchasing your first Subaru or your tenth, you can order your personalized badge of ownership absolutely free. Join the community of Subaru lovers and see which passions you share with custom lifestyle badges. The badge of ownership is a great way to spark conversations and hearts when you are out on the road and come across other Subaru enthusiasts.
HOW THE SUBARU BADGE WORKS
The Subaru Badge of Ownership is a high-quality metallic adhesive decal that can be displayed on the body of your Subaru. Most owners place it on the back of their vehicle under the model name badging. The first part of the badge is your Loyalty Number, which represents the number of Subaru vehicles you have owned. The next part of the badge is a series of Lifestyle Icons which express your interests or hobbies. You can choose any number of icons up to six from a selection of 30. Choose from your most important causes, like the pink ribbon for Breast Cancer Awareness, or other passions like the Environment, Parks, or Education. You could also show off your hobbies with icons for outdoor sports, yoga, photography, camping, and more! With 30 icons to choose from, we hope that you can capture what makes you uniquely you.
ORDER YOUR OWNERSHIP ICONS AT 
VIC BAILEY SUBARU
Ordering your personal Subaru Badge of Ownership is easy! Our team at Vic Bailey Subaru can help you with the ordering process, or you can use the online badge-building tool on the Subaru website. Either way, your Ownership Badge is absolutely free. When you receive your Ownership Badge, our team can help you place it proudly on your Subaru vehicle. Stop by or ask our team if you have any questions about placing an order. We are here to help!
HOW CAN WE HELP?
* Indicates a required field