The 2021 Subaru Love Promise Customer and Community Commitment Award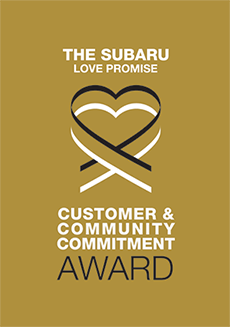 We've been nationally recognized for our dedication to our customers, our community, and the Subaru Love Promise.
We're honored to receive the 2021 Subaru Love Promise Customer and Community Commitment Award. This award nationally recognizes elite Subaru retailers who provide an exceptional customer experience at every interaction with Subaru. These retailers have also demonstrated an outstanding commitment to supporting passions and causes in their local communities in important areas such as the environment, community, health, education, and pets.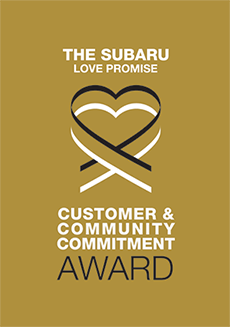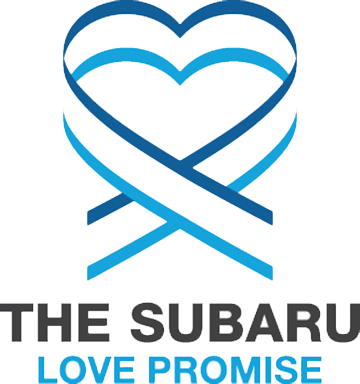 What is the Subaru Love Promise?
Subaru and our retailers believe in making the world a better place and the Subaru Love Promise is our vision of respecting all people. This is our commitment to show love and respect to our customers and to work to make a positive impact in the world.
How is Vic Bailey Subaru dedicated locally to the Love Promise?
The Vic Bailey Subaru Love Promise can be seen in our various partnerships with local charities and non-profits, such as, Mobile Meals of Spartanburg, Partners for Active Living, Healthy Smiles, Make-A-Wish South Carolina, and more! We are passionate about serving our local community.
Spartanburg Humane Society, Hub City Animal Project
SPACE, TerraCycle Partnership with SDS
Mary H. Wright Elementary
Mobile Meals of Spartanburg, United Way of the Piedmont, Spartanburg Area Chamber of Commerce
Spartanburg Regional Foundation, Partners for Active Living, Healthy Smiles
Love Promise Stories from Vic Bailey Subaru
Subaru and Vic Bailey Subaru believe in making a positive impact on the communities in which we live and work. We uphold that belief through our Love Promise Community Commitment. Every month, we select inspiring stories from customers and partners from around our area who strive to support our collective commitment and feature them here
Vic Bailey Subaru Shares the Love Through Smiles - Kathleen C
In a year that the world stood still. Uncertainty overwhelmed many. Many families had to rethink finances and many times health care was put to the side. During the pandemic it was even more important than ever to protect and take care of ourselves and proper oral hygiene is high on the list. Super-hero and past chairman of Healthy Smiles of Spartanburg, Vic Bailey, IV, through the Subaru Love Promise, committed to continuously serve the children of our community with sponsoring our first ever Smile-A-Thon (telethon). Vic Bailey Subaru's $10,000 sponsorship inspired others to help leverage $137,117 towards Healthy Smiles dental programs. Funding gave 580 low-income, uninsured children smiles during a pandemic by providing much needed dental care; over 32,114 children were encouraged to improve their oral health by receiving the proper tools (toothbrush, toothpaste, dental floss, and mouthwash) grab bags at school and community events; 58,480 children and families learned about proper oral health and what it means to your overall health through Healthy Smiles outreach program. Vic Bailey and his family didn't stop there, no sir, the miles and miles of heart this family possesses hosted the most fun interactive toothpaste drive https://www.vicbaileysubaru.com/smile-drive.htm. The creative staff created "Mr. Tooth" for perspective customers, vendors, and staff the opportunity to provide low-income families with toothpaste. The grace and compassion the Bailey family and their staff provide to our community impacts the lives of so many families in so many positive measurable ways. THANK YOU Vic Bailey Subaru for sharing the LOVE.
---
Flowcoaster Addition to VBS Bike Park - Emi B
Since the opening of the Vic Bailey Subaru Bike Park at the Rail Yard, many community members have voiced their support and their enthusiasm to have a new recreation destination. This would not have been possible without the help of Vic Bailey Subaru. In late May, Vic Bailey Subaru offered their support, once again, as we added a new kid-friendly track to the bike park. The flowcoaster will allow younger kids to use the bike park as they develop their bike riding skills. Leslie Bailey Calicutt and Emily Weaver helped us by providing snacks and water for our volunteers who helped make this new addition possible. Thank you Vic Bailey Subaru for your continued support and helping make Spartanburg a healthier, more active community.
---
TerraCycle Success! - Bonnie W
For the past two years Spartanburg Day School has partnered with Vic Bailey Subaru to divert snack wrappers from the landfill through the TerraCycling Program. Subaru generously pays the $50 shipping fee for each box of snack wrappers we collect. We have returned at least 10 full boxes to TerraCycle, recycling thousands of snack wrappers in the past two years. Recently, Subaru donated a beautiful Adirondack chair made from TerraCycle snack wrappers to our school. Given the amount of time we have spent outdoors this year, we are especially grateful for this new addition to our campus! We look forward to continuing our partnership with Vic Bailey Subaru next year.
---
Sharing the Love by Feeding Seniors - Susan S
Vic Bailey Subaru is a remarkably dedicated and involved dealership in Spartanburg, South Carolina. This dealership and their associates continue to have a tremendous impact in the lives of those Mobile Meals serves daily meals. Each week Vic Bailey Subaru's family and staff delivers nutritious meals to the frail and homebound seniors in Spartanburg. The work this dealership does exemplifies their sincere compassion for others and a dedication to the community in which we all live. Our community is enriched by the actions of the Vic Bailey Subaru dealership by way of time and resources. Vic Bailey Subaru and the Bailey family works tirelessly to help us reach our financial goals and they serve others with compassion. The dealership's owner, Vic Bailey, III is currently serving on our Circle of Friends Advisory Council and delivers meals with his family members. His son, Vic Bailey, IV is currently serving on the Board of Directors, he serves on the Board's Governance Committee and delivers meals. He recently spent time assisting with our largest fundraiser and spoke about the joy in helping with the large fund raiser. Leslie Bailey Callicutt and Neely Bailey Darr, daughters of Mr. Bailey have delivered meals for years and continue to make serving others a priority. Leslie is a past Mobile Meals Board member and event chair. Vic Bailey Subaru shares the love wherever they go! We are grateful for their unwavering commitment to fed 1200 seniors each weekday through Mobile Meals of Spartanburg.
---
Vic Bailey Subaru Enhances Community Trail - Lamar B
Partnering with Vic bailey Subaru for the construction of the Vic Bailey Subaru Bike Park in Spartanburg, South Carolina was such a BLAST!! My name is Lamar Baehr and I am a volunteer board member with the Coalition for Active Youth. Our organization supports community and alternative outdoor recreation for youth. Our projects include the Hot Spot Skate Park, the Rail Tail Dog Park, and the Vic Bailey Subaru Bike Park. Having a major donor and partner like Vic Bailey Subaru is critical to a major project. The team at Vic Bailey Subaru is thoroughly ensconced, emotionally and financially, in the Spartanburg community. When the Rail Tail Dog Park opened years ago, they were there cheering the community on and giving out pet accessories. Vic Bailey Subaru was engaged, helpful and easy to work with during the bike park project – genuinely interested is the best description! They generously donated $25,000 to the project. And, even after the Bike Park was completed, Vic Bailey Subaru is at it again, working with businesses around the Mary Black Rail Trail to expand community recycling efforts with TerraCycle. TerraCycle takes items that are normally hard-to-recycle, such as k-cups, disposable cups and lids, snack wrappers and turns them into quality items - park benches, bike racks, etc. After the recycling is well underway, Vic Bailey Subaru will gift the bike park with a TerraCycle bike rack which costs about $1,400. Again, THANK YOU to Vic Bailey Subaru for trusting the Coalition for Active Youth and Partners for Active Living in this wonderful project It looks great and it rides great!!!
---
Sharing the Love with SCC - Mark S
Training future automotive technicians is tough job. The technology is ever-changing and equipment is expensive, which makes the need to keep new products and technology in front of students especially challenging. Fortunately, the Automotive Department at Spartanburg Community College has support from local dealerships like Spartanburg's Bailey family, who have been instrumental in beginning and maintaining the SCC's automotive program. Vic Bailey Subaru recently donated two continuously variable transmissions for use in automotive classrooms, providing students real-world equipment on which to learn. In addition to this generous donation, Vic Bailey Subaru also provides students with cooperative work experience opportunities, allowing them to work with experienced technicians in an apprenticeship learning environment. This hands-on experience, along with an education and training from SCC, is crucial for the development of skills required of today's technicians. The dealership's support doesn't end in the classroom. In fact, after graduating from SCC, many automotive technician students receive full time positions with Vic Bailey Automotive, that include competitive pay and world-class training opportunities. Given the current shortage of automotive technicians across the United States, SCC students are fortunate to receive opportunities while in college and post-graduation. However, to ensure that this talent pipeline continues, even more partnerships between education and industry are needed to continue filling this auto industry gap. Spartanburg Community College is fortunate to have supportive partners like Vic Bailey Subaru, working alongside our faculty and administration to ensure the education of future generations of automotive technician continues.
---
Sharing the Love with Kindergarten Students - Leslie C
After connecting with Mary H. Wright Elementary from years of donating the award-winning science books to the school and reading to classes during Subaru Loves Learning month, Vic Bailey Subaru decided to adopt a kindergarten class at the school. The dealership staff members have the best time planning holidays parties for the class which include food, drinks, and activities. Due to COVID-19, the dealership currently creates a "Party in a Box" for each occasion and drops it off at the school. The Valentine's Day Party included chocolate hearts, pretzels shaped like Xs and Os, pink and red M&Ms, cherry-flavored water, fruit snacks, Valentine's craft kits, and heart-shaped plates and napkins. Because of the generosity of Vic Bailey Subaru, these kindergarten students are able to feel the love all year long!
---
Vic Bailey Subaru's Love Promise to Spartanburg - Susan S
The Vic Bailey dealership exemplifies the pledge made through Subaru's Love Promise! Their caring, tireless efforts to assist seniors and their willingness to improve lives in our community continues to be remarkable. Mobile Meals of Spartanburg is grateful for Vic Bailey Subaru's sincere kindness and unwavering support. They always go above and beyond to help our community. We have had the pleasure of Vic Bailey Subaru dealership's involvement at Mobile Meals for many years. The family owned business and their associates continue to support Mobile Meals' mission to feed the frail and homebound throughout Spartanburg County. We are grateful to have the dealership's owners support us for three generations; the dealership's founder Vollie Bailey, his son, Vic Bailey, III, and grandson, Vic Bailey IV and granddaughters Leslie Bailey Callicutt and Neely Bailey Darr who supports Mobile Meals in various ways. Vic Bailey, IV is currently on Mobile Meals Board of Directors and Vic Bailey, III is on our Council of Friend Advisory Board. The Bailey family and associates help by volunteering to deliver meals to the home of meal recipients each week. Vic Bailey Subaru sponsored the Hog Fest fundraiser event in 2020 benefiting Mobile Meals. Although, the event had to be cancelled due to the COVID pandemic. Vic Bailey Subaru's leadership realized our nonprofit depends on donations and we still needed funding. Mobile Meals of Spartanburg has continued to serve 1300 frail and homebound meal recipients throughout this unfortunate time in our community. Mobile Meals and Vic Bailey Subaru share a heart for assisting seniors in Spartanburg, South Carolina. We are grateful for their willingness to join us in making a difference for seniors in the community where we live!
---
Thanks for Sharing the Love to Grant Wishes - Kea W
When we share love, we change lives. That's why the Subaru Share the Love event means so much to our mission. Make-A-Wish South Carolina creates life-changing wishes for children with critical illnesses. We are beyond grateful for the continued support from the Vic Bailey Subaru team and the 2020 Share the Love event. Thank you for helping make wishes like Arletta's wish "to have a service dog" come true during the Share the Love event! Right now, in this world of uncertainty when many travel wishes have had to be delayed, the team at Vic Bailey Subaru continues to be a bright star for local wish kids - bringing renewed hope and joy to children, families and communities when they need it most!
---
Run for Her Girls on the Run Virtual 5K - Mary Ann C
Girls on the Run® Upstate SC's mission is to inspire girls to be joyful, healthy and confident. During the course of the Girls on the Run program girls grow both physically and emotionally to prepare for completing a 5K event. The organization was not able to come together in a traditional large gathering for the end of season 5K last fall. Instead, Girls on the Run held a virtual end of season 5K, named "Run for Her". This event created the opportunity for the Upstate Community to join the Girls on the Run Virtual 5K and stand with girls by setting a goal, getting active, and having fun. Vic Bailey Subaru provided our organization faithful support and encouragement for the "Run for Her" Virtual 5K. When the Girls on the Run community came together on social networks Vic Bailey was there! The company created a video of the strong women of Vic Bailey Subaru supporting the girls in our organization. The Vic Bailey partnership provided critical resources for Girls on the Run Upstate SC to continue to deliver on its mission of empowering girls to reach their limitless potential during this difficult time.
---
Helping Kindergartners Celebrate - Moira S
The teachers and staff at Mary H. Wright Elementary could not be more thankful for the wonderful team at Vic Bailey Subaru! In a partnership with The Episcopal Church of the Advent, we seek volunteers from the community to sponsor individual classrooms and provide party supplies and other incentives for special celebrations and class activities. Last year, we were short of volunteers and had a kindergarten class without a sponsor. The team at Vic Bailey Subaru stepped up without hesitation and offered to adopt this sweet classroom. To say they have gone above and beyond is an understatement! For each class party, they have provided decorations, treats, and gifts for the students. But they have done more than just donate these items, they have come to school and led the students in games, holiday stories, and other good fun, ensuring a special day and memorable experience for each kindergartner! Many of these children do not often have the opportunity to engage in these kinds of activities and to feel loved and celebrated. Vic Bailey Subaru has made sure that these little ones feel the love! Class parties have looked a little different this year due to the pandemic, but the Vic Bailey team continues to come through for the Mary H. Wright students! They have provided a class "party in a box" to be sure that the students are still able to celebrate and be celebrated for the holidays! This love has meant more than ever this year! We are incredibly grateful for the opportunity to work with Vic Bailey Subaru and to witness firsthand the positive impact they have on the Spartanburg community!
---
Vic Bailey Helps the Homeless! - Kelly S
The Haven is committed to helping the homeless in our community survive and thrive. This time of year is especially hard with the temperatures dropping and our vulnerable citizens trying to stay warm. We put out a call to the community every year asking for donations of blankets to give out to the homeless. This year, Vic Bailey Subaru answered the call! They donated 80 warm blankets for the homeless. That Saturday, our Outreach team gave away every single blanket. These individuals were so grateful to get a nice blanket to keep them warm. Thank you Subaru!
---
Service Dog and "Fur-ever Friend" Wish Granted - Kea W
To kick off the Share the Love campaign, Make-A-Wish South Carolina partnered with Vic Bailey Subaru to host a wish-granting celebration for Upstate wish kid, Arletta and present her with her new service dog, Stacy. For 9-year-old Arletta, who suffers from severe seizures due to her nervous system disorder, her chocolate lab will not just provide her with companionship but Stacy is also trained to alert the family of oncoming seizures and help lower Arletta's anxiety about her illness. This wish will be life-changing for the family and bring her lots of irreplaceable comfort through difficult days. The comfort and joy of a wish can help give strength to kids like Arletta, enabling them to fight harder to overcome their illnesses. We are incredibly grateful for the team at Vic Bailey Subaru! They went above and beyond to make Arletta's wish celebration extra special, including a balloon arch, custom signs and amazing gifts for both Arletta and Stacy. Wishes like this would not be possible without the generous support of community partners like Vic Bailey Subaru. Thank you to the entire team for your personal dedication to making a difference in the community and lives of our wish families!
---
Vic Bailey Subaru Truly Loves Pets! - Angel C
We are so thrilled to partner with Vic Bailey Subaru each year to promote the wonderful pets we have available for adoption! It means so much to have a major company put their time and energy toward helping people find the perfect animal for their family. Both Vic Bailey and Subaru are trusted names with a large reach so the word is spread throughout our area so efficiently that the Spartanburg Humane Society is the place to adopt a new family member. In addition to helping spread the word, and draw in more and more people into the Spartanburg Humane Society, Vic Bailey Subaru put their money where their mouth is and donated $100 for every single adoption during the month of October! This generous donation is being used to purchase food, vaccines and provide medical care for the over 500 animals in our care on any given day. We are so grateful for this partnership! And what better auto to drive around your brand new furry family...a Subaru bought right at Vic Bailey Subaru!
---
Loyal Customer, Mark Stewart - Mark S
I'm Mark Stewart from Greenville, South Carolina and I have owned a Subaru for the past 7 years. I do a good bit of traveling and always make sure to stop by Vic Bailey Subaru before a road trip. Favorite trips include a northeast trip through New England, New Brunswick and eastern Canada. We also took the Subaru out west. There was an elevation / climb of 11,312 feet when we crossed the Rockies at Monarch Crest...and NO issues whatsoever pulling the 5,400 pound camper trailer with our Subaru during ANY of our travels!
---
Customer for Life - Stephen S
I've been coming to Vic Bailey Subaru for five years now. I'm on my second Subaru from them and I get all my service done at Vic Bailey Subaru. I keep coming back because the pricing is great, the service staff is super friendly. Every time I come, they greet me with a smile. They have some of the best master mechanics in the Upstate. They will send me pictures of my car and tell me what's going on. They really make you feel like you're out there in the bay under the hood of the car. I know they are going to take care of me when I go to Vic Bailey Subaru and there's nowhere else I'd rather go.
---
Sharing the Love - Kathleen C
Imagine being six years old unable to do the normal things we do on a daily basis. Most of us take these simple tasks for granted. To be able to socialize, to eat delicious food, to sleep at night without pain is the hope of many children who visit Healthy Smiles of Spartanburg's dental clinics. During these unusual times, it is even more important to stay healthy. The mouth is the gateway to our overall health and Vic Bailey Subaru staff and family know this so well to be true. Through "The Subaru Love Promise Community Commitment," the Vic Bailey Subaru staff and family have supported Healthy Smiles of Spartanburg's mission to advocate and promote the health of Spartanburg County children through the provision of dental health screenings and education programs in addition to direct dental services. Sharing the Subaru Love, funding provided dental care to over 608 children at no cost to their families. Emergency room visits have decreased for pediatric dental diagnosis by 22% saving the taxpayers over $656,000. Over 55,000 children and their families were educated on the importance of oral health and what it means to their overall health. The impact Vic Bailey Subaru has made on so many children's lives is a true testament of the giving hearts the Bailey Family and their staff have towards their commitment to their community. The following testimonials are proof how much "The Subaru Love Promise" impacts the lives of those living in our community. Thank you, Vic Bailey Subaru staff and thank you Bailey family for sharing YOUR LOVE.
---
Vic Bailey Subaru & National #MakeADogsDay - Emily P
Part of the Subaru Loves Pets initiative- October 22nd, 2020 was National Make A Dog's Day and the Vic Bailey Subaru team held a virtual Pet-Parade to spotlight the wide variety of employee pets. In lieu of the usual pet adoption event held at the dealership, this virtual event was a great way for the staff to come together to share stories and photos of the pets they have adopted and especially the ones that found their fur-ever home through Vic Bailey Subaru's past pet adoption events!
---
Vic Bailey Subaru Feeds 60 Families - Virginia F
The generous folks at Vic Bailey Subaru delivered delicious and nutritious food to the Ebenezer Food Pantry in Spartanburg, SC. The recipients were so appreciative and thankful to receive the green beans, macaroni and cheese, tomato soup, chocolate chip cookies, etc. Our food pantry is located in a poverty-stricken area in the middle of the city. We deliver the food bags to most of the recipients due to lack of transportation and health issues. A lot of people in the city are unaware of the level of need just minutes away from their businesses and residences. Thank you to Vic Bailey Subaru for bringing awareness to our food pantry and to our recipients. Sixty families were able to create wonderful dinners from the items gifted by Vic Bailey Subaru.
---
Subaru Loves Foothills Humane Society Pets! - Stephanie A
On Subaru's 2nd Annual Make a Dog's Day, Emily and Leslie from Vic Bailey Subaru came to Foothills Humane Society to meet some of our underdogs and learn what we do to make their dreams of a forever home a reality. They were eager to meet all of our adoptable animals and asked some awesome questions. Subaru donated a bag full of goodies that we can use for the dogs including water bowls, leashes, doggie bags, and human face masks! We are so thankful for the connection that we have made with Vic Bailey Subaru and appreciate Subaru's long-standing commitment to loving pets.
---
Vic Bailey Subaru of Spartanburg - Susan S
The compassion, generosity, and support from Vic Bailey Subaru and Share the Love is incredible! Mobile Meals of Spartanburg is grateful beyond measure to have the support of both local and national Subaru. The Vic Bailey Subaru dealership team along with the involvement and financial support of owner, Vic Bailey, and his daughter Leslie Bailey Callicutt and son Vic Bailey IV are "HANDS ON" with Mobile Meals. Each weekday we count on faithful volunteers to deliver meals to the homes of our meal recipients. The Vic Bailey Subaru team have a route they deliver each week and the dealership's leadership are first in line to make those deliveries. Locally, many of our seniors are familiar with this large dealership and recognize Leslie Bailey Callicutt from her TV ads for Vic Bailey Subaru. When she and her family arrive with a meal at our meal recipient's homes they feel extra special to know her family and this business care about them. The dealership's family takes service in the community seriously by serving in various leadership roles with Mobile Meals; Vic Bailey IV, is a Mobile Meals Board of Directors member and serving on our Council of Friends is the owner, Vic Bailey III. Continued involvement from Leslie Bailey Callicutt, former board member is second to none - they all care about their community and the lives of others. This commitment is fostered throughout the dealership so that employees are involved. They take their commitment a step more by sponsoring fundraisers throughout the year for example; Girls Night Out Fashion Show, The Hub City Hog Fest which is a very large BBQ event held in our downtown area in the Spring each year. They sponsor the Land Cruise event with 150 auction item, live band and food for 600 guests and the list of involvement continues throughout the year. This dealership and the owner understands why nonprofits need the support of the business community. We could not thank Vic Bailey Subaru and Share the Love for all the support you have given to Mobile Meals. Your donation this year provided over 4,000 meals! We needed you more than ever and grateful for your unwavering support to feed our seniors. Thank you, Susan Spires, VP of Development at Mobile Meals of Spartanburg, South Carolina.
---
Vic Bailey Subaru Bike Park - Laura R
It's official! The Vic Bailey Subaru Bike Park is open to the public and has been received with enthusiastic support, and this new Upstate recreation destination would not have been possible without the support of Vic Bailey Subaru. The new park is located on the Mary Black Foundation Rail Trail, which is Spartanburg's most popular trail, and is part of The Rail Yard Community Park. The Vic Bailey Subaru Bike Park is designed to be progressive with features for new riders up to those that are seasoned and experts. This will allow the facility to benefit a broad range of the Spartanburg community. Thank you, Vic Bailey Subaru, for the tremendous support and making Spartanburg a more active, healthy community, especially during this difficult time.
---
Vic Bailey supports the fine arts - Ron P
Tryon Fine Arts Center (TFAC) thanks Vic Bailey for helping area audiences of students and adults see classical music in a new and charmingly absurd way. In November, 2019 audiences throughout the foothills were inspired and delighted by the talent and exploits of The Mozart Group, an internationally known string quartet that creatively blends lighthearted comedy with the fine art of classical music. Tryon Fine Arts Center's mission is "to serve as the creative driving force for performances, art education, exhibits and community collaboration in the foothills". With support from Vic Bailey, TFAC was able to present two performances of Mozart Comes to Town: one to area schools and one to the public as part of the Main Stage Series. Providing the best that the fine art world has to offer, with innovative approaches to traditional disciplines is a goal of this signature series. Thank you to Vic Bailey for seeing the value of the arts and the human spirit – throughout the region! Marianne Carruth Executive Director Tryon Fine Arts Center
---
Spartanburg Little Theatre and Youth Theatre - Jay C
The Spartanburg Little Theatre and Youth Theatre envisions a more creative, inclusive, and connected Spartanburg. How uplifting and encouraging it is to live in a community where a standard-bearer for excellence like Vic Bailey Subaru supports this vision and works hard to pave the way for the cultural vibrancy and artistic well-being of its residents. The mission of Spartanburg Little Theatre is to "activate, cultivate, and educate our community through quality theatrical experiences." With the help of Vic Bailey Subaru, our artists were able to reach over 20,000 enthusiastic and appreciative audience members, and our Youth Theatre was able to promote children's literacy through theatre to nearly 10,000 school children and educators. We are so very thankful for Vic Bailey Subaru, who recognizes that our already amazing city can be made even better through the synergy of its businesses, individuals, and organizations.
---
Vic Bailey Subaru keeps Spartanburg Wild! - Alix R
The Spartanburg Area Conservancy, better known as SPACE, is a non-profit committed to protecting, preserving, and promoting nature in and around Spartanburg County. We rely on donors and sponsors to get much of this important work accomplished. Vic Bailey Subaru has been a major supporter of ours for years and we are so grateful for their support! We can always depend on them to be a major sponsor of our two annual events. Our events are so important to gather together and get excited over our mission and build relationships with folks who care deeply for this environment. Recently, we reached out to Vic Bailey Subaru about a very exciting project that we'll be wrapping up soon! In June 2019, SPACE embarked on a fundraising campaign to restore the boardwalk that stretches over the wetlands of the Cottonwood Trail. The Cottonwood Trail is a 50-mile nature trail on a 116-acre preserve that SPACE owns and maintains. It's located just moments from downtown Spartanburg. The preserve includes a wetlands area with a 550 foot boardwalk that stretches out across it - perfect for nature lovers to hike across and observe nature from. The structure was in desperate need of repair but we are very close to having it fully restored! We are thrilled that our fundraising is almost complete for this project and proud to have Vic Bailey Subaru as a major supporter of the boardwalk restoration project. Their contribution is allowing us to open by August 1, 2020! The Cottonwood Trail is free and open to all visitors, dusk until dawn, 365 days a year. Please visit the Cottonwood Trail and when you see the folks from Vic Bailey Subaru know that they are committed to keep Spartanburg WILD!
---