The 2021 Subaru Love Promise Customer and Community Commitment Award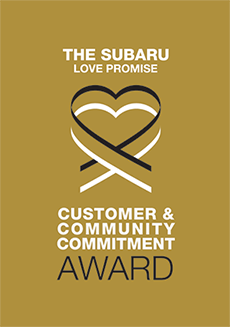 We've been nationally recognized for our dedication to our customers, our community, and the Subaru Love Promise.
We're honored to receive the 2021 Subaru Love Promise Customer and Community Commitment Award. This award nationally recognizes elite Subaru retailers who provide an exceptional customer experience at every interaction with Subaru. These retailers have also demonstrated an outstanding commitment to supporting passions and causes in their local communities in important areas such as the environment, community, health, education, and pets.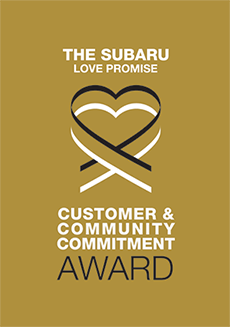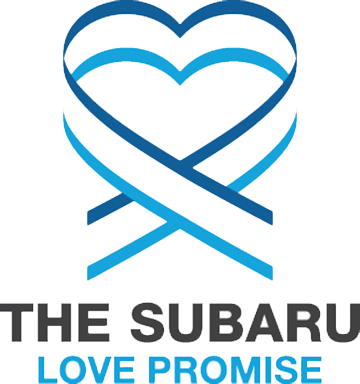 What is the Subaru Love Promise?
Subaru and our retailers believe in making the world a better place and the Subaru Love Promise is our vision of respecting all people. This is our commitment to show love and respect to our customers and to work to make a positive impact in the world.
How is Vic Bailey Subaru dedicated locally to the Love Promise?
The Vic Bailey Subaru Love Promise can be seen in our various partnerships with local charities and non-profits, such as, Mobile Meals of Spartanburg, PAL, Healthy Smiles, Make-A-Wish South Carolina, and more! We are passionate about serving our local community.
Spartanburg Humane Society,
Mary H. Wright Elementary
Mobile Meals of Spartanburg, United Way of the Piedmont, Spartanburg Area Chamber of Commerce , Charles Lea Center Foundation
Spartanburg Regional Foundation, PAL, Healthy Smiles of Spartanburg
Love Promise Stories from Vic Bailey Subaru
Subaru and Vic Bailey Subaru believe in making a positive impact on the communities in which we live and work. We uphold that belief through our Love Promise Community Commitment. Every month, we select inspiring stories from customers and partners from around our area who strive to support our collective commitment and feature them here
Subaru Crosstreeeekkk!!! - Carol D
I m so thrilled to got my first Subaru Crosstrek! Thanks Steven Darchiville!! Smile! Thumbs up
---
Vic Bailey Subaru Shares the Love Through Smiles - Kathleen C
In a year that the world stood still. Uncertainty overwhelmed many. Many families had to rethink finances and many times health care was put to the side. During the pandemic it was even more important than ever to protect and take care of ourselves and proper oral hygiene is high on the list. Super-hero and past chairman of Healthy Smiles of Spartanburg, Vic Bailey, IV, through the Subaru Love Promise, committed to continuously serve the children of our community with sponsoring our first ever Smile-A-Thon (telethon). Vic Bailey Subaru's $10,000 sponsorship inspired others to help leverage $137,117 towards Healthy Smiles dental programs. Funding gave 580 low-income, uninsured children smiles during a pandemic by providing much needed dental care; over 32,114 children were encouraged to improve their oral health by receiving the proper tools (toothbrush, toothpaste, dental floss, and mouthwash) grab bags at school and community events; 58,480 children and families learned about proper oral health and what it means to your overall health through Healthy Smiles outreach program. Vic Bailey and his family didn't stop there, no sir, the miles and miles of heart this family possesses hosted the most fun interactive toothpaste drive https://www.vicbaileysubaru.com/smile-drive.htm. The creative staff created "Mr. Tooth" for perspective customers, vendors, and staff the opportunity to provide low-income families with toothpaste. The grace and compassion the Bailey family and their staff provide to our community impacts the lives of so many families in so many positive measurable ways. THANK YOU Vic Bailey Subaru for sharing the LOVE.
---
Flowcoaster Addition to VBS Bike Park - Emi B
Since the opening of the Vic Bailey Subaru Bike Park at the Rail Yard, many community members have voiced their support and their enthusiasm to have a new recreation destination. This would not have been possible without the help of Vic Bailey Subaru. In late May, Vic Bailey Subaru offered their support, once again, as we added a new kid-friendly track to the bike park. The flowcoaster will allow younger kids to use the bike park as they develop their bike riding skills. Leslie Bailey Calicutt and Emily Weaver helped us by providing snacks and water for our volunteers who helped make this new addition possible. Thank you Vic Bailey Subaru for your continued support and helping make Spartanburg a healthier, more active community.
---
TerraCycle Success! - Bonnie W
For the past two years Spartanburg Day School has partnered with Vic Bailey Subaru to divert snack wrappers from the landfill through the TerraCycling Program. Subaru generously pays the $50 shipping fee for each box of snack wrappers we collect. We have returned at least 10 full boxes to TerraCycle, recycling thousands of snack wrappers in the past two years. Recently, Subaru donated a beautiful Adirondack chair made from TerraCycle snack wrappers to our school. Given the amount of time we have spent outdoors this year, we are especially grateful for this new addition to our campus! We look forward to continuing our partnership with Vic Bailey Subaru next year.
---
Sharing the Love by Feeding Seniors - Susan S
Vic Bailey Subaru is a remarkably dedicated and involved dealership in Spartanburg, South Carolina. This dealership and their associates continue to have a tremendous impact in the lives of those Mobile Meals serves daily meals. Each week Vic Bailey Subaru's family and staff delivers nutritious meals to the frail and homebound seniors in Spartanburg. The work this dealership does exemplifies their sincere compassion for others and a dedication to the community in which we all live. Our community is enriched by the actions of the Vic Bailey Subaru dealership by way of time and resources. Vic Bailey Subaru and the Bailey family works tirelessly to help us reach our financial goals and they serve others with compassion. The dealership's owner, Vic Bailey, III is currently serving on our Circle of Friends Advisory Council and delivers meals with his family members. His son, Vic Bailey, IV is currently serving on the Board of Directors, he serves on the Board's Governance Committee and delivers meals. He recently spent time assisting with our largest fundraiser and spoke about the joy in helping with the large fund raiser. Leslie Bailey Callicutt and Neely Bailey Darr, daughters of Mr. Bailey have delivered meals for years and continue to make serving others a priority. Leslie is a past Mobile Meals Board member and event chair. Vic Bailey Subaru shares the love wherever they go! We are grateful for their unwavering commitment to fed 1200 seniors each weekday through Mobile Meals of Spartanburg.
---
Vic Bailey Subaru Enhances Community Trail - Lamar B
Partnering with Vic bailey Subaru for the construction of the Vic Bailey Subaru Bike Park in Spartanburg, South Carolina was such a BLAST!! My name is Lamar Baehr and I am a volunteer board member with the Coalition for Active Youth. Our organization supports community and alternative outdoor recreation for youth. Our projects include the Hot Spot Skate Park, the Rail Tail Dog Park, and the Vic Bailey Subaru Bike Park. Having a major donor and partner like Vic Bailey Subaru is critical to a major project. The team at Vic Bailey Subaru is thoroughly ensconced, emotionally and financially, in the Spartanburg community. When the Rail Tail Dog Park opened years ago, they were there cheering the community on and giving out pet accessories. Vic Bailey Subaru was engaged, helpful and easy to work with during the bike park project – genuinely interested is the best description! They generously donated $25,000 to the project. And, even after the Bike Park was completed, Vic Bailey Subaru is at it again, working with businesses around the Mary Black Rail Trail to expand community recycling efforts with TerraCycle. TerraCycle takes items that are normally hard-to-recycle, such as k-cups, disposable cups and lids, snack wrappers and turns them into quality items - park benches, bike racks, etc. After the recycling is well underway, Vic Bailey Subaru will gift the bike park with a TerraCycle bike rack which costs about $1,400. Again, THANK YOU to Vic Bailey Subaru for trusting the Coalition for Active Youth and Partners for Active Living in this wonderful project It looks great and it rides great!!!
---
Sharing the Love with SCC - Mark S
Training future automotive technicians is tough job. The technology is ever-changing and equipment is expensive, which makes the need to keep new products and technology in front of students especially challenging. Fortunately, the Automotive Department at Spartanburg Community College has support from local dealerships like Spartanburg's Bailey family, who have been instrumental in beginning and maintaining the SCC's automotive program. Vic Bailey Subaru recently donated two continuously variable transmissions for use in automotive classrooms, providing students real-world equipment on which to learn. In addition to this generous donation, Vic Bailey Subaru also provides students with cooperative work experience opportunities, allowing them to work with experienced technicians in an apprenticeship learning environment. This hands-on experience, along with an education and training from SCC, is crucial for the development of skills required of today's technicians. The dealership's support doesn't end in the classroom. In fact, after graduating from SCC, many automotive technician students receive full time positions with Vic Bailey Automotive, that include competitive pay and world-class training opportunities. Given the current shortage of automotive technicians across the United States, SCC students are fortunate to receive opportunities while in college and post-graduation. However, to ensure that this talent pipeline continues, even more partnerships between education and industry are needed to continue filling this auto industry gap. Spartanburg Community College is fortunate to have supportive partners like Vic Bailey Subaru, working alongside our faculty and administration to ensure the education of future generations of automotive technician continues.
---
Sharing the Love with Kindergarten Students - Leslie C
After connecting with Mary H. Wright Elementary from years of donating the award-winning science books to the school and reading to classes during Subaru Loves Learning month, Vic Bailey Subaru decided to adopt a kindergarten class at the school. The dealership staff members have the best time planning holidays parties for the class which include food, drinks, and activities. Due to COVID-19, the dealership currently creates a "Party in a Box" for each occasion and drops it off at the school. The Valentine's Day Party included chocolate hearts, pretzels shaped like Xs and Os, pink and red M&Ms, cherry-flavored water, fruit snacks, Valentine's craft kits, and heart-shaped plates and napkins. Because of the generosity of Vic Bailey Subaru, these kindergarten students are able to feel the love all year long!
---
Vic Bailey Subaru's Love Promise to Spartanburg - Susan S
The Vic Bailey dealership exemplifies the pledge made through Subaru's Love Promise! Their caring, tireless efforts to assist seniors and their willingness to improve lives in our community continues to be remarkable. Mobile Meals of Spartanburg is grateful for Vic Bailey Subaru's sincere kindness and unwavering support. They always go above and beyond to help our community. We have had the pleasure of Vic Bailey Subaru dealership's involvement at Mobile Meals for many years. The family owned business and their associates continue to support Mobile Meals' mission to feed the frail and homebound throughout Spartanburg County. We are grateful to have the dealership's owners support us for three generations; the dealership's founder Vollie Bailey, his son, Vic Bailey, III, and grandson, Vic Bailey IV and granddaughters Leslie Bailey Callicutt and Neely Bailey Darr who supports Mobile Meals in various ways. Vic Bailey, IV is currently on Mobile Meals Board of Directors and Vic Bailey, III is on our Council of Friend Advisory Board. The Bailey family and associates help by volunteering to deliver meals to the home of meal recipients each week. Vic Bailey Subaru sponsored the Hog Fest fundraiser event in 2020 benefiting Mobile Meals. Although, the event had to be cancelled due to the COVID pandemic. Vic Bailey Subaru's leadership realized our nonprofit depends on donations and we still needed funding. Mobile Meals of Spartanburg has continued to serve 1300 frail and homebound meal recipients throughout this unfortunate time in our community. Mobile Meals and Vic Bailey Subaru share a heart for assisting seniors in Spartanburg, South Carolina. We are grateful for their willingness to join us in making a difference for seniors in the community where we live!
---
Thanks for Sharing the Love to Grant Wishes - Kea W
When we share love, we change lives. That's why the Subaru Share the Love event means so much to our mission. Make-A-Wish South Carolina creates life-changing wishes for children with critical illnesses. We are beyond grateful for the continued support from the Vic Bailey Subaru team and the 2020 Share the Love event. Thank you for helping make wishes like Arletta's wish "to have a service dog" come true during the Share the Love event! Right now, in this world of uncertainty when many travel wishes have had to be delayed, the team at Vic Bailey Subaru continues to be a bright star for local wish kids - bringing renewed hope and joy to children, families and communities when they need it most!
---