The 2021 Subaru Love Promise Customer and Community Commitment Award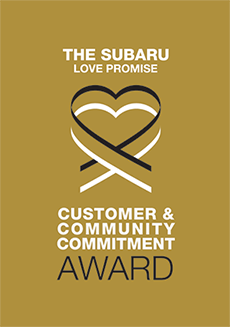 We've been nationally recognized for our dedication to our customers, our community, and the Subaru Love Promise.
We're honored to receive the 2021 Subaru Love Promise Customer and Community Commitment Award. This award nationally recognizes elite Subaru retailers who provide an exceptional customer experience at every interaction with Subaru. These retailers have also demonstrated an outstanding commitment to supporting passions and causes in their local communities in important areas such as the environment, community, health, education, and pets.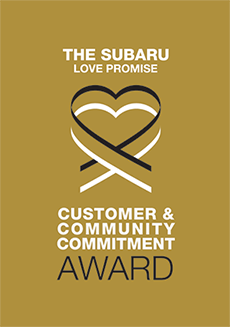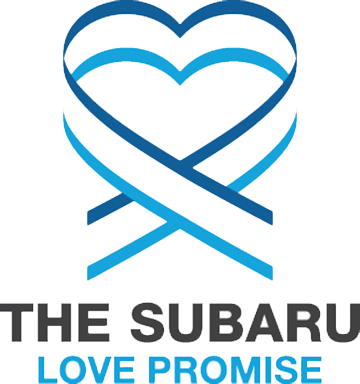 What is the Subaru Love Promise?
Subaru and our retailers believe in making the world a better place and the Subaru Love Promise is our vision of respecting all people. This is our commitment to show love and respect to our customers and to work to make a positive impact in the world.
How is Vic Bailey Subaru dedicated locally to the Love Promise?
The Vic Bailey Subaru Love Promise can be seen in our various partnerships with local charities and non-profits, such as, Mobile Meals of Spartanburg, PAL, Healthy Smiles, Make-A-Wish South Carolina, and more! We are passionate about serving our local community.
Spartanburg Humane Society
Mary H. Wright Elementary, Ballet Spartanburg
Mobile Meals of Spartanburg, United Way of the Piedmont, Spartanburg Area Chamber of Commerce , Charles Lea Center Foundation, Spartanburg Little Theatre
Spartanburg Regional Foundation, PAL, Healthy Smiles of Spartanburg
Love Promise Stories from Vic Bailey Subaru
Subaru and Vic Bailey Subaru believe in making a positive impact on the communities in which we live and work. We uphold that belief through our Love Promise Community Commitment. Every month, we select inspiring stories from customers and partners from around our area who strive to support our collective commitment and feature them here
We love Sharing the Love at Vic Bailey Subaru! - Kea W
This is always an exciting time for Make-A-Wish South Carolina as we love to celebrate the kickoff of the Subaru Share the Love event! Last year alone, Vic Bailey Subaru raised nearly $7,000 through the 2020 Share the Love event and donated $3,500 for our wish-granting program. These funds will help grant wishes for the 33 children in Spartanburg County who are currently waiting for their wish to come true. Last week, members of our Make-A-Wish team stopped by to drop off some special goodies and to say THANK YOU! Wishes bring kids renewed hope and hope is essential when battling a critical illness. Our vision is to grant the wish of every eligible child in South Carolina facing a critical illness and with every gift, we are one step closer to making that vision a reality. We're so grateful for your continued investment and excited to promote Share the Love as a way to get an awesome vehicle and support many wonderful community organizations. Thank you for helping spark joy for children with your generosity this season!
---
Creating a Healthy Community Together - Laura R
PAL: Play. Advocate. Live Well! (formerly Partners for Active Living) is committed to a healthy, vibrant, and prosperous Spartanburg. And Vic Bailey Subaru has been a tremendous partner as we pursue our vision - "In Spartanburg, healthy living comes naturally. It is fun, easy, and safe because we are connected to our community, to each other, and to the nature that surrounds us. We utilize our vast natural resources, gardens, local markets, trails, and parks routinely. We walk and bike through our neighborhoods, play outdoors and share healthy meals. We embrace our wonderful quality of life." Recent partnership efforts have included the annual downtown Spartanburg criterium, the Vic Bailey Subaru Bike Park, and a Terracycle box. Mark your calendar for Friday, April 22, 2022 for the annual Crit where the Vic Bailey Subaru pace car will lead the peloton. The Crit is a closed-circuit, multi-lap cycling race through Downtown Spartanburg. This bike race puts a sweet southern SPIN on the traditional tailgate and turns the heart of the city into a one of a kind block party. Spartanburg's race is known for its open-air plaza center, dangerously sharp left turns and unique atmosphere! The Crit is one of many opportunities for the bike lover in Spartanburg. Another is the Vic Bailey Subaru Bike Park that is part of the Rail Yard Community Park along the Mary Black Foundation Rail Trail. This first of its kind bike park in the Upstate was designed with dynamic elements and progressive features to inspire cyclists of all ages and abilities. New riders can start small and work their way up, while seasoned riders and professionals can start big out of the gate. The park includes ten rideable elements and a rest area where spectators can watch or riders can cool off before their next session. This exciting new addition to recreation in Spartanburg would not have been possible without the support of and community commitment by Vic Bailey Subaru! Spartanburg is fortunate to have this family-owned and operated business in our community, and the nonprofit community is certainly stronger because of their support!
---
Spartanburg Little Theatre 2021-22 75th Season - Jay C
When the business community supports and values the arts, great things can happen. Spartanburg Little Theatre is so very thankful to Vic Bailey Subaru for their sponsorship of our 75th Anniversary Season. Especially as we reemerge from an 18-month layoff, Vic Bailey Subaru's generous support means more than ever. Seeing their display car on our plaza every performance night is a great reminder to us and the entire community that when the business community supports and values the arts, great things can happen. Our actors, volunteers, musicians, and production crew feel supported and valued and our many patrons from the community know that they are assured the highest quality in production and viewer experience. We are truly very fortunate that Vic Bailey Subaru values and supports so many different community organizations, including those like us, who seek to activate, cultivate, and educate our community through quality theatrical experiences. Thank you Vic Bailey Subaru!
---
The Wizard Of Oz Presented By Ballet Spartanburg - Teresa H
Vic Baily Subaru Spartanburg is a family owned business which is highly respected and valued as a business who loves and supports its community in volunteer service and with gifts of sponsorships. This year, Vic Bailey Subaru sponsored a professional ballet for all of the students in Spartanburg, Cherokee, and Union (about 20,000 plus students). A professional video of the ballet will be sent to all students to enrich, engage and educate through live professional ballet. Many students were not able to attend the ballet due to COVID restrictions on field trips. Vic Bailey wanted to ensure that all students will have the opportunity to enjoy a beautiful and well-known story of friends and family, The Wizard of Oz, told through an original ballet presented by Ballet Spartanburg. This was such a generous gift and a beautiful way to show Vic Bailey's strong commitment to improving the quality of life of our children and adults in our community. This support gave many diverse school children equal access to the arts. We are so proud to have Vic Bailey Subaru in our community.
---
Making Dreams Possible - Marisa C
The Charles Lea Center supports over 1,500 local individuals with special needs and disabilities so that they may be a part of their community where they live, work and play. Vic Bailey Subaru has gone above and beyond to make dreams possible for our friends and neighbors we serve at the Charles Lea Center. Leslie and her amazing team do this without a pause or thought- it is evident they do this out of the kindness of their hearts and because they believe in our mission. Vic Bailey Subaru has been a faithful supporter to the CLC for many years. This year, they helped our Road Rally fundraising event by donating the balloon arch where racers reach the finish line along with a car display and were also sponsors of the event, Leslie Calicutt is a past CLC Foundation board member and a huge advocate for our organization and for those we serve. She and her husband Russ continue the tradition of making spirits merry and bright during the holidays by adopting one of our residential homes and making Christmas possible for the folks at the center. We consider Leslie, her team, and everyone at Vic Bailey Subaru "Dream Makers." We are filled with gratitude because of their generosity over the many years for our Spartanburg friends with loved ones who have special needs find the help they desperately needed right her in our community at the Charles Lea Center.
---
Adoption Events Change Lives - Angel C
Thank you to Vic Bailey Subaru in conjunction with the ASPCA for sponsoring our latest adoption event on October 30 at the Spartanburg Humane Society. Through their sponsorship we were able to give a wonderful family a true friend to share their hearts and their love with forever! Adoptions don't just change the life of the animal...the family is forever changed. Sometimes the children will learn how to provide the case these animals need, along with learning how to give and receive love unconditionally - a lesson that sometimes takes your entire life to learn. Pets are such a special addition to any family and adoption events open the door to more and more people exploring adding a pet to the family. We just love the smiles on this family's faces as they pose with their new dog adopted during the Vic Bailey Subaru Loves Pets adoption event on Saturday, October 30! It looks like everyone has found their forever love!
---
Thank you Vic Bailey Subaru! - Angel C
Have you ever wondered how much it costs to care for over 500 animals every single day? Well at the Spartanburg Humane Society we do it every single day! Without the support of Vic Bailey Subaru through our many events, we are able to provide the kind of care these animals need and deserve. Through adoption events at the dealership or during COVID, that we have hosted at the Spartanburg Humane Society, we have been able to use the funds provided by Vic Bailey to provide spay/neuter surgery, all core vaccines, microchips, toys, collars, supplies for the new adopter and on and on and on. The funding they have provided have allowed us to use our money to purchase food and other things the animals need. We truly could not thank them enough for their generosity, and the caring their employees give to the animals at the Spartanburg Humane Society. Partners as strong in the community as Vic Bailey Subaru make it possible for a small nonprofit like the Spartanburg Humane Society to continue to provide the high level of care we provide on a daily basis. Our adopters are so thankful Vic Bailey Subaru cares about the animals in our community! Adoption events like Love a Pet makes a huge difference in our community's lives...check out the smiling faces at the latest adoption event!
---
Vic Bailey Is Always There for our Furry Friends - Angel C
It was so exciting with two (2) Vic Bailey Subaru employees showed up in their spiffy Subaru to pick up our Dog for A Day dog named Tank! Sweet Tank was the tiniest of puppies and slightly scared but excited to meet new people. Of course we dressed him in the cutest pajama set and included a change just in case there was an accident along the way! They put him in his little car seat and off they went. Immediately we started getting calls about adopting him from people who were visiting the Subaru showroom and friends of employees too. He was a huge hit! They also dropped by Brusters for a cup of ice cream for this sweet puppy and he was LOVING that treat for sure. I think it was difficult for them to bring him back but knowing they were part of him finding a great home had to help. One of the first people who visited with him at the dealership adopted him so we know he found a great forever home. We are so grateful for the partnership with Vic Bailey Subaru. Their dedication to the entire community (both furry and not so furry) really shines through in everything they do.
---
Subaru Crosstreeeekkk!!! - Carol D
I m so thrilled to got my first Subaru Crosstrek! Thanks Steven Darchiville!! Smile! Thumbs up
---
Vic Bailey Subaru Shares the Love Through Smiles - Kathleen C
In a year that the world stood still. Uncertainty overwhelmed many. Many families had to rethink finances and many times health care was put to the side. During the pandemic it was even more important than ever to protect and take care of ourselves and proper oral hygiene is high on the list. Super-hero and past chairman of Healthy Smiles of Spartanburg, Vic Bailey, IV, through the Subaru Love Promise, committed to continuously serve the children of our community with sponsoring our first ever Smile-A-Thon (telethon). Vic Bailey Subaru's $10,000 sponsorship inspired others to help leverage $137,117 towards Healthy Smiles dental programs. Funding gave 580 low-income, uninsured children smiles during a pandemic by providing much needed dental care; over 32,114 children were encouraged to improve their oral health by receiving the proper tools (toothbrush, toothpaste, dental floss, and mouthwash) grab bags at school and community events; 58,480 children and families learned about proper oral health and what it means to your overall health through Healthy Smiles outreach program. Vic Bailey and his family didn't stop there, no sir, the miles and miles of heart this family possesses hosted the most fun interactive toothpaste drive https://www.vicbaileysubaru.com/smile-drive.htm. The creative staff created "Mr. Tooth" for perspective customers, vendors, and staff the opportunity to provide low-income families with toothpaste. The grace and compassion the Bailey family and their staff provide to our community impacts the lives of so many families in so many positive measurable ways. THANK YOU Vic Bailey Subaru for sharing the LOVE.
---