Vic Bailey Subaru wants to buy your car. Our thriving used car business is always in need of more inventory. Looking to make some cash? Call or stop by for a quick estimate. Once you come by the dealership, we will perform a thorough yet speedy inspection of your vehicle. We will then make an aggressive offer. If you are happy with the amount, we will write you a check. You will then be on your way with check in hand! Fast, easy and painless! 
Our Buyer, Victoria Baggett, has been buying vehicles at our dealership almost daily since 2019. 
She was born in New York but has moved all around. She and her husband have two precious children as well as a small farm of animals! In her spare time, she likes to run and travel. Victoria's  favorite part of working at the dealership is that she gets to connect with people everyday!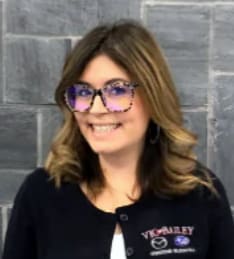 Spartanburg, SC Boiling Springs, SC Duncan, SC Moore, SC Inman, SC Greer, SC, Greenville, SC Anderson, SC Taylors, SC Asheville, NC Hendersonville, NC Shelby, NC Forest City, NC Landrum, SC Tryon, NC Gaffney, SC Union, SC Chesnee, SC Cowpens, SC Woodruff, SC 
Car dealership, sell vehicle, instant cash offer, cash for vehicle, we buy vehicles, make money, used cars, used car dealership
Victoria Baggett
Vehicle Acquisition Specialist
(864) 381-6041
vbaggett@vicbaileyauto.com