Love Stories
This lovely couple purchased their first new Subaru from Charleen over the weekend and we have a feeling it won't be the last!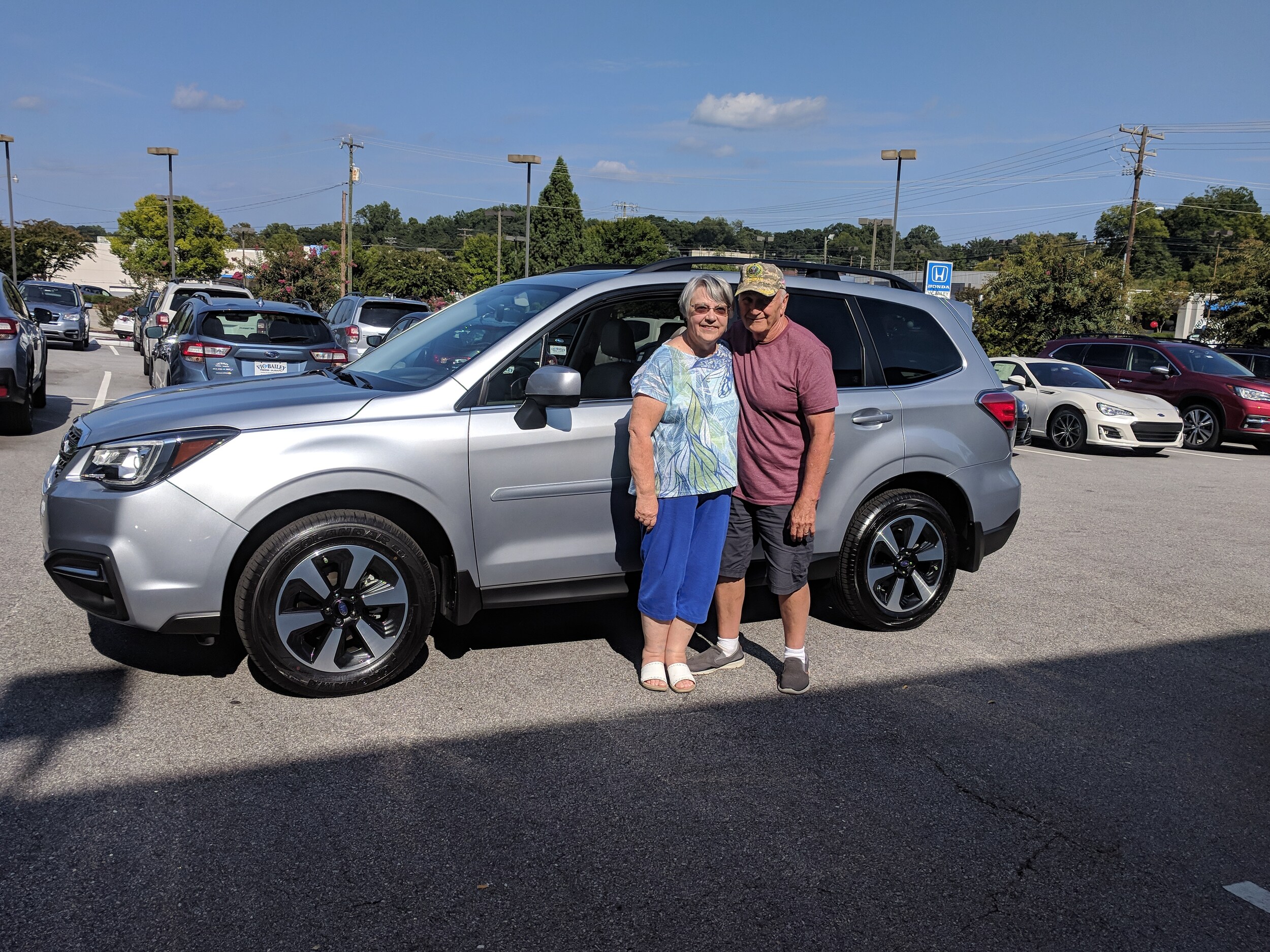 Catherine Coleman flew into Spartanburg from Wilmington, North Carolina to purchase her Subaru! Charleen picked her up from the airport and then Catherine got to enjoy the road trip back in her new ride!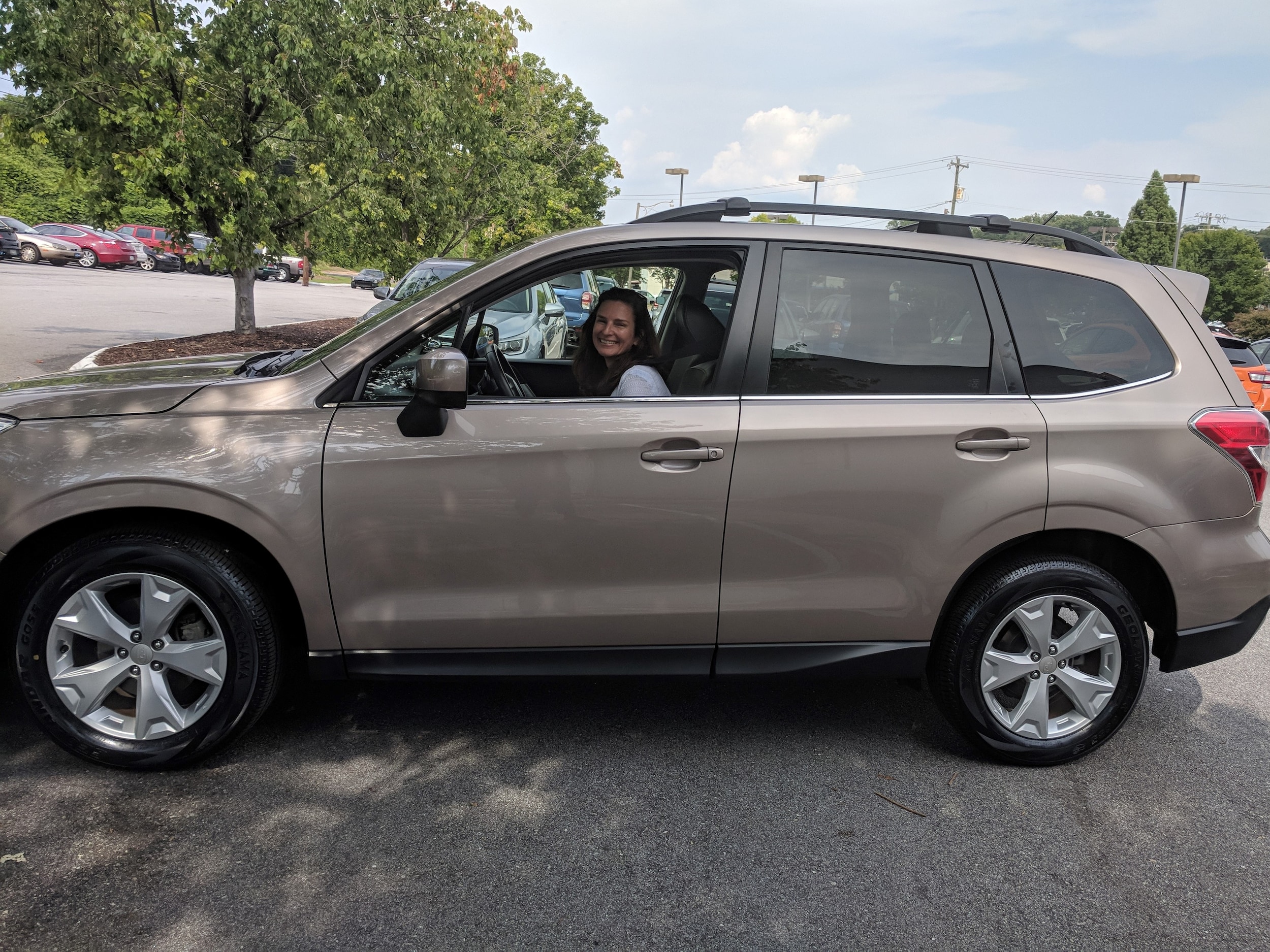 Daniel & Louise White were thrilled to hear about the new third row SUV from Subaru, the Subaru Ascent! They now have more room for their three greyhounds. This was their second Subaru purchase from Shannon.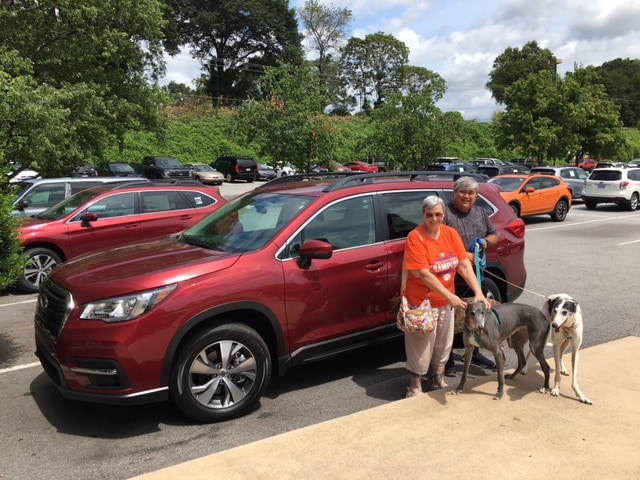 Congratulations to Jeremy and Kathy Martin on becoming owners of a new 2019 Subaru Ascent!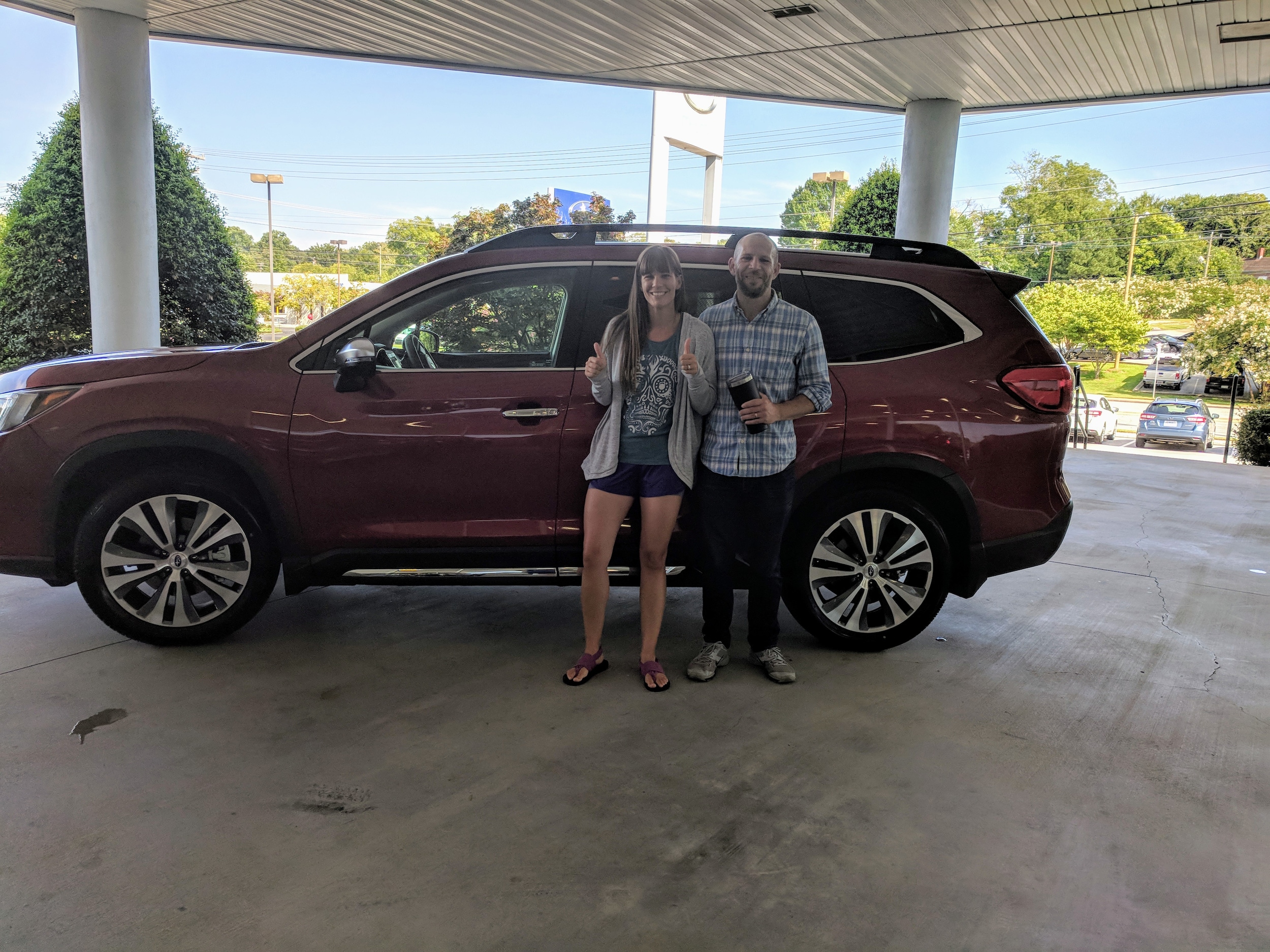 Brittany and Tony Rapien purchased a pre-owned 2017 Subaru Outback in excellent condition! The previous owners traded it in for the new 2019 Subaru Ascent.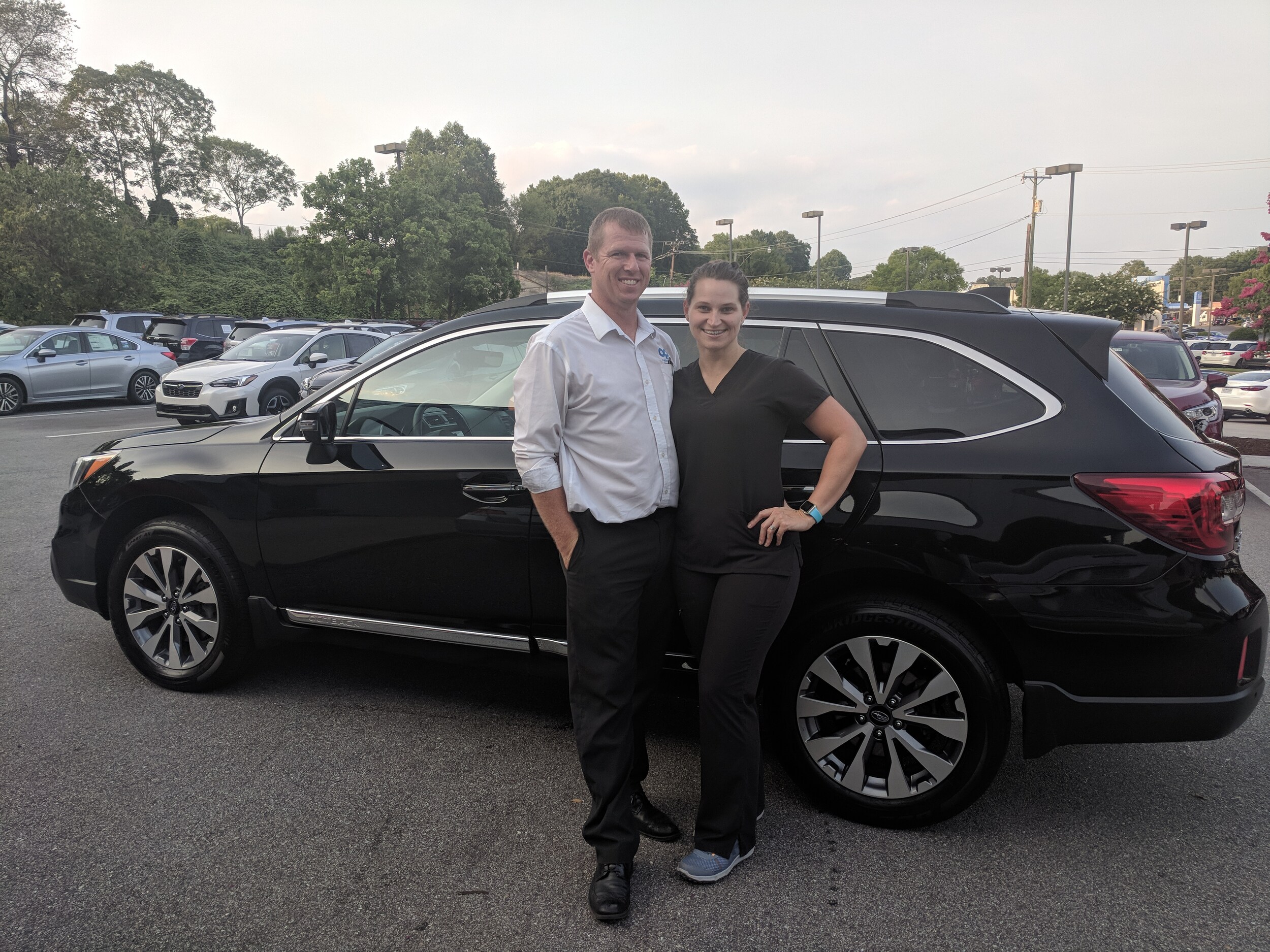 Thank you to Mr. and Mrs. Lowe for trusting us with the their car buying process. Charleen made purchasing this pre-owned Kia Sorento quick and easy!
#nohasslepricing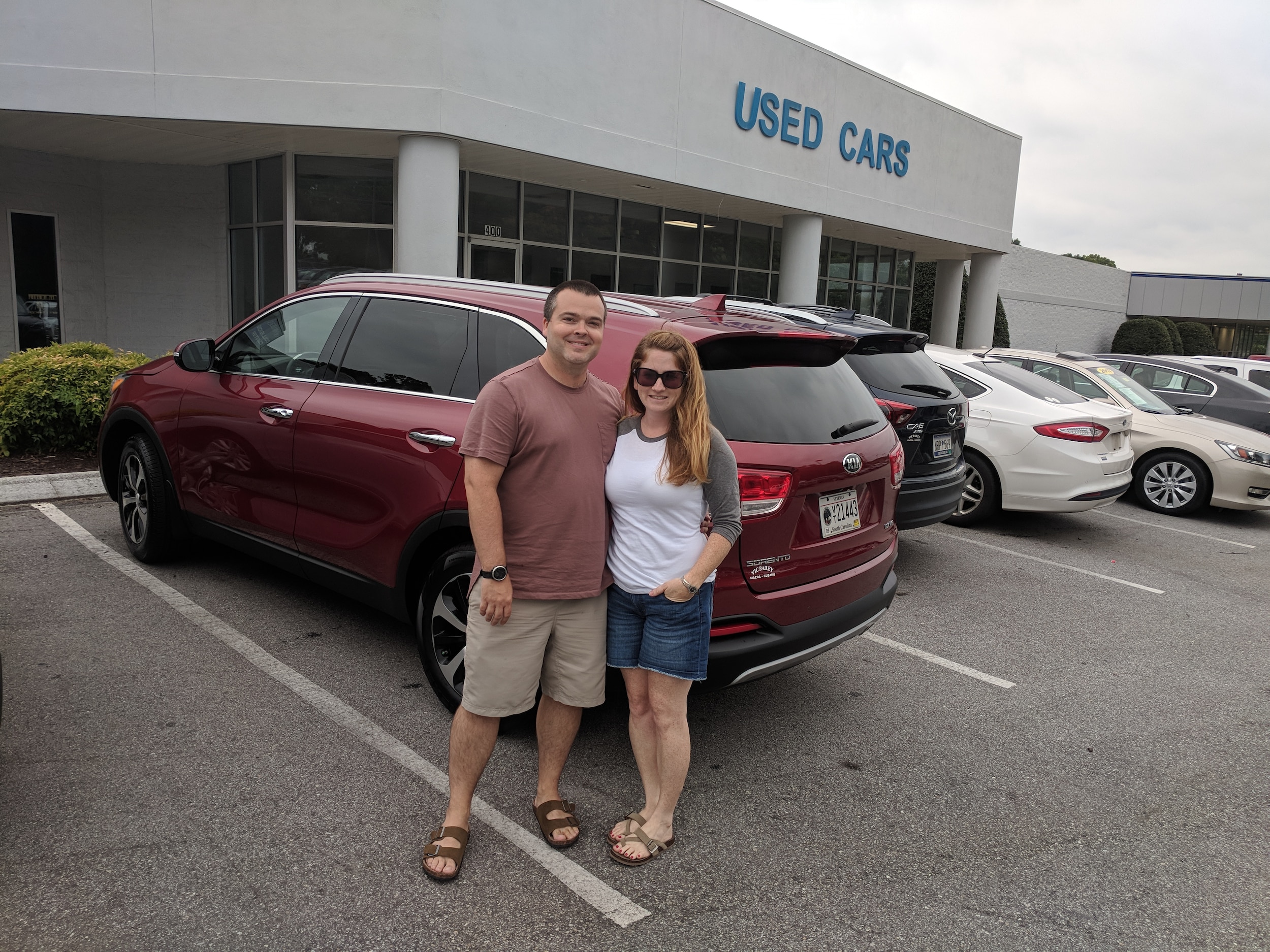 The Johnson family is enjoying summer in their new Subaru Crosstrek!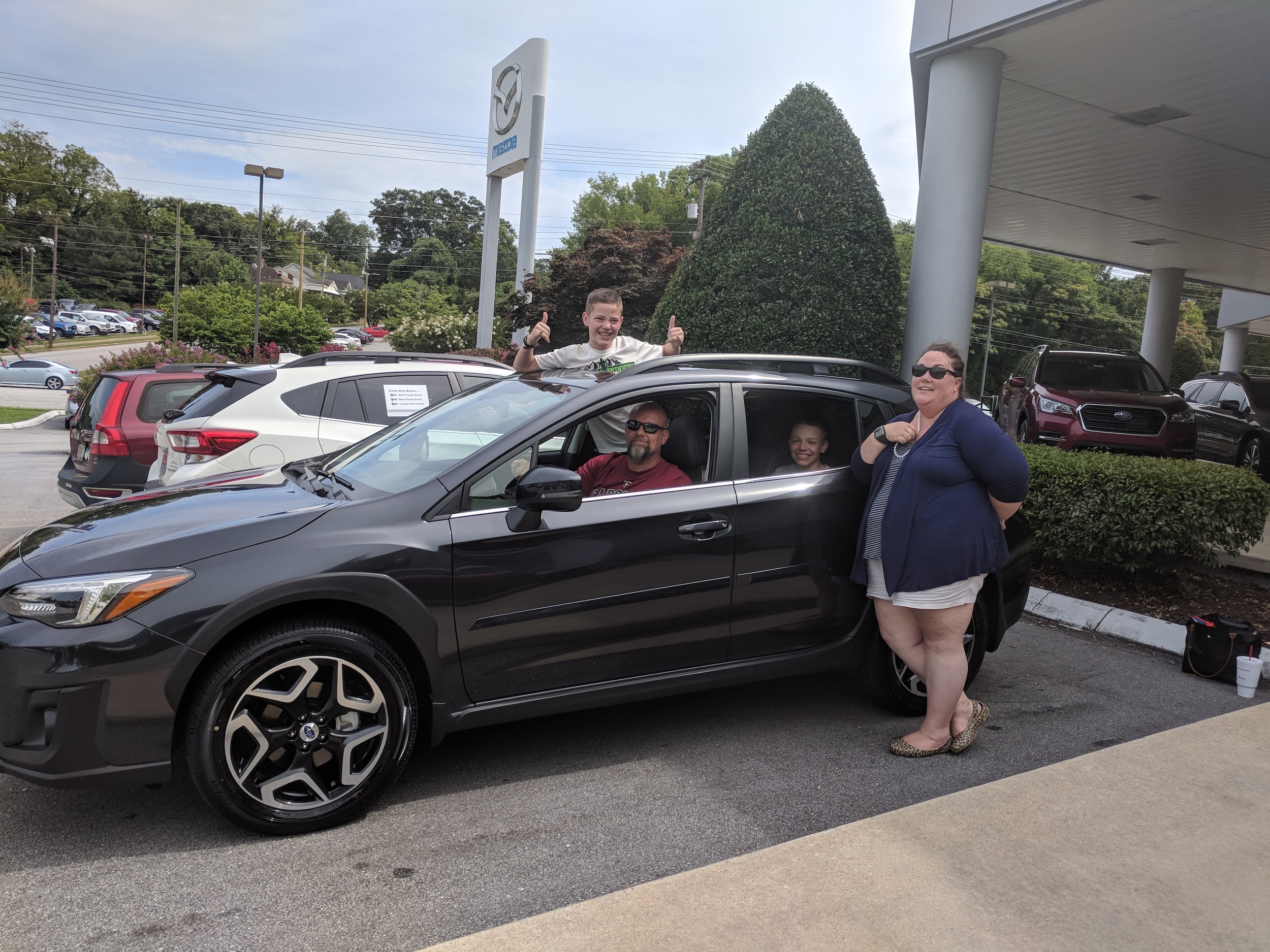 Miss Thrower is one lucky lady... kicking off summer in a new 2018 Subaru Crosstrek thanks to her mom!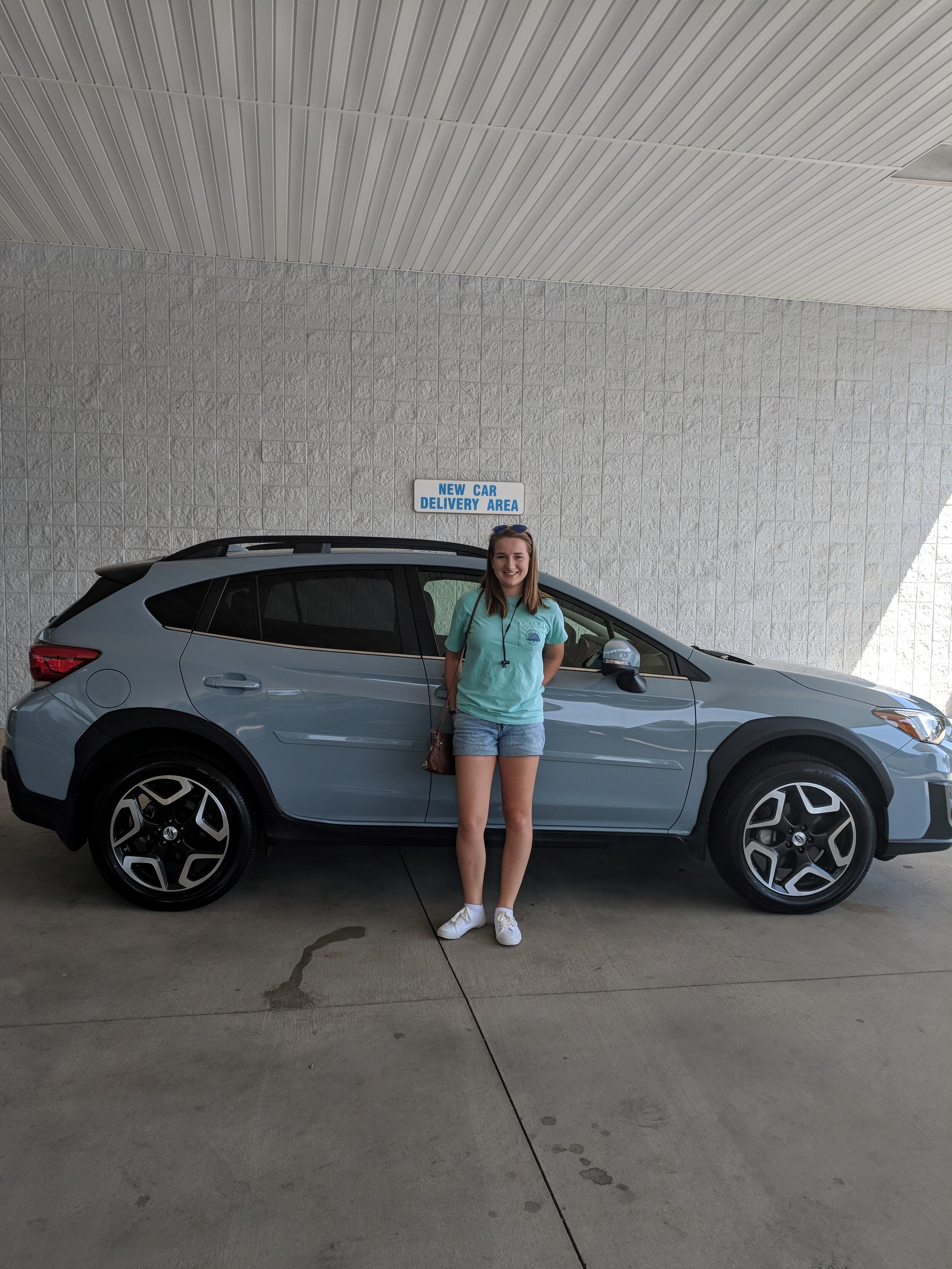 Kristi Cooper is thrilled with the Audi she just purchased from Charleen!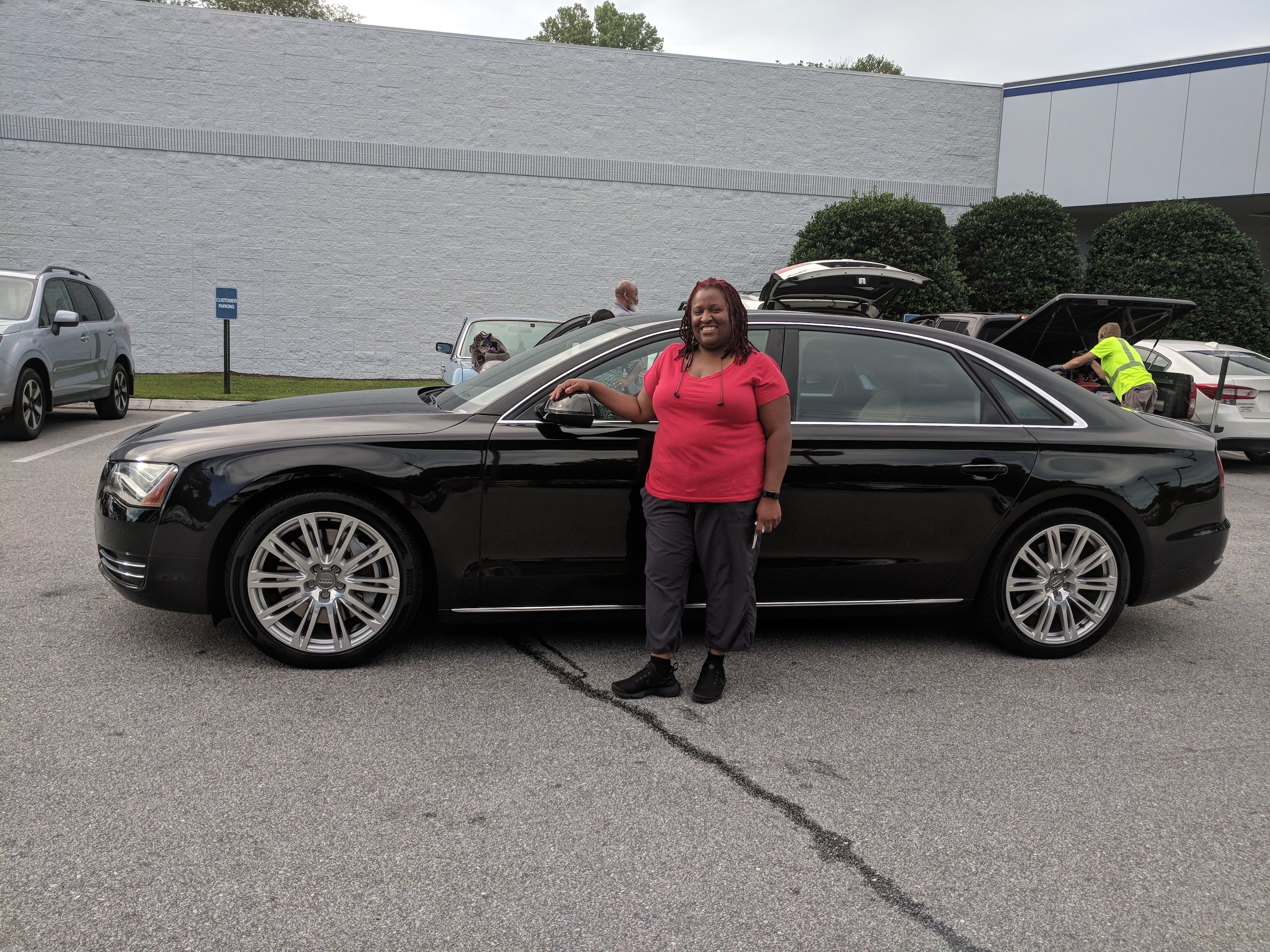 Congratulations to Jimmy Parker on his BEAUTIFUL, pre-owned Hyundai Genesis!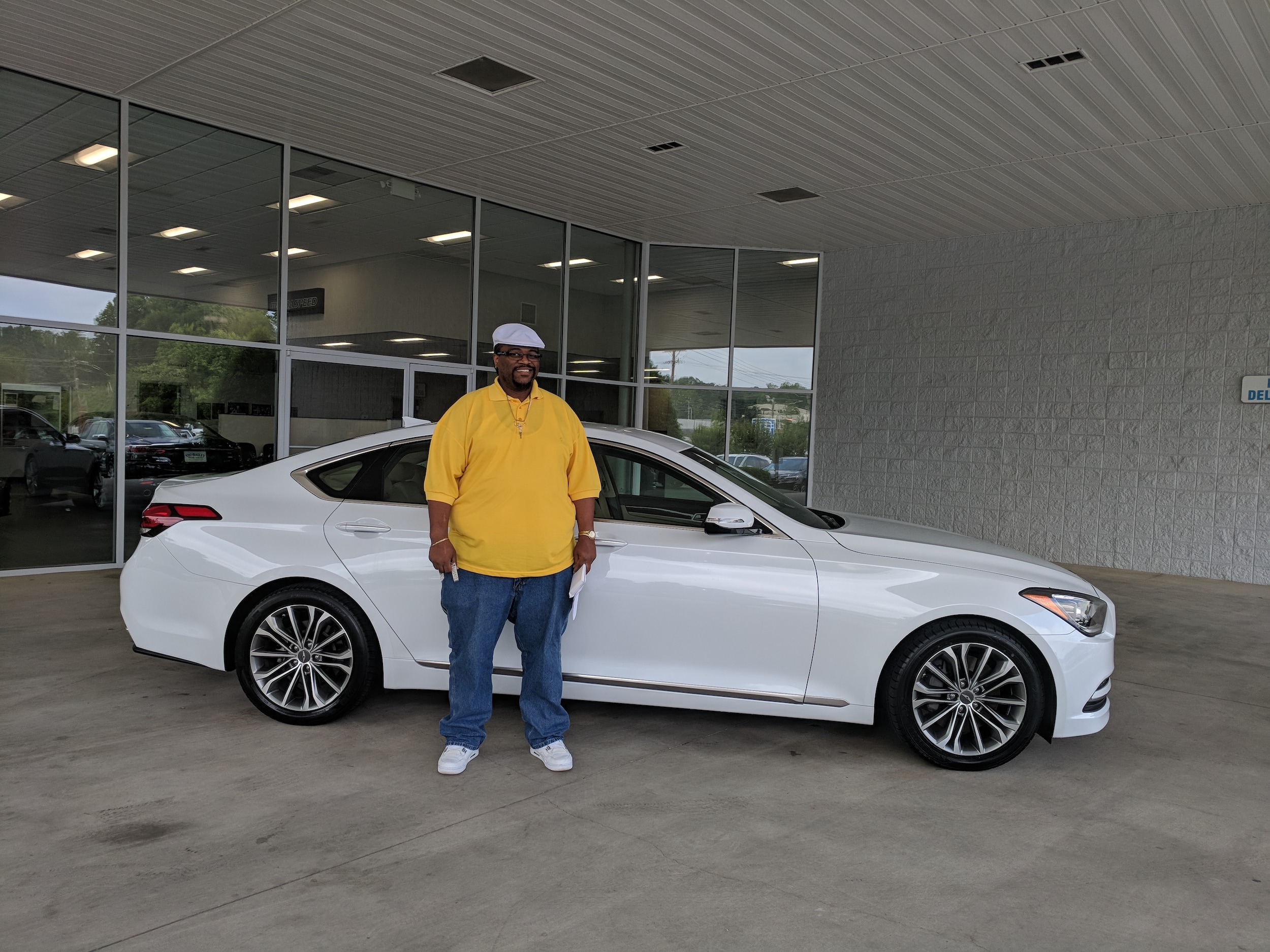 Mr. Bowser wanted a quality, pre-owned Volkswagen and he found the perfect one on our lot!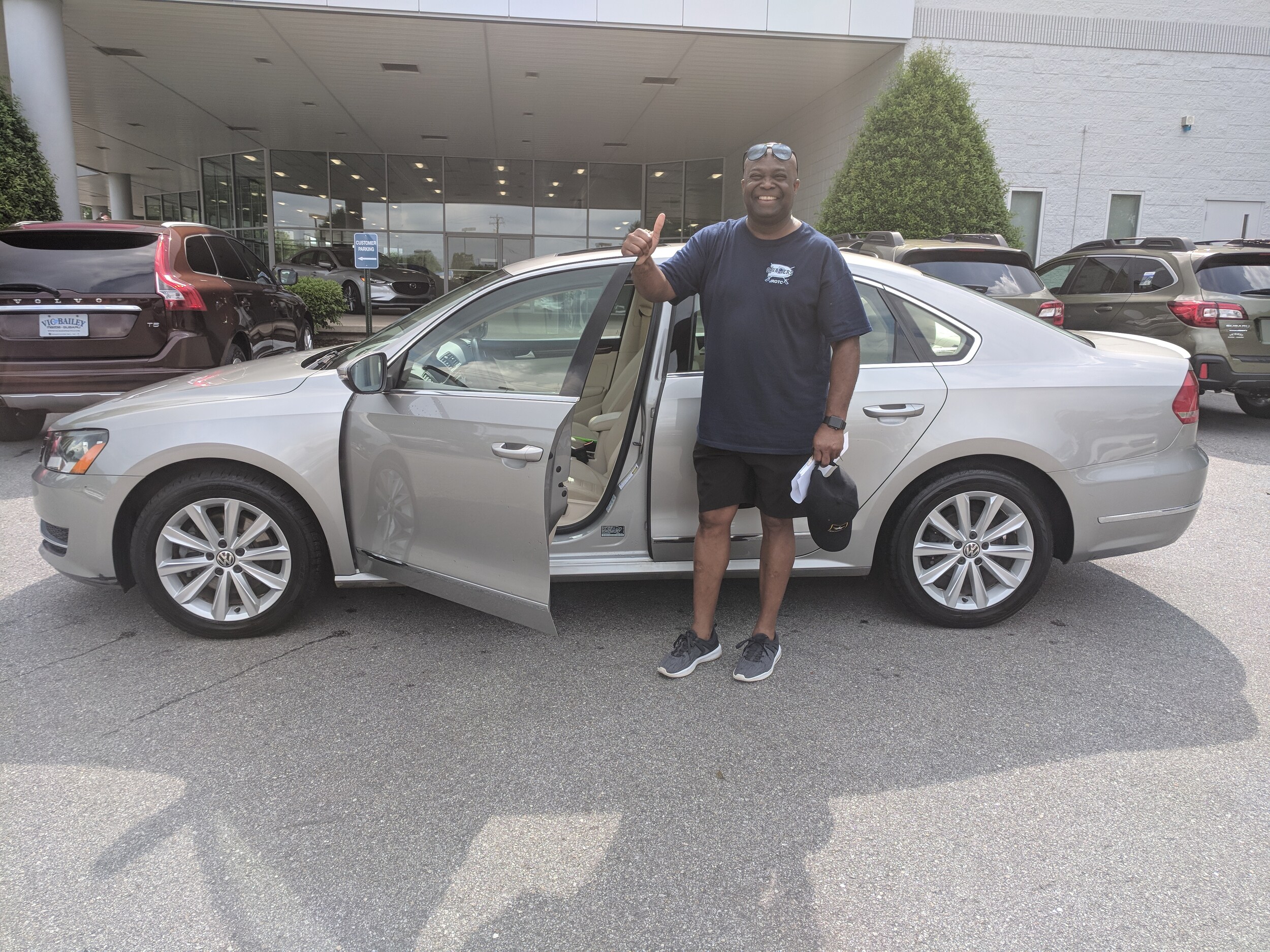 The Ames family is ready for Memorial Day weekend now that they purchased a pre-owned Toyota Sienna from Charleen!
Mr. Chafin said buying his new 2018 Subaru Outback Touring from Charleen was by far the best experience he has ever had buying a vehicle!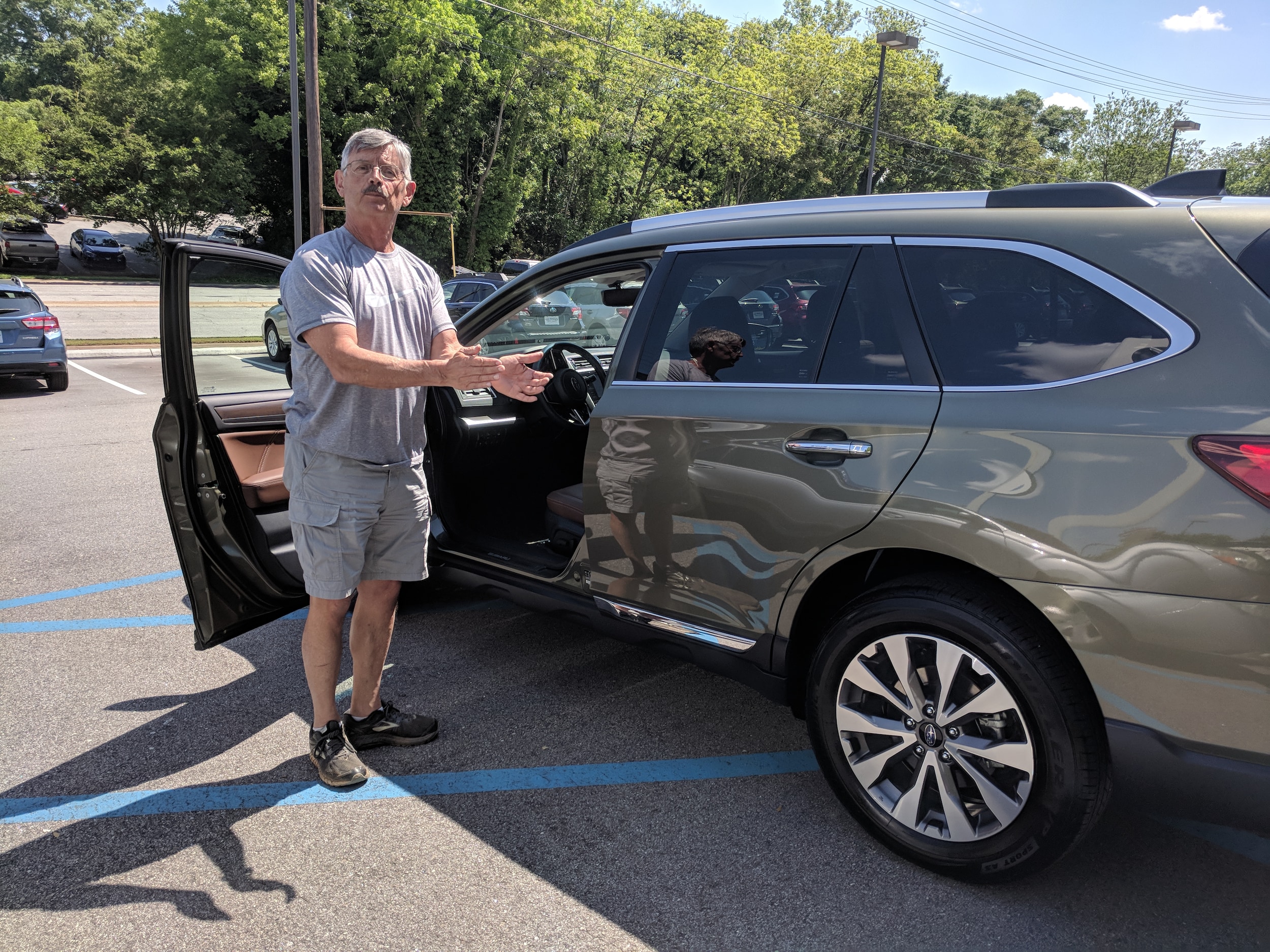 Angela Thompson is in LOVE with her new 2018 Subaru Crosstrek!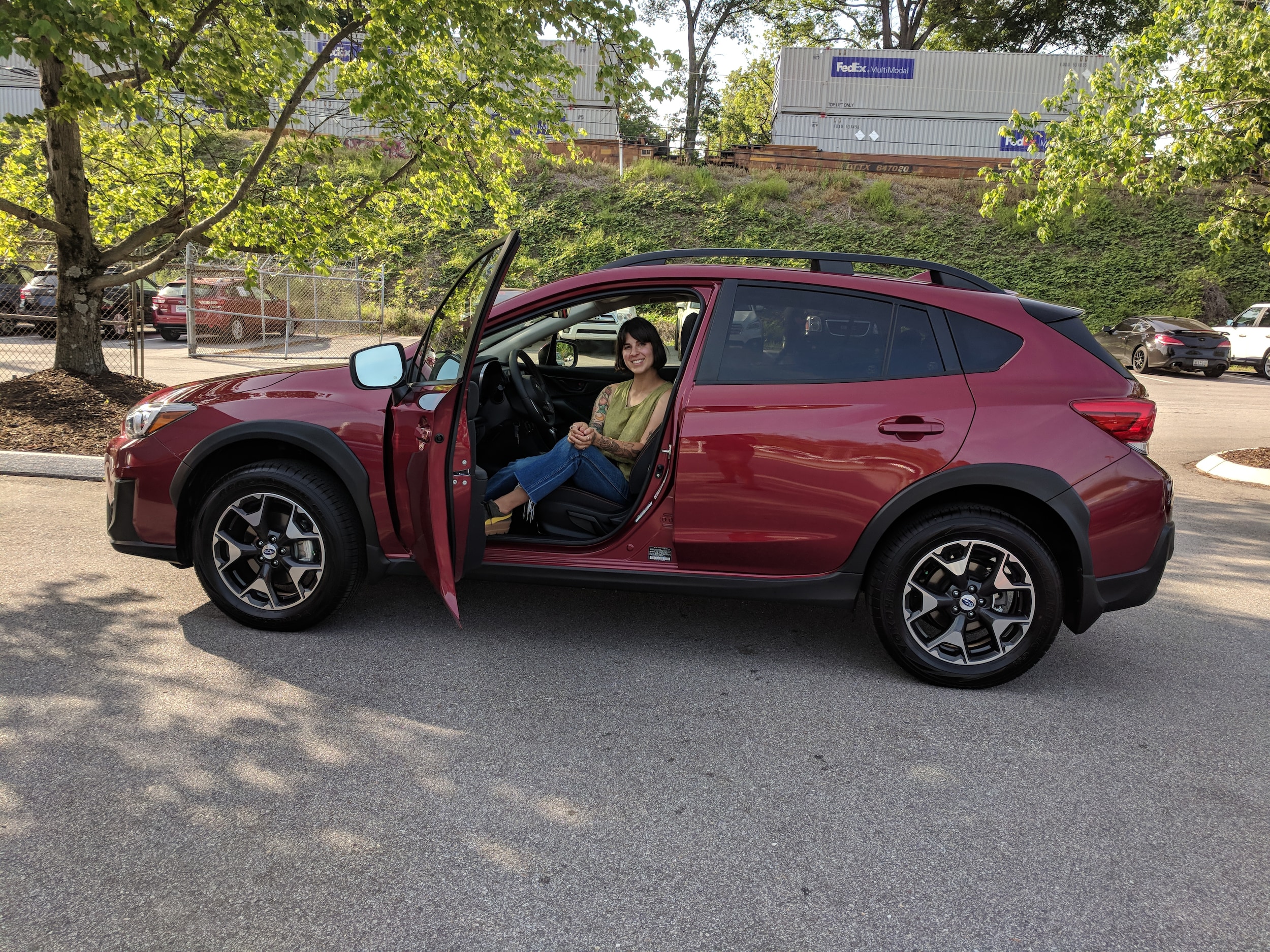 Out with the old and in with the new! The Morrison family purchased a new Subaru Outback Touring from William McDonough.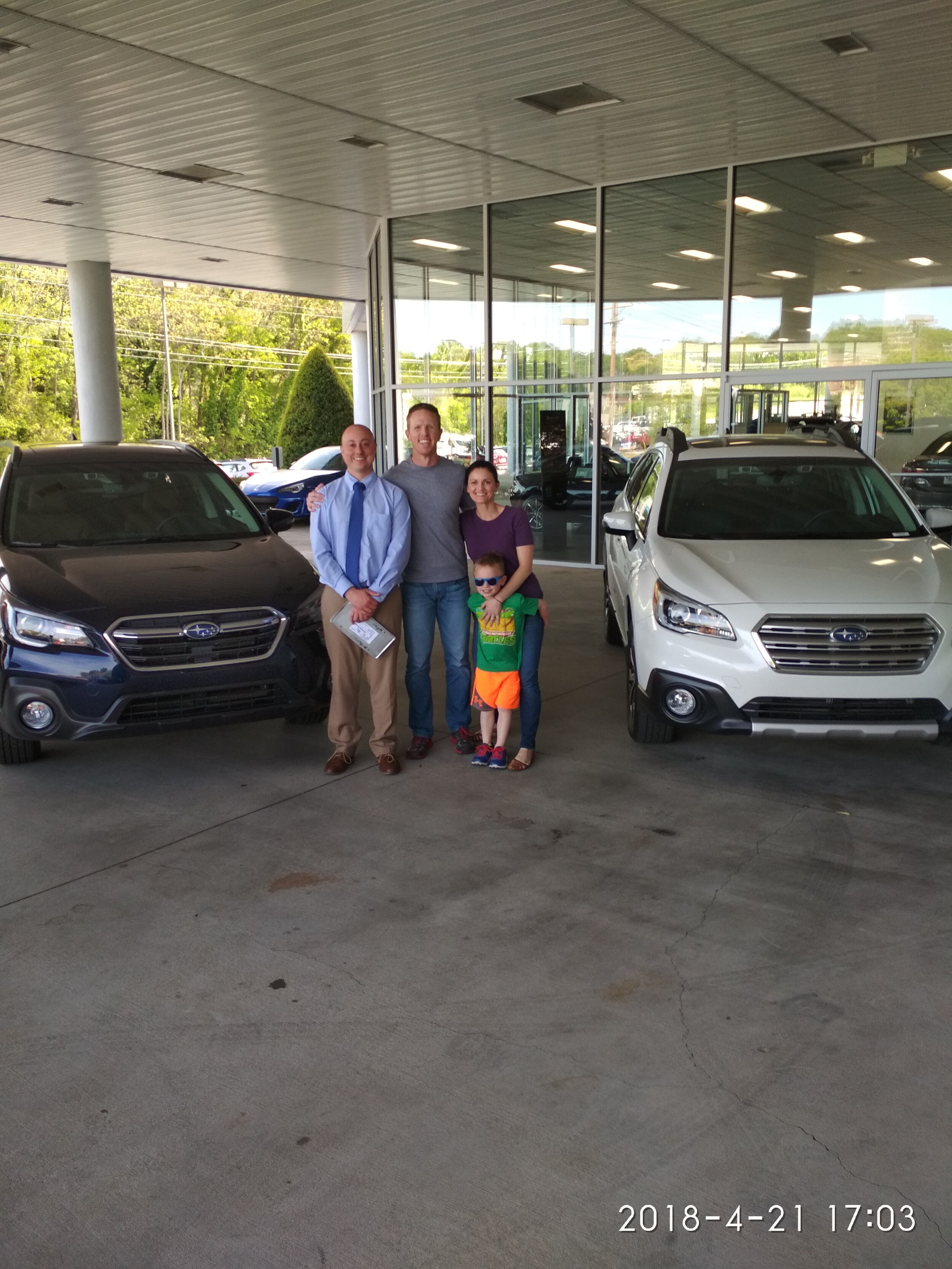 Hmmm... looks like someone must LOVE red! William helped his customer find the perfect vehicle... the versatile Subaru Outback!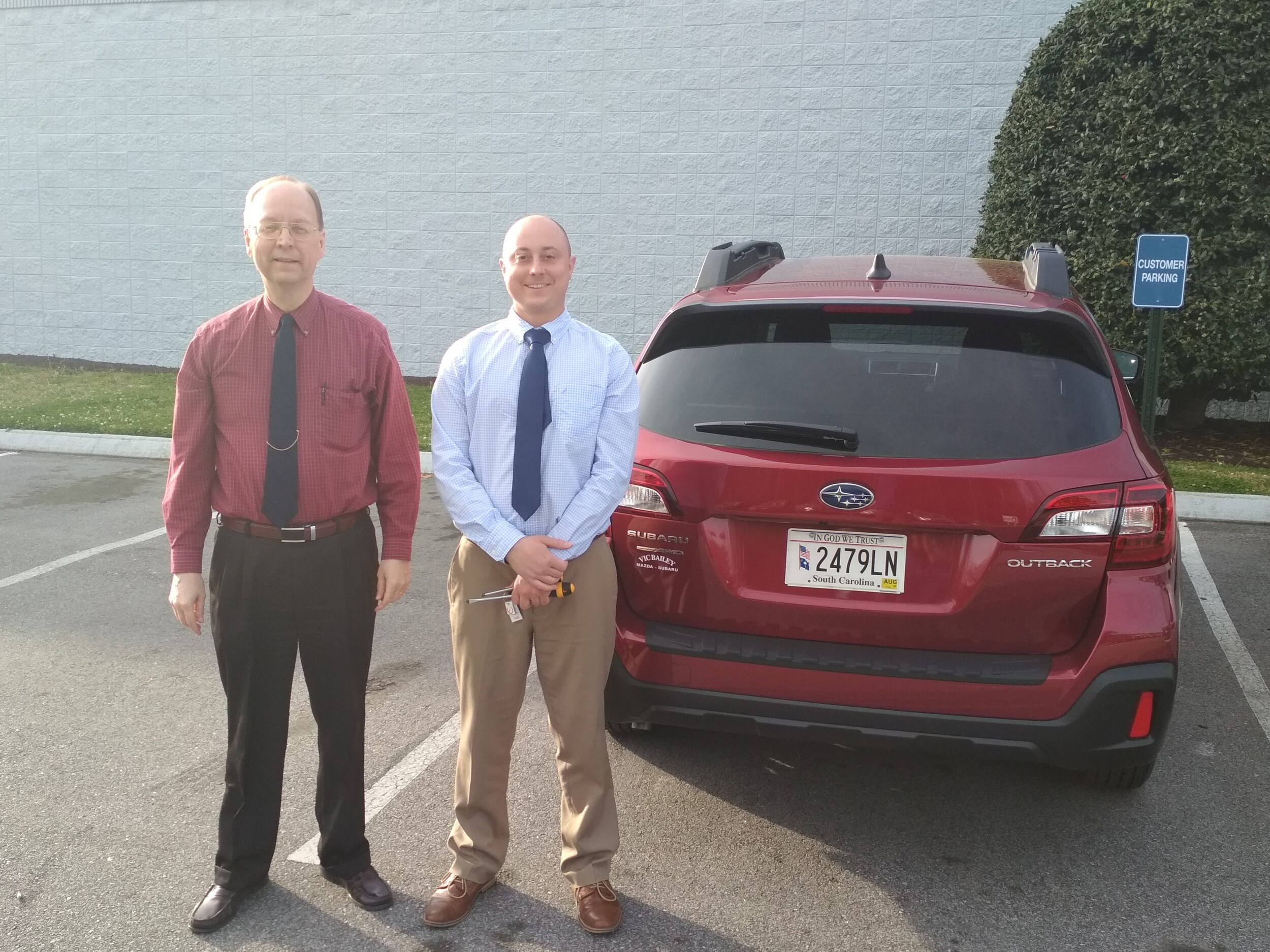 William's customer was happy to realize the car buying process isn't such a pain after all!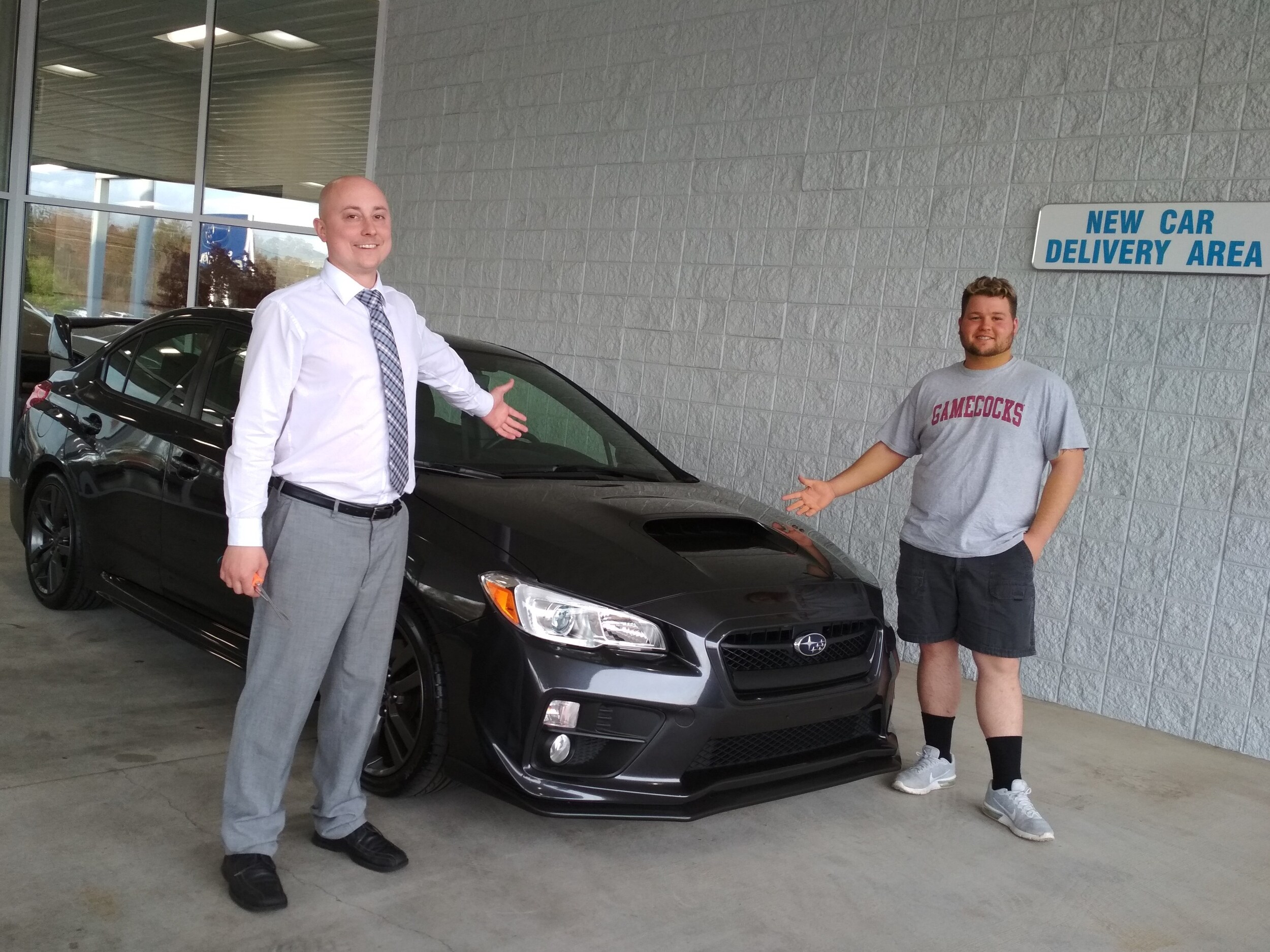 Our Subaru customers always leave with a big smile on their face!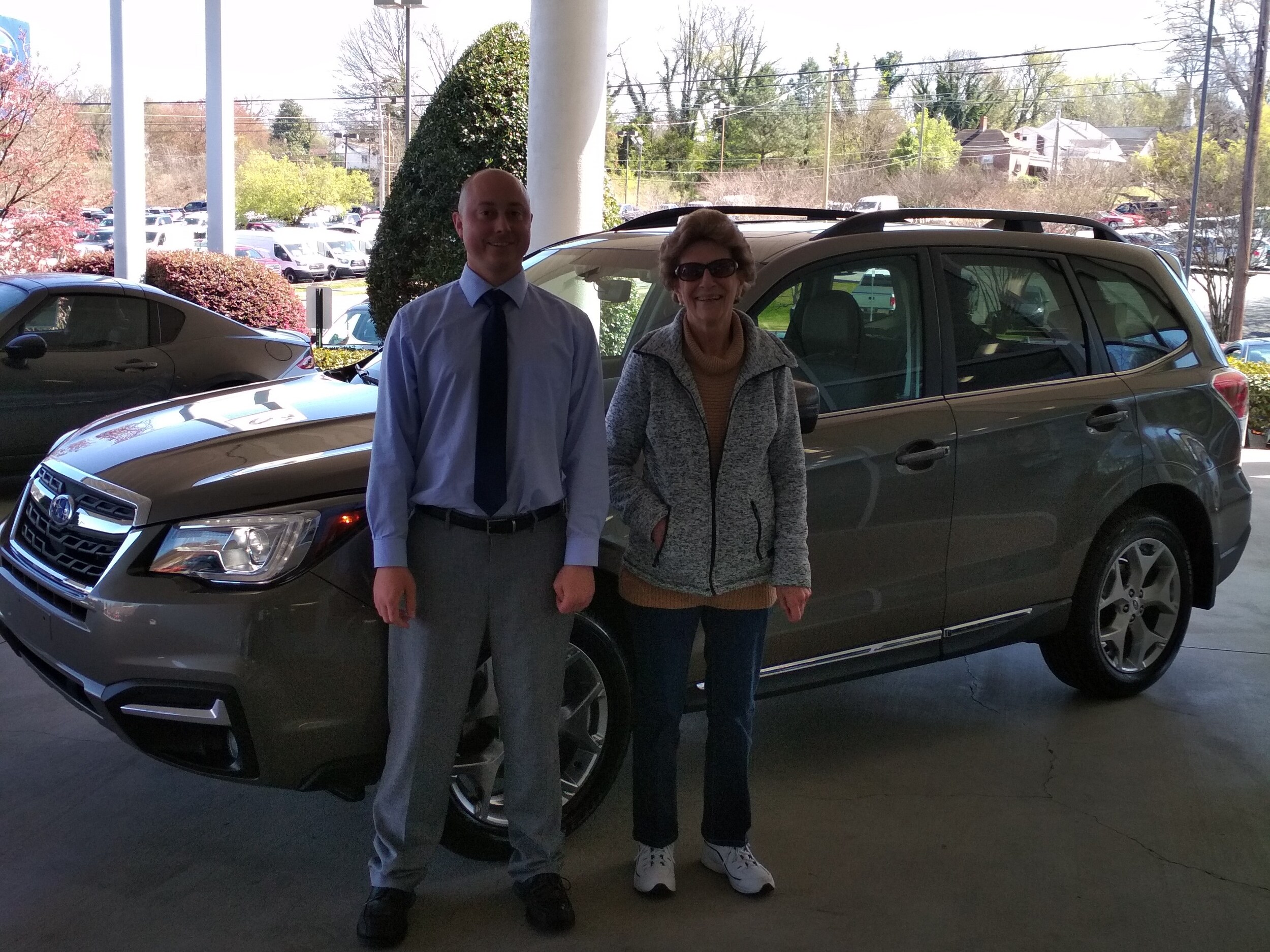 William McDonough sold this precious family a Subaru Outback so they will be ready to handle all of life's adventures!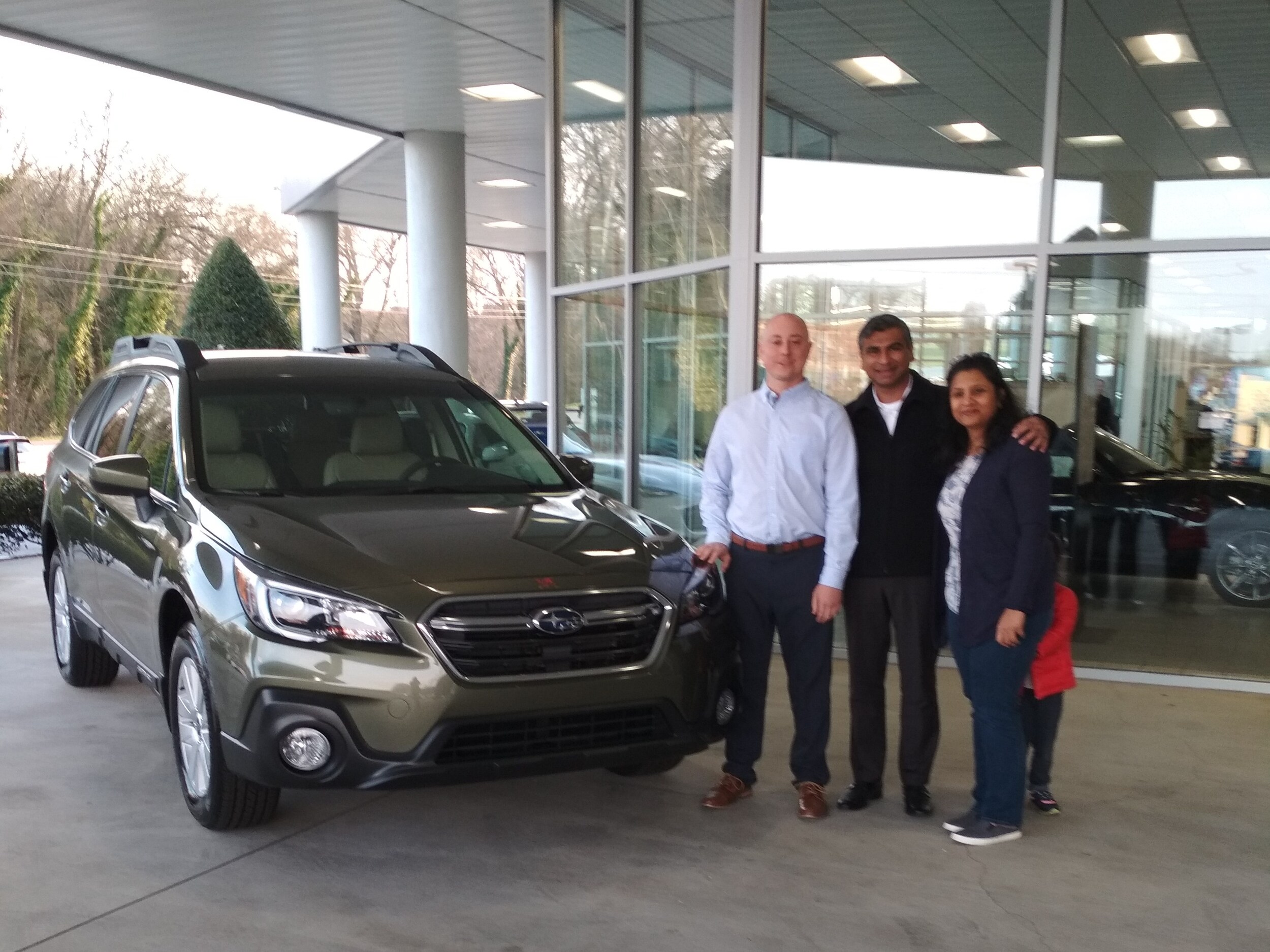 Austin Sausaman came all the way from Charleston to purchase this pre-owned Mustang from Charleen! We always offer the best prices and the best customer service!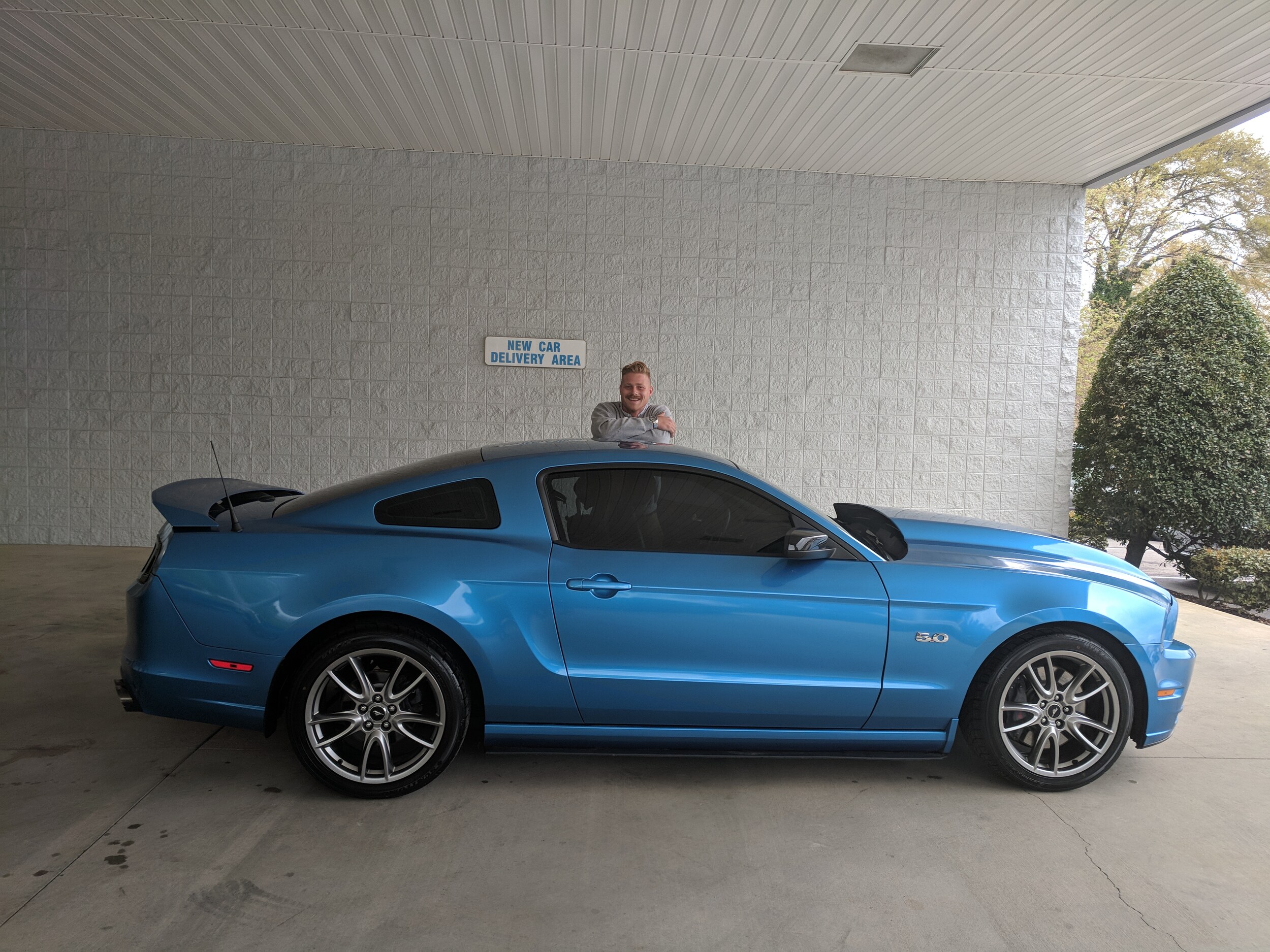 Mr. Bowen is one happy customer after purchasing his FJ Cruiser from Charleen!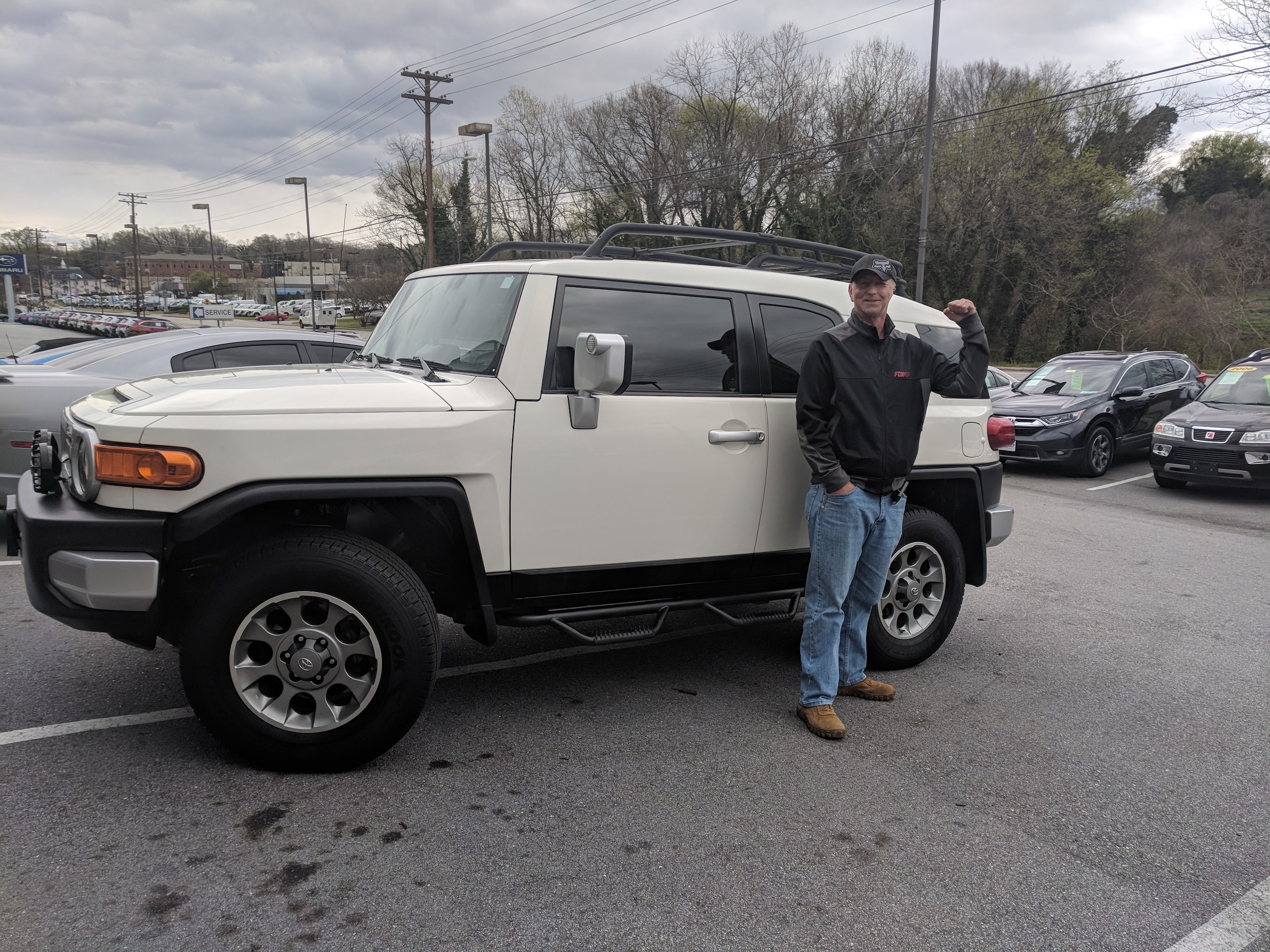 Patricia and Butch Holloway came from Greenville to purchase their Subaru Forester!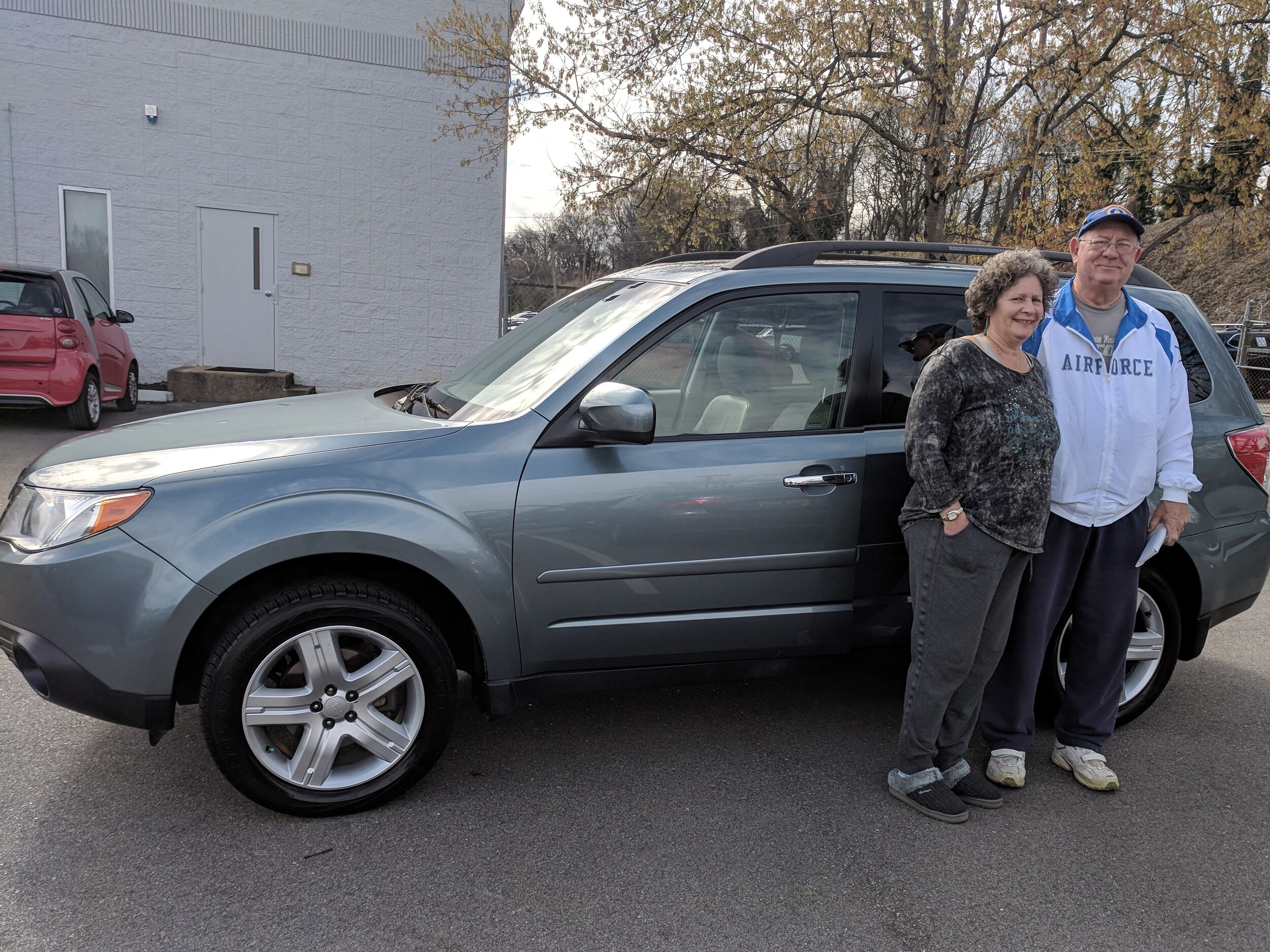 Mr. Bridgeman found a beautiful Cadillac SRX on our pre-owned lot!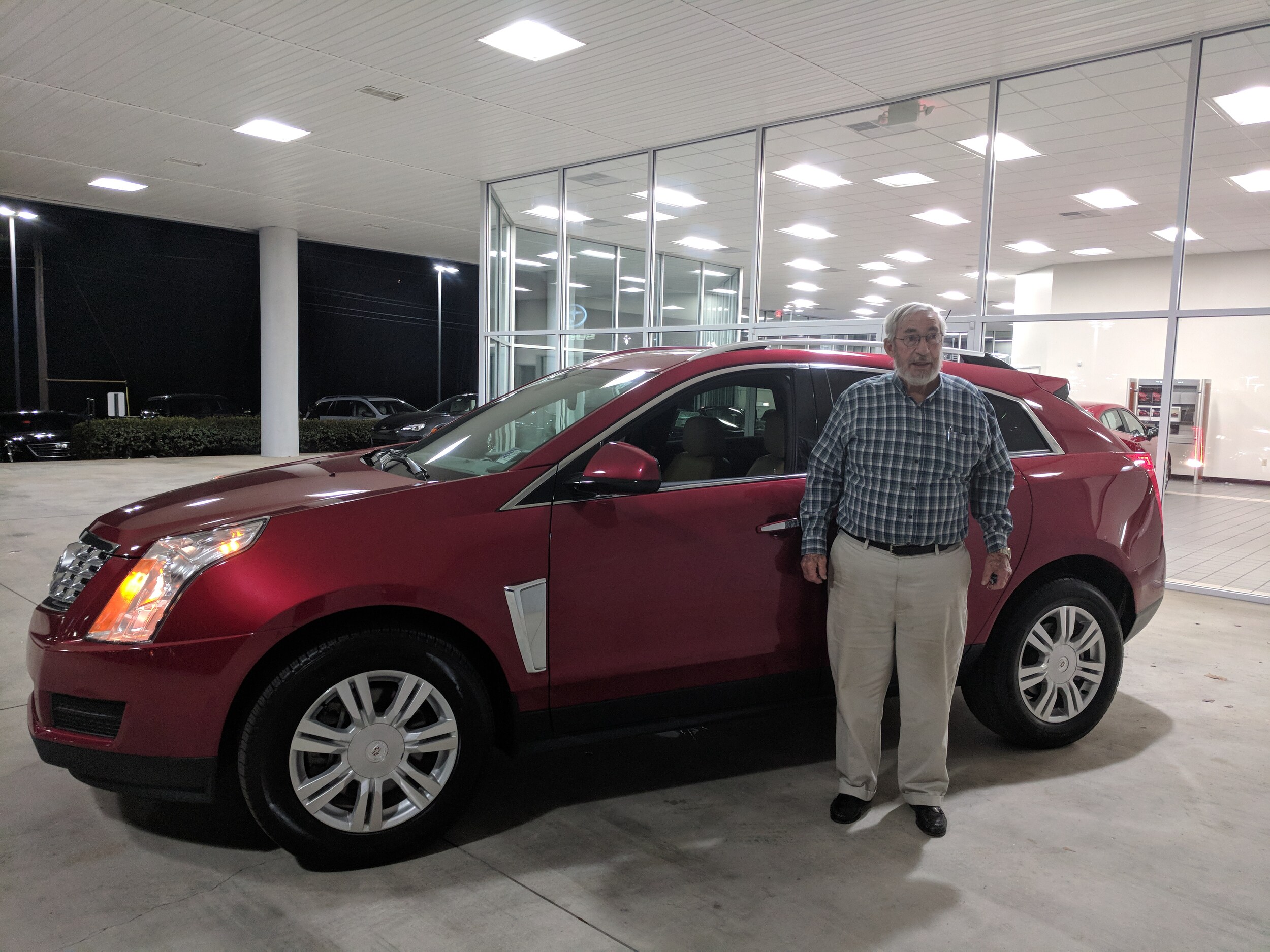 Mr. Knuckles is ready for springtime adventure with his new pre-owned Subaru!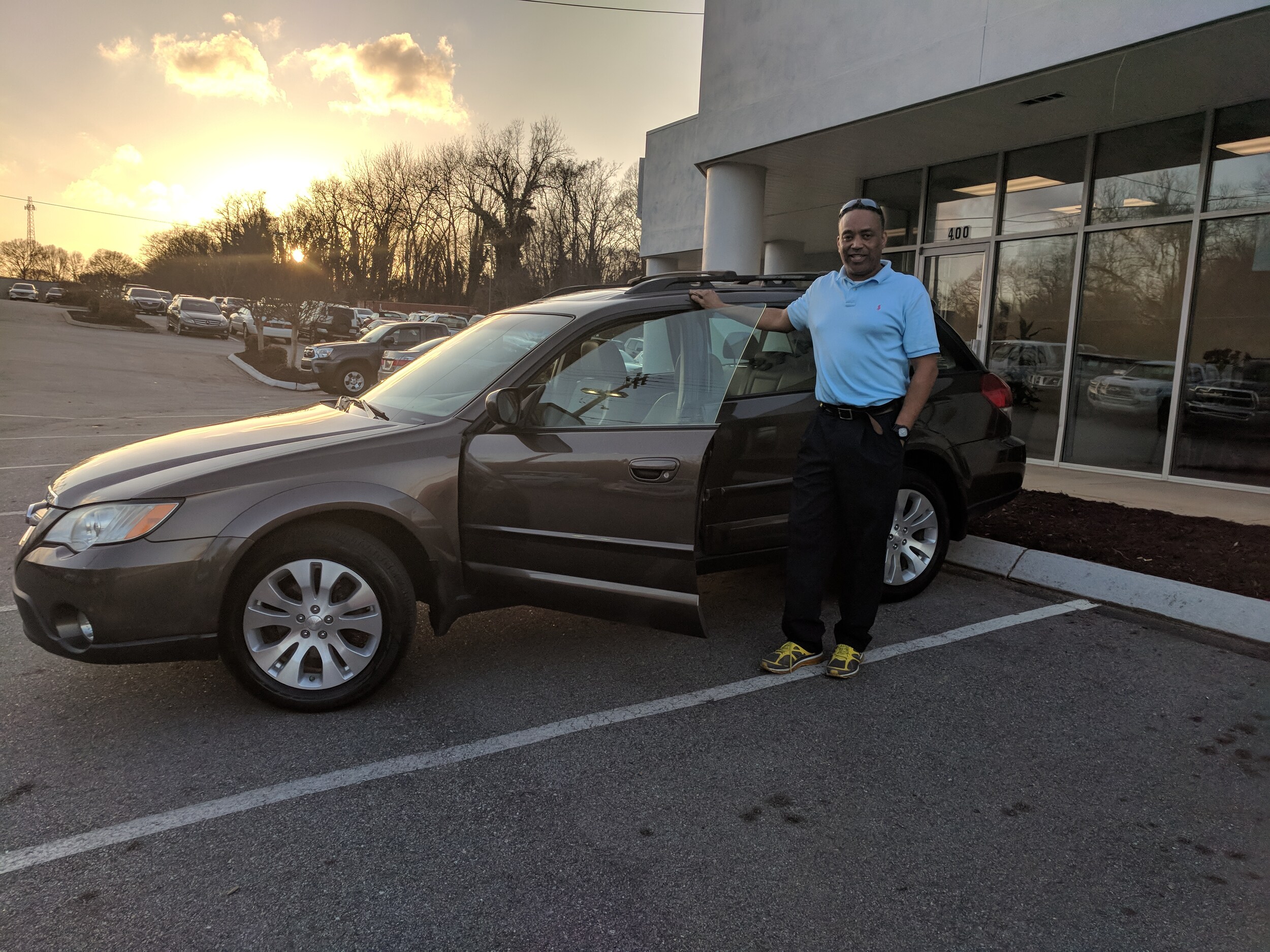 Mother and daughter found a perfect pair of pre-owned BMWs on our lot!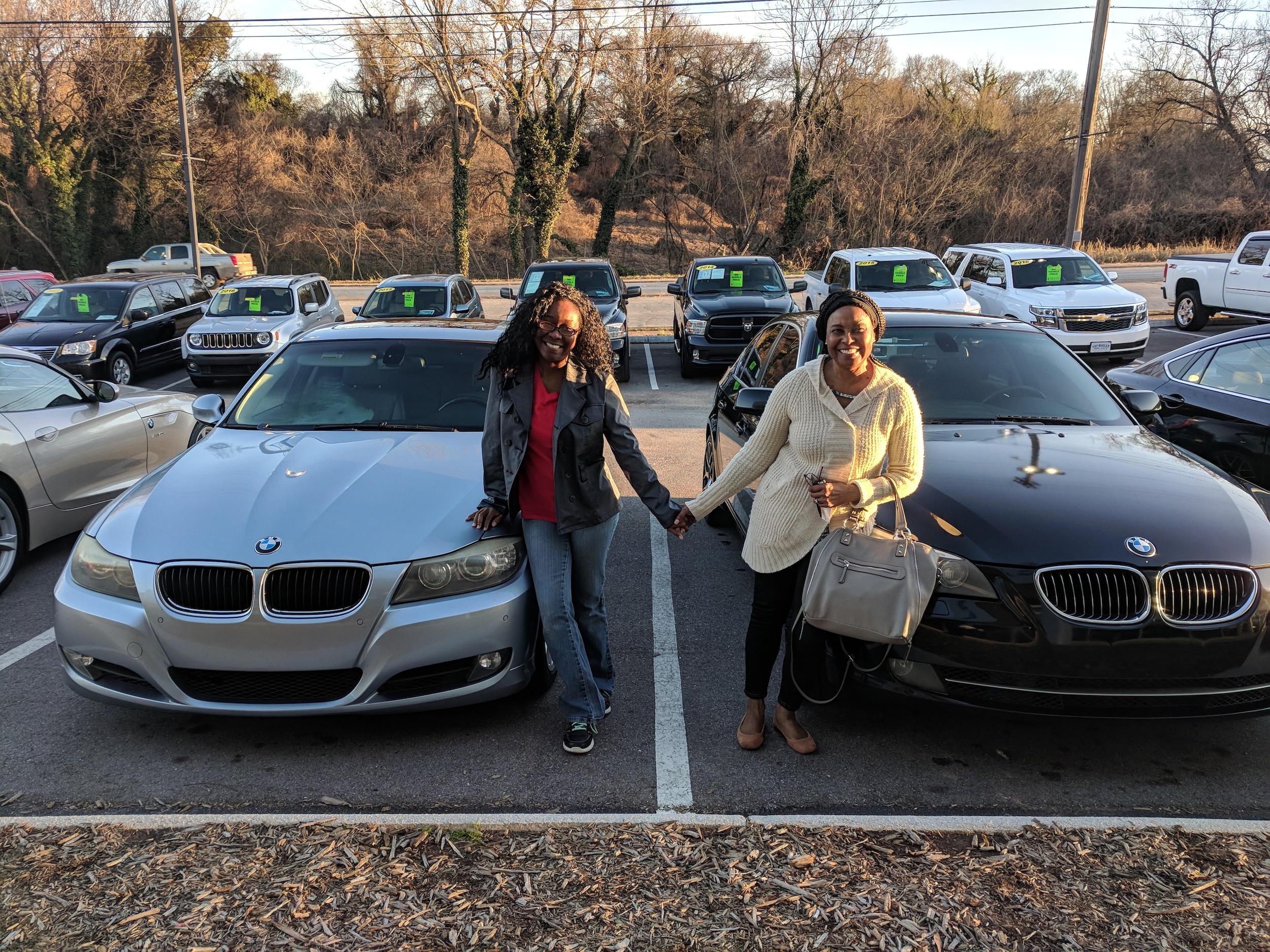 Winter weather won't keep Terri Flaglor from going anywhere now that she has a Subaru Outback!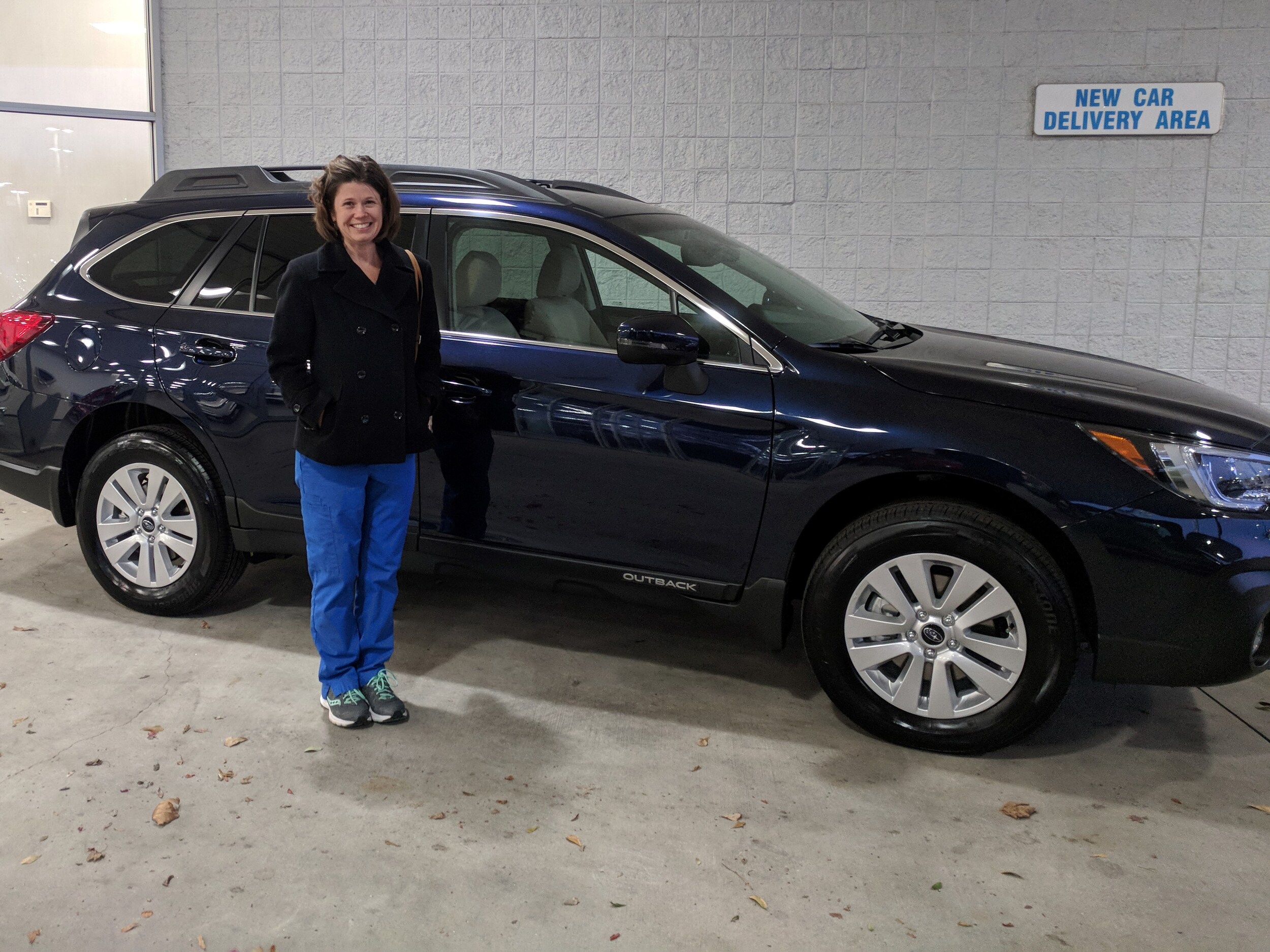 Kelly bought herself the ultimate Christmas gift...a Subaru Outback!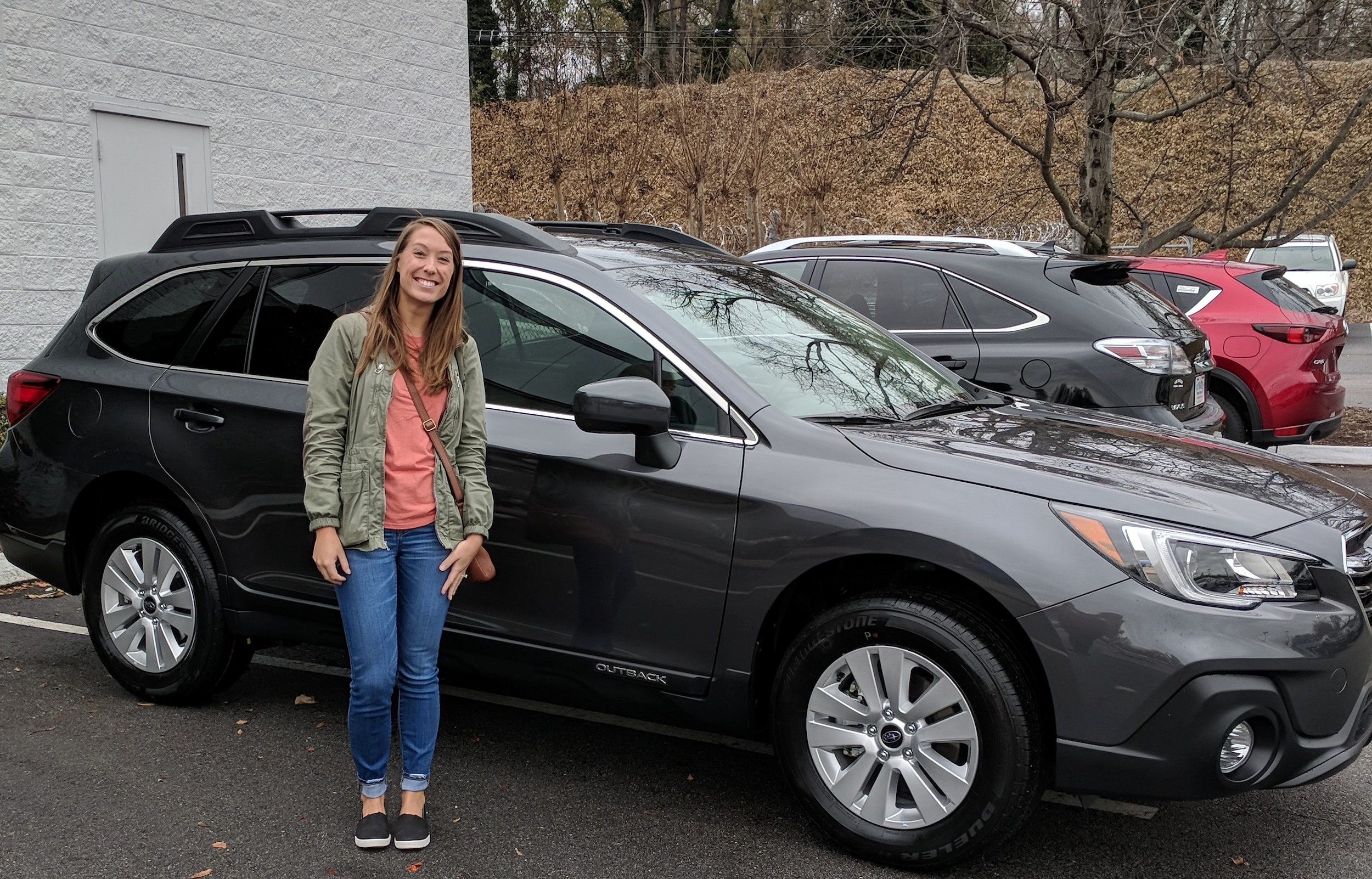 Mr. Garren purchased a Subaru Outback from Charleen just in time for the holiday weekend!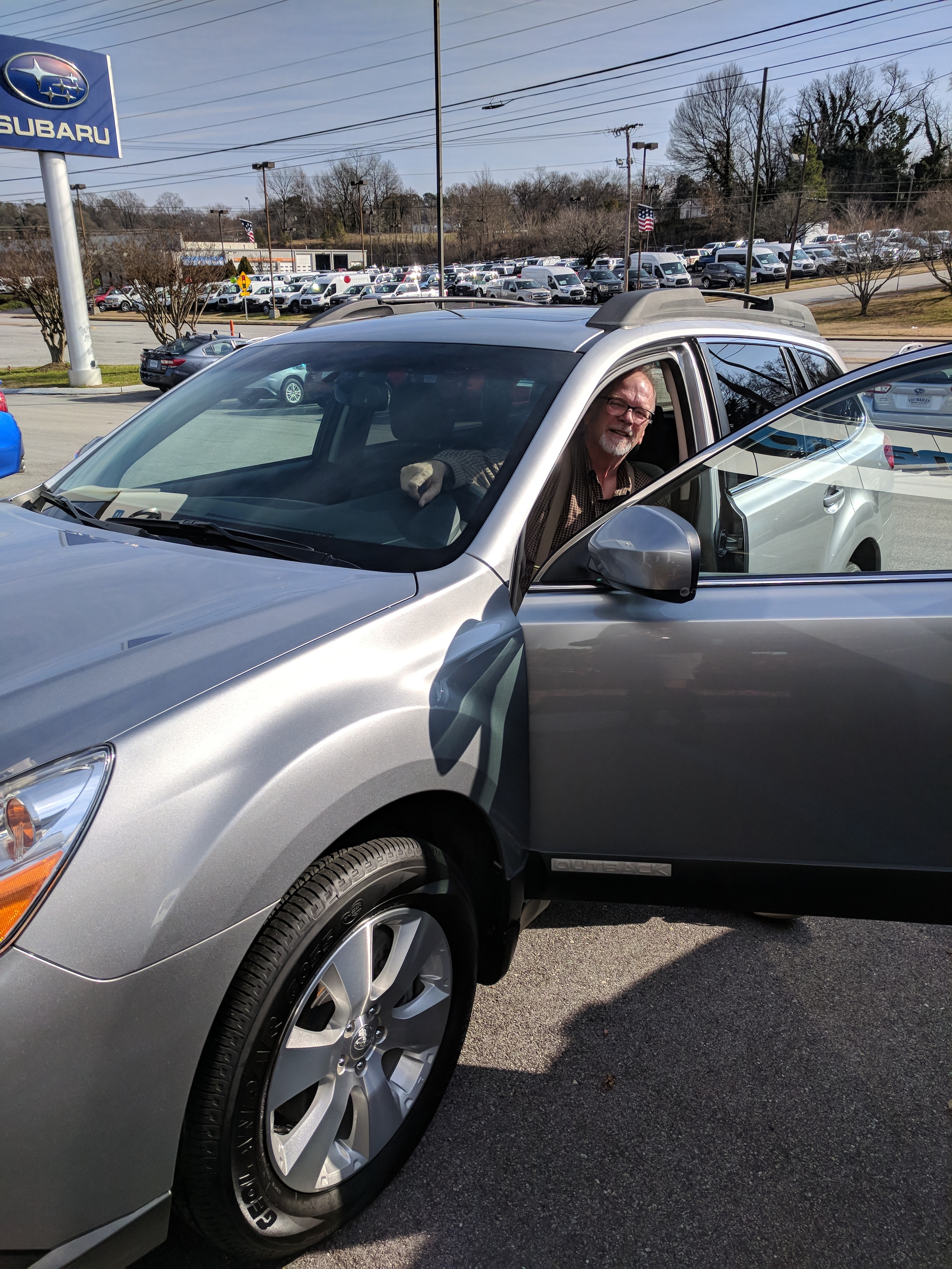 It will be a very Merry Christmas indeed for the McCluney family!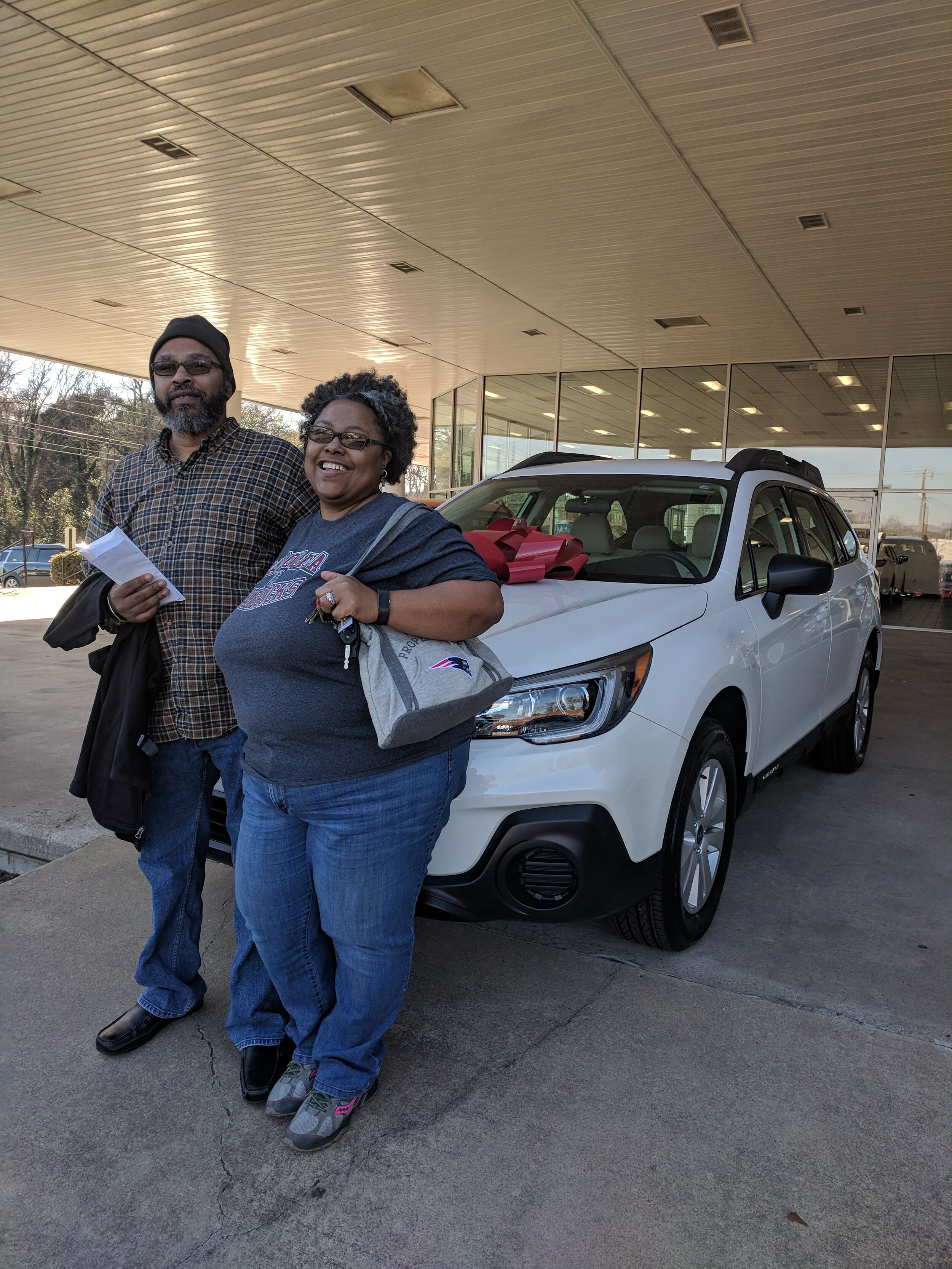 The snow didn't stop Miss Kyle from buying her 2012 Honda Pilot from Charleen!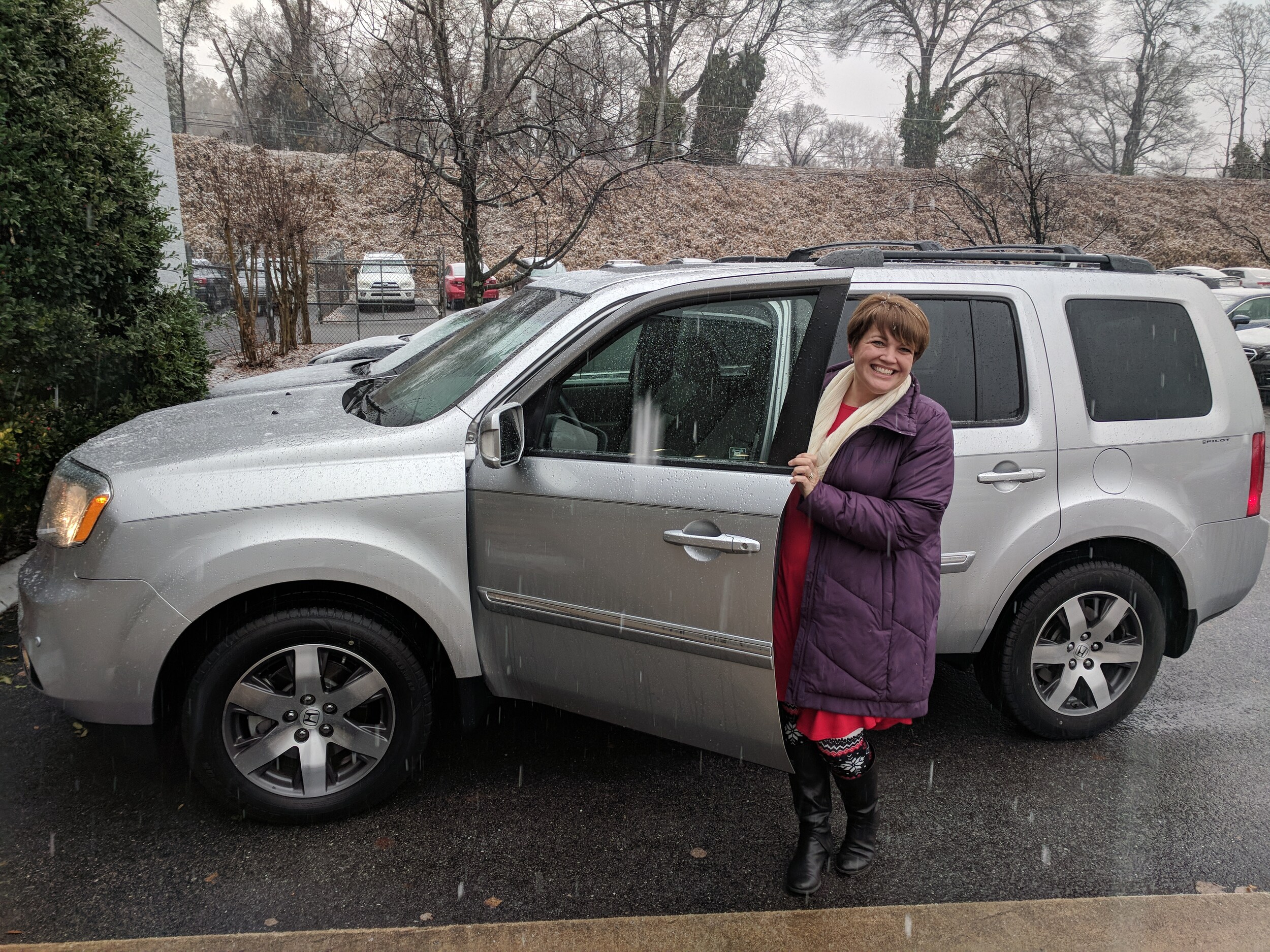 Mrs. Pruitt is ready to run her holiday errands now that she has so much space in her Subaru Outback!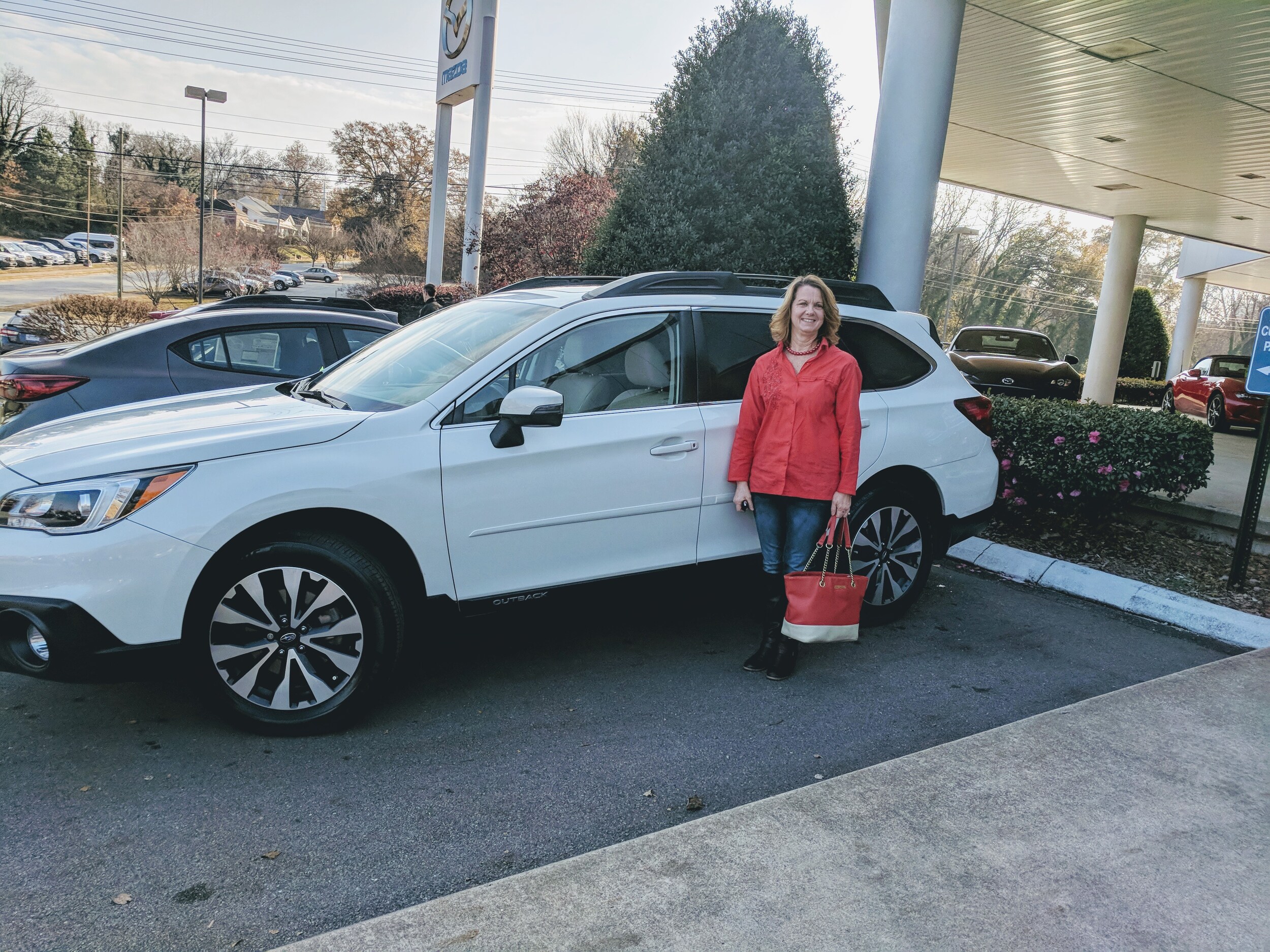 Mark and Donna Stewart traveled over 5,000 miles and across three different mountain ranges over vacation in their 2013 Subaru Outback! They were pleased with the Outback's performance!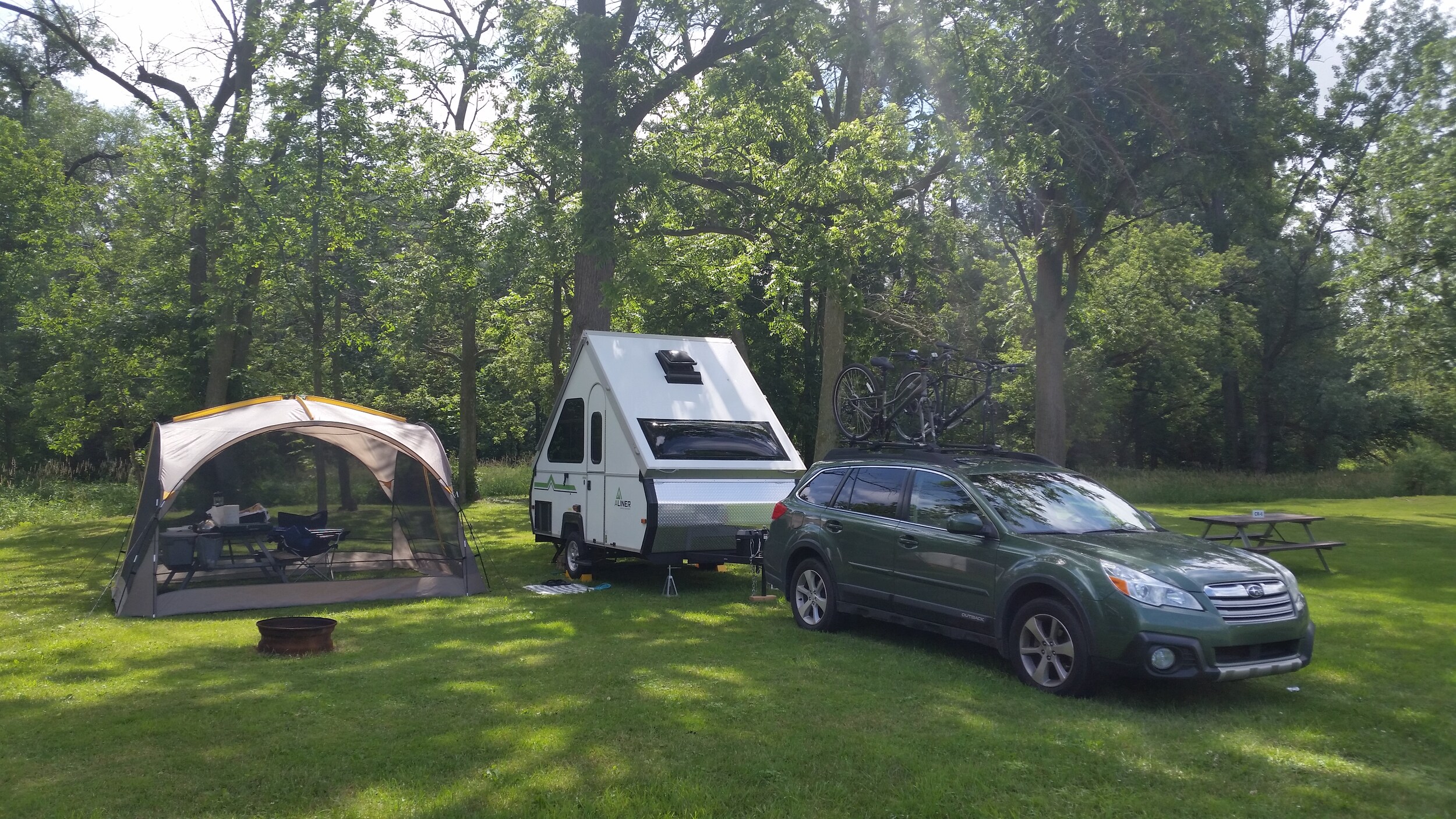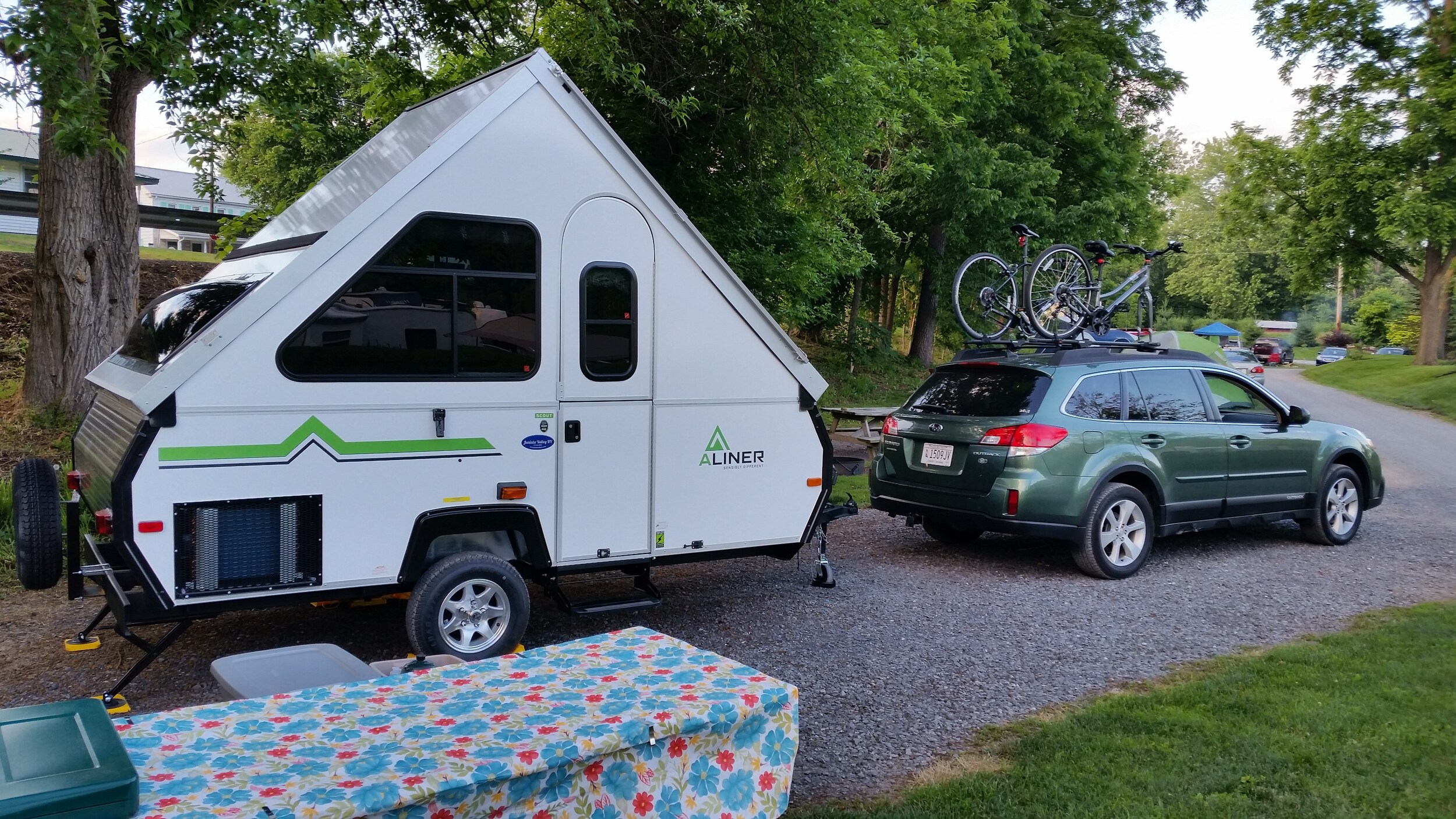 Jennifer purchased her new Subaru Crosstrek from Charleen and couldn't be happier!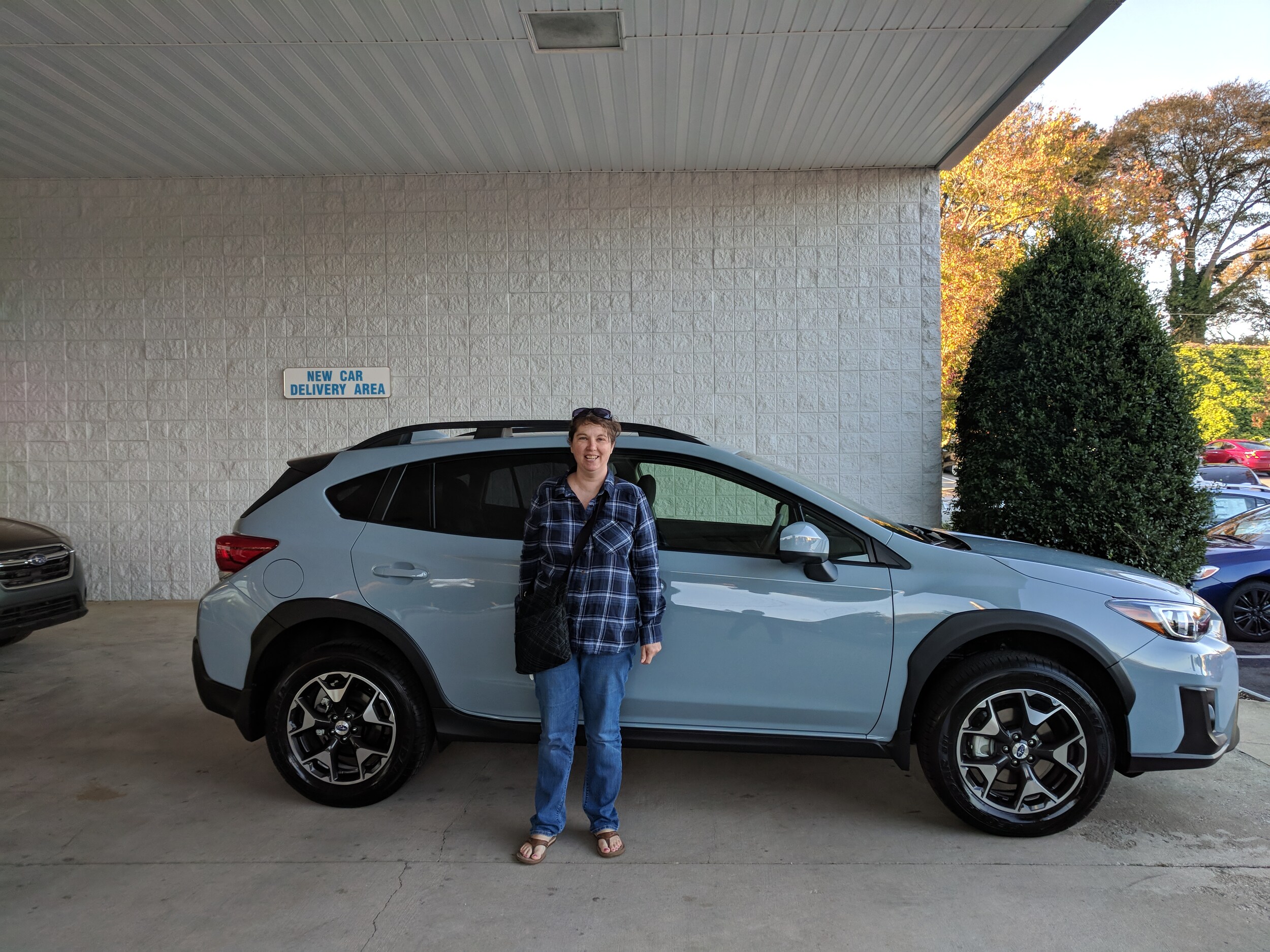 The Elliotts found love with their new Subaru Outback!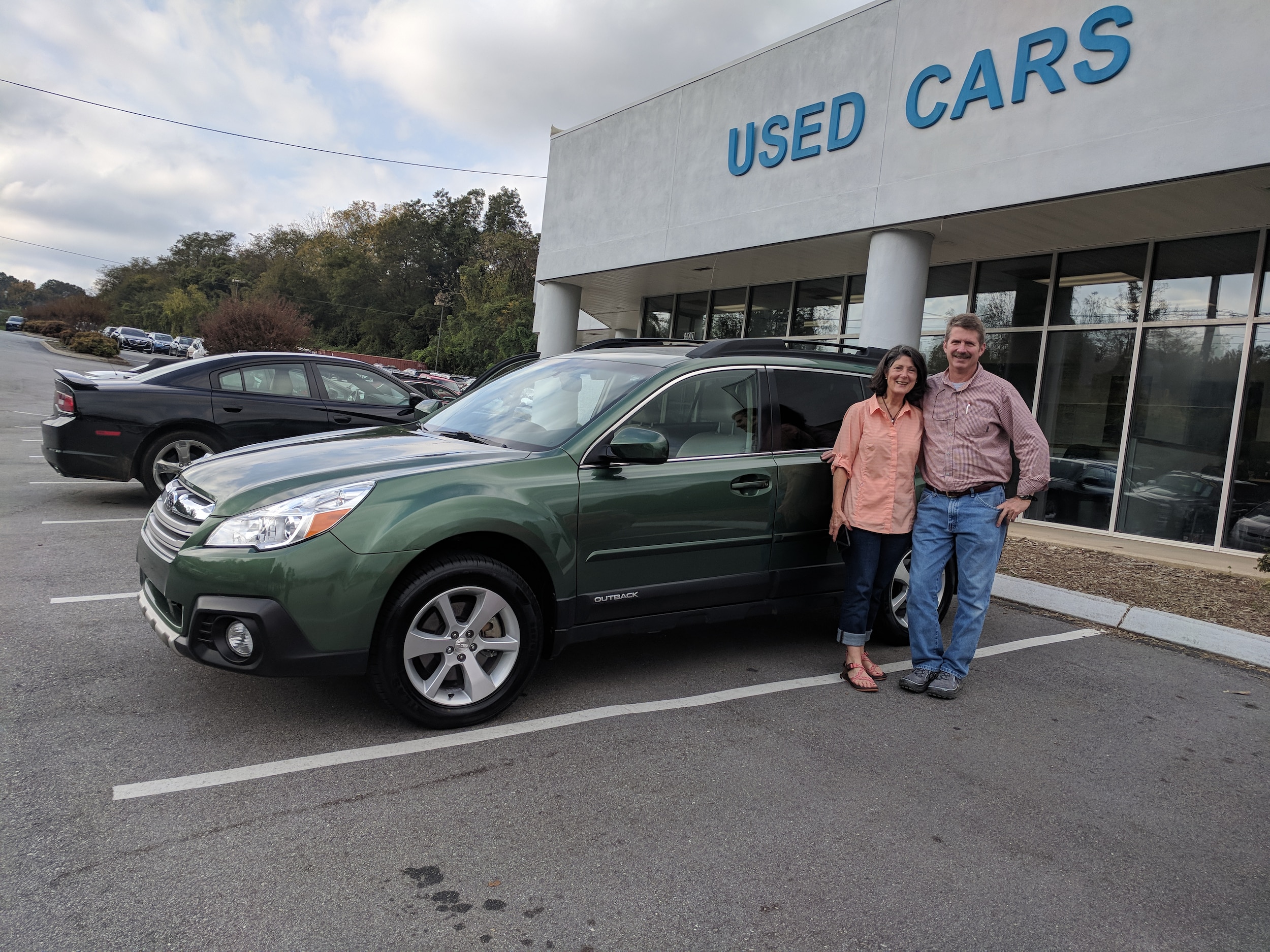 This is what buying a Subaru looks like! Kaci Lollis LOVES her new Subaru Legacy!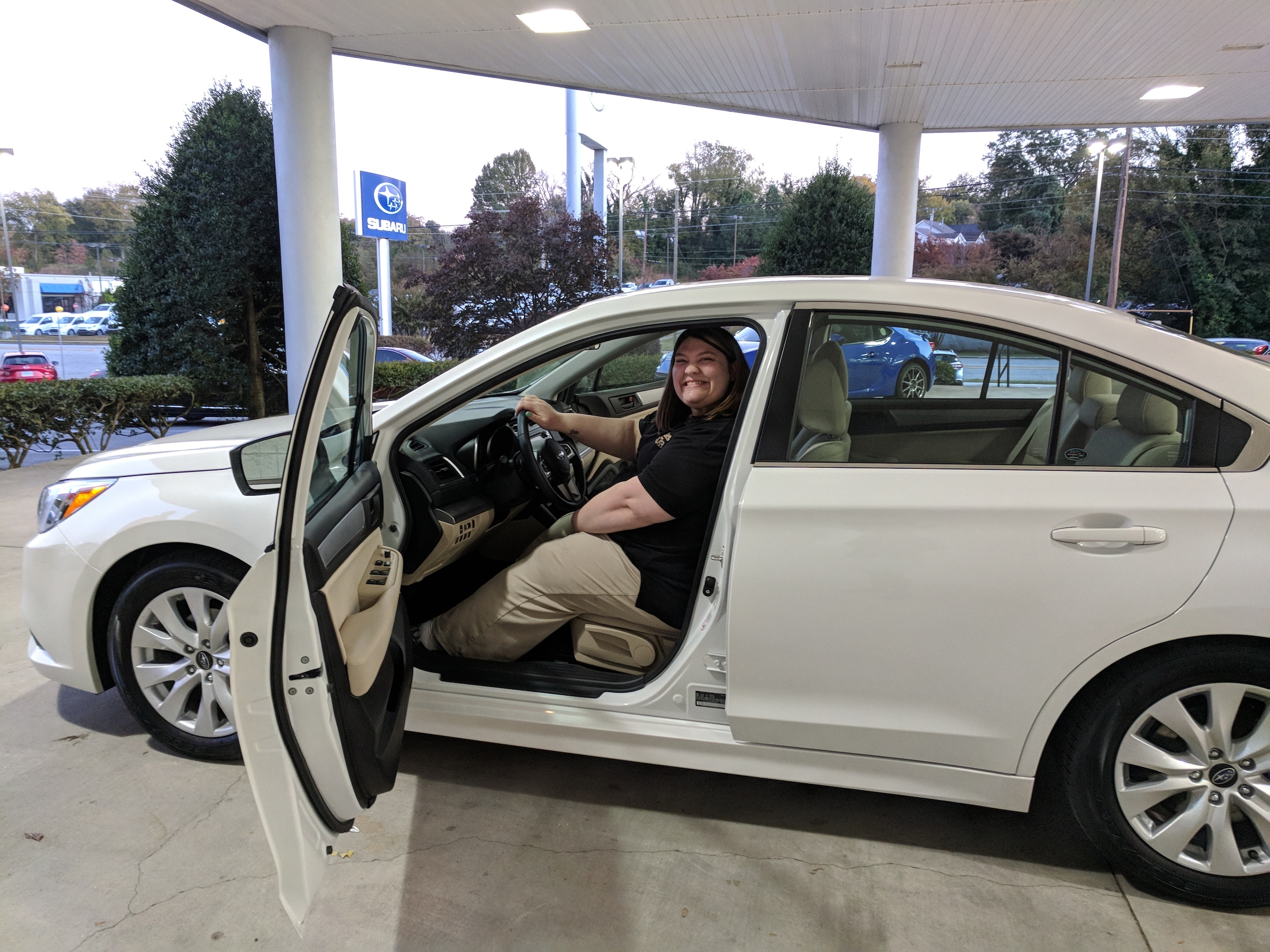 Mr. Knight found an affordable and reliable truck on our lot...this 2002 Chevy S10!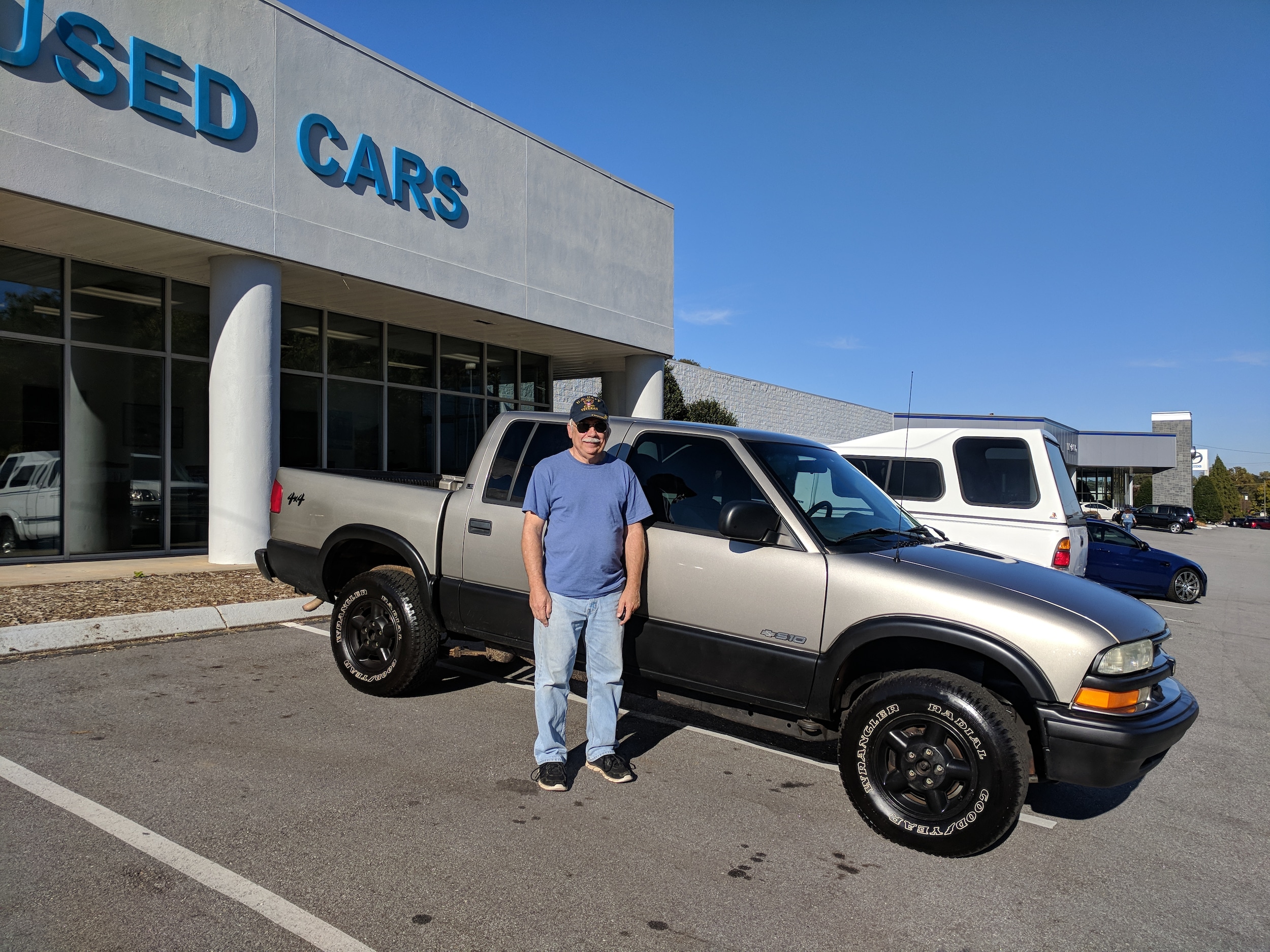 Elaine worked with Charleen to purchase her brand new 2017 Subaru Forester!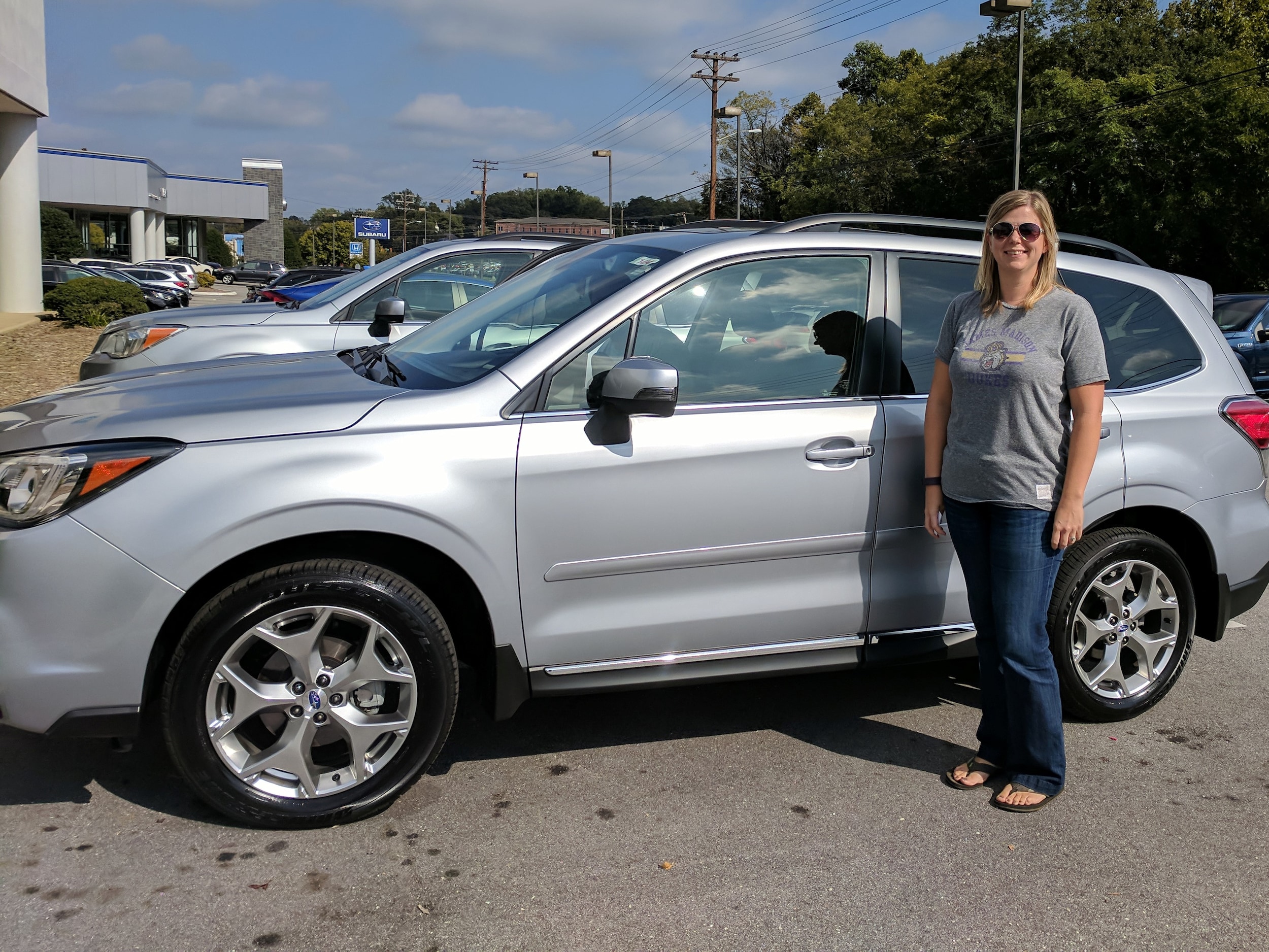 Wesley found a Toyota Tundra for the price he wanted on our lot!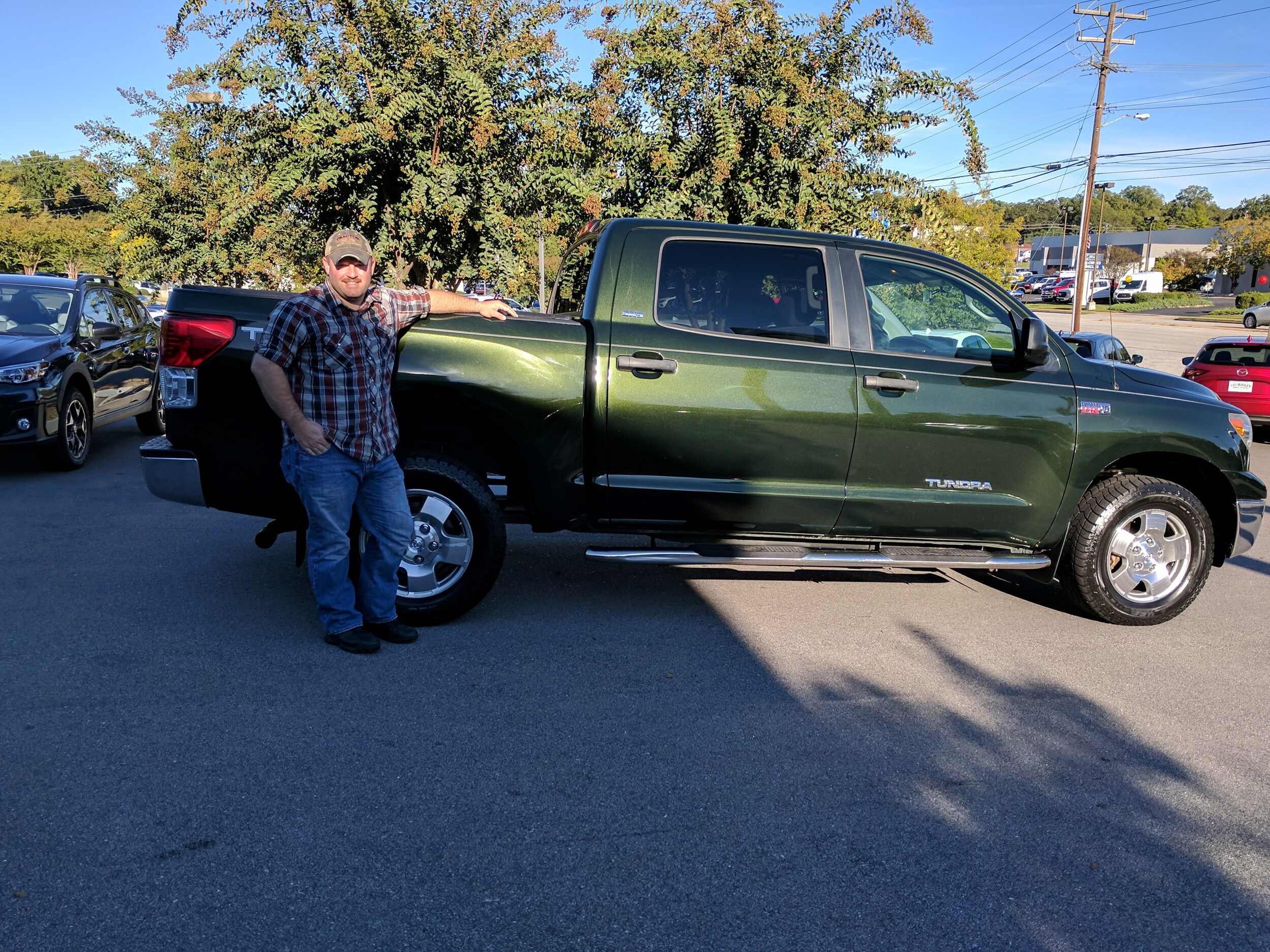 The Griffins are tickled over the Chevrolet Suburban they purchased from Charleen!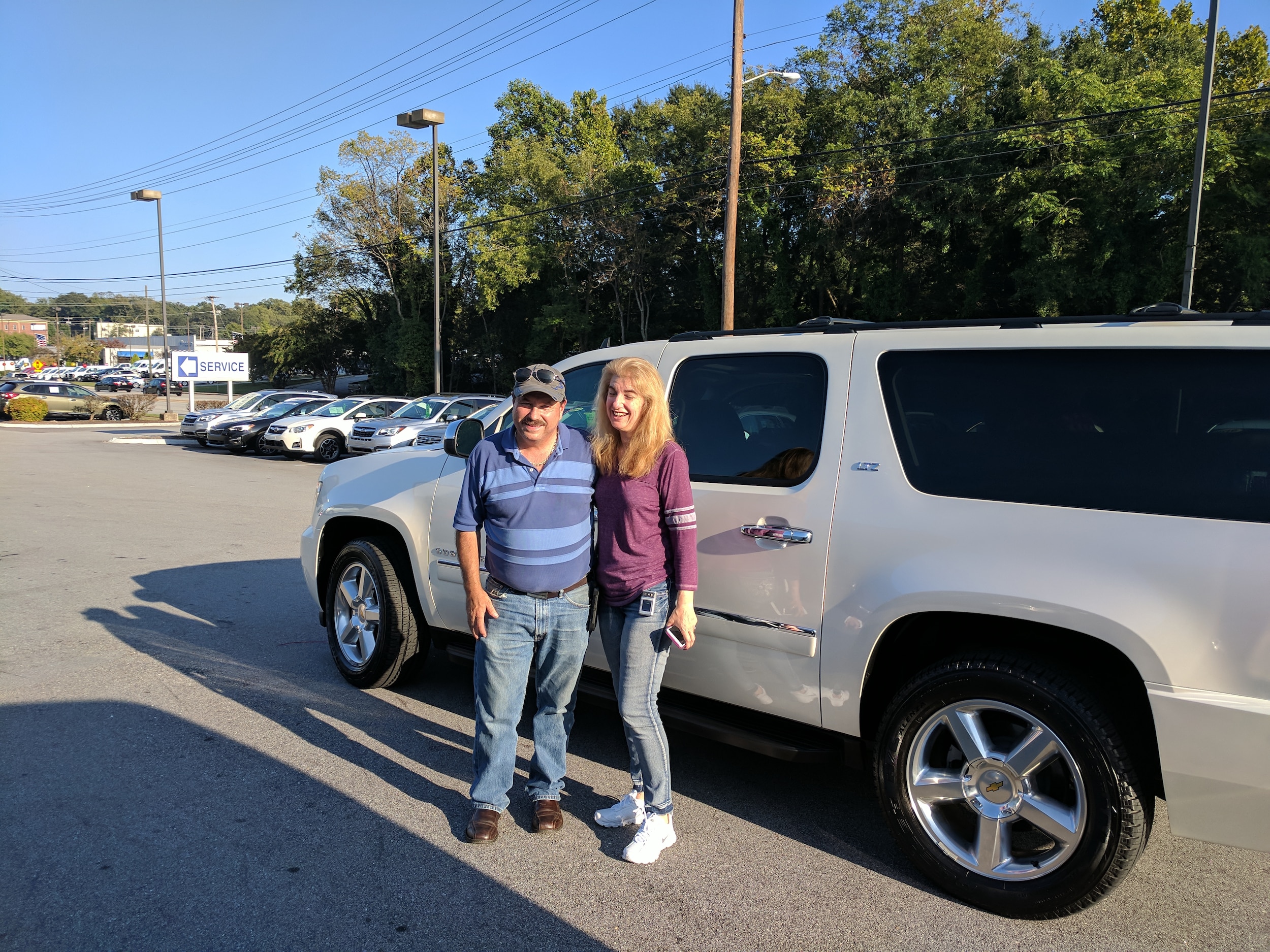 Jason Shackelford was thrilled to discover a Ford Explorer Sport Trac on our lot in excellent condition!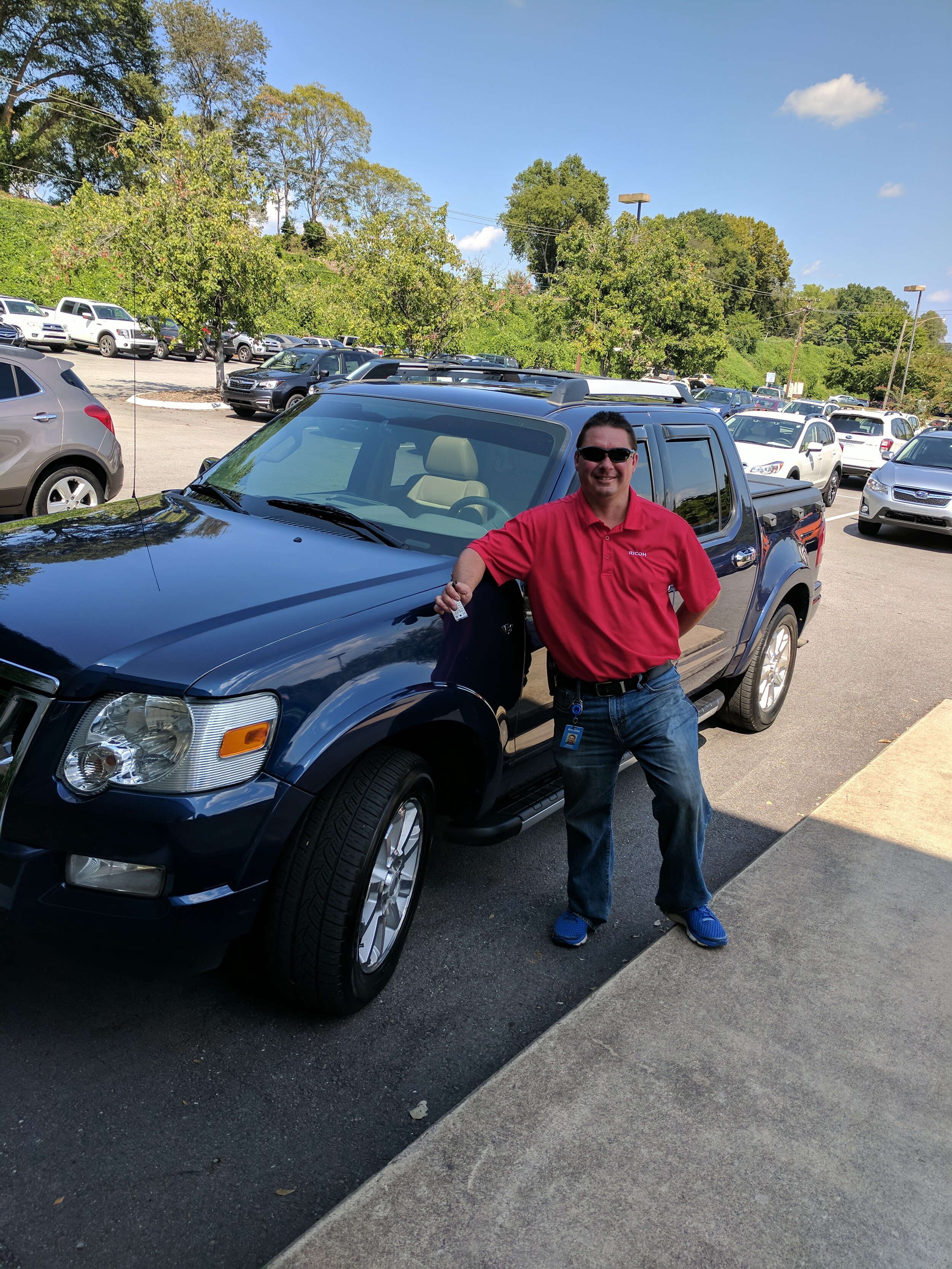 Mr. McCormack is all smiles over the Toyota 4Runner he purchased from Charleen!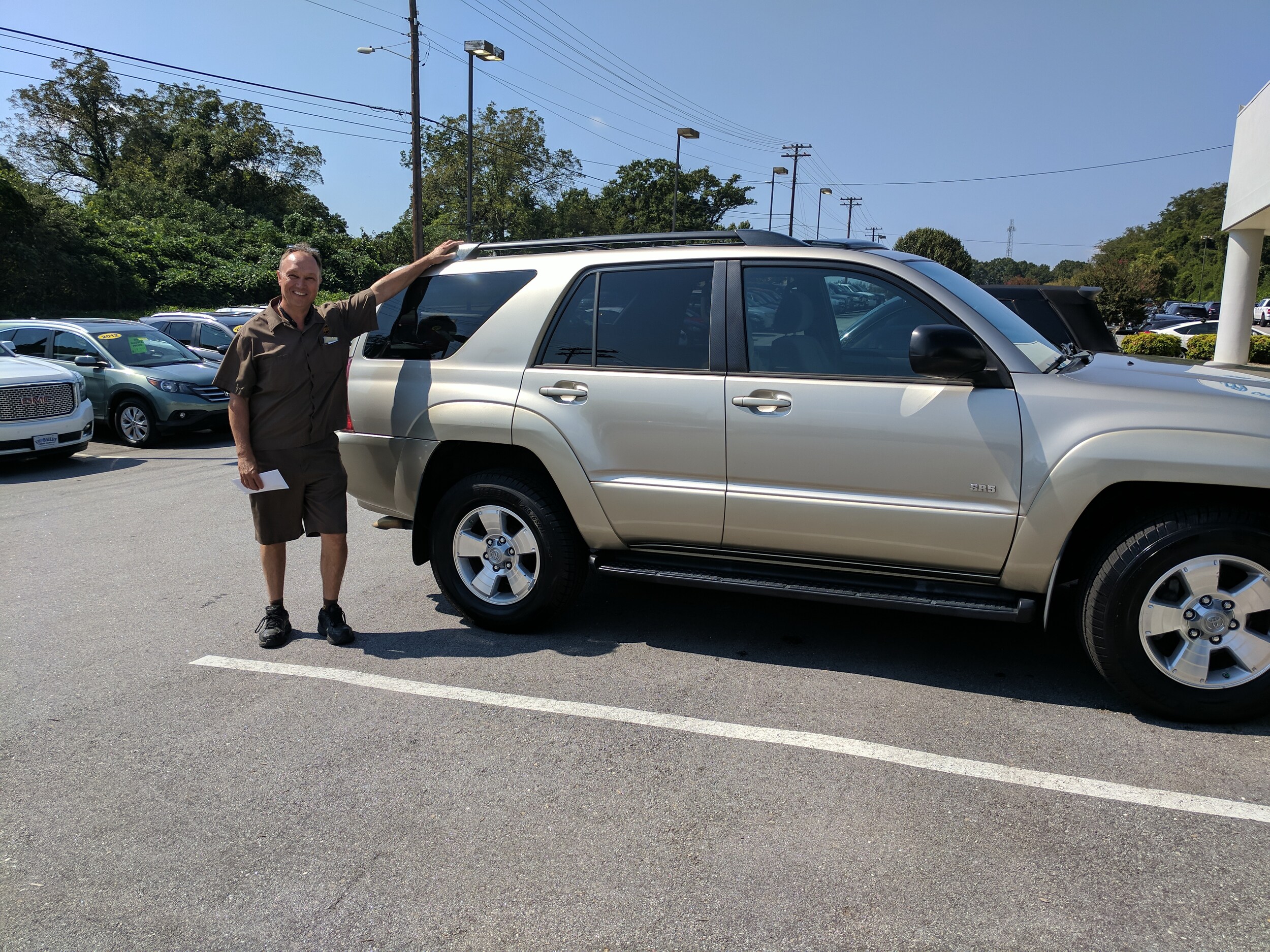 We found Adam the perfect pre-owned Subaru Outback!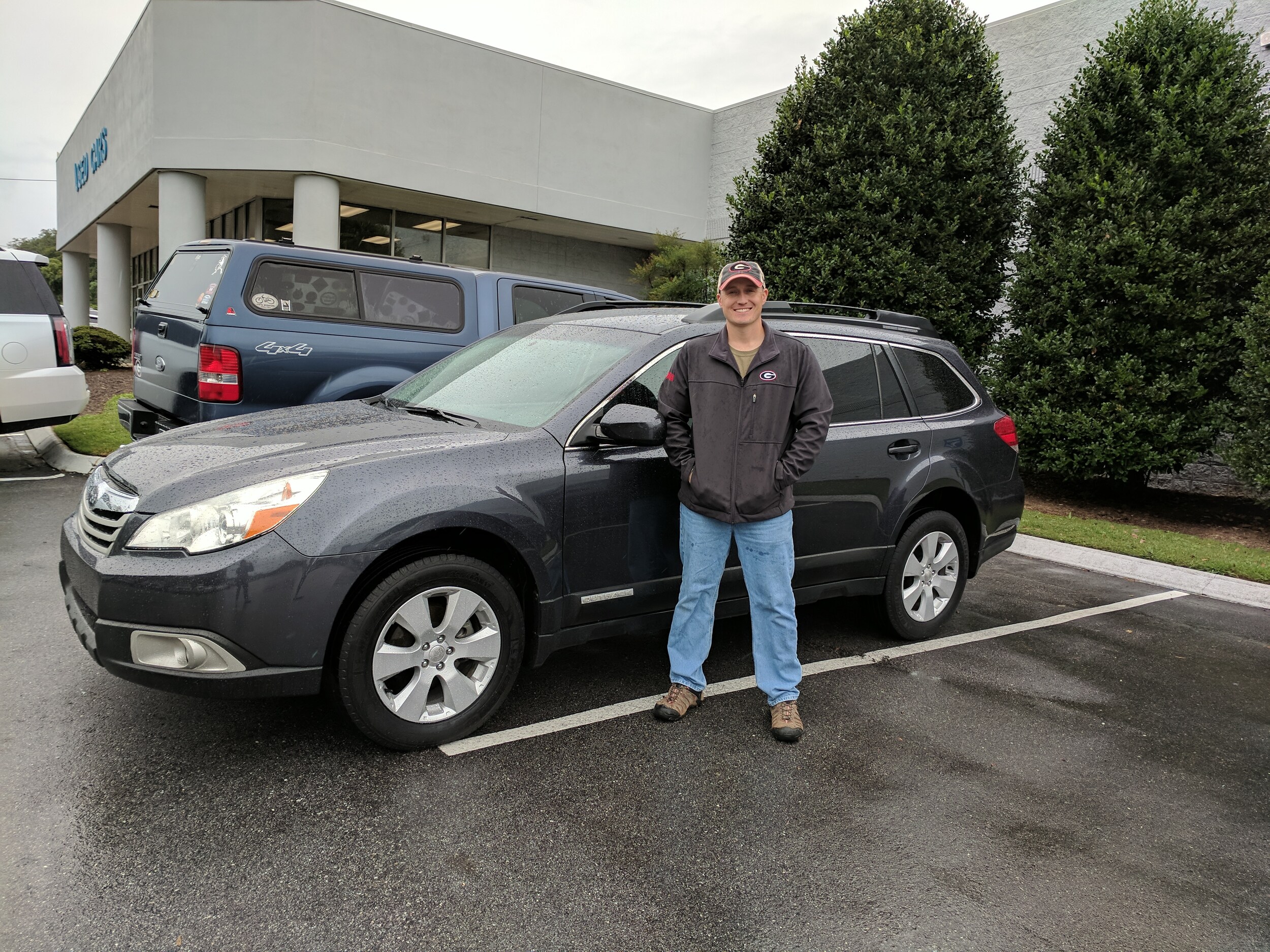 Jessica is head over heels for the Encore she purchased from Charleen!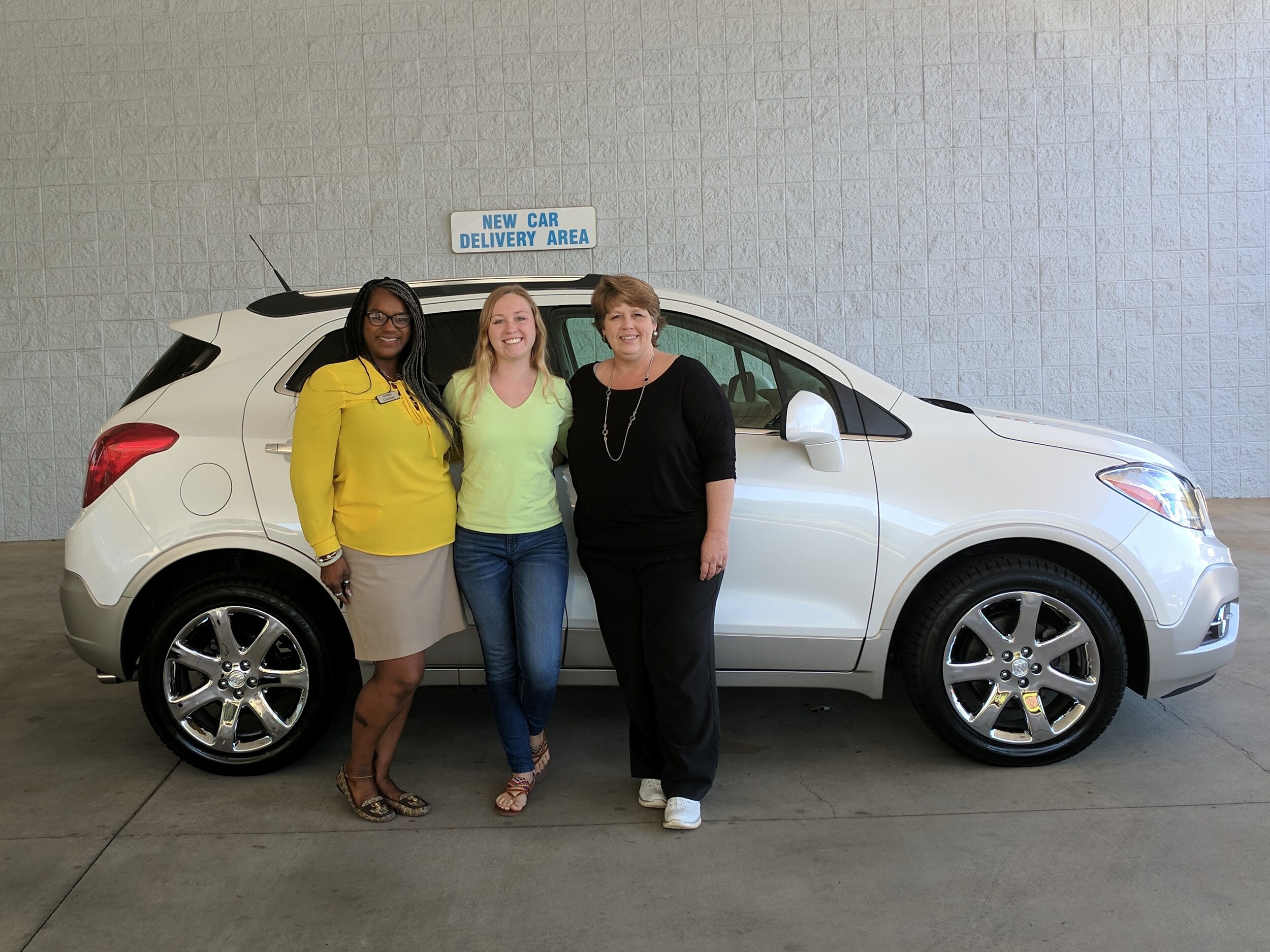 The Crowe family is ready for Labor Day weekend now that they purchased this nice pre-owned Volkswagen Jetta from Charleen!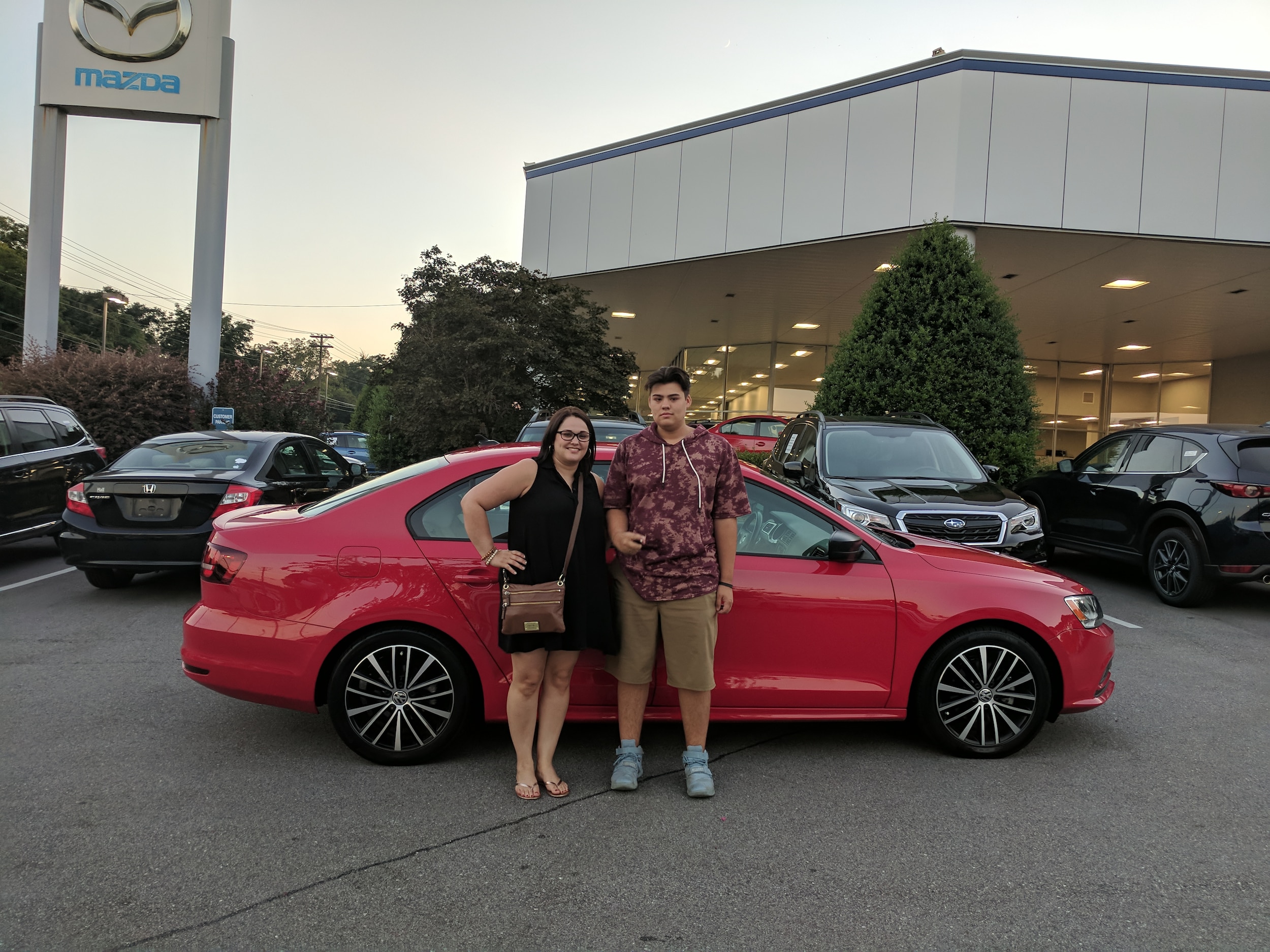 Sophath Long drove away this morning in her 2017 Acura ILX!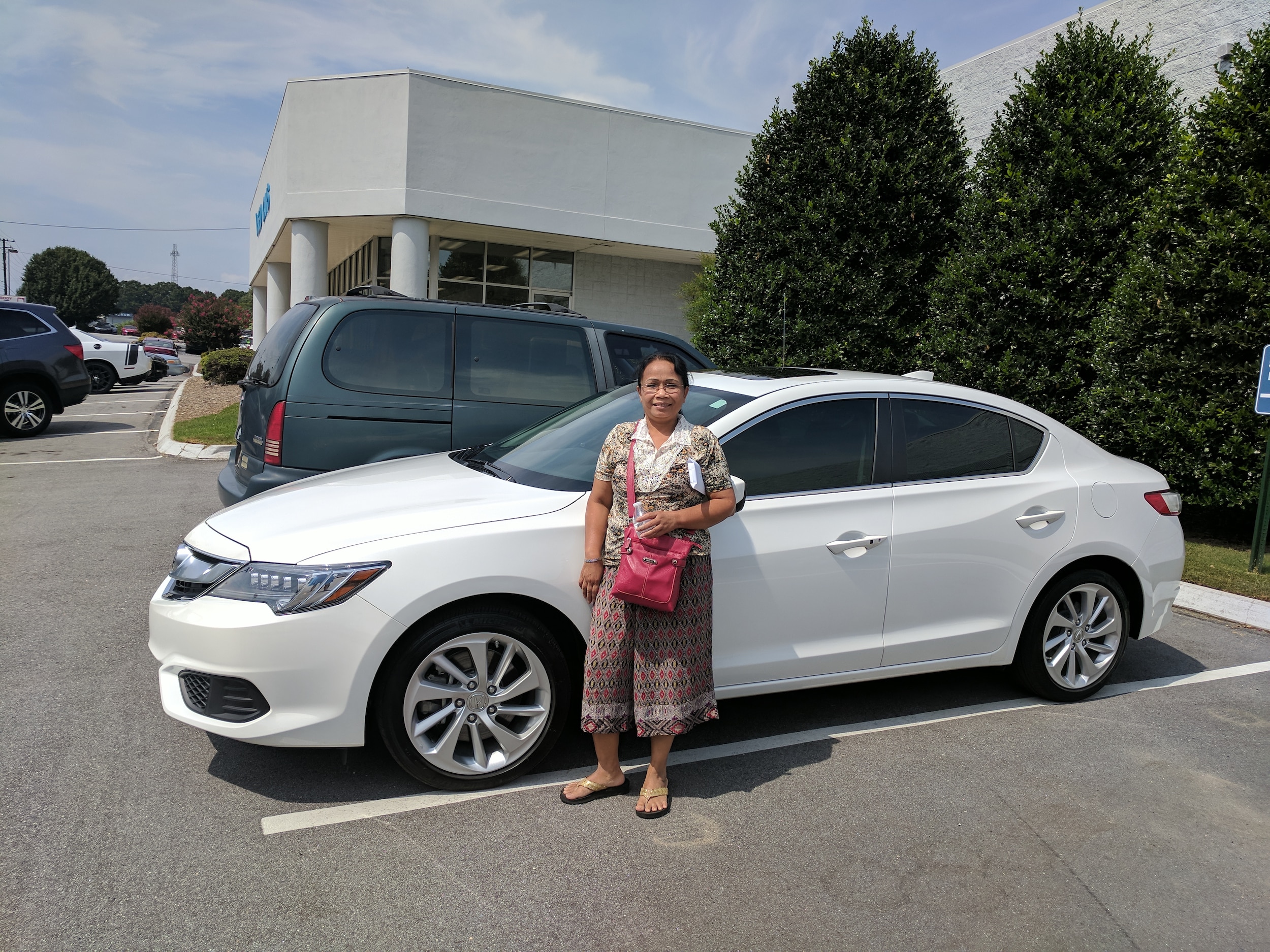 Alexandria Arellano came to us to purchase her pre-owned Honda since her family enjoyed working with Charleen in the past! Let us know if you need help finding that perfect ride!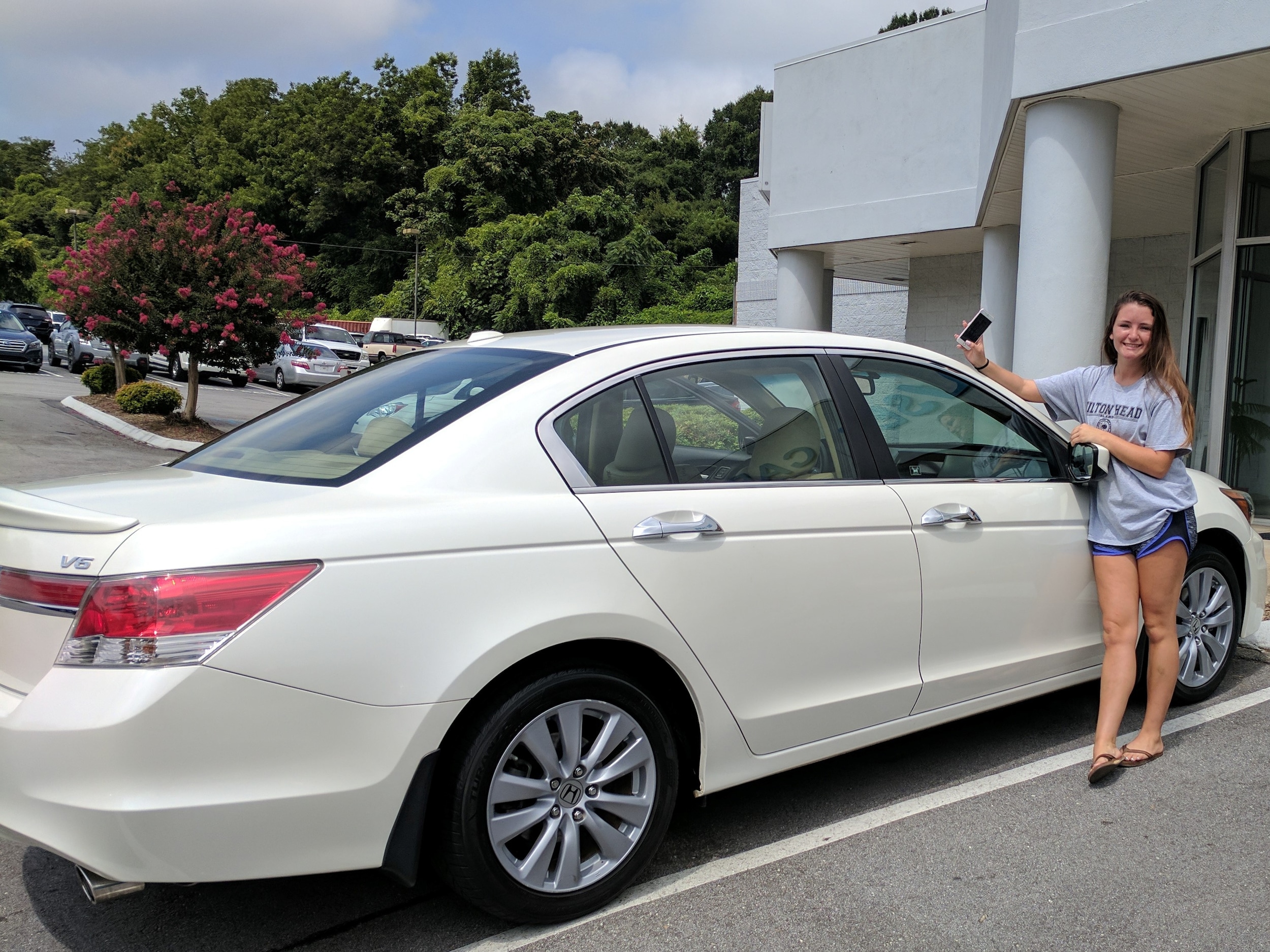 Mike Strawhorn put his trust in Charleen to help him find a quality pre-owned vehicle. He's driving back to Greenville in a 2013 Volkswagen Passat!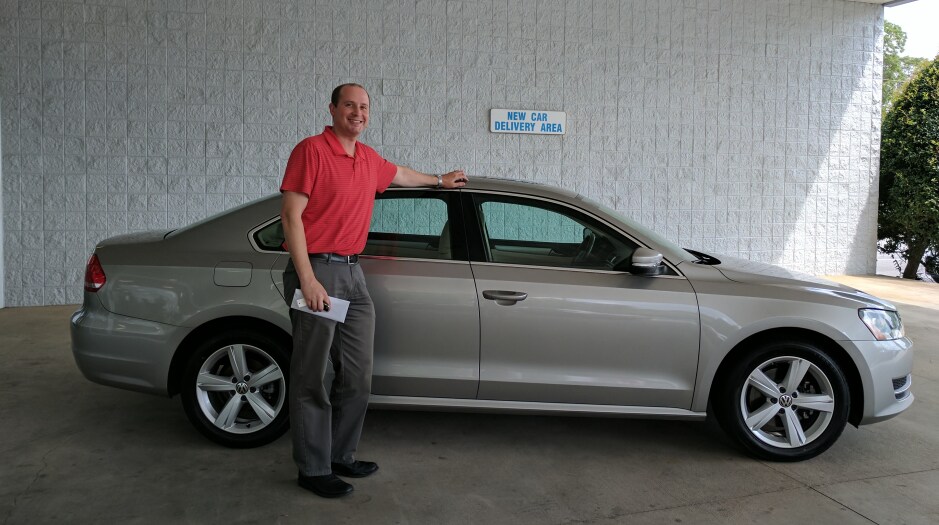 Heather LOVES her new 2017 Subaru Outback!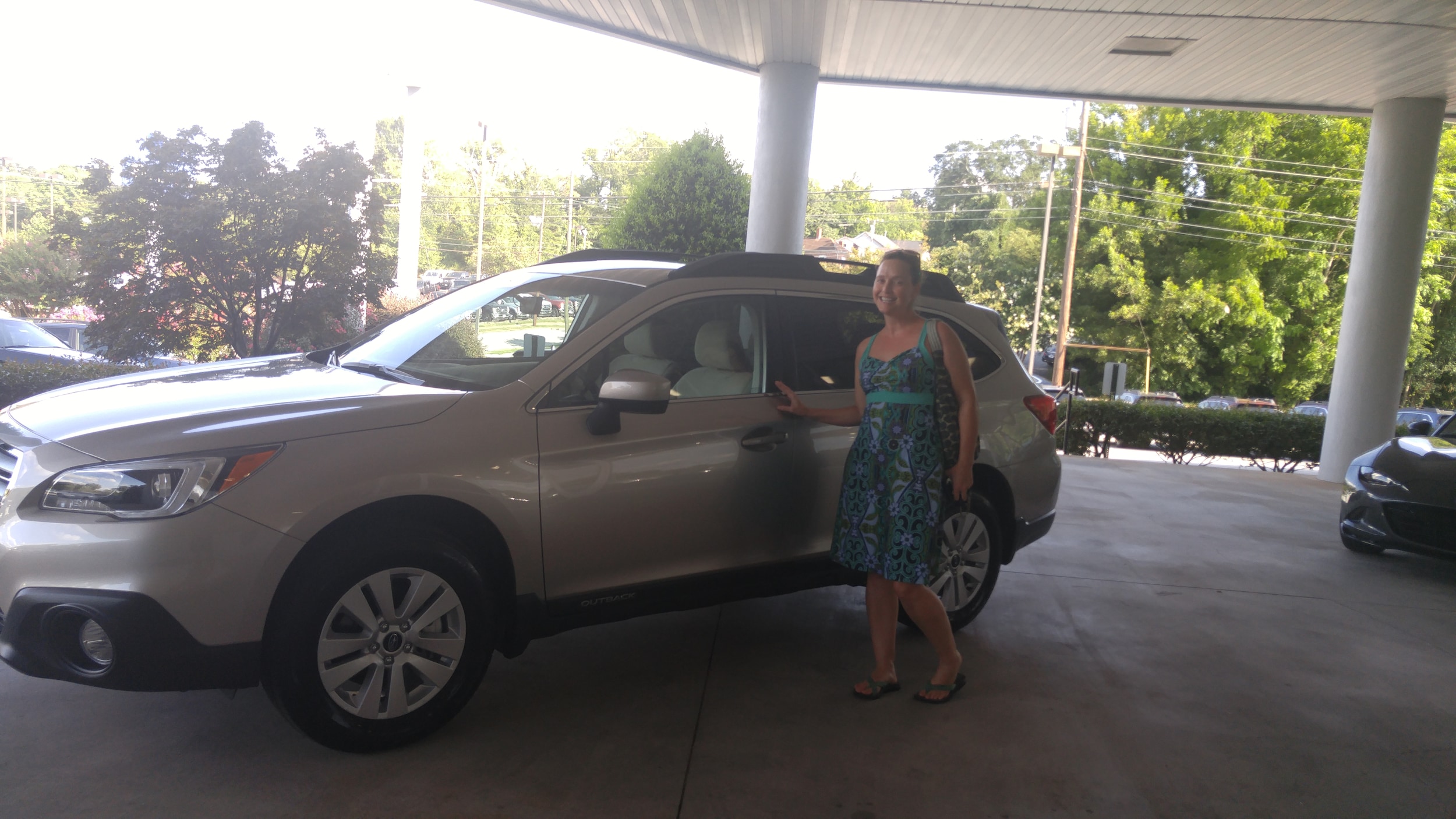 The McCalls came from Virgina to purchase a pre-owned Tahoe from us!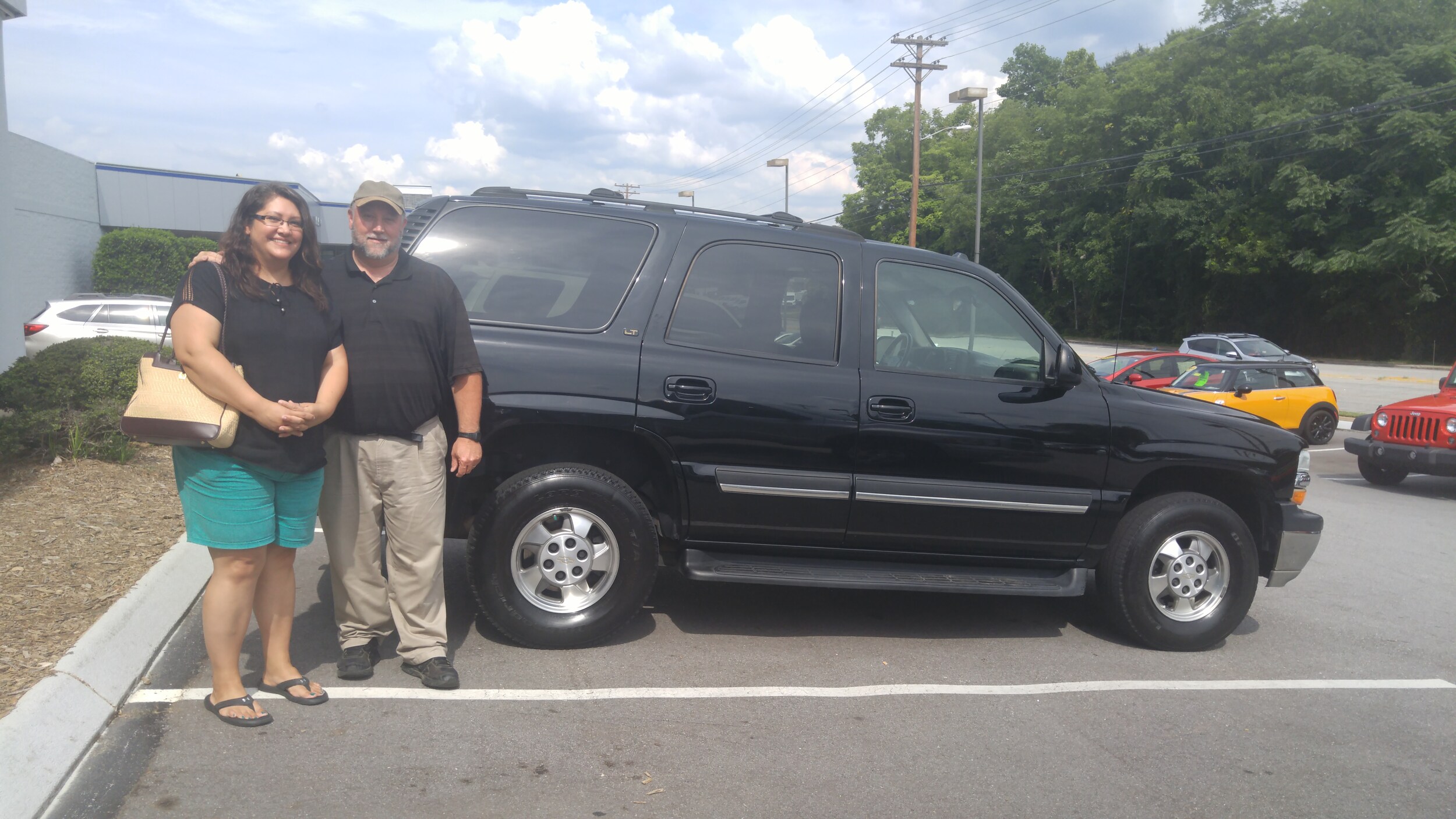 The Bayleys came from Columbus, NC to purchase an Outback from Charleen since we had the right Subaru for the right price!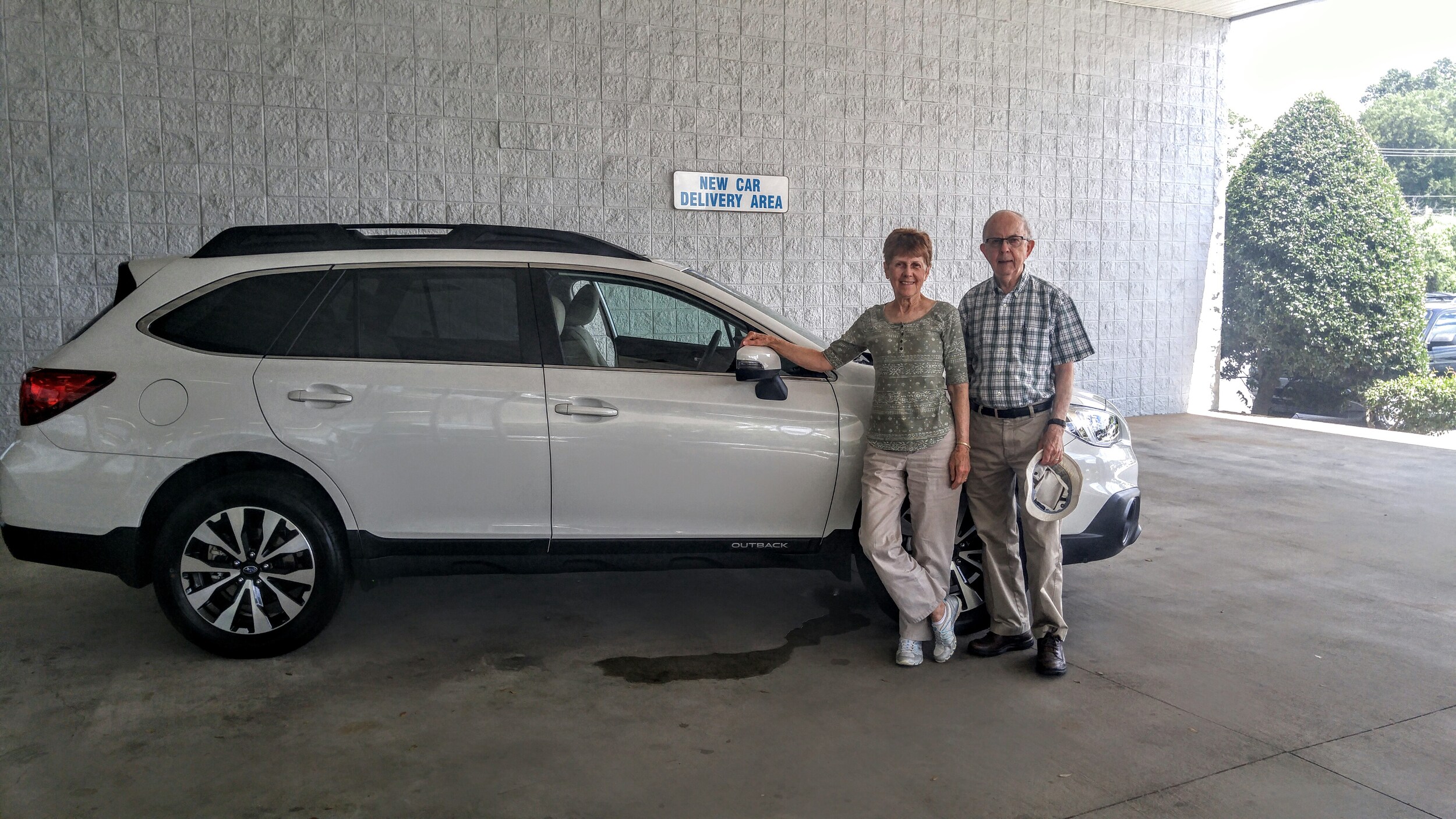 Katie came from Asheville to purchase her first car from us!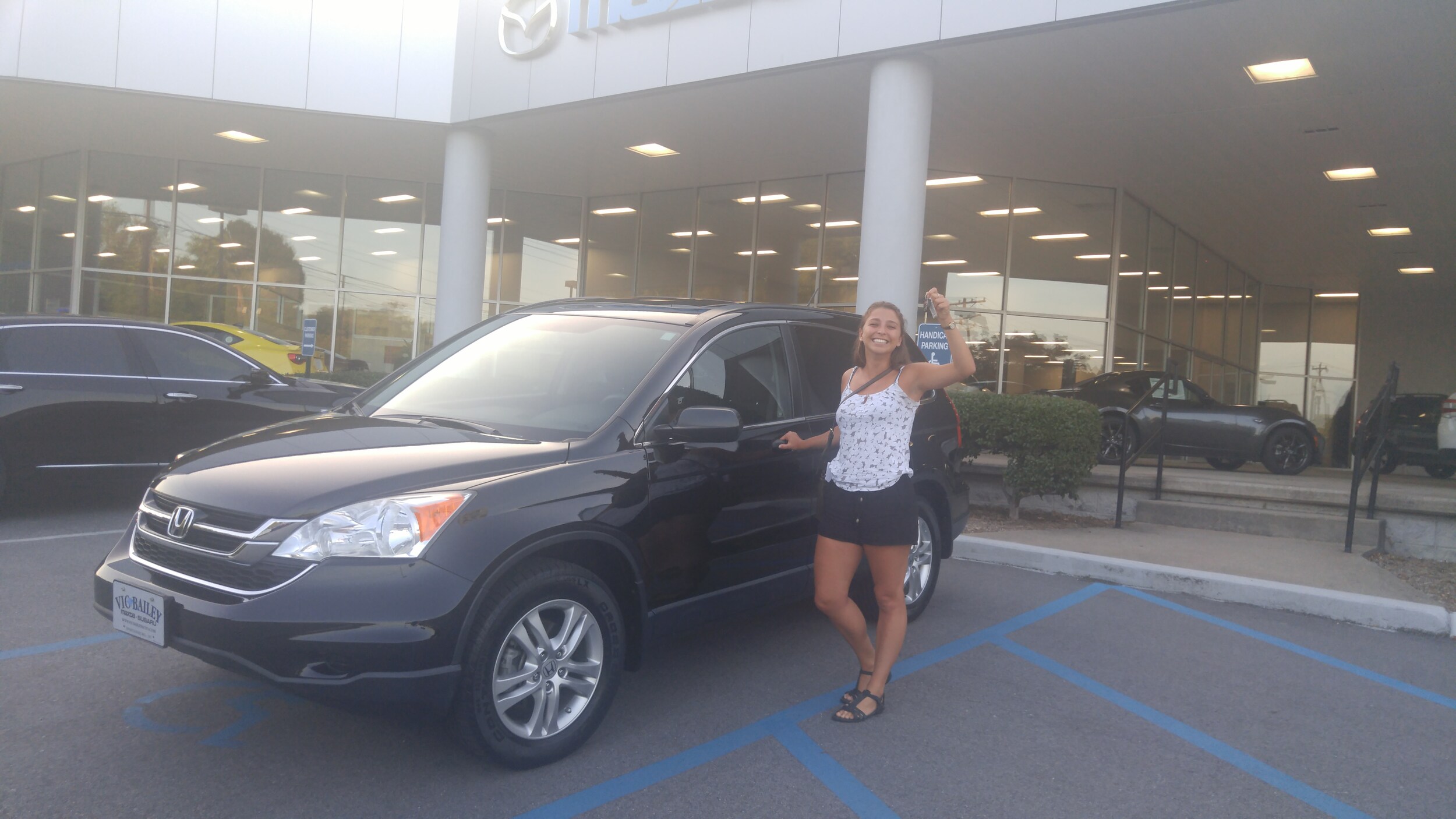 Joe Littlejohn's Monday can't get much better... he just bought a Toyota Tundra from Charleen!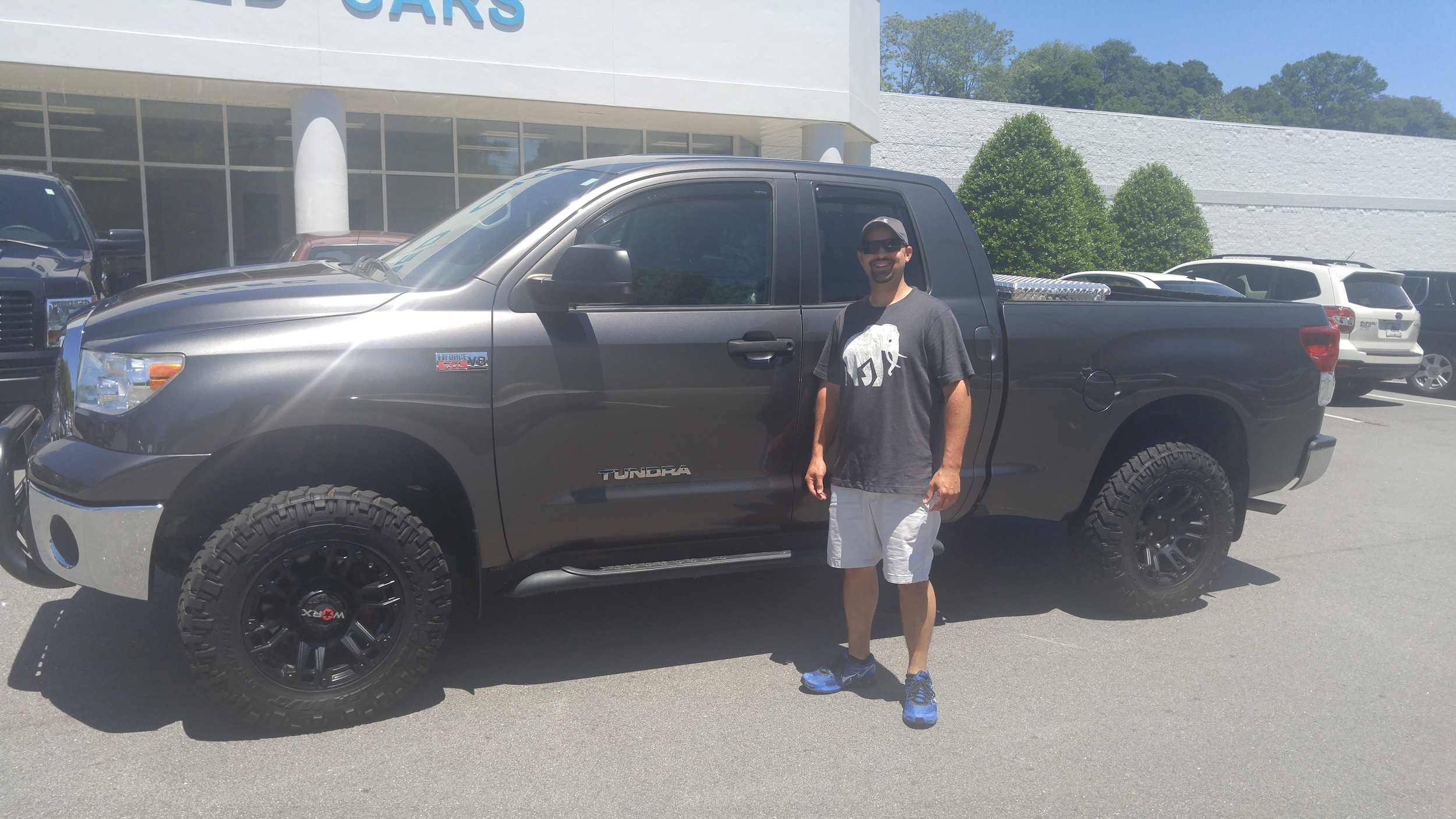 Gamecock girl, Kendyll Short, came to us to purchase a pre-owned Jeep since we have the no-hassle pricing! Charleen had her in and out quickly on Saturday so she could get back to enjoying the weekend!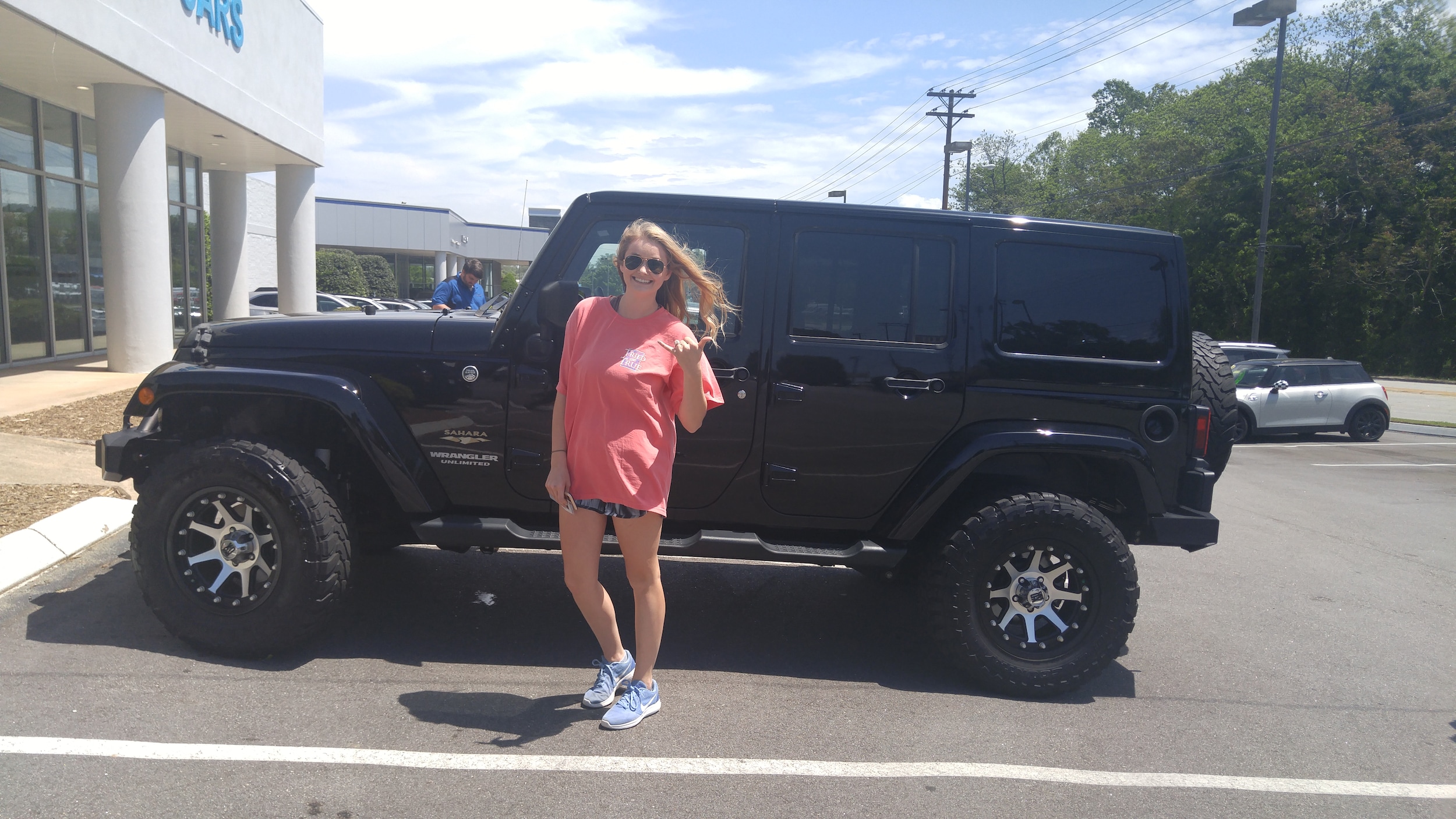 Robert Ley appreciated the no-hassle shopping experience at our dealership. He purchased a Nissan Rogue from David Hall!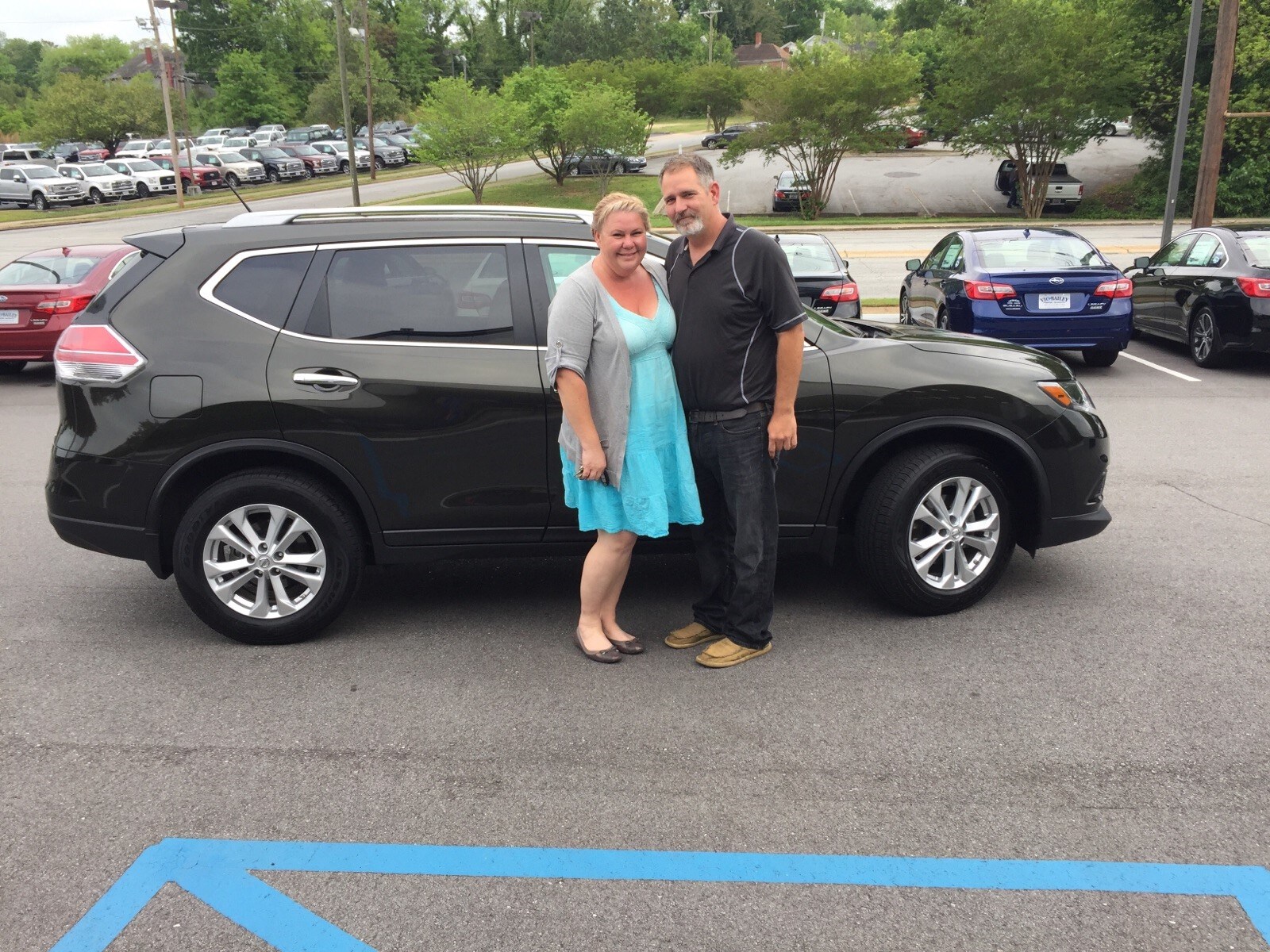 Ayaz and Mary Surka ordered a 2017 Subaru Impreza from David Hall for their daughter! Smart choice!!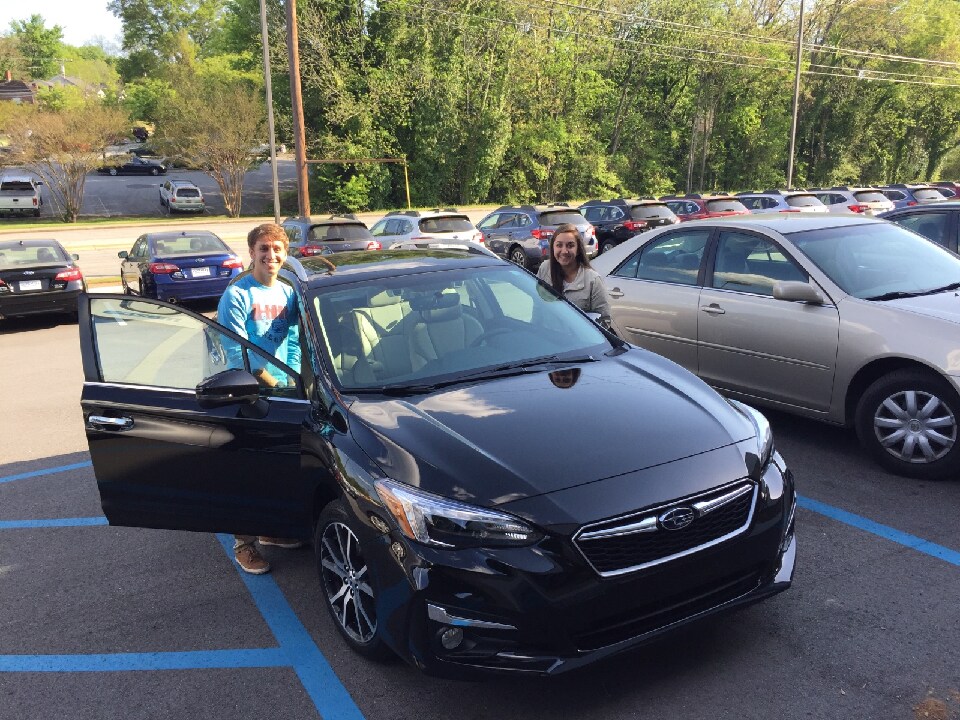 The Couch family came from Greenville to take advantage of the deal Charleen offered on this 2017 Subaru Forester!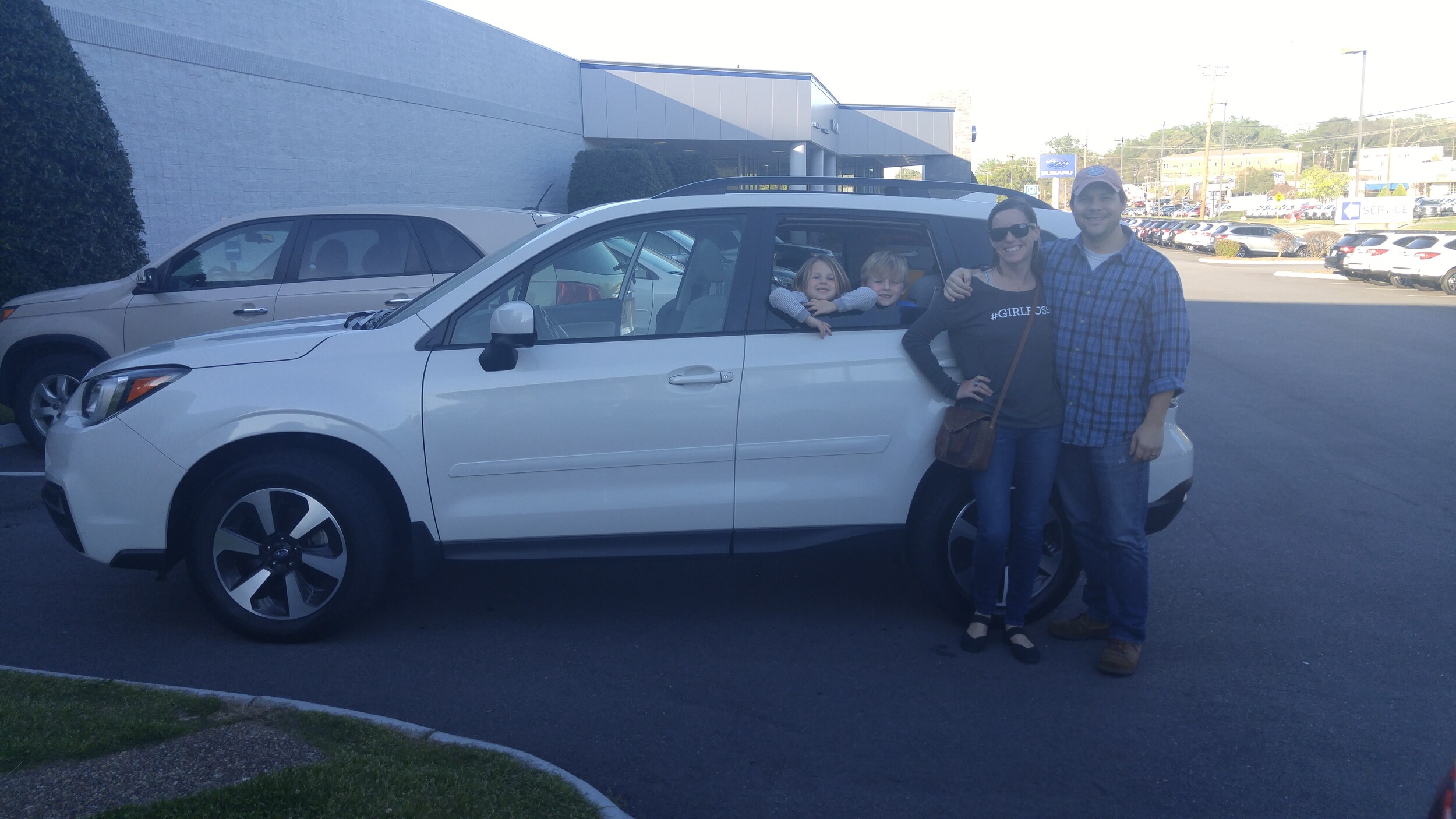 Alex Lipine came all the way from Roanoke, Virginia to take advantage of the deal Charleen was offering him on a pre-owned Toyota Prius!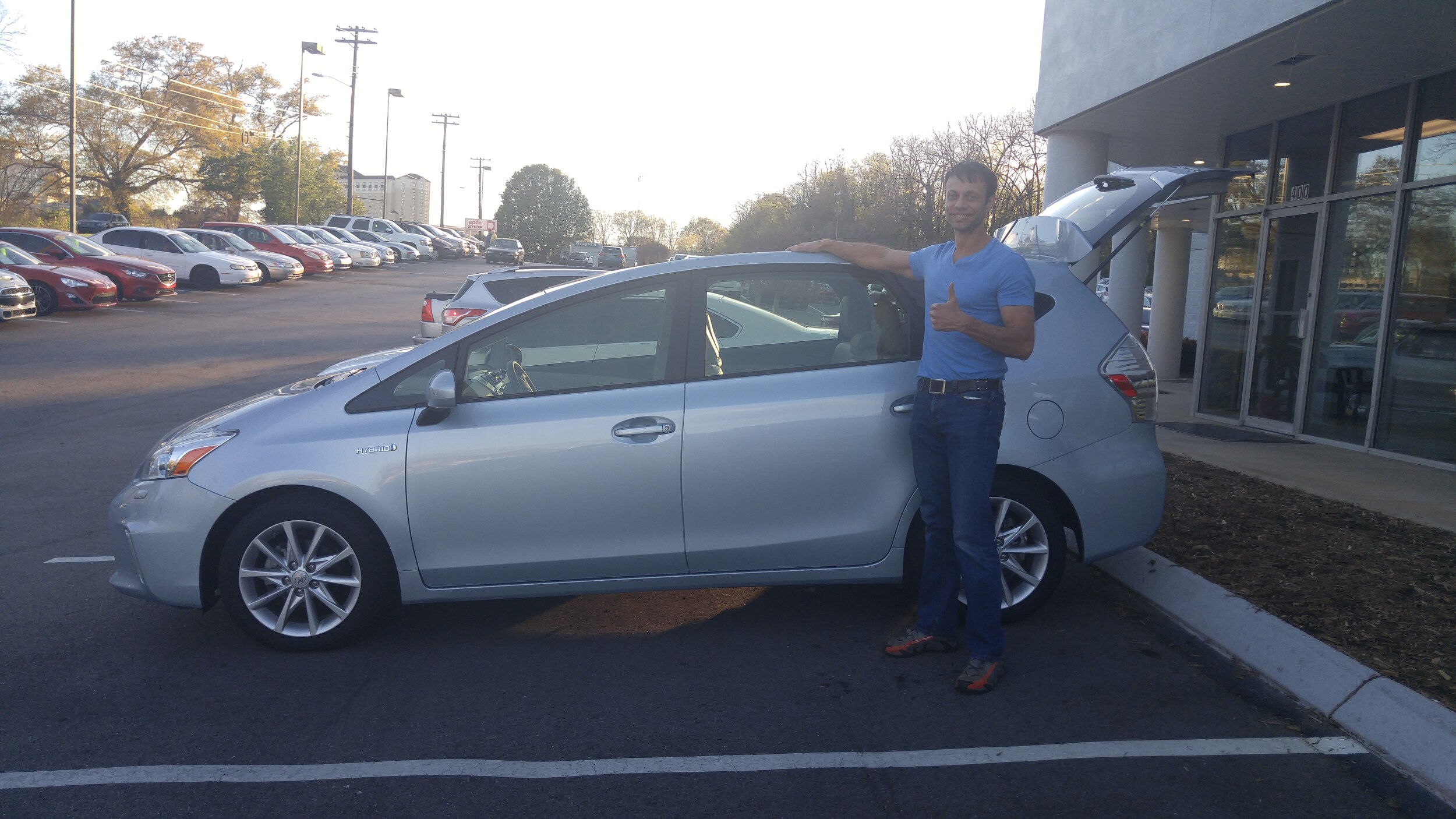 Douglas Mylander decided it was time to replace his wife's vehicle after it was damaged in the hail storm. He found the perfect replacement on our lot with the help of Charleen...a pre-owned Honda CR-V!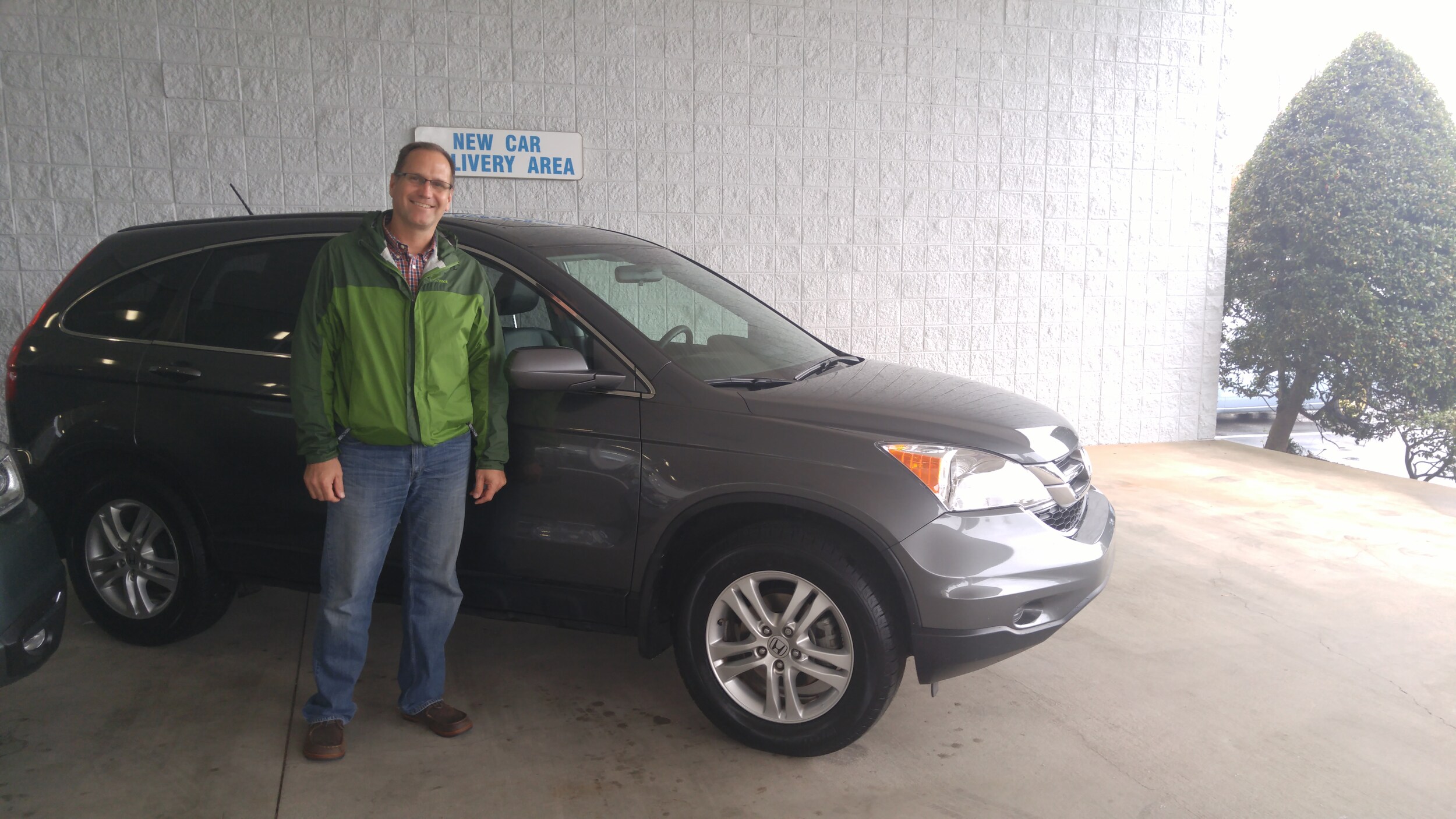 Mr. Taylor did his research to make sure purchasing the Subaru Outback was the smartest choice he could make! Charleen made the buying process much more enjoyable than he was expecting!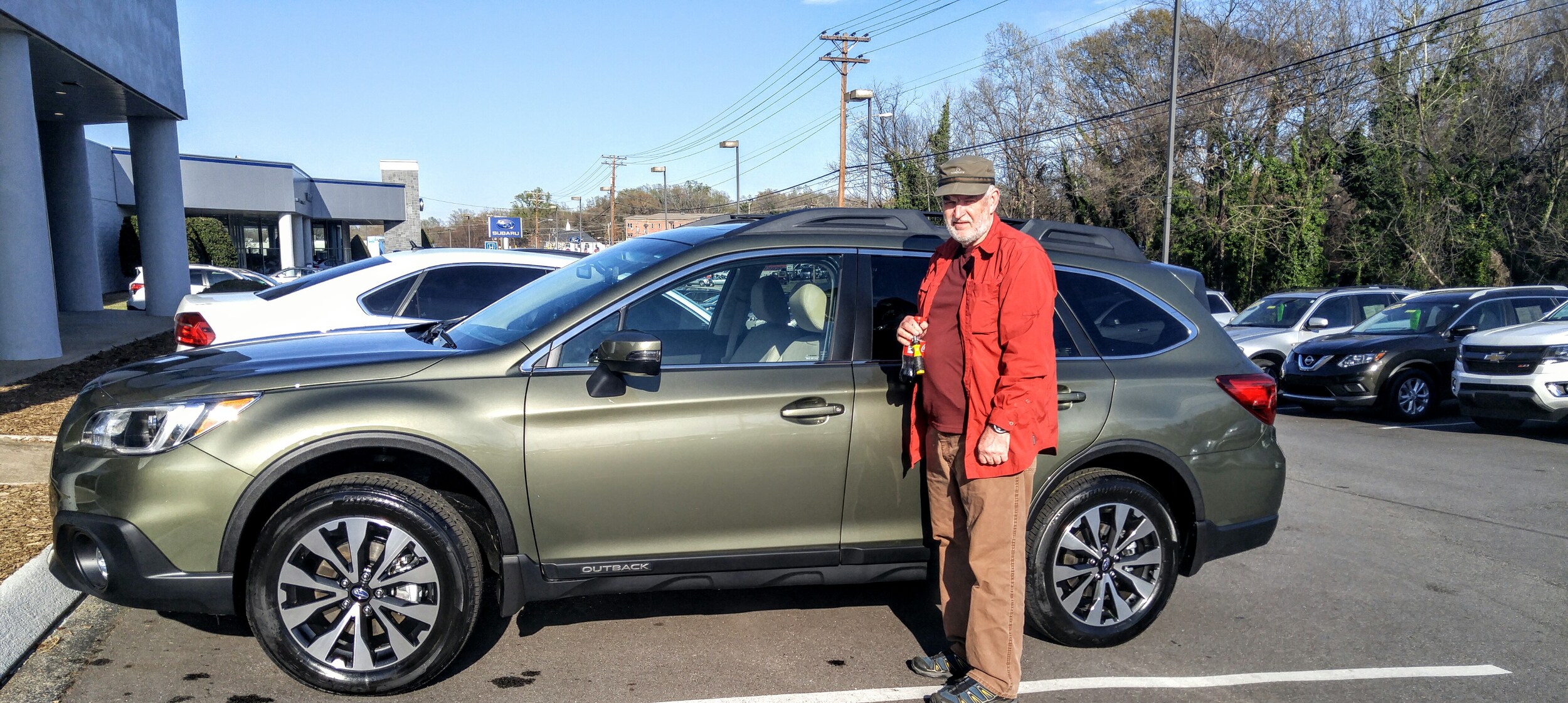 Richard and Vickie Hines found the perfect pre-owned Subaru Outback on our lot with the help of David Hall!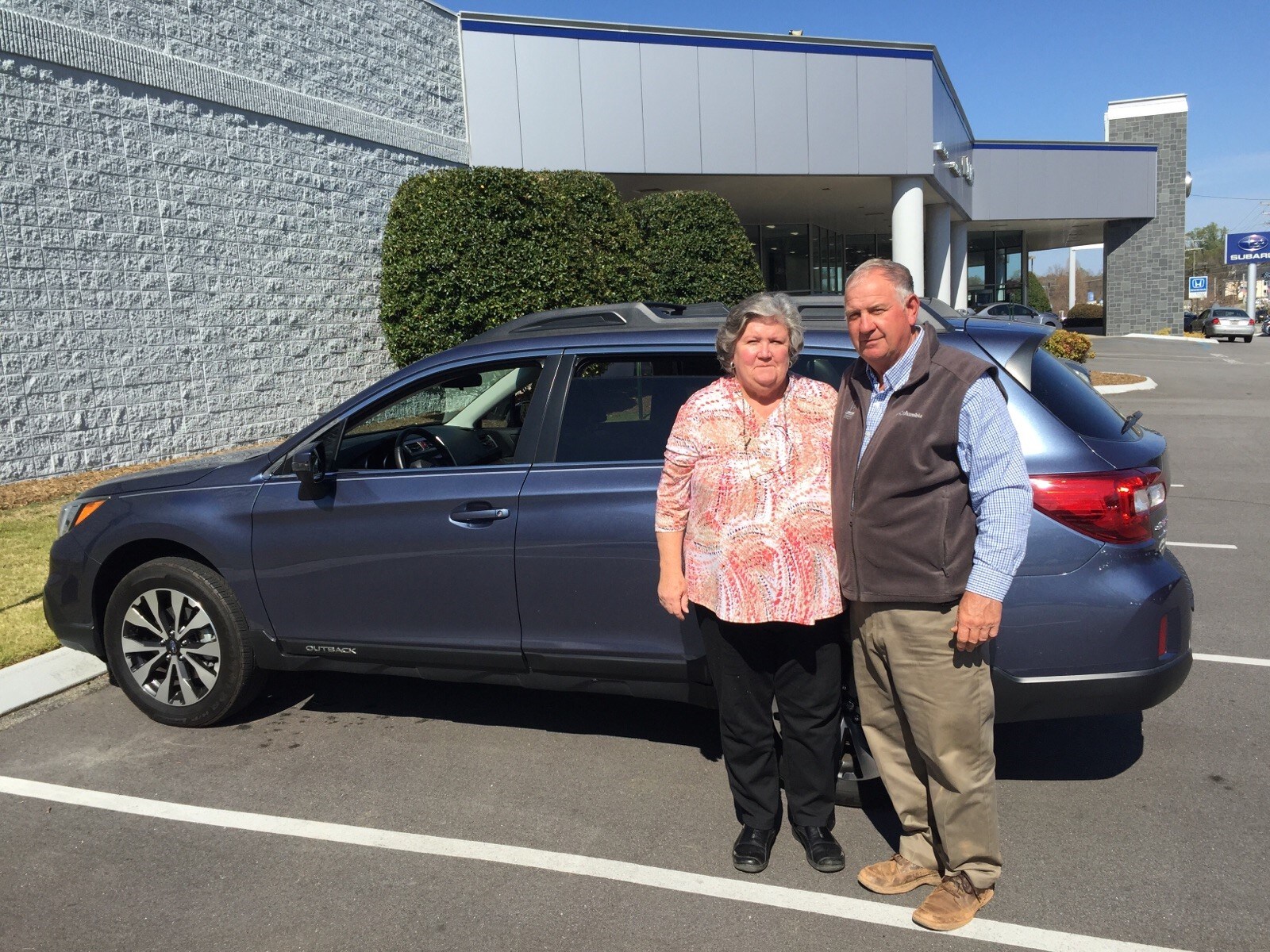 Carolyn Johnsen is the latest to fall in love with a Subaru! She worked with Jeremy and chose a 2017 Subaru Crosstrek 2.0i Premium!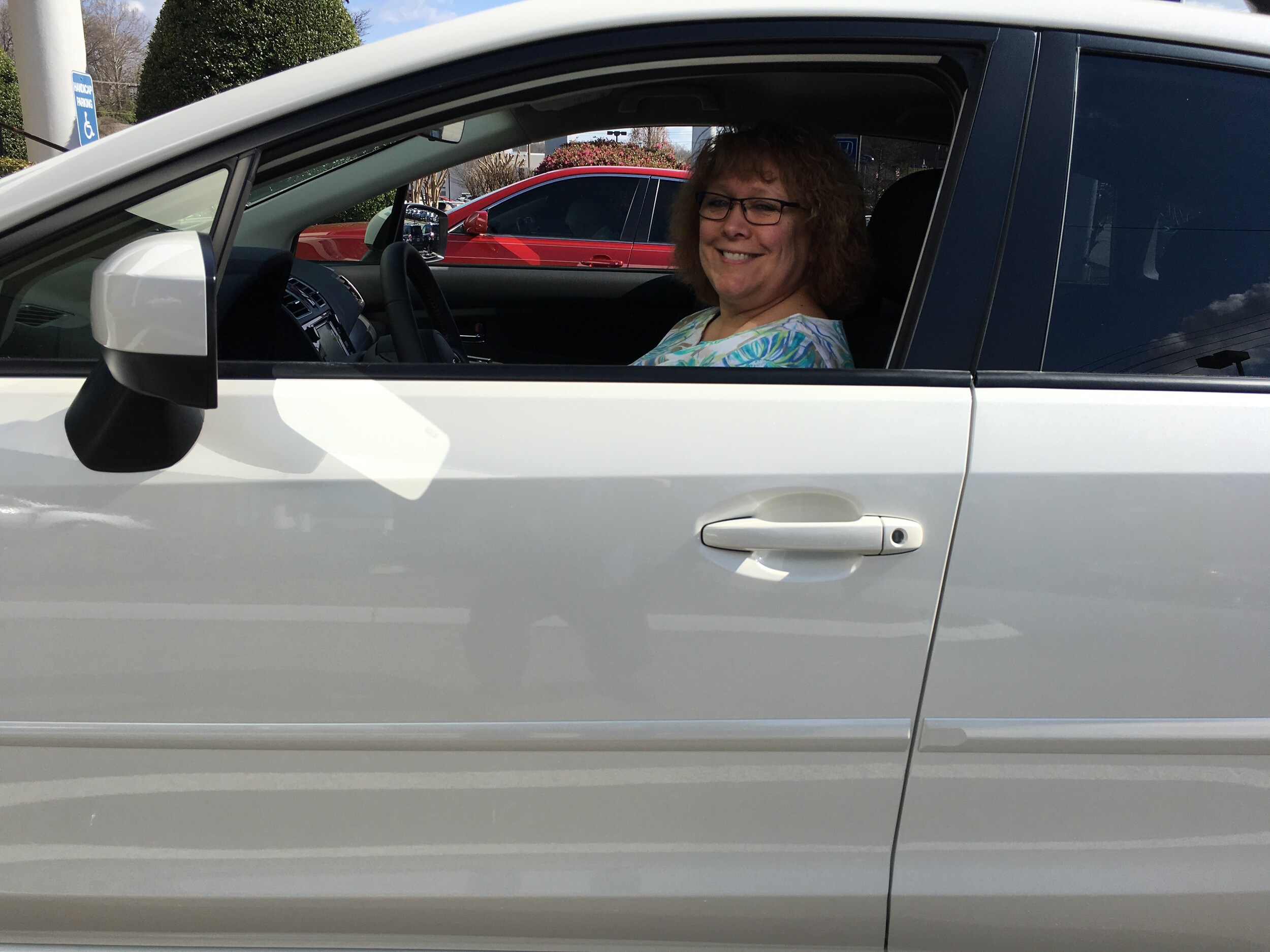 Leann Fink loves her 2017 Subaru Legacy 3.6R Limited with Eyesight technology! Jeremy made sure she got an awesome deal!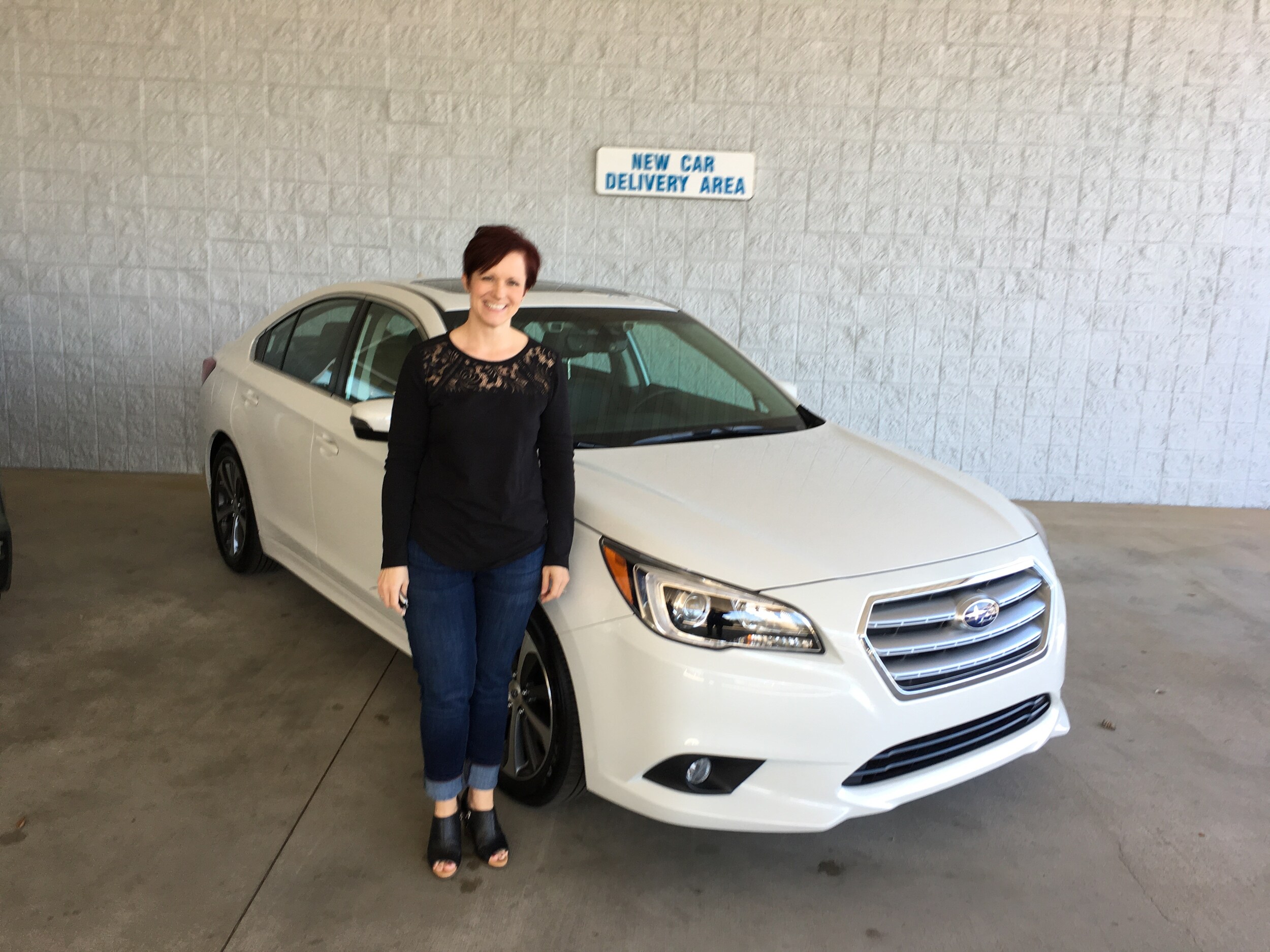 Melissa Fritsche spent a couple of months looking at the 2017 Subaru Outback with Jeremy and couldn't be more thrilled about her decision to purchase!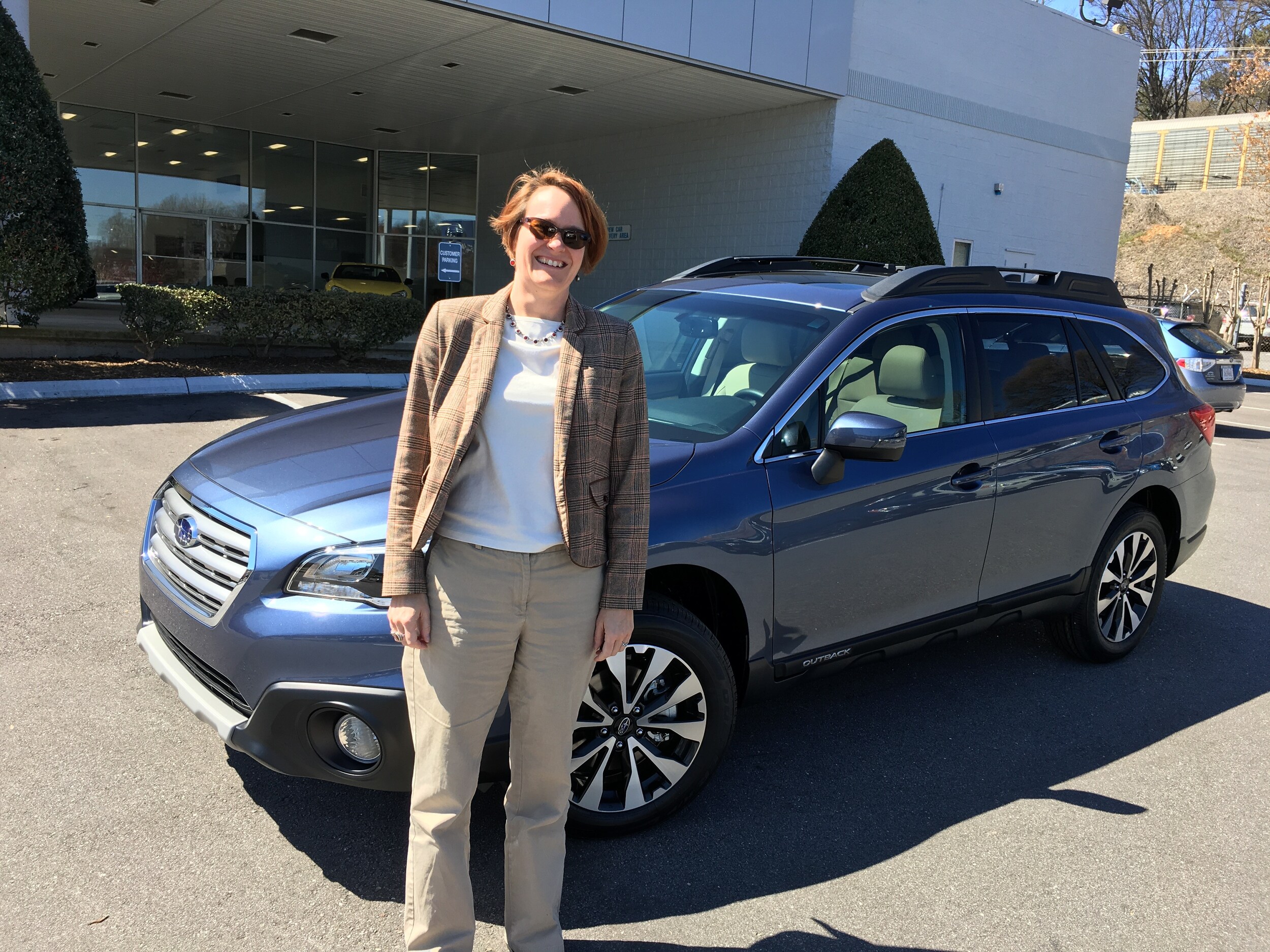 Patricia Bennett came all the way from Honea Path to purchase a 2013 Toyota Rav4 from Charleen!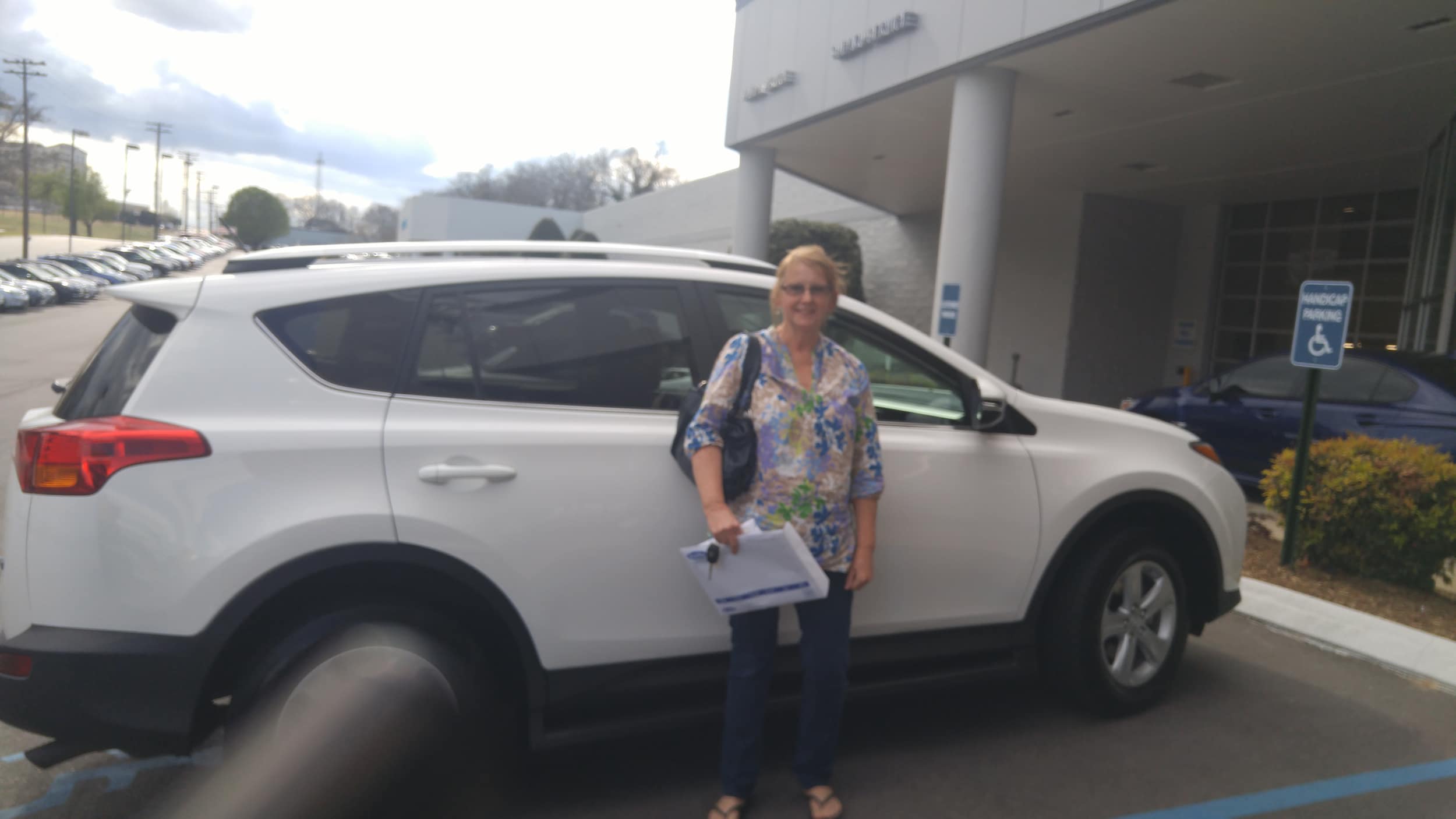 Wayne found exactly what he wanted on our used car lot...a Toyota Rav4! The buying process with David Hall was quick and easy so Wayne is all smiles!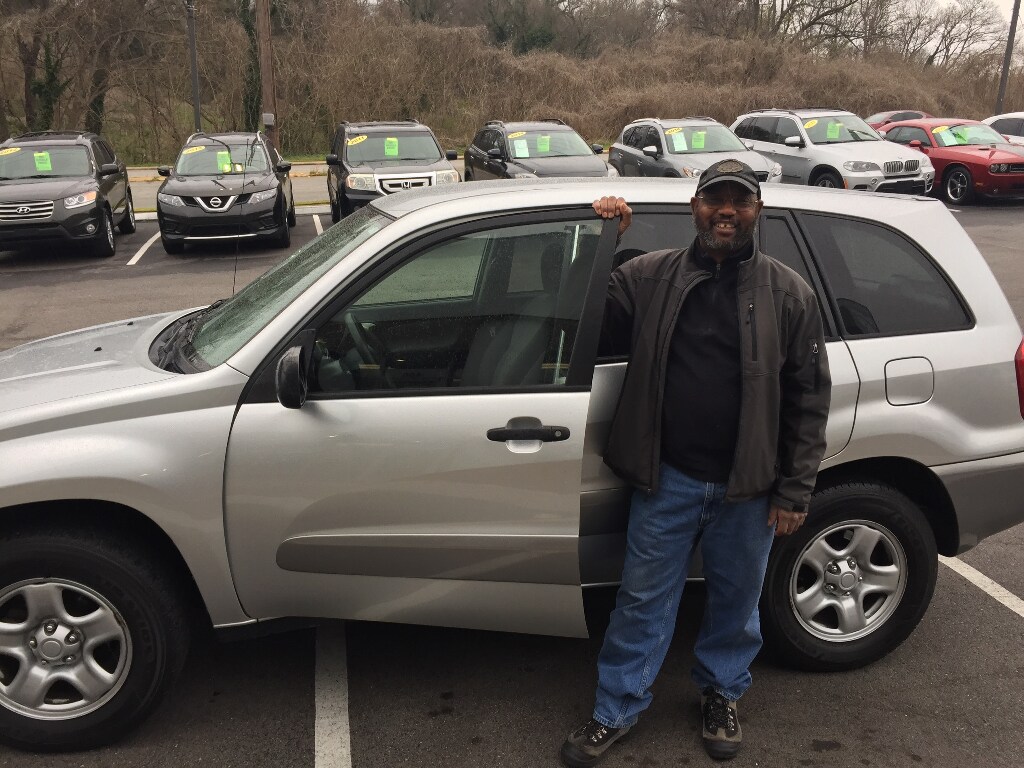 The Hamiltons couldn't be more thrilled with starting their weekend in their all-new 2017 Subaru Impreza and their salesman, 
Steven Darchiville
, couldn't be more proud of their decision!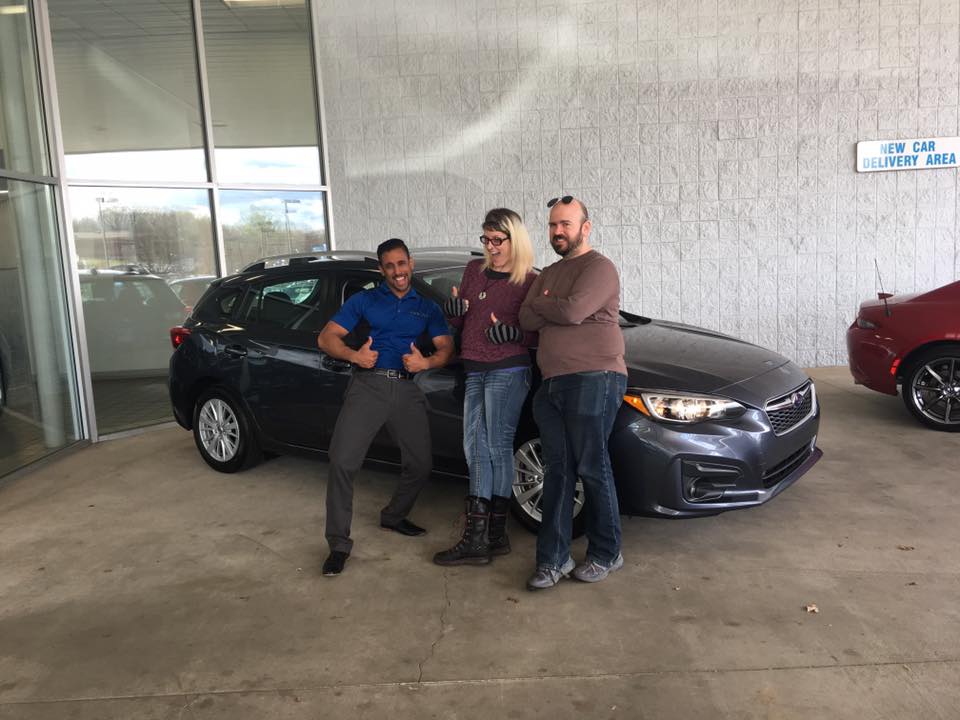 A note from our customer Sean, new owner of a Subaru BRZ!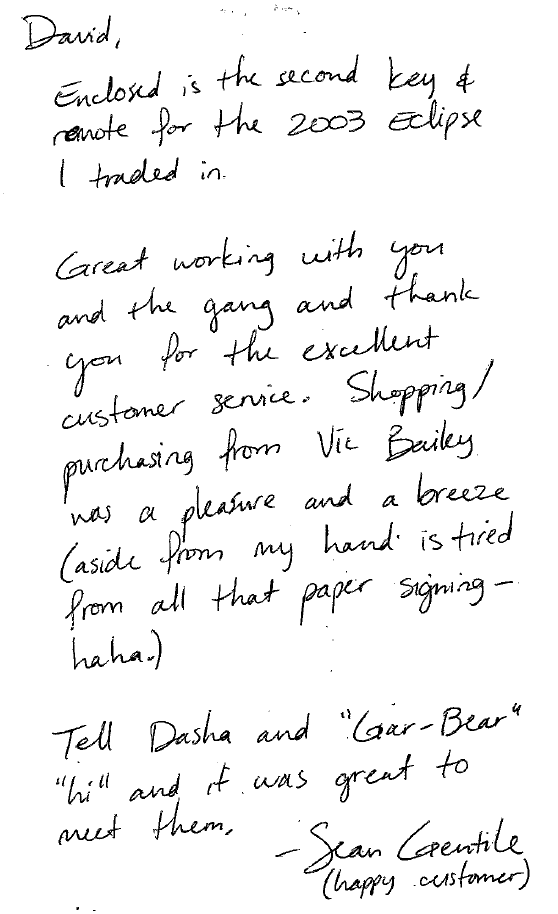 Steve Jones found the perfect used Toyota Tacoma on our lot!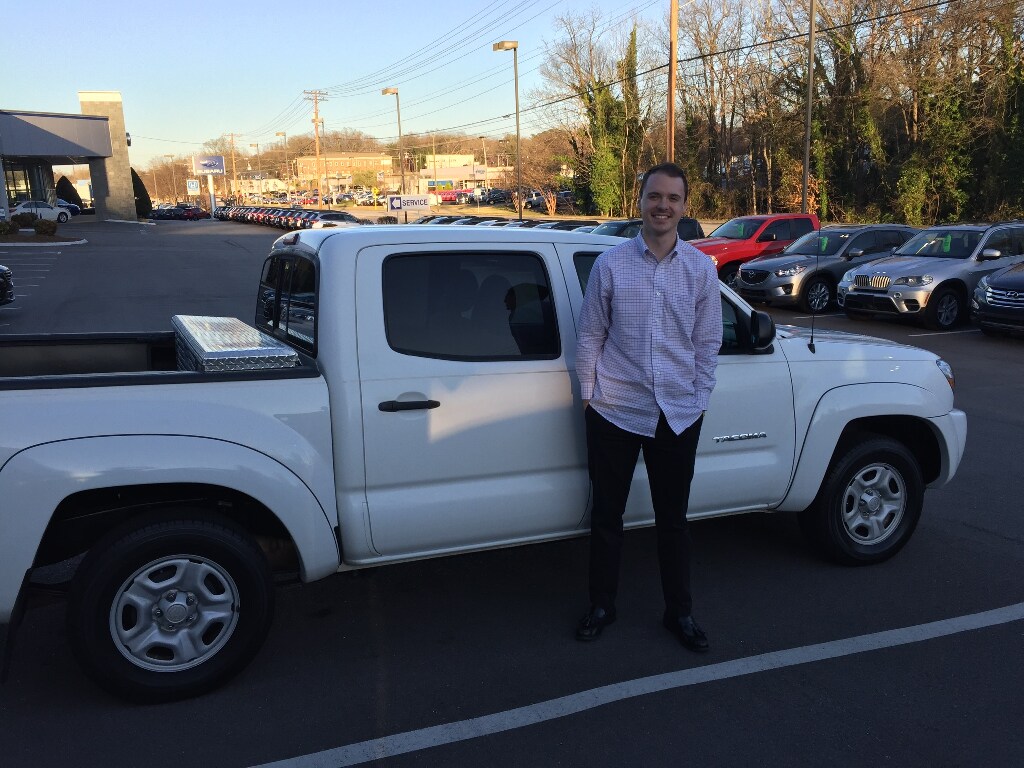 Donna and Bert Sterling purchased a new Subaru Forester from Jerry Crawford over the weekend! They said it was the BEST buying experience they have ever had!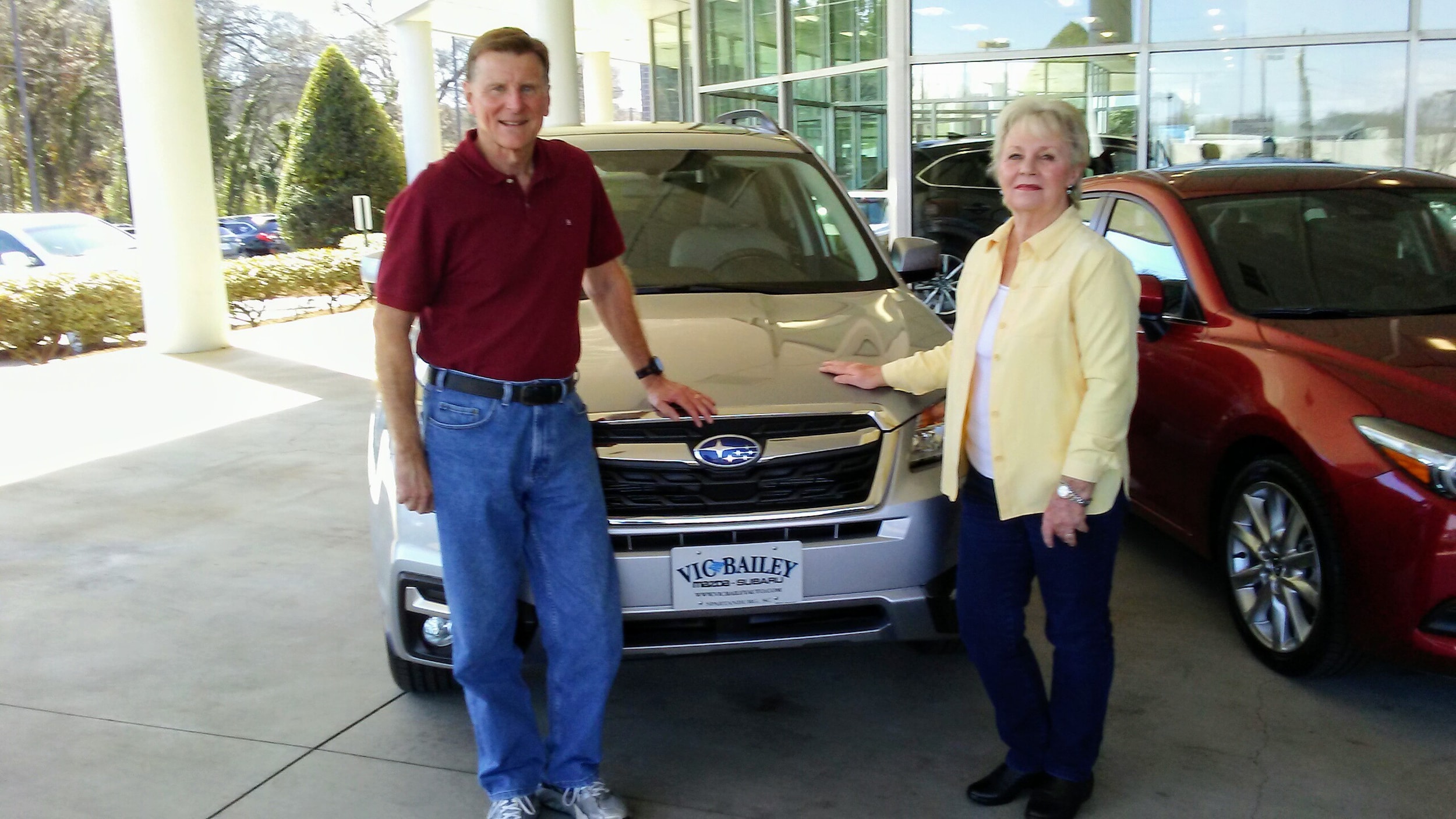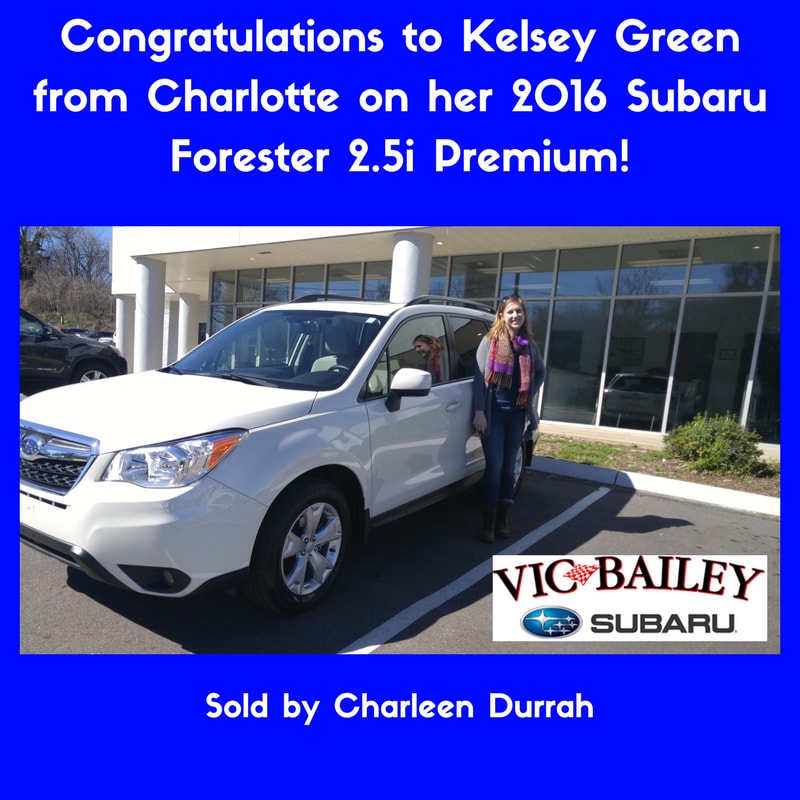 William Elliot's new year is off to a great start! He purchased a 2017 Subaru Impreza from Charlene the first week of 2017!
 
Engaged couple, Marieta Bryan and Jeram Trimble, are starting off the new year in a Subaru Forester! They are good friends with our Finance Manager, Dasha! 
 
 Ms. Clemenston bought herself the best Christmas gift...a Subaru Outback! She worked with Brandon Moore and the process was simple and enjoyable!
 
Stephen and Cathy Loftis of Greer purchased a pre-owned 2014 Jeep Cherokee from Charlene over the weekend! Looks like the holidays are off to a great start!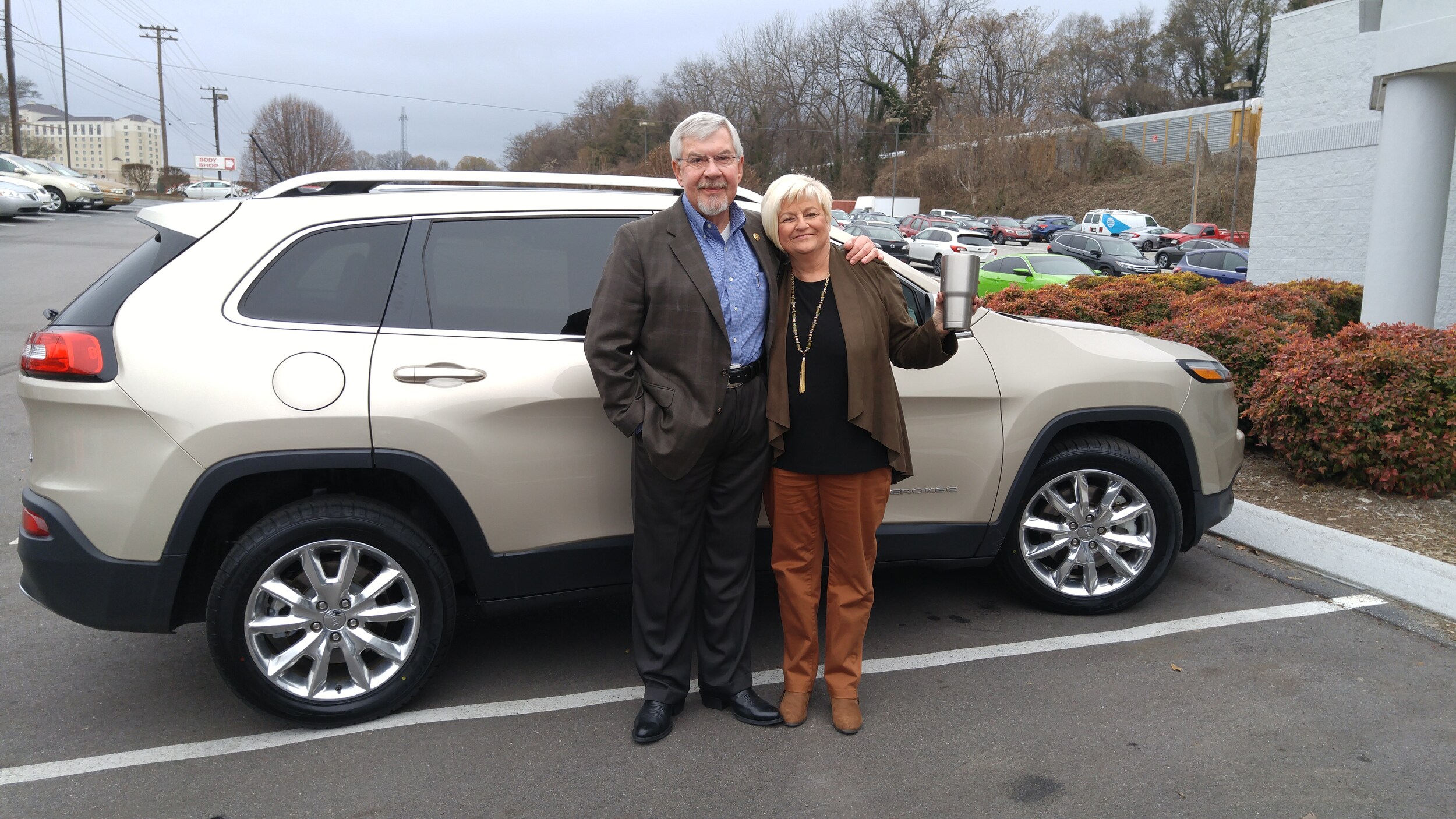 Lark Adams purchased a 2017 Subaru Outback from Charleen Durrah! Since the Subaru Share the Love Event is going on, $250 from the purchase will go to charity. The event runs through January 3rd!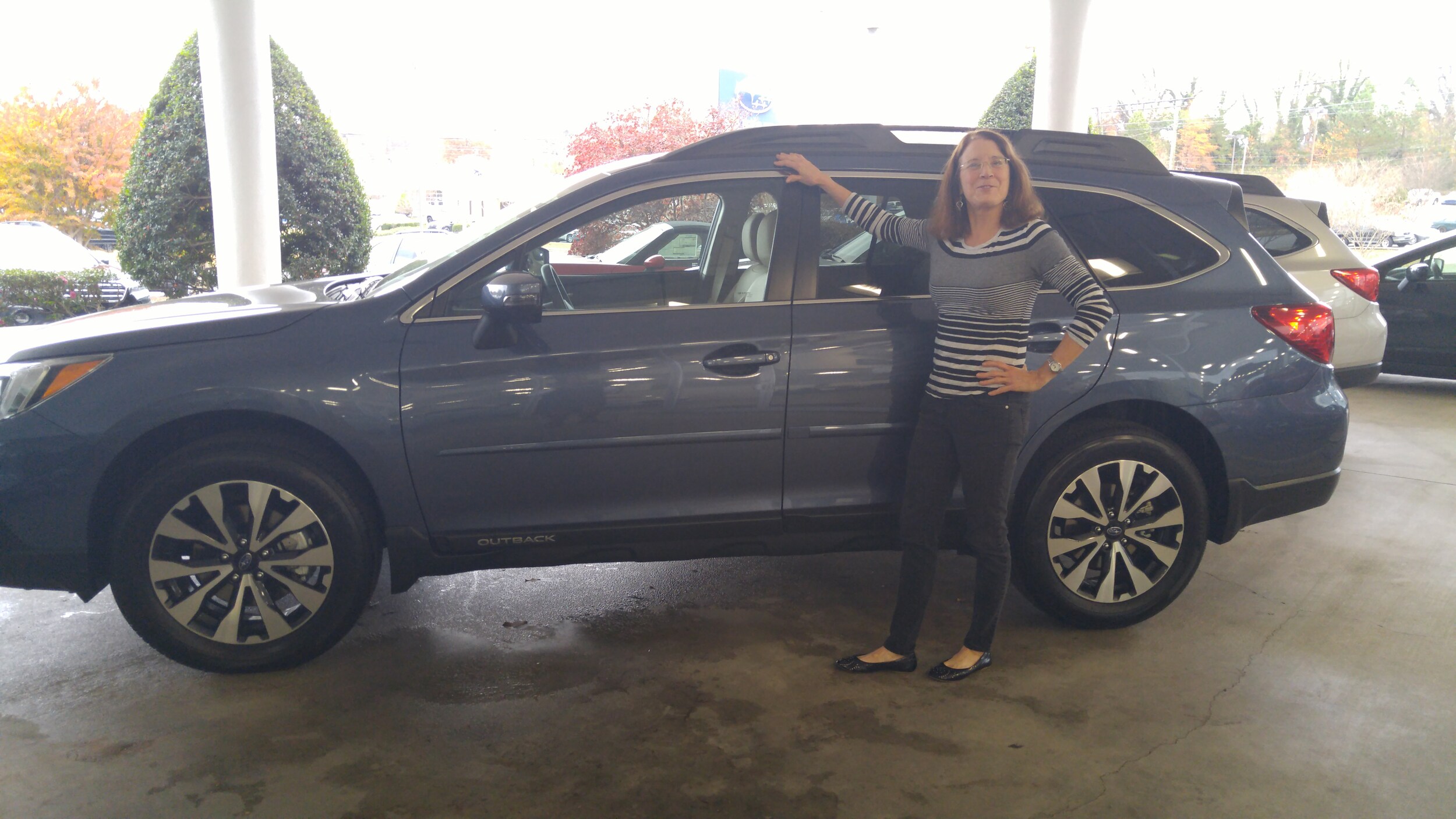 Walmart Manager, Chris Pittman, drove from Augusta, GA to Spartanburg to purchase this Jeep from Jerry Crawford!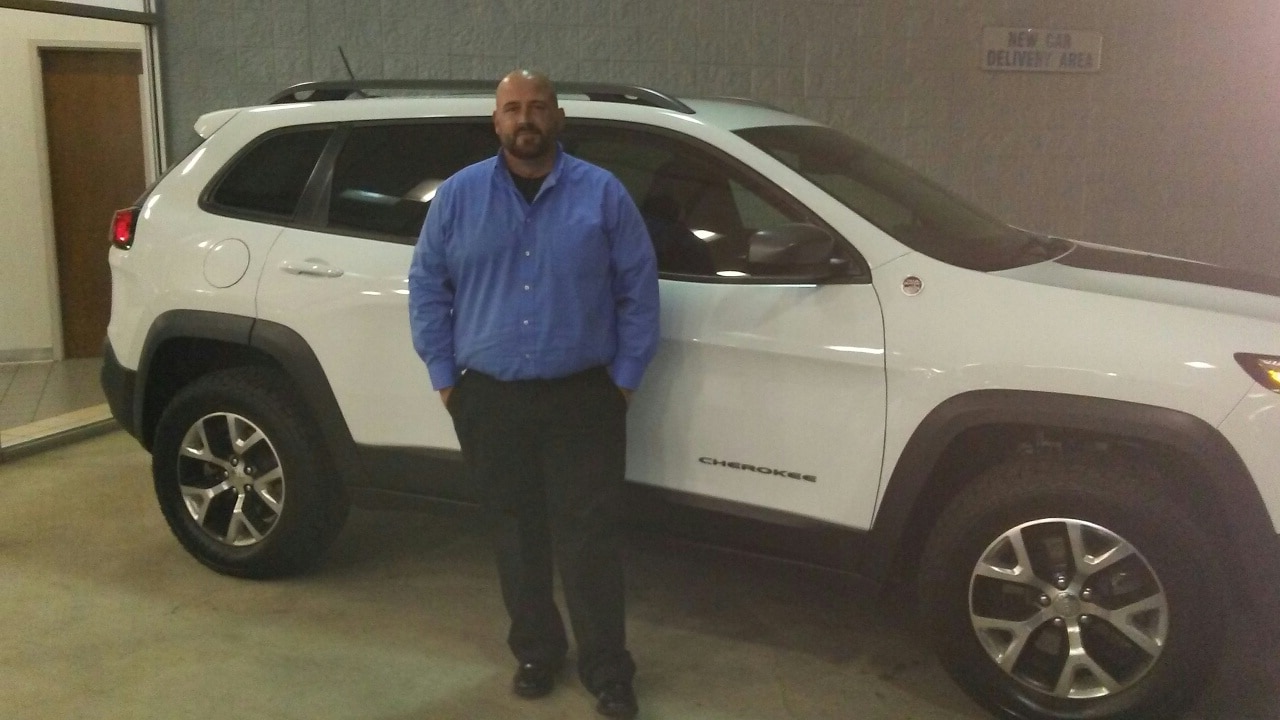 Dear Vic,
We owe you a belated thank you for picking up the adoption fee for our sweet shelter dog which we met at your showing at VicBailey Subaru on October 15, 2016. Never having found an animal at the Shelter during a year of search, we fell in love with the Chihuahua/Terrier which we called BIJOU, in memory of my late wife Heidi's choice. Although Bijou needs some additional training for which we attend weekly sessions at Petco, she is house-trained, extremely friendly and just a jewel, as her name says. Thank you again for this kindness.
We would like to add that we love our used Ford Ranger and leased Subaru Forester. We are very pleased with the efficient and kind service we receive at both locations.
 Have a nice week.
 Stephan and Markus Bolliger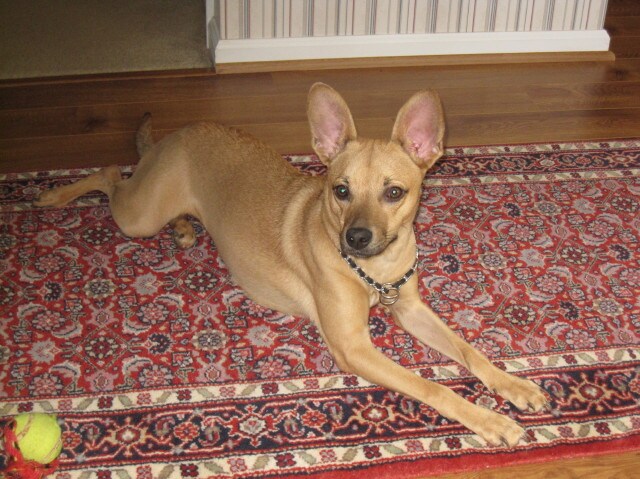 Melissa Nunnink and her dog, Toast, came all the way from Atlanta to take advantage of the great pricing on the 2016 Subaru XV Crosstrek! She couldn't say enough nice things about her Sales Associate, Shannon Whitener!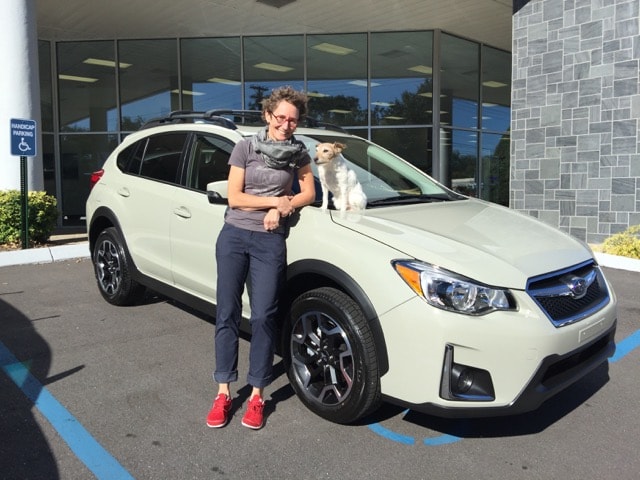 Samantha Hill traded in her 2010 Honda Accord for this 2016 Subaru Legacy with the help of Charleen Durrah!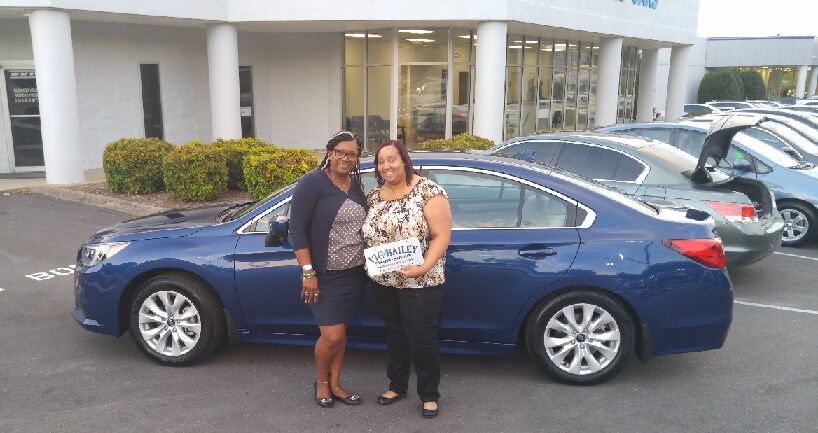 Daniel and Jessica Siracusa took advantage of the Subaru Loves Strikes Twice Event and purchased this certified pre-owned Subaru Outback from David Hall! The event will go through October 31.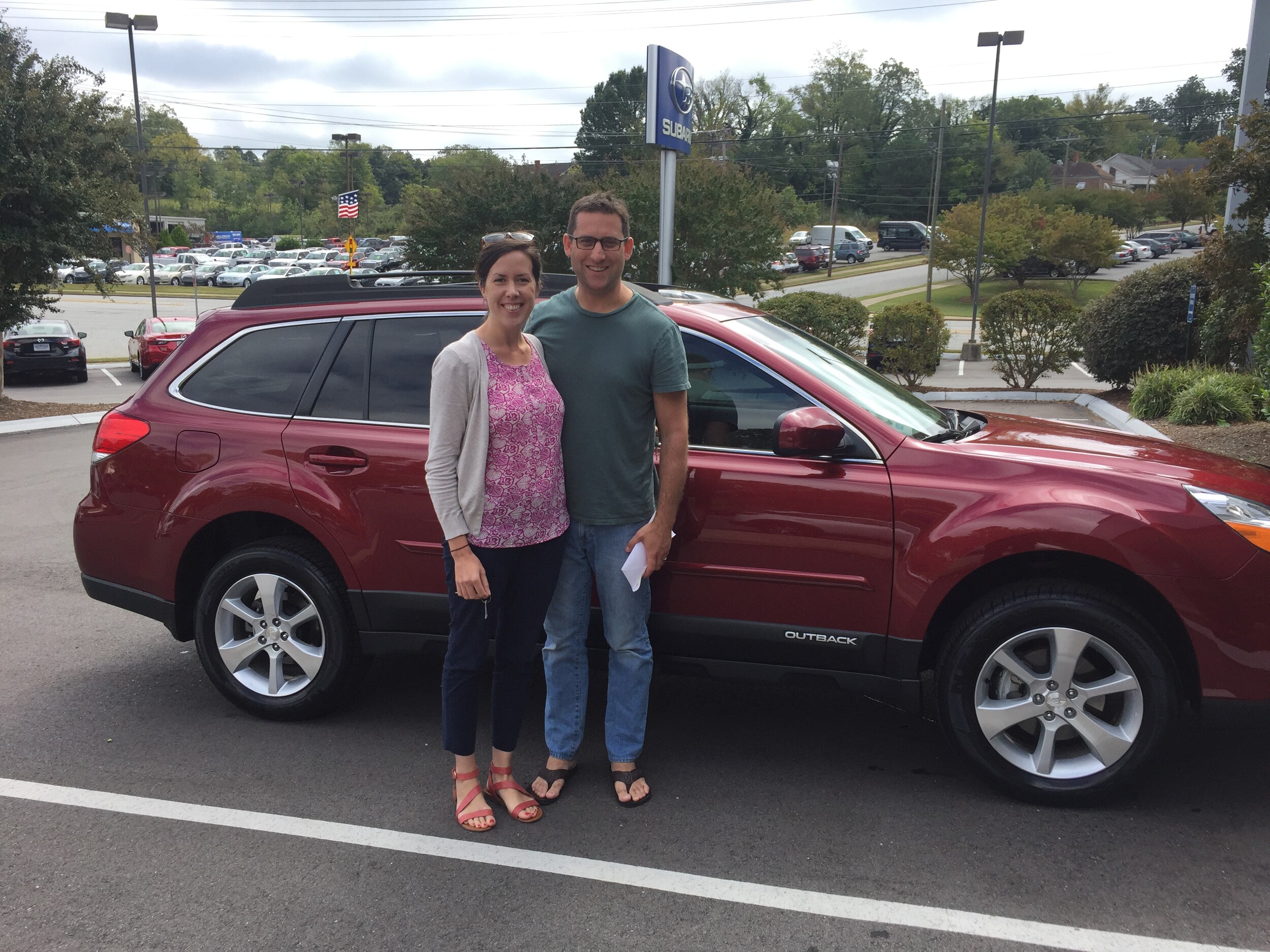 Mr. and Mrs. Tilson pulled off the ultimate surprise for their son! They bought him a 2017 Subaru Outback from Charleen Durrah...the vehicle he has wanted since he was 15!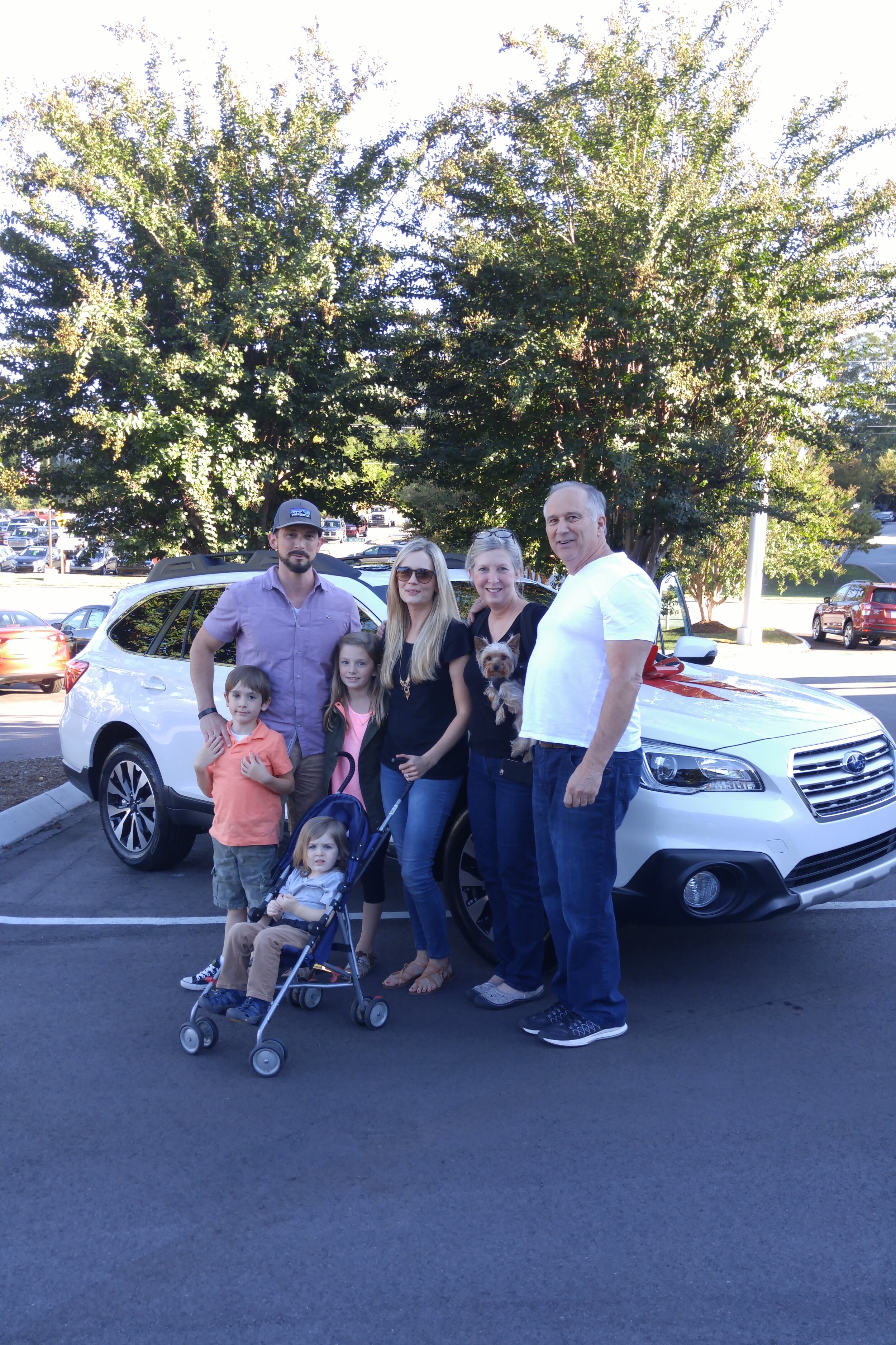 Jody and Jay Southerland purchased two vehicles from David Hall on Saturday...a 2013 Toyota Yaris and a 2010 Subaru Forester!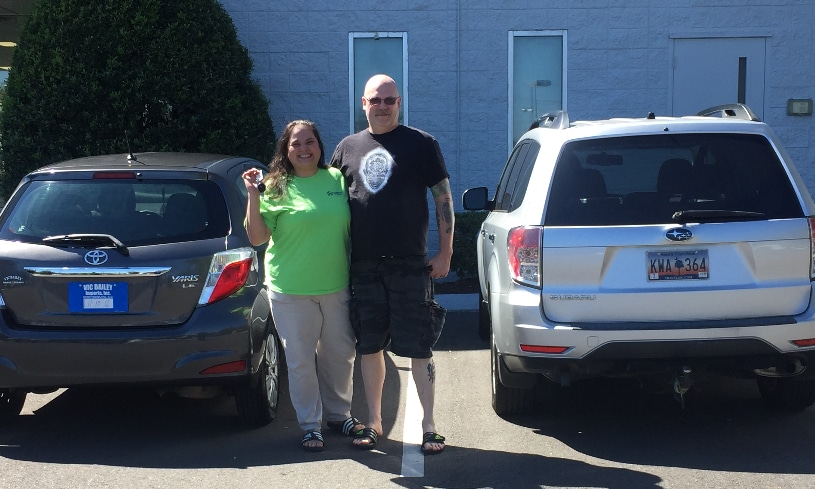 A little blurry... but we're thrilled for Jordan Doss! She and her husband, Glen, picked up her new Subaru XV Crosstrek with remote engine starter. Jerry Crawford made the whole process a breeze!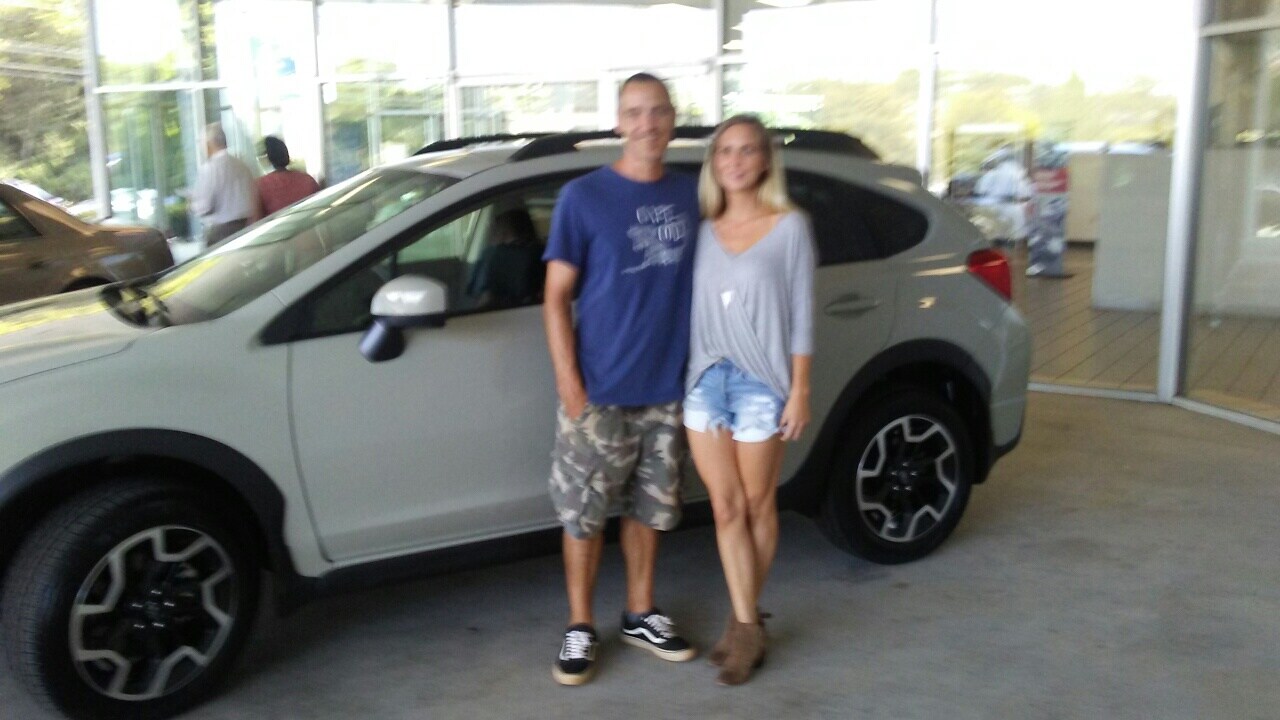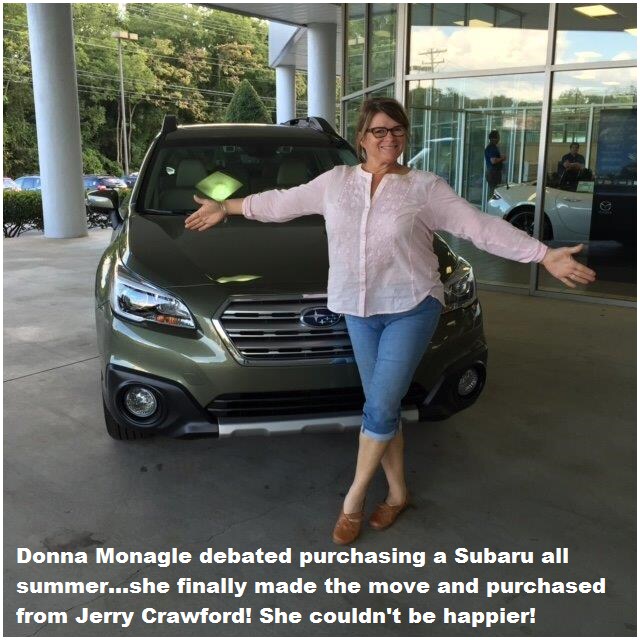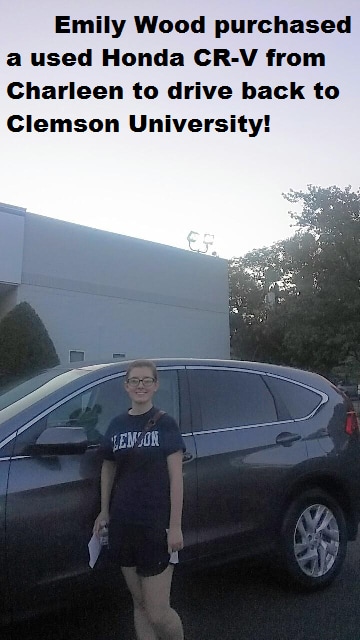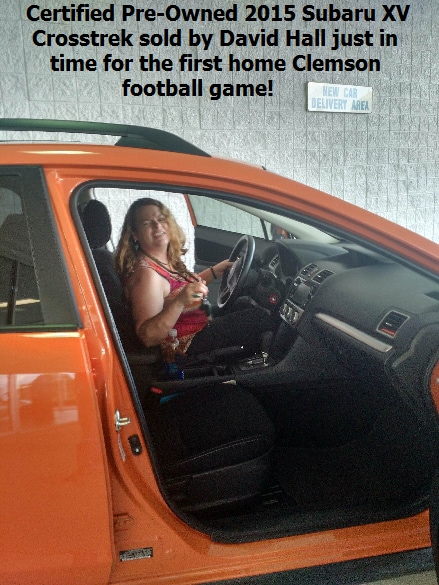 Robert Parris purchased his first new car from Jerry Crawford...a 2016 Subaru BRZ!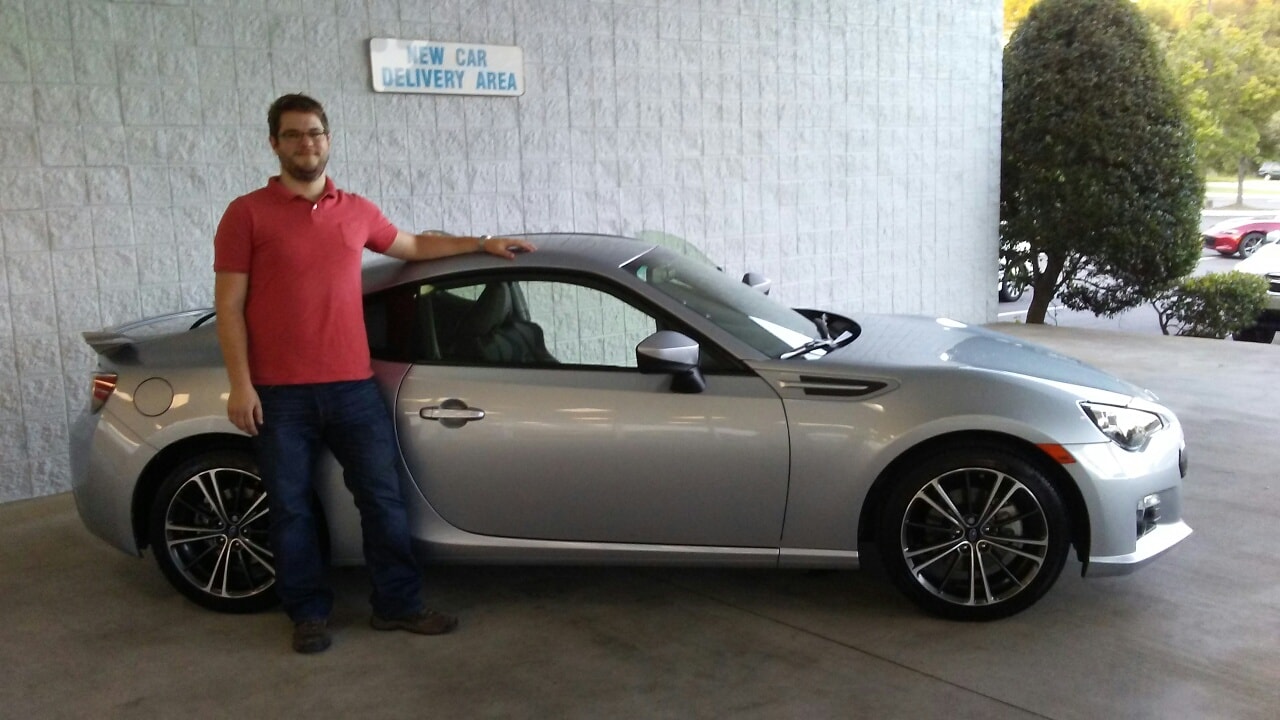 Brandon Moore put Mr. and Mrs. Beeson in this 2017 Subaru Outback Limited today, they love it!!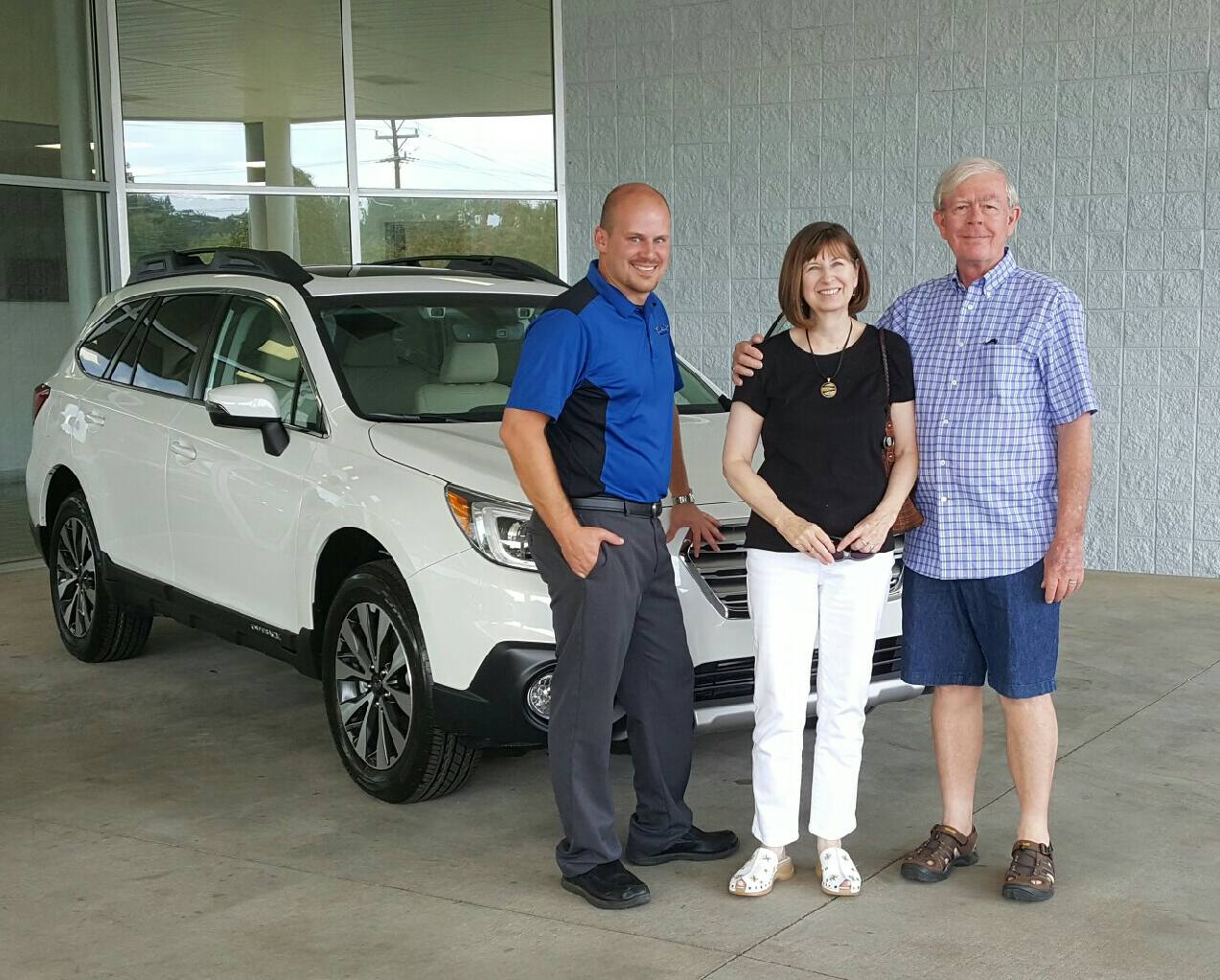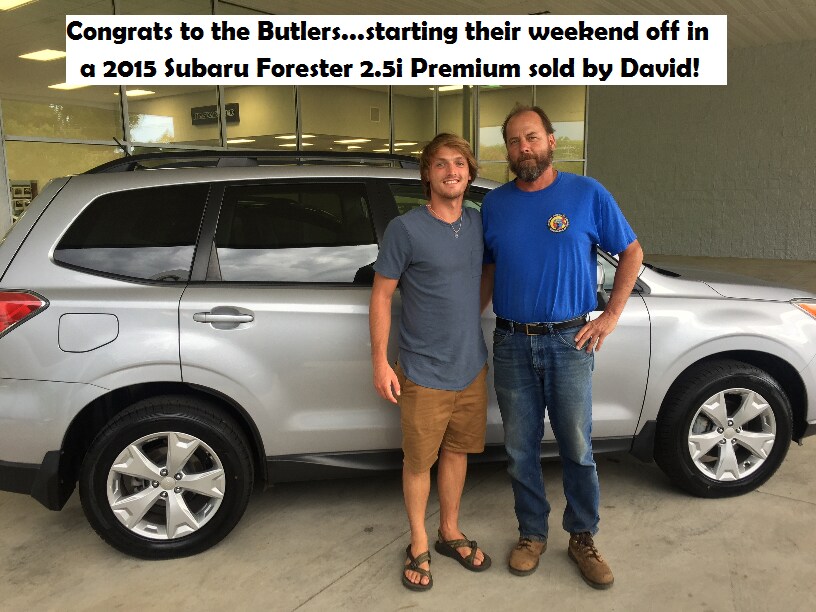 Joshua Augustine purchased a new Subaru XV Crosstrek from David Hall! This month we are donating books to Mary H. Wright Elementary for every new Subaru sold!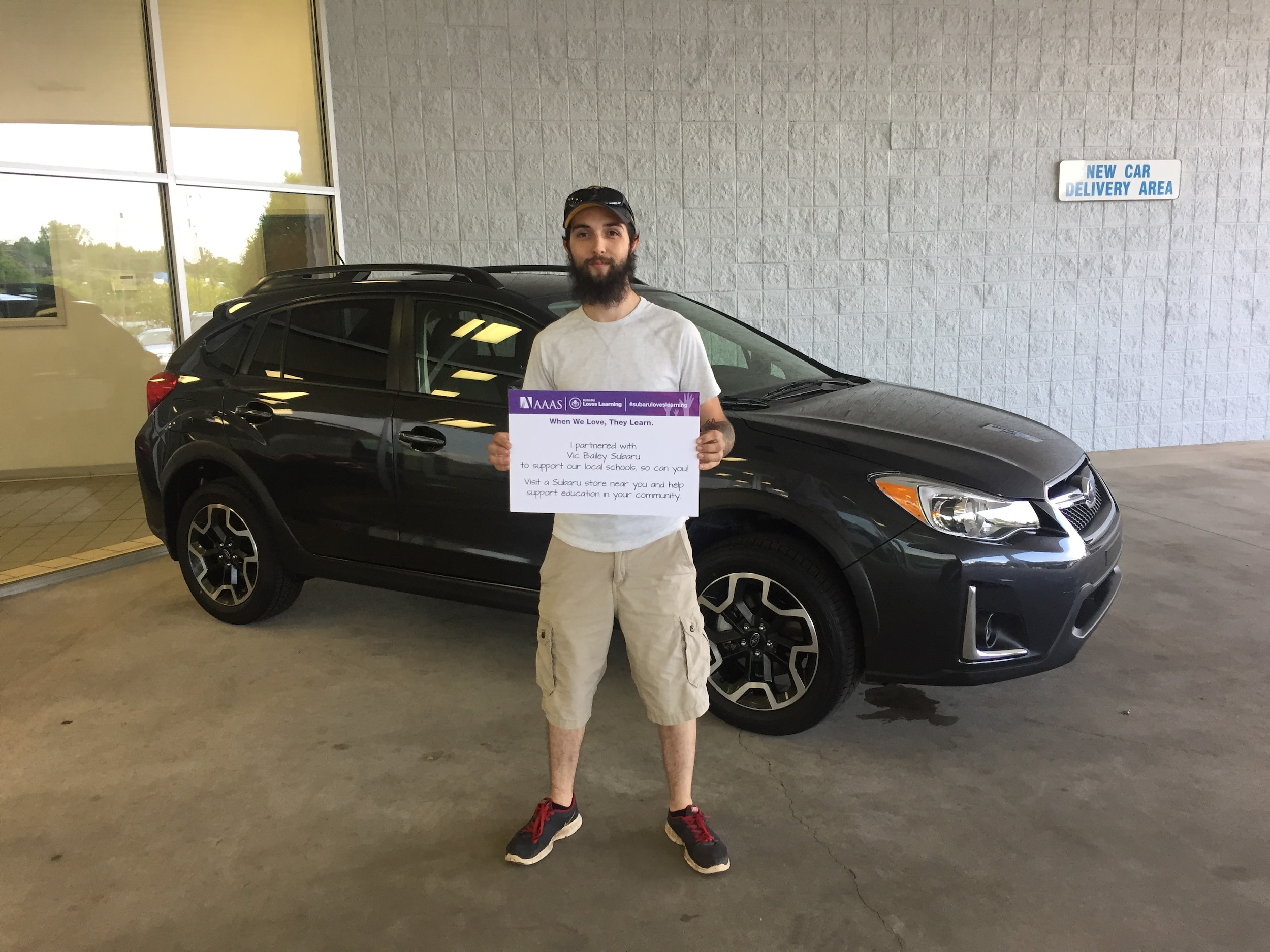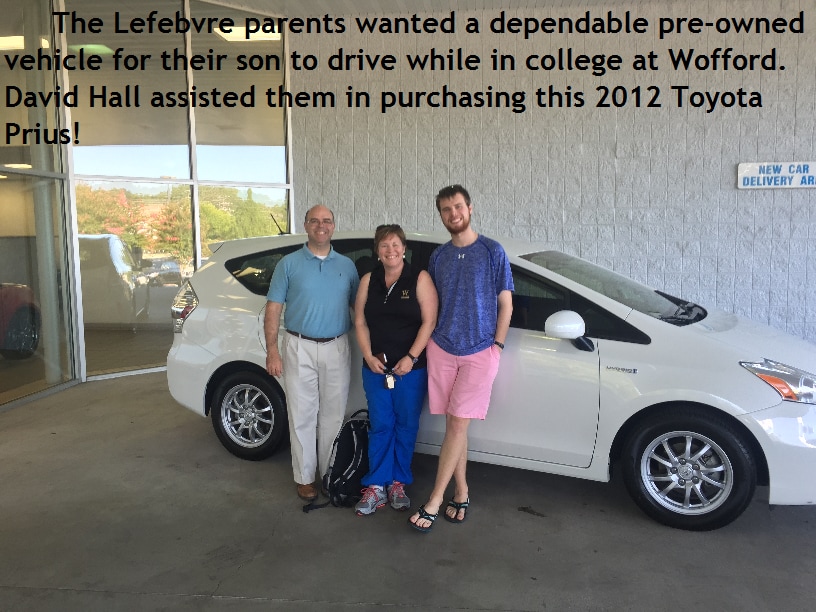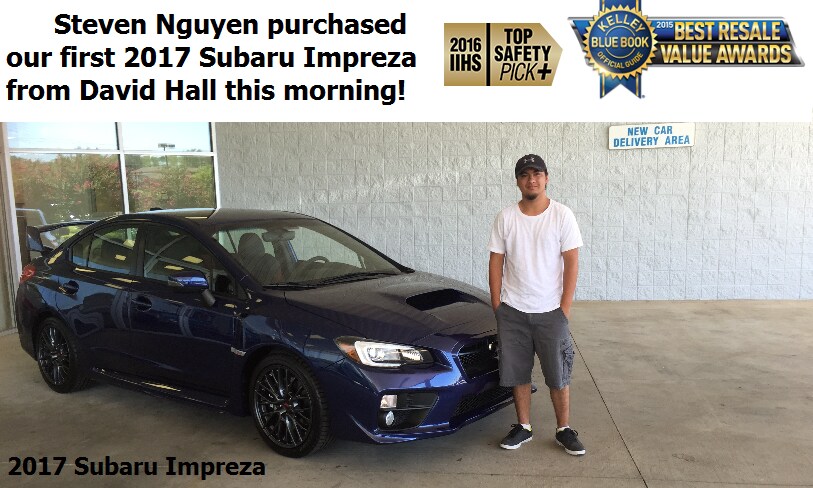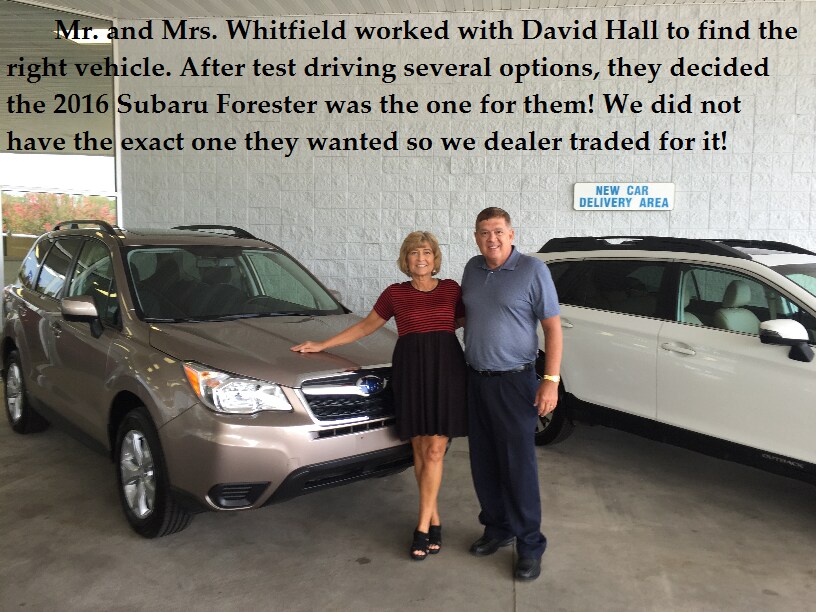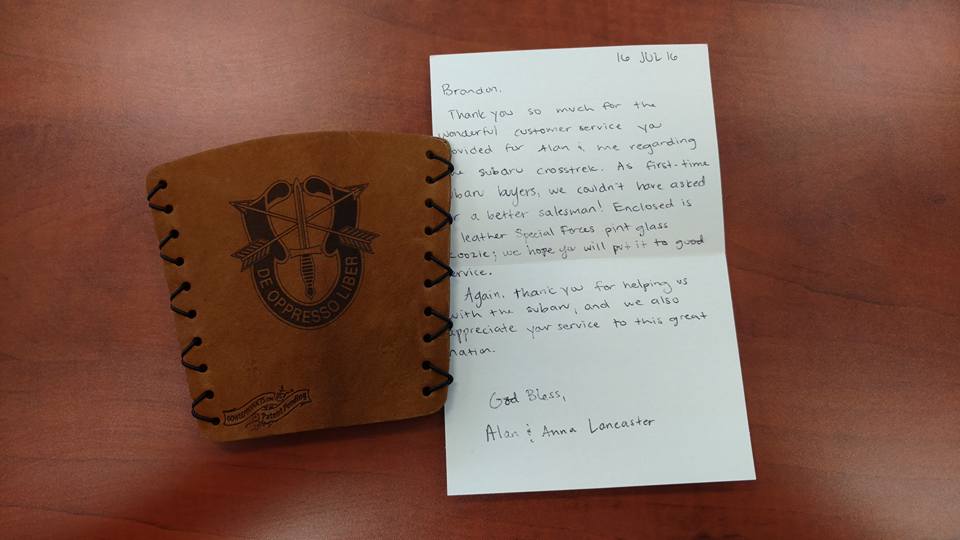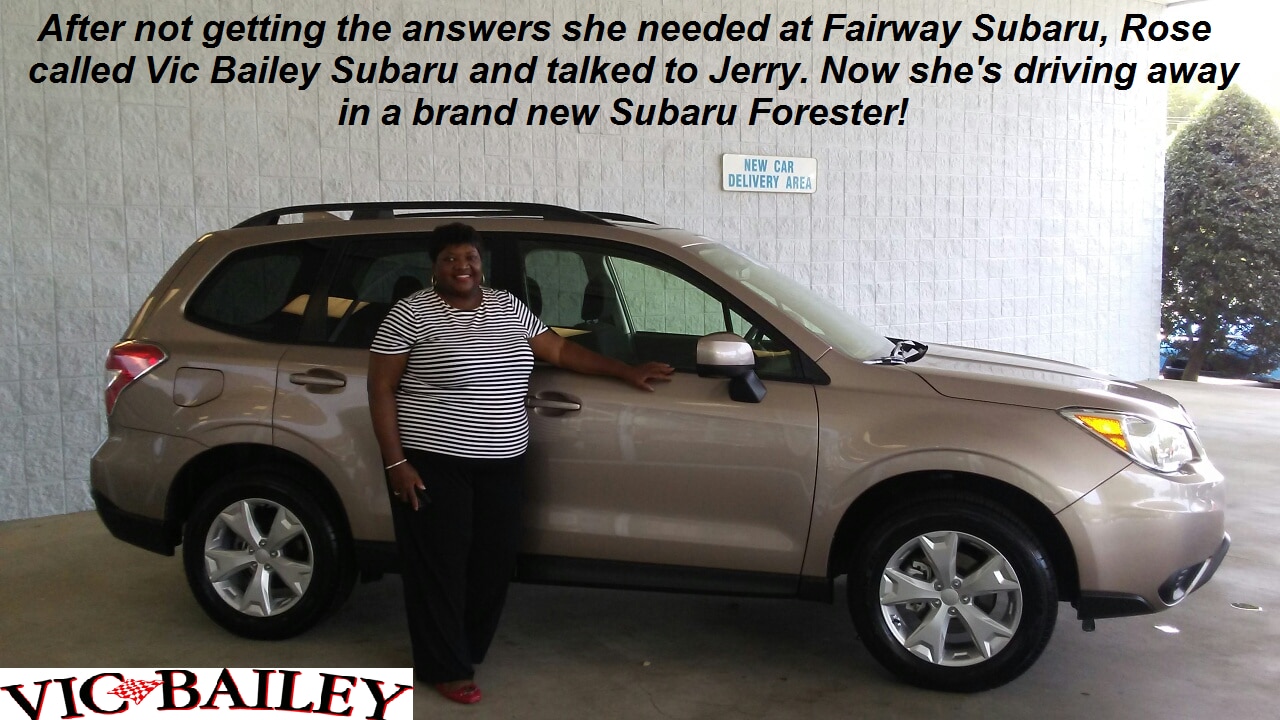 Take advantage of no-hassle pricing at Vic Bailey Subaru!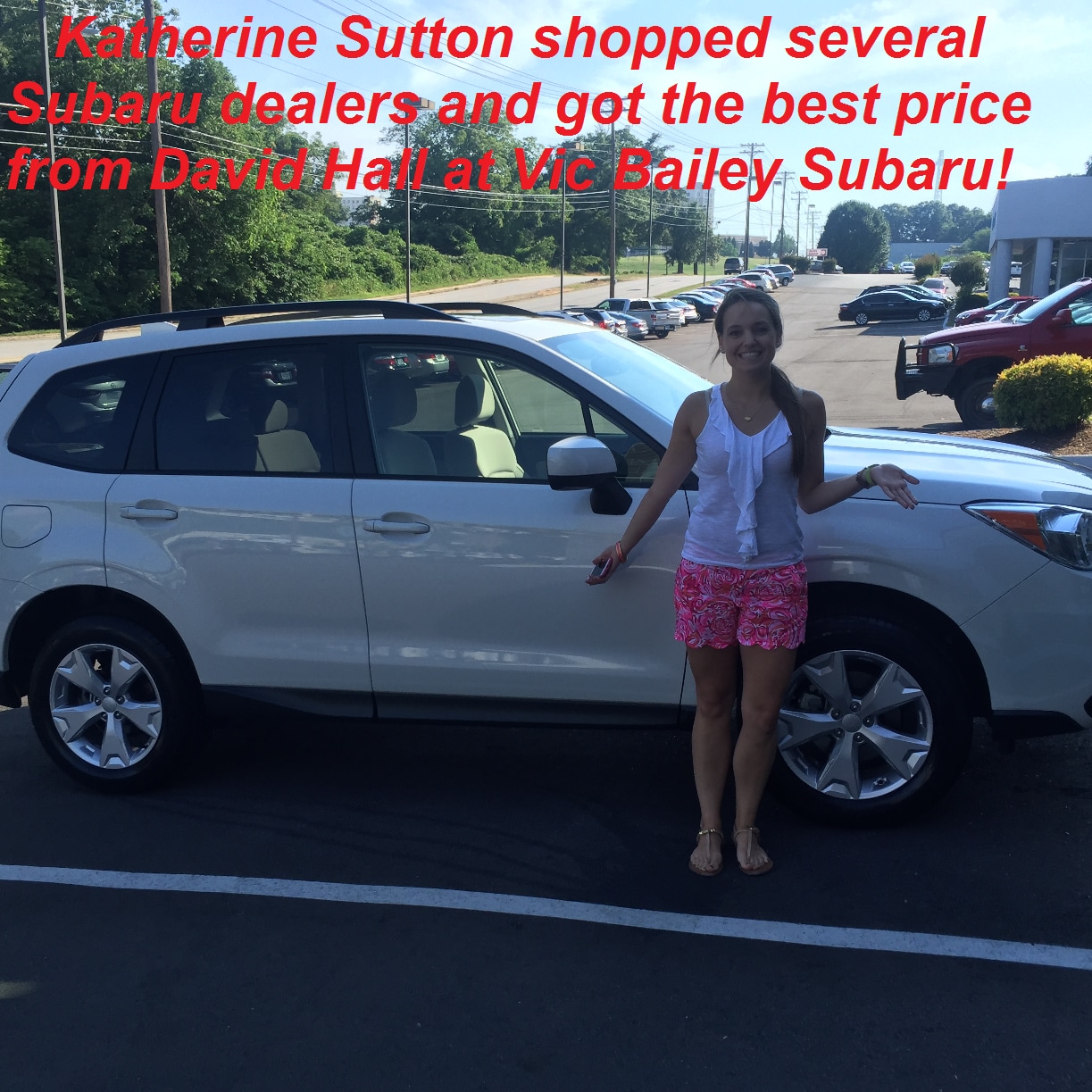 The Christensen family got a deal with this 2005 Subaru Outback! It was on our pre-auction lot...which means sold as is. The Christensens took it to their mechanic before making the purchase to make sure it was in good shape. They worked with our newest salesman, William!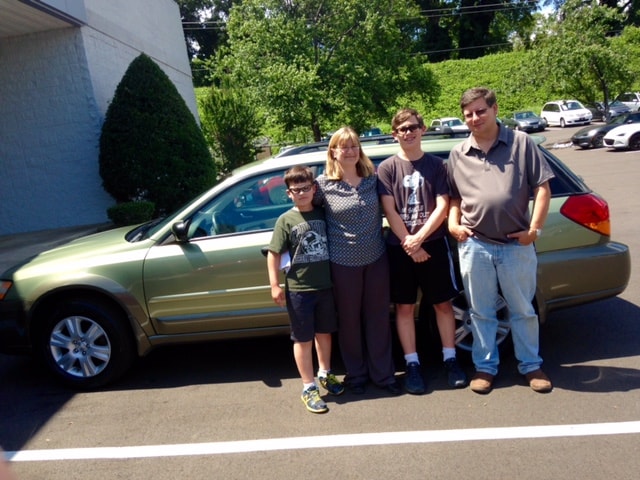 Jennifer Grimes and her girls were all smiles as they drove away in their new Subaru Forester!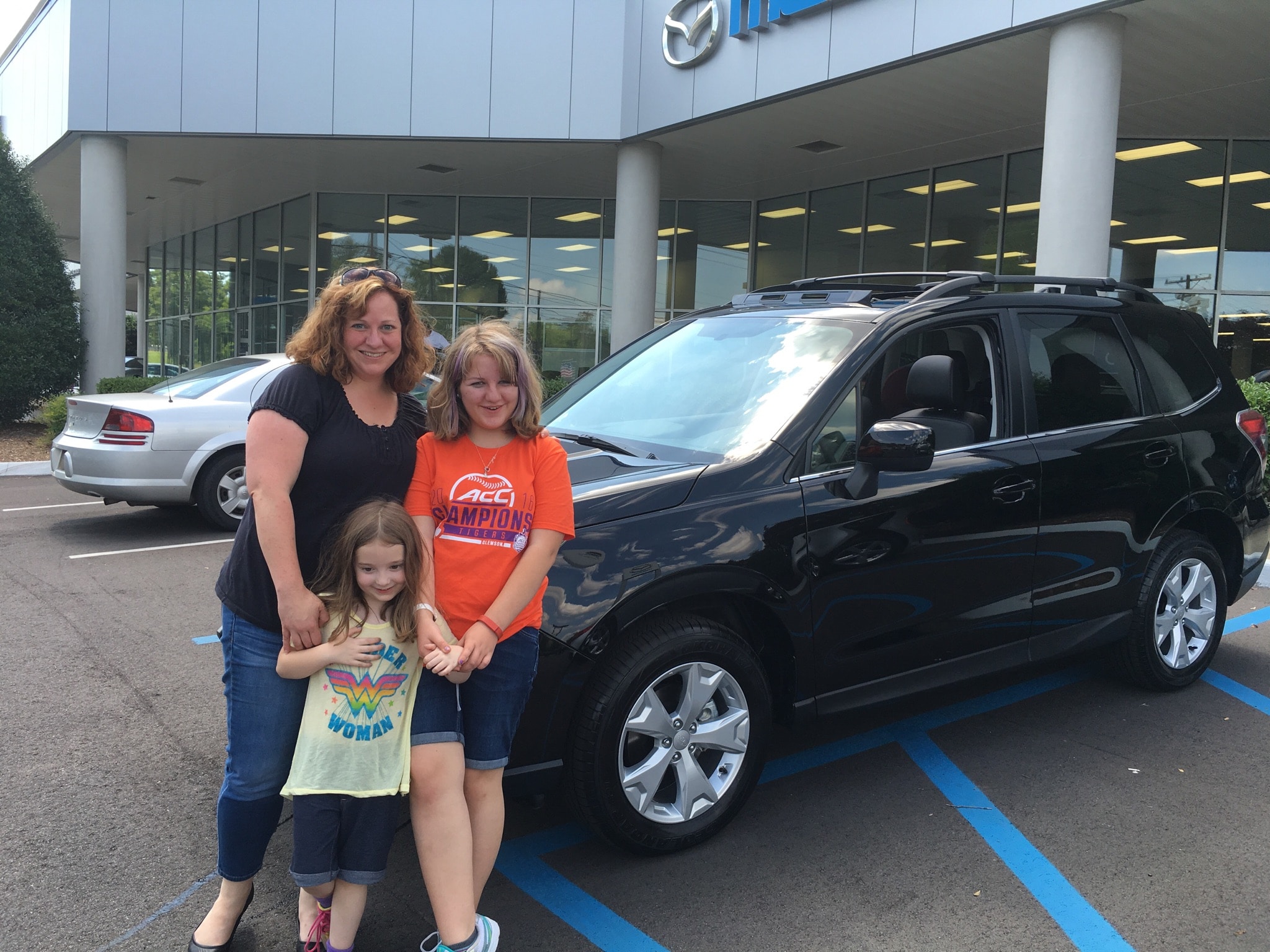 "This is the second car we have purchased from salesperson Eric Paccione, and the first from your dealership. His personality lends itself quite well to helping people make car buying decisions. He knows all about each car, answered all of our questions and took us out on the road to demonstrate how things in the car worked. He is just a nice person and his approach is refreshing.We were trying to decide between a Mazda 5 and the Subaru Forester and we bought the Subaru. Since taking it home we have emailed Eric with a couple of things we didn't quite "get" and he answered us quickly and we got our answer. He even introduced us to the maintenance department manager in case we decide to come in for our oil changes there and other service. We live in Greenville.We are happy with our new car and it was great buy it from Eric . We are happy Vic Bailey customers!" - Ron and Sharon Blake, Greenville, SC 
Matt is a nurse in Greenville and has spent countless years working towards his career. After all his hard work, he was finally able to buy his dream car...a 2016 Subaru STI! He loves driving it around the curves of the mountains!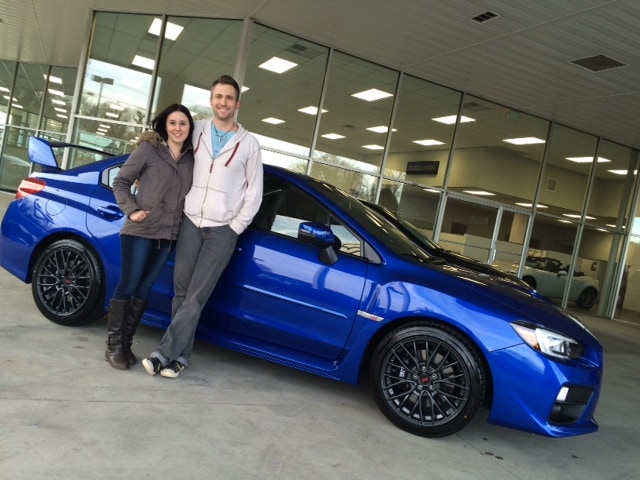 Hunter McDaniel just got his first Subaru, a 2016 WRX. He recently graduated from USC in Columbia and is going back for his Masters degree!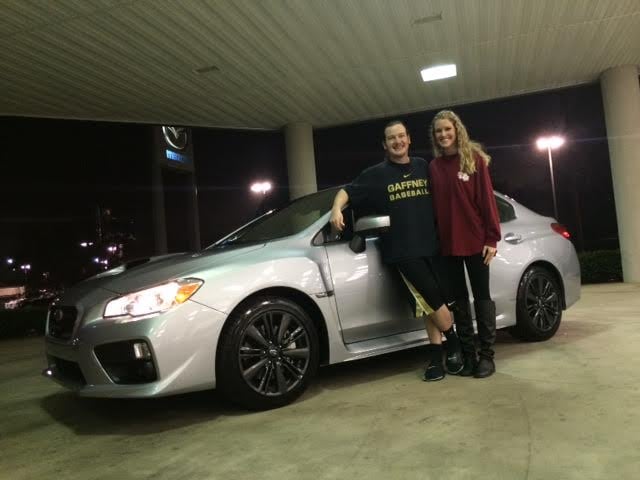 Autumn Broome snapped this amazing picture from inside her new 2016 Subaru Outback!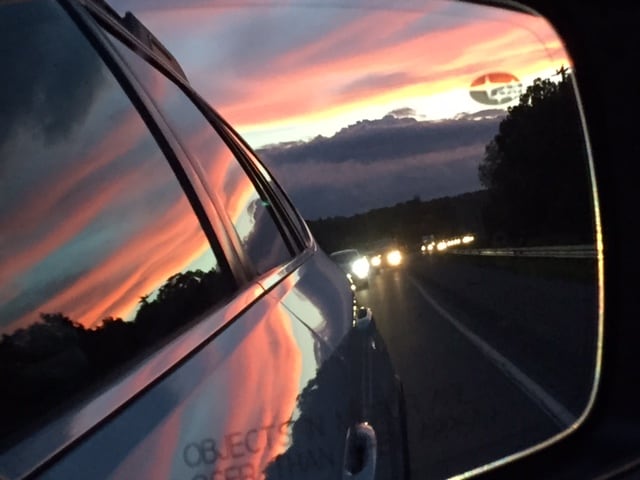 Mr. and Mrs. Hemming purchased our last 2015 Subaru Forester on Labor Day! Don't worry, we have plenty of 2016 Foresters available!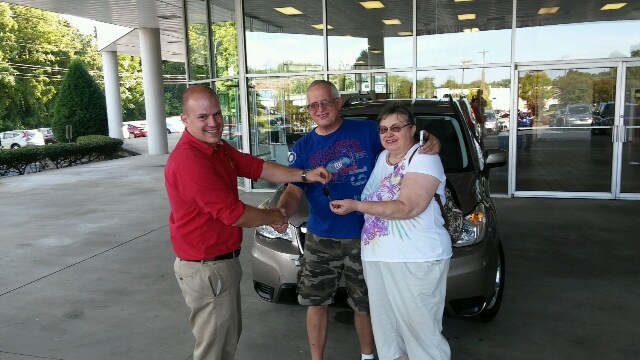 Brandon,
    Thank you for a great Subaru purchase this past weekend. We enjoyed meeting you and you made my 15 year old daughter very happy with our new purchase of the 2015 Subaru Crosstrek. We will recommend to others as well. Very smooth car purchase!
                                                                   Sincerely,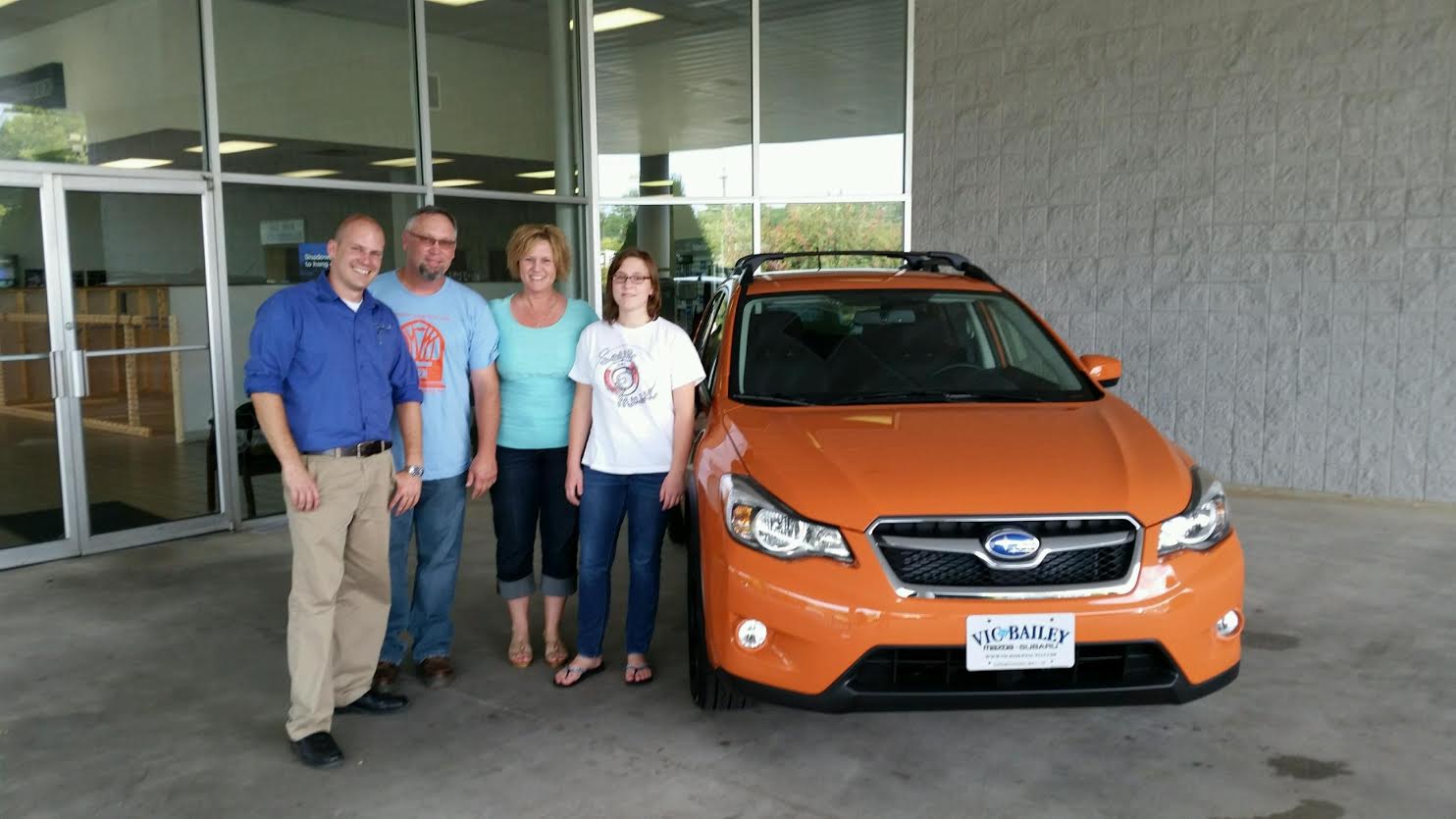 Mr. Zhang checked with all of the Subaru dealers nearby to find out who would give him the best price. He then placed his Subaru Outback order through Jonathan Meredith at the end of June. He and his wife are thrilled it arrived so quickly!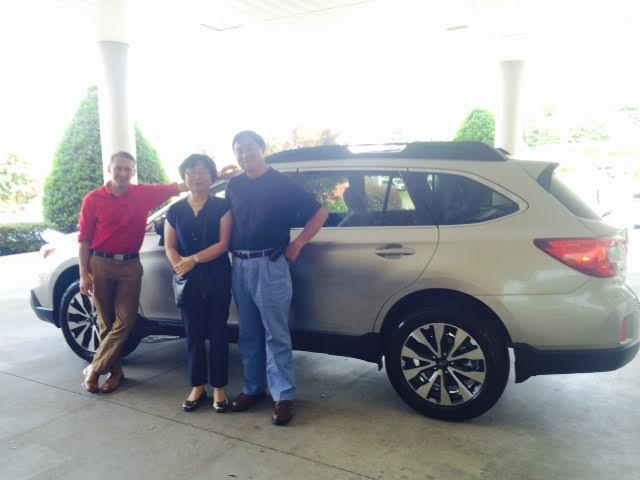 Marianne carefully considered all options in her process of car shopping. After looking at numerous makes and models, she finally test drove the Subaru XV Crosstrek with Steven. Her decision suddenly became quite easy!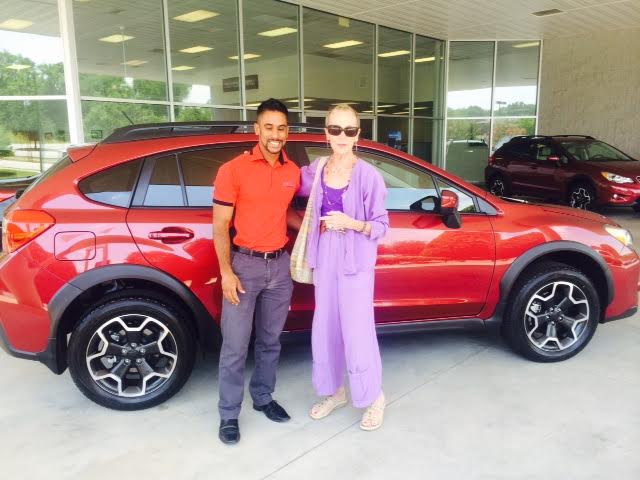 Melissa Bane saw one of our 2015 Foresters online. She put a deposit on it and drove here from Greenwood to pick it up!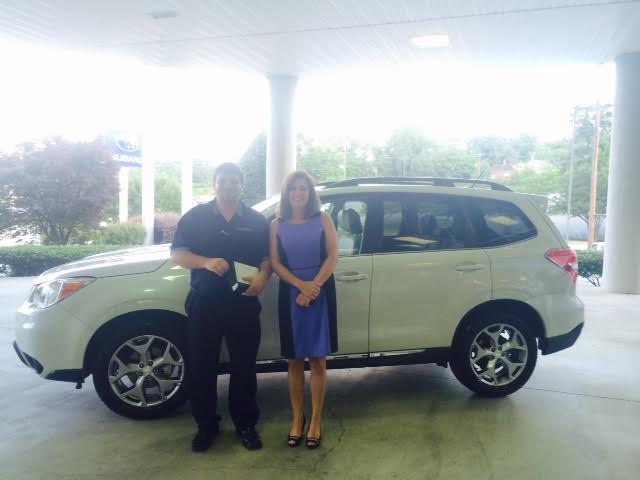 Natalie Hanson, a medical student at VCOM, purchased a 2015 Subaru Impreza from Brandon Moore today! She will soon be driving it all the way back home to Minnesota!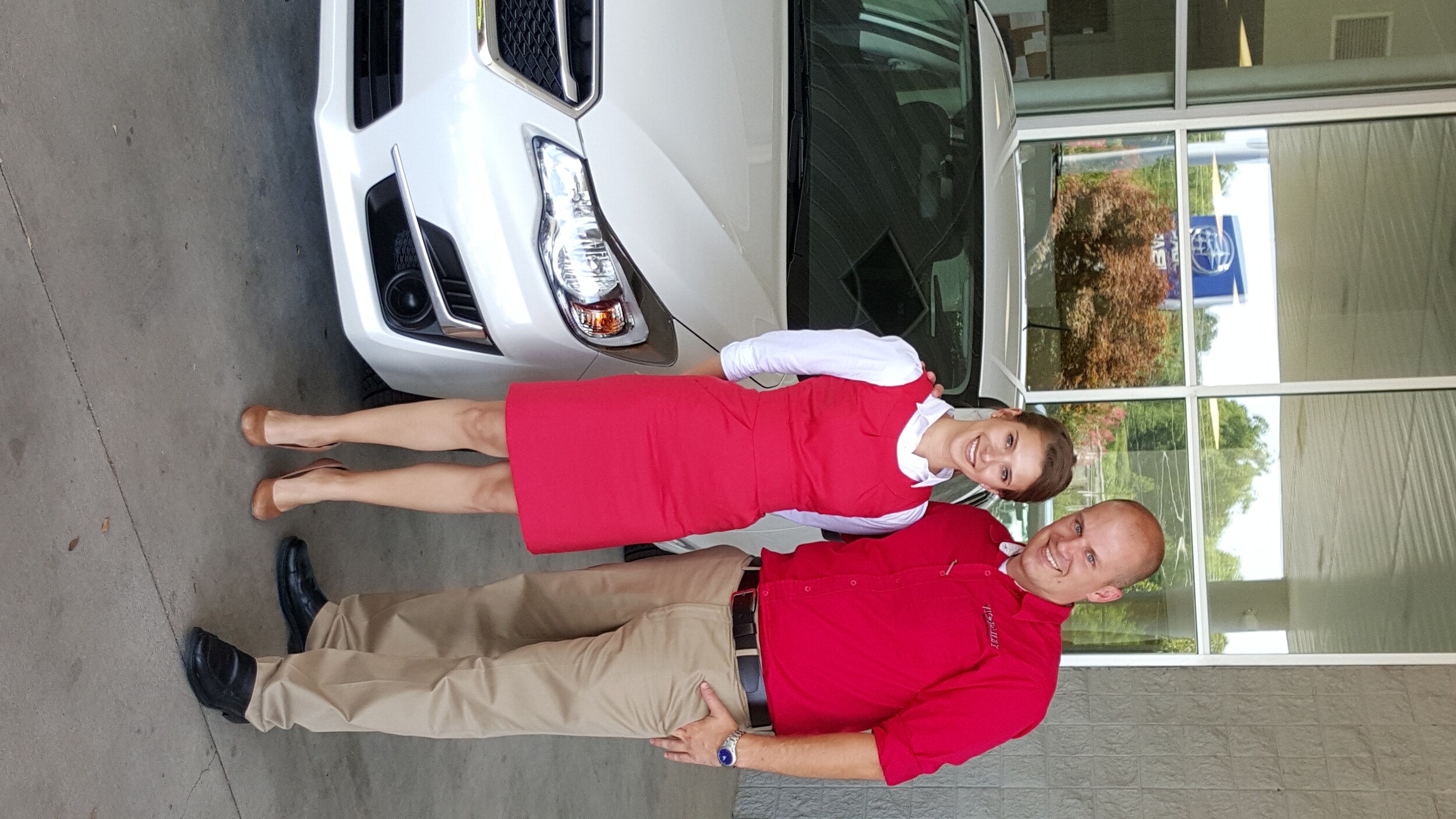 Jacquelyn Fowler looked at the Subaru Forester for four years before deciding to make the purchase! She couldn't be more thrilled with her new ride!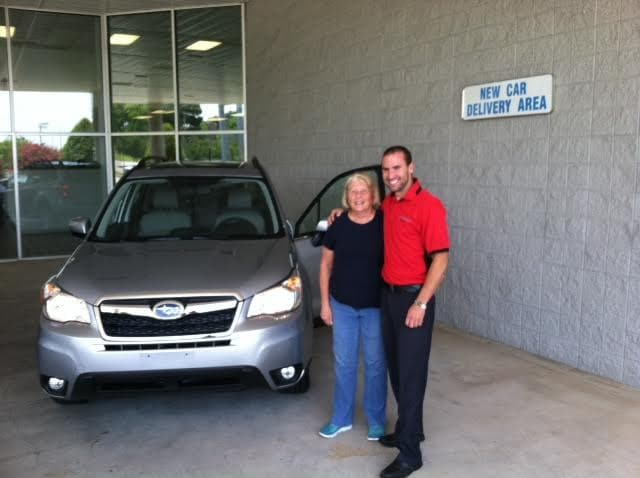 Brandon Carter purchased a 2008 Toyota Prius and was relieved at how easy the financing was
!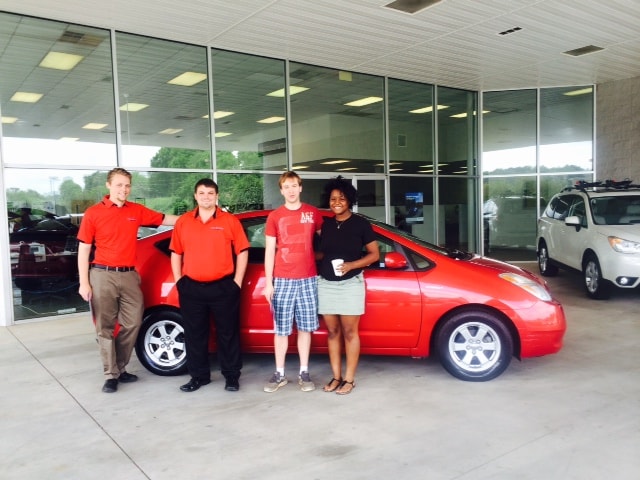 Vantha and his family traded their Honda Fit for a 2015 Forester! They needed a vehicle that could handle winter weather for their drives to the Pocono mountains to visit family. Subaru was the only option!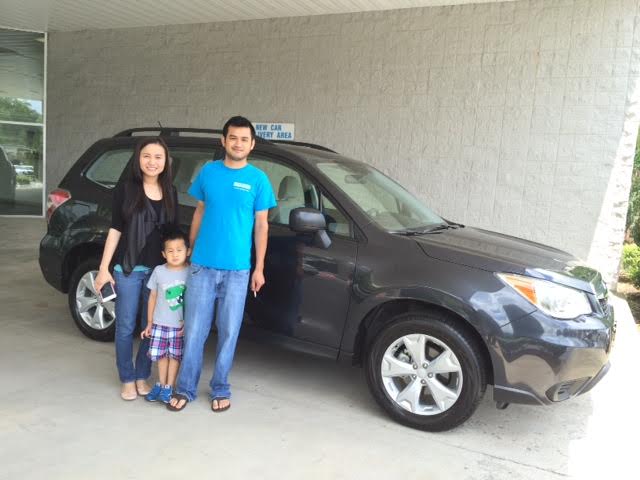 Margaret Lay is ecstatic to start summer in a new Subaru XV Crosstrek! She enjoyed working with everyone at Vic Bailey Subaru, including Vic Bailey III!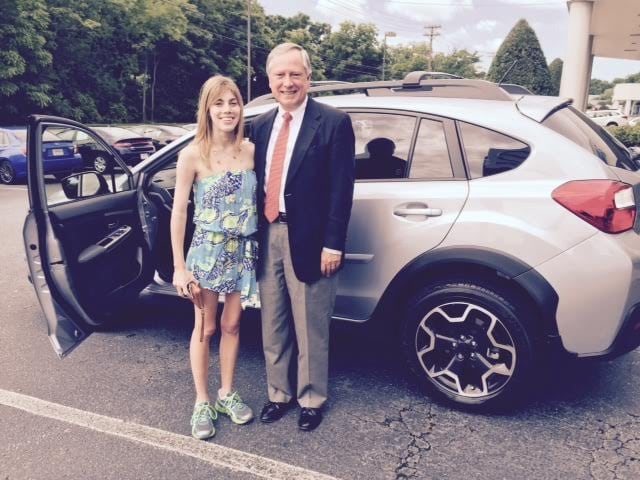 After months of car shopping, Mr. and Mrs. Van Meter are starting their weekend in a new 2015 Subaru XV Crosstrek 2.0i Limited! They originally thought they wanted an Outback but after talking to Vince, they realized the smaller Crosstrek fit their needs better.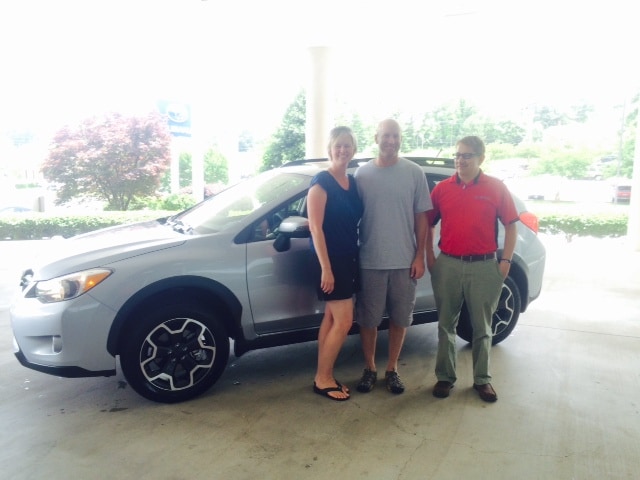 After shopping several of the Vic Bailey Automotive brands, Nancy Veverka decided to order a 2015 Subaru XV Crosstrek 2.0i Limited through David Hall!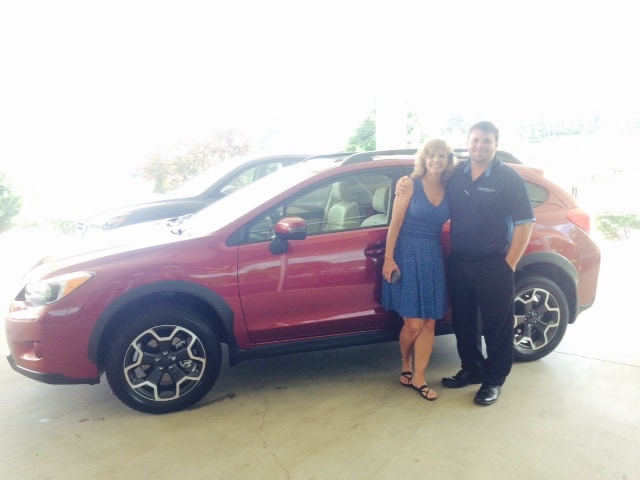 Robyn Lewis knew exactly what she wanted in her next vehicle. We didn't have it at the time but we located this 2013 Volkswagen Tiguan and delivered it to her in Charleston!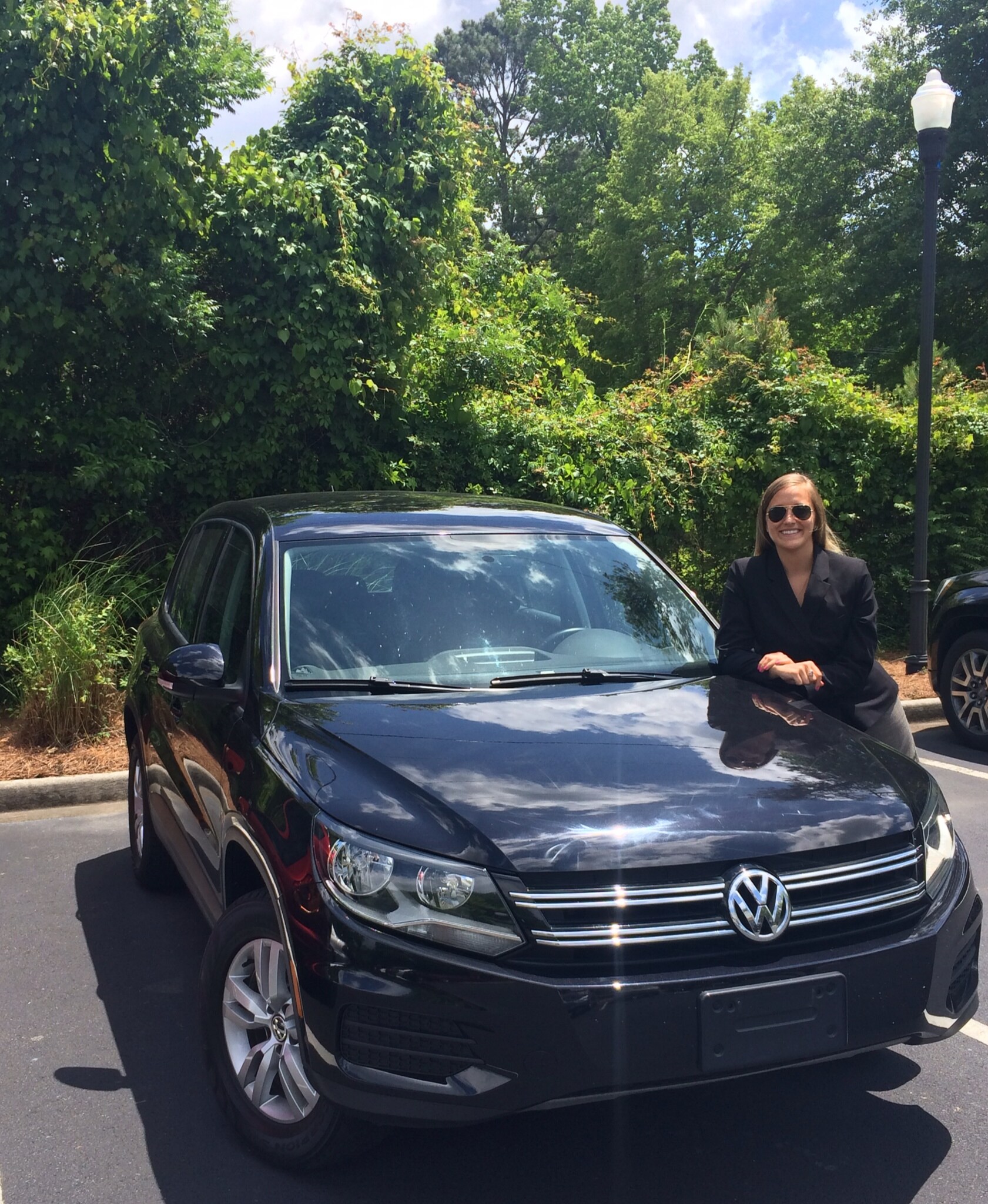 After shopping several Subaru dealers in the area, Bradley decided to order his 2015 Subaru Outback through us since we gave him the best price!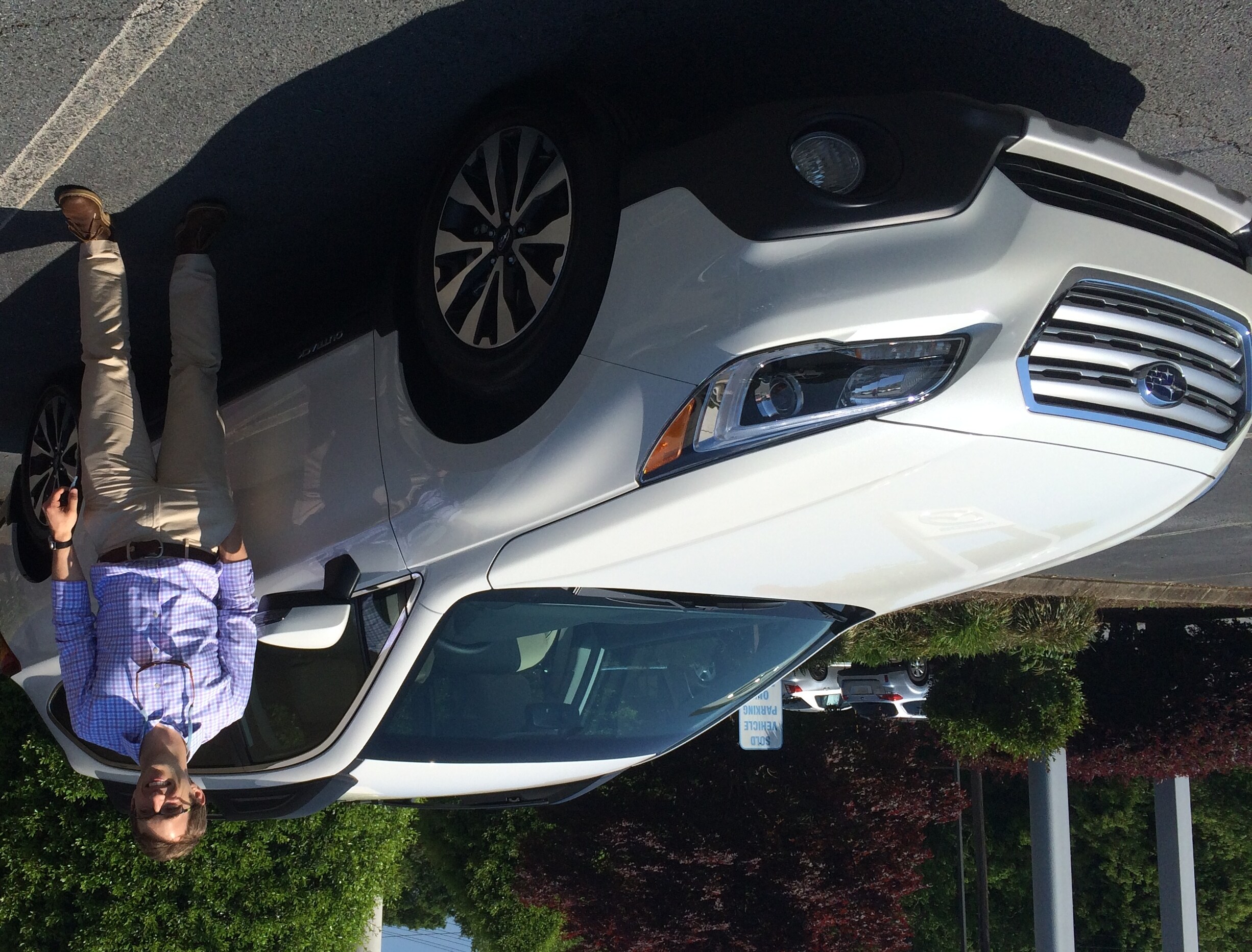 Janet Hollis had an easy time deciding on the Subaru Forester! We think she made a great choice with the Burnished Bronzed exterior!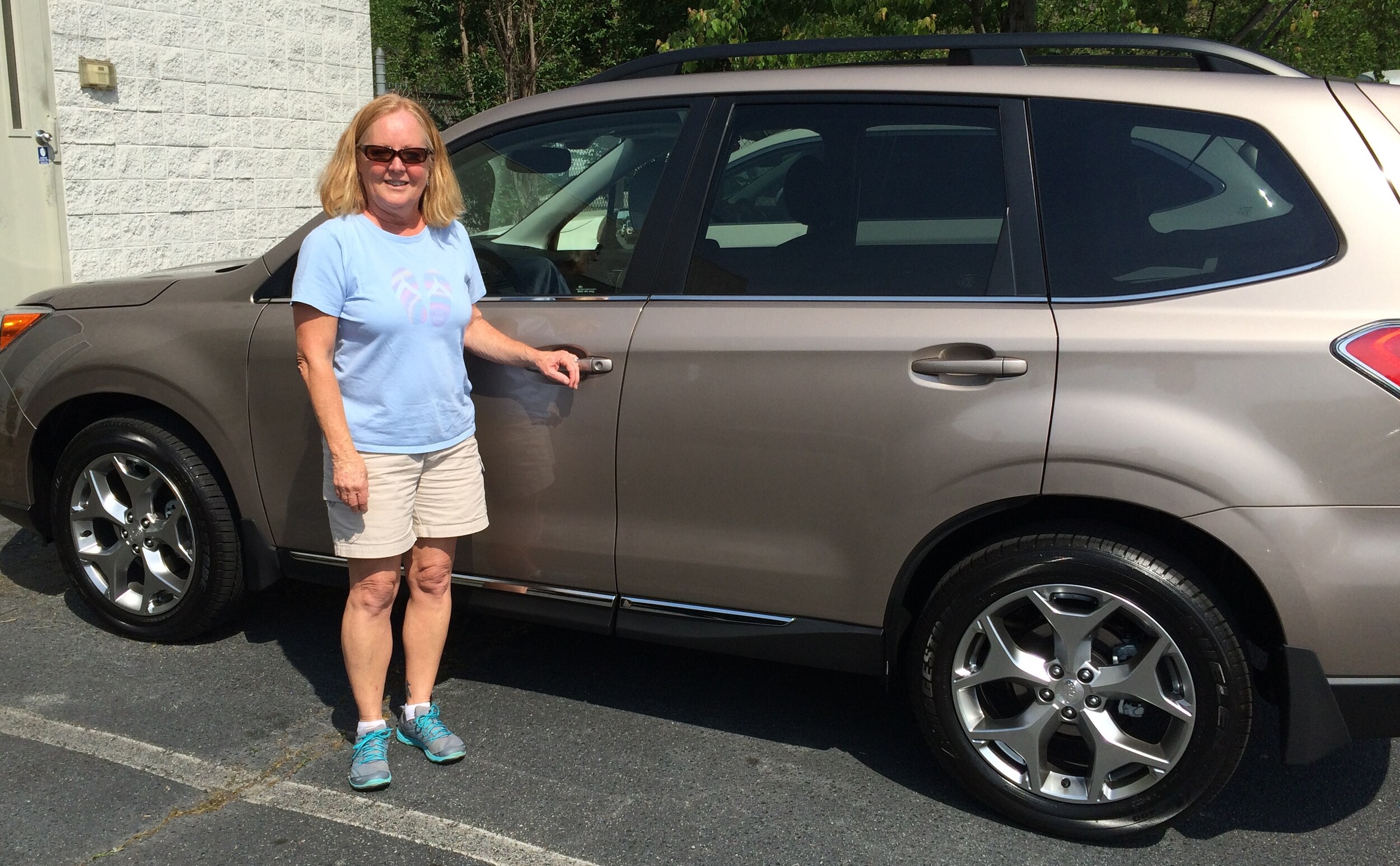 Mr. and Mrs. Robinson are thrilled with their new sporty Subaru XV Crosstrek! Not only does it get great gas mileage, but it is also a blast to drive!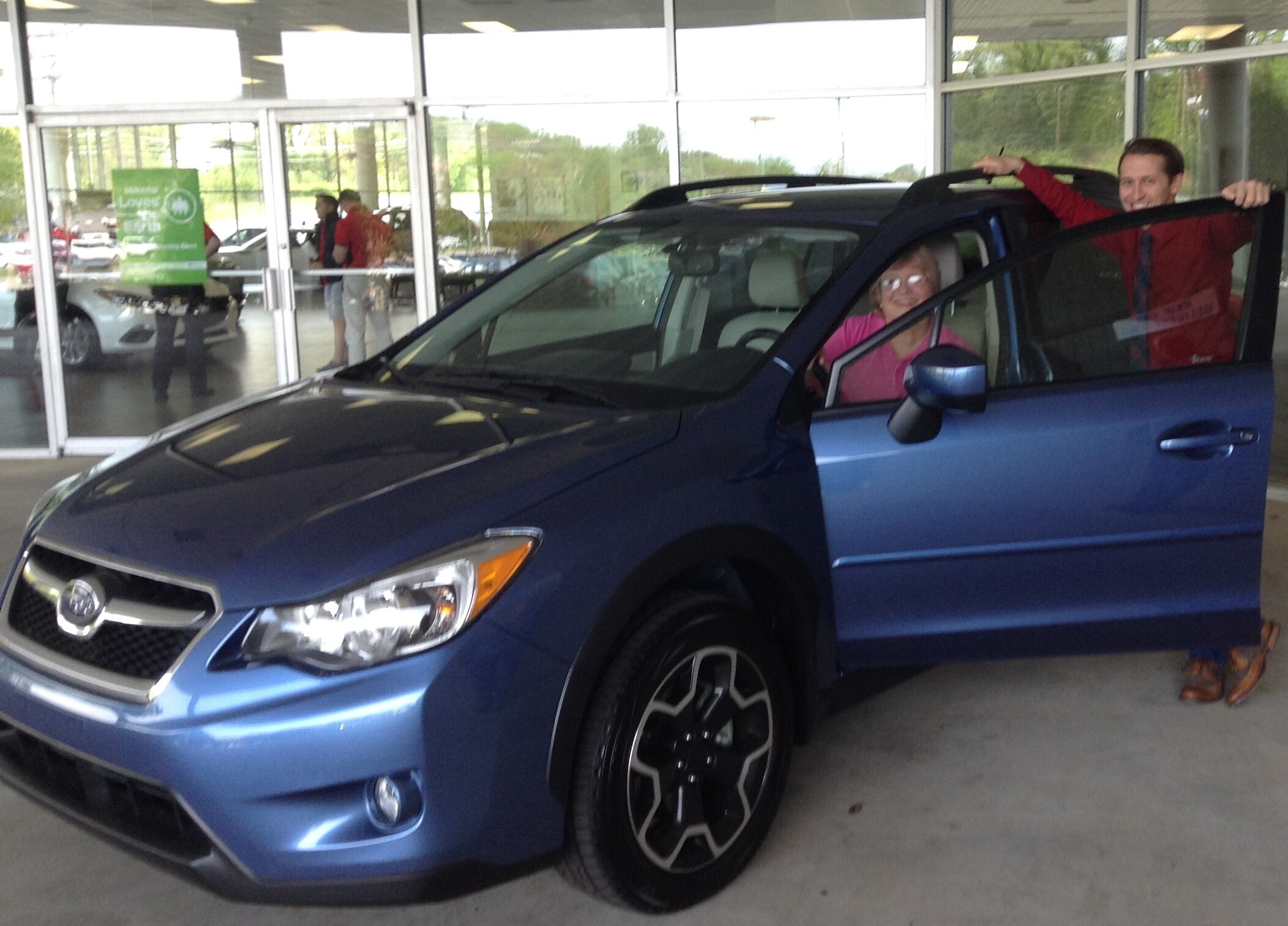 The Eberhardts couldn't be more happy with their 2013 Subaru Outback! It was exactly what they had been looking for!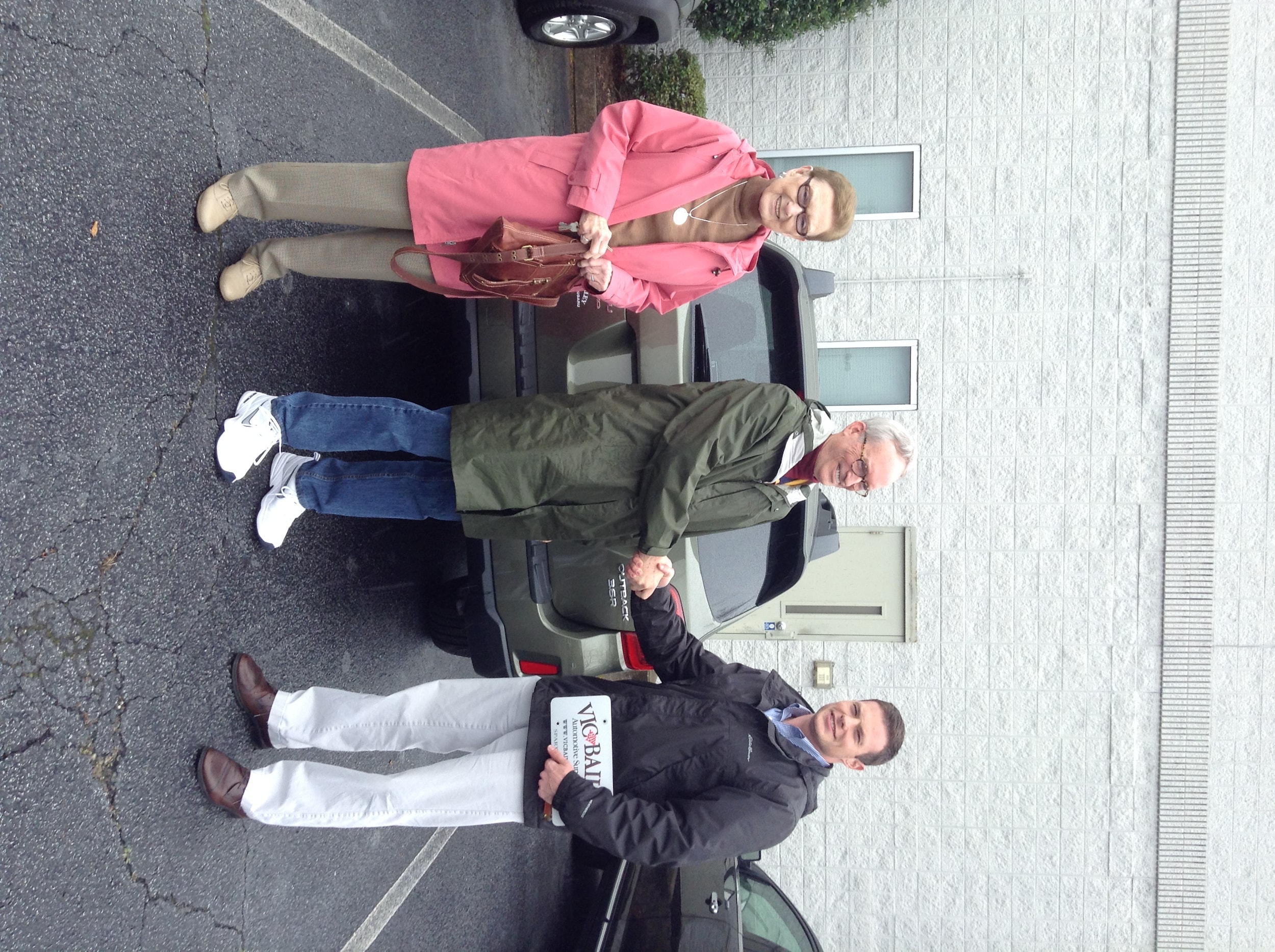 Chris York lucked out on a great deal during the Subaru Love Spring Event on this 2015 Subaru Forester 2.5i Touring!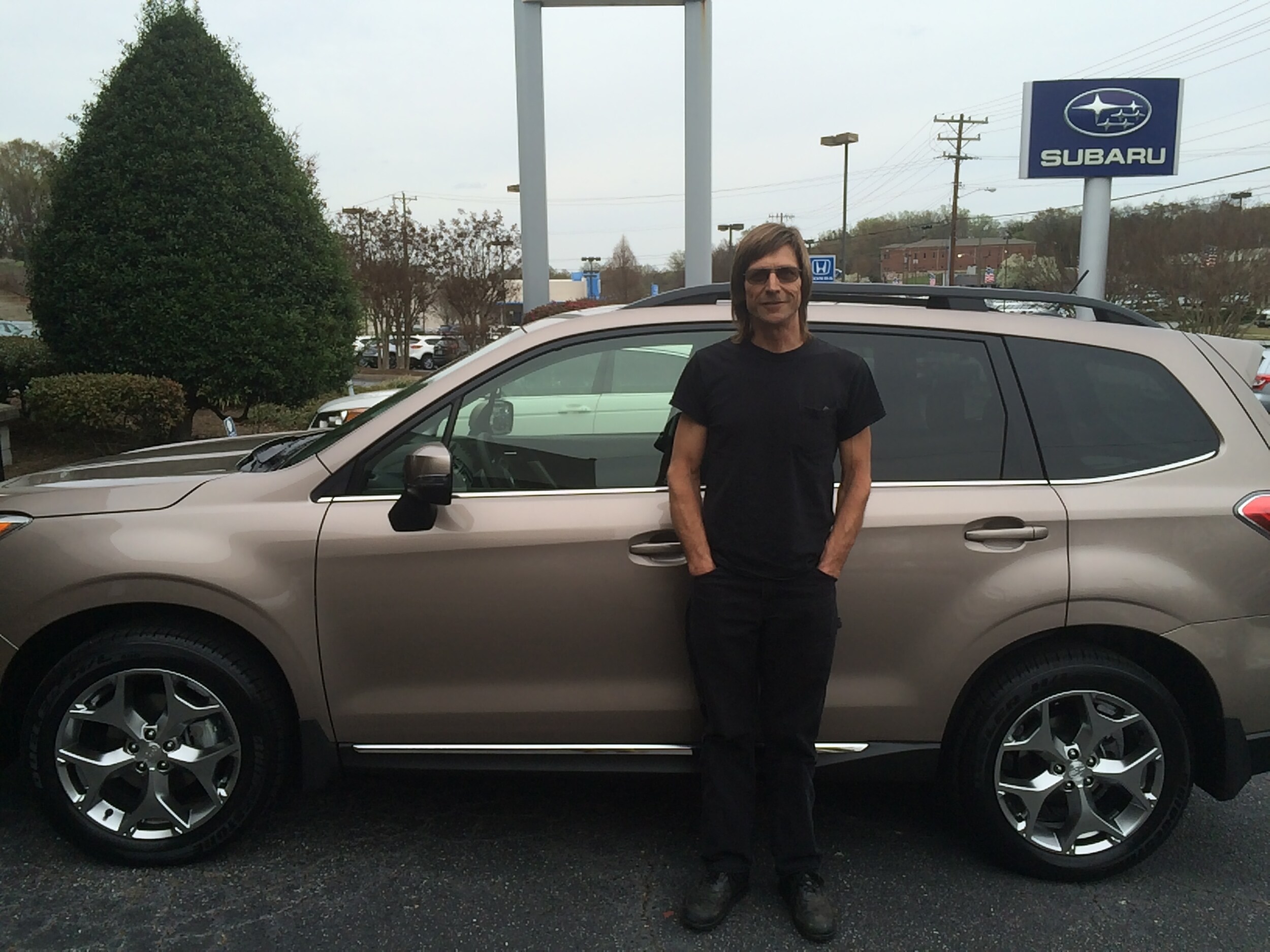 Sarah and Whitner Kennedy purchased a new Subaru Forester so they can transport their growing family safely and comfortably!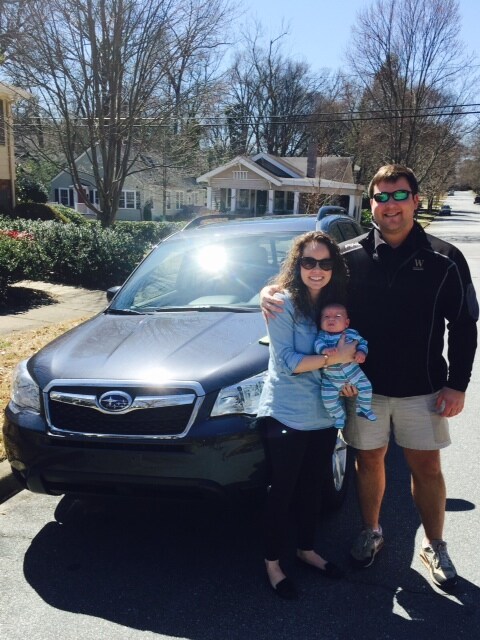 This family on the go needed more room than their sedan had to offer so they came to us for help. The Subaru XV Crosstrek was the perfect solution and every member of the family loves it!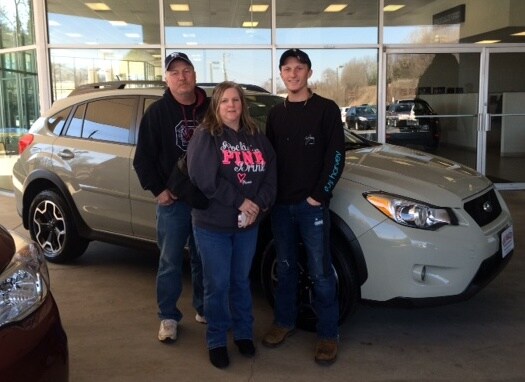 Hannah couldn't be more in love with the slightly used 2014 Subaru XV Crosstrek she purchased from Drew McIntosh!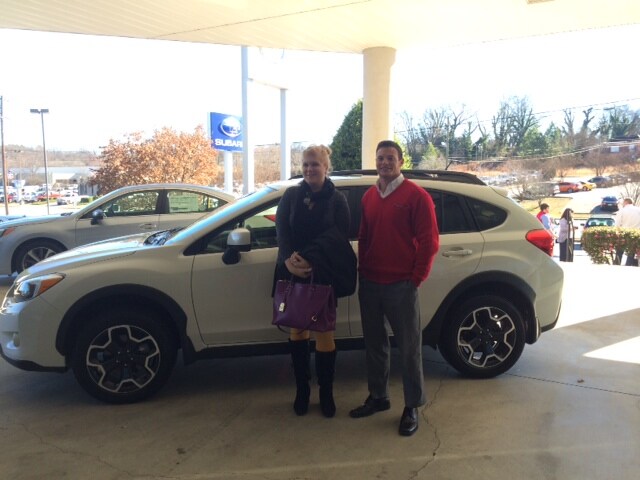 Vince Lurie was entirely responsive to me, gave me the lowest price, the quickest response, and the least hassle. I had a feeling of confidence buying from your dealership such that I never once visited until the afternoon of delivery. A flawless experience, really. Should you choose, you may reference me to others considering a purchase of a Subaru. - Tim Kurtz

The Cockmans are especially thankful for their new Subaru Forester and are thrilled to have it in time for the holidays!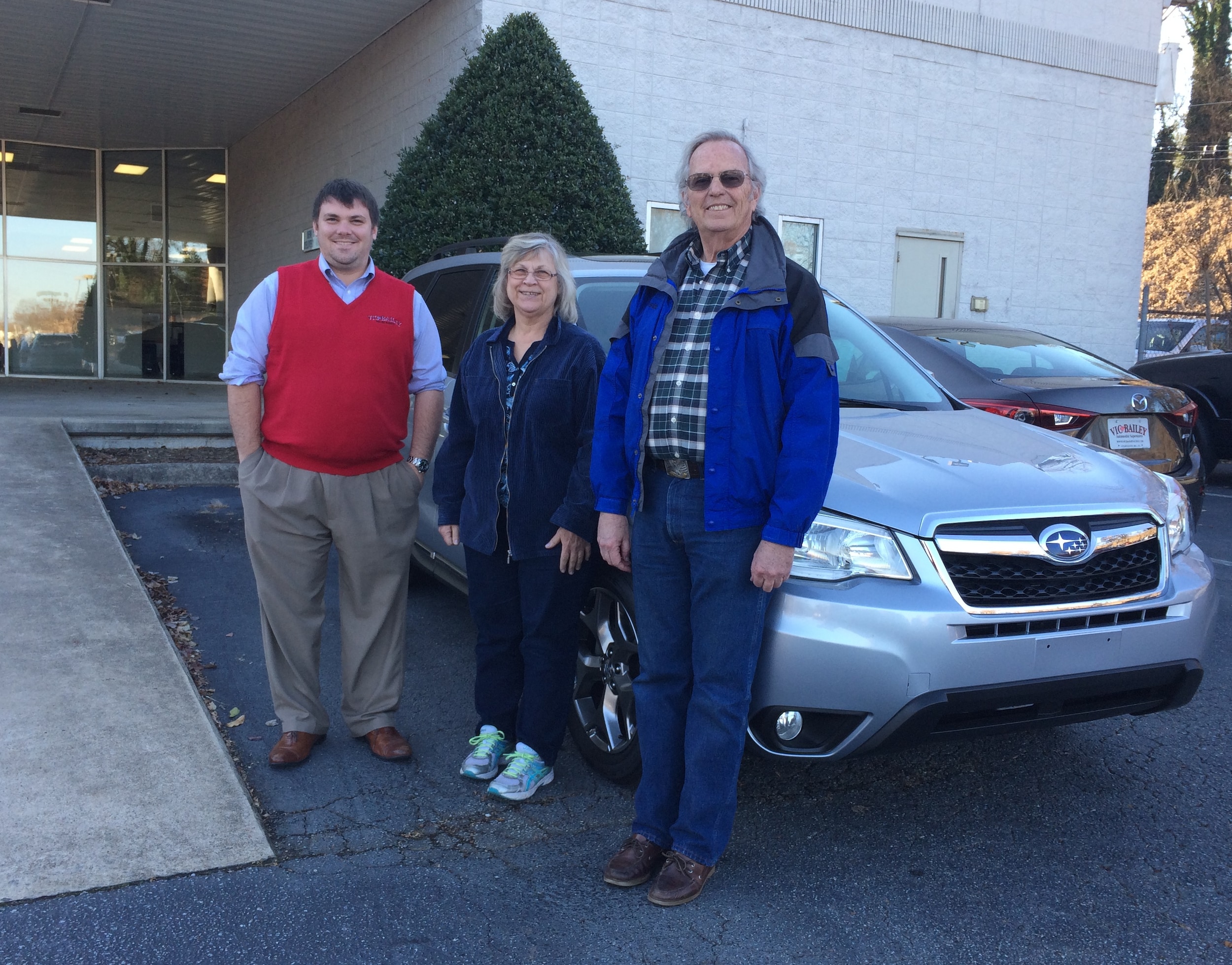 I was recently in the market for a new Subaru, and would like to recognize Eric Paccione for his professionalism, courtesy and diligence. Eric's work can not go unrecognized. With out question of the 6 dealers I encountered across many states he was the most responsive, timely and transparent. I will refer others to him and your dealership in the future, and when my x3 lease expires, I will call him first. I genuinely appreciate his hard work. - Bill Anderson (Asheville)

Living in the mountains of Asheville, the Adams' Prius never quite cut it in the inclement weather. After much research, their 2015 Outback Limited is the perfect vehicle for their lifestyle; balancing safety, capability, and economy.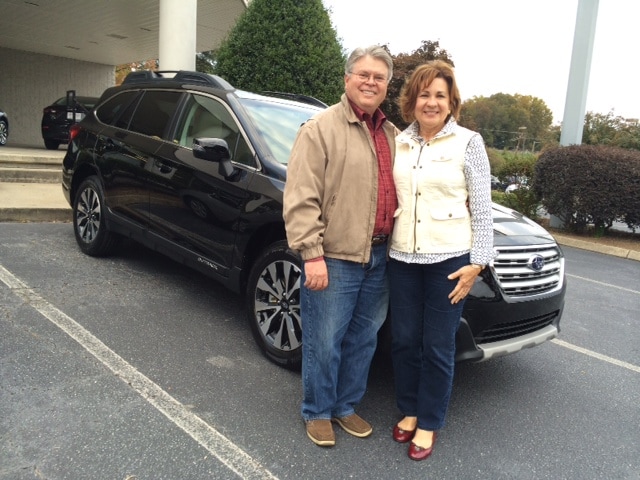 "Open friendly sales staff was great! Very easy to talk with about what you needed." -

Jerry Holt, purchased a 2014 Subaru XV Crosstrek from Eric



Bill and Jean Sponseller decided they wanted a white Subaru Forester. Once they stopped by the lot and saw this Jasmine Green Forester, it was love at first sight! They are now the proud owners!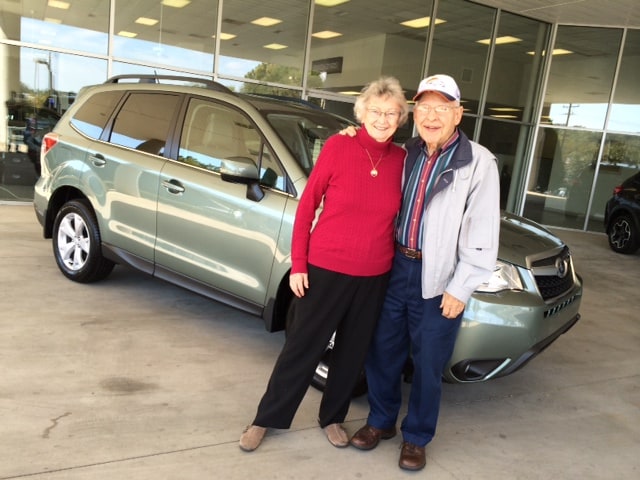 I can not think of ANY improvements this facility needs. The sales staff was outstanding in their communication with me and my questions were answered in a very appropriate manner. The best thing I liked was NO PUSHINESS from the staff. General manager was very helpful in my return to the facility for additional installation of selected options. Future service was recorded and given to me. Totally satisfied at this time. - Arthur King

Ray bought a Subaru XV Crosstrek in preparation for the upcoming harsh winter! Who else needs a vehicle with Subaru Symmetrical All-Wheel drive to make sure bad weather doesn't slow them down?!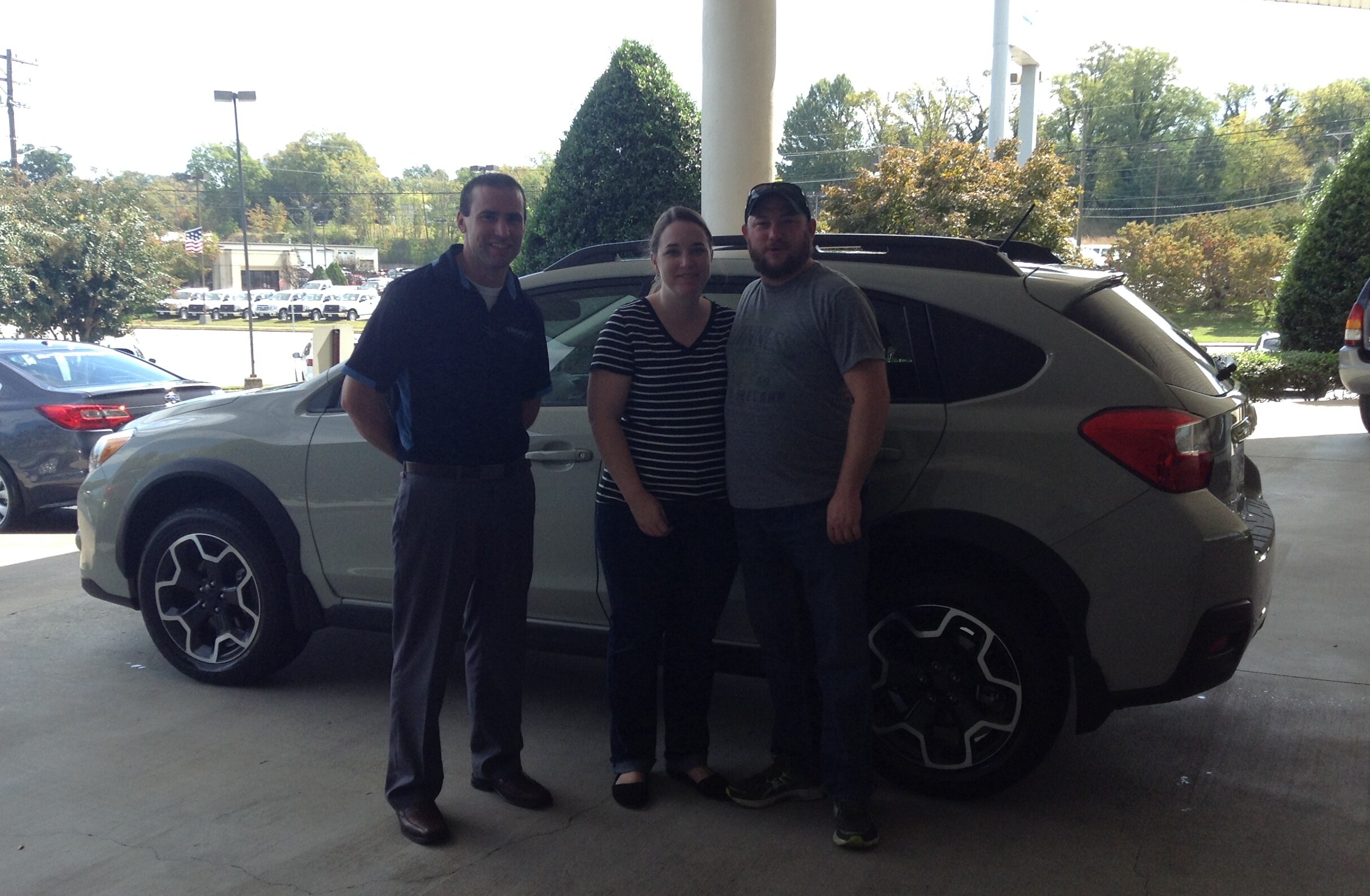 The Subaru XV Crosstrek has the sportiness and handling that Jerry was hoping for in a new vehicle!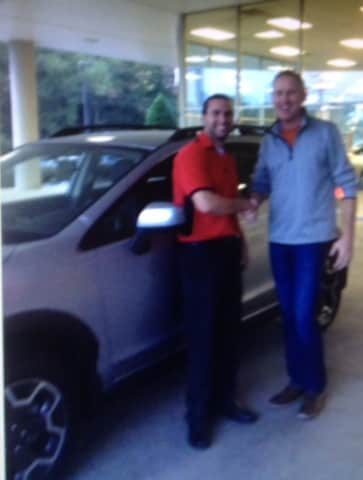 Kyle and Scott Phillips worked with Eric Paccione to get an awesome deal on a 2015 Subaru Outback!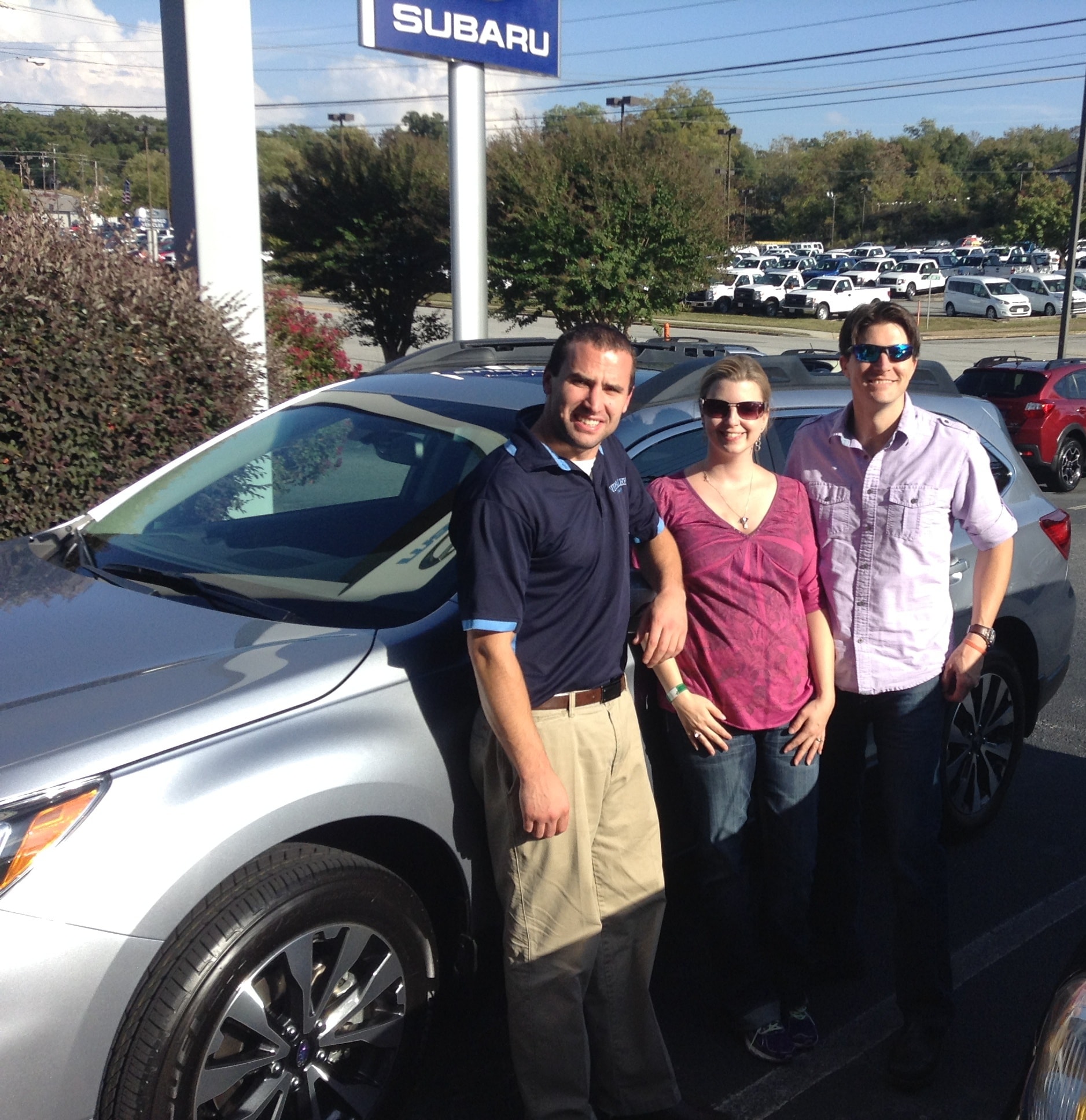 Arthur King's friend, Joan, talked him into buying a new Subaru Outback from David. He is so glad he listened to her advice!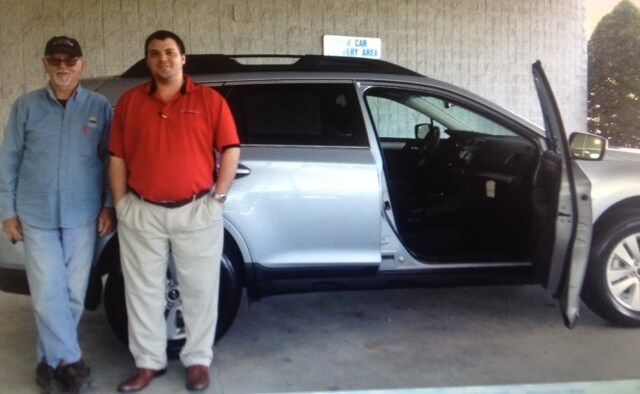 Path Hannelore is excited to be driving a new Subaru Outback! Shannon made sure to go over how to work all of the equipment so now Mrs. Hannelore just needs to decide where to take her next road trip!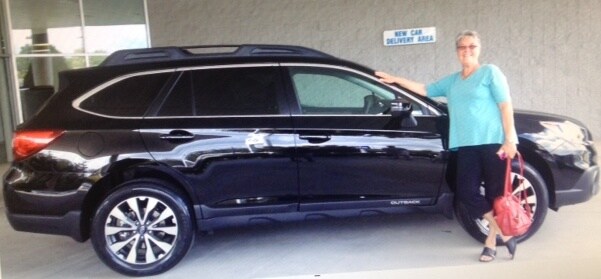 Harold came to the dealership interested in a Subaru Forester but once he saw this black 2015 Subaru Outback with tan interior he knew he had to have it!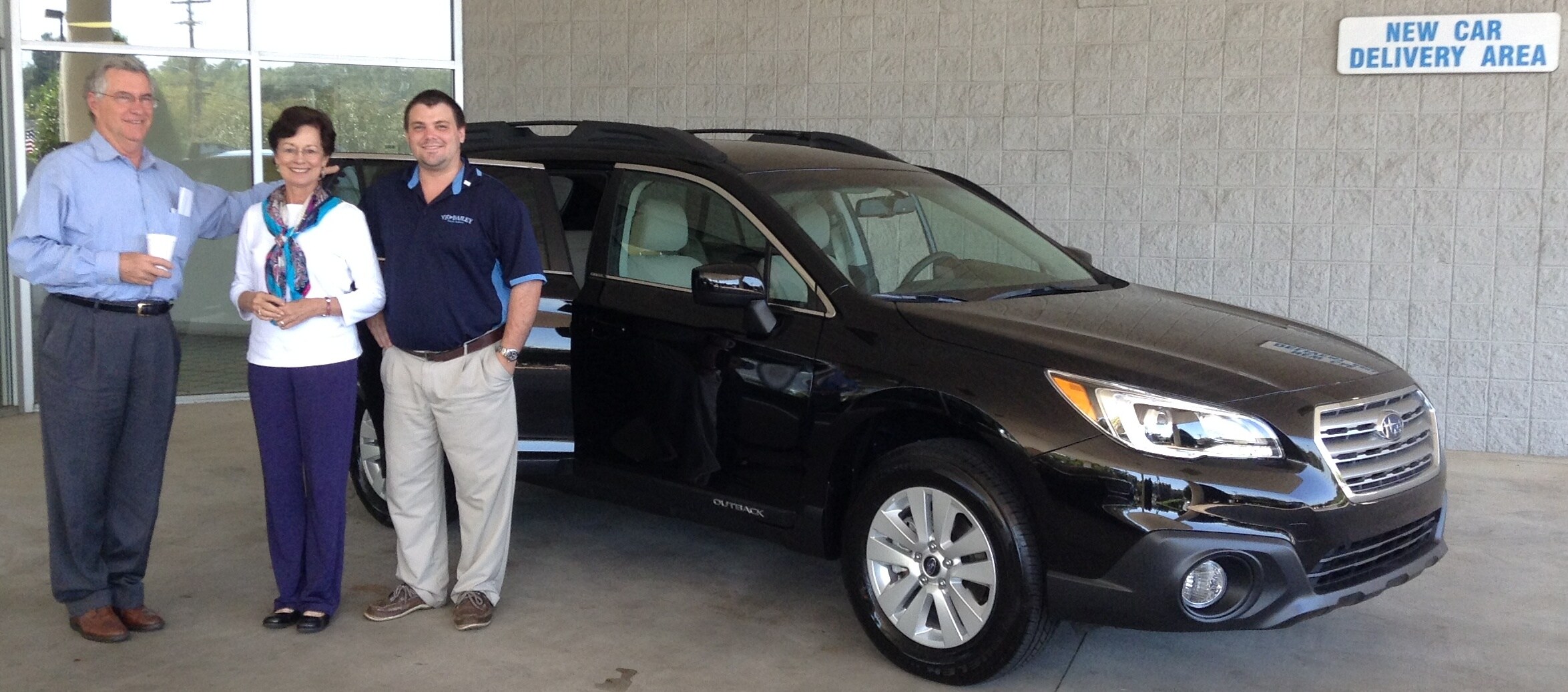 Deborah and Terry Deck were thrilled to come pick up the 2015 Subaru Outback they ordered through David!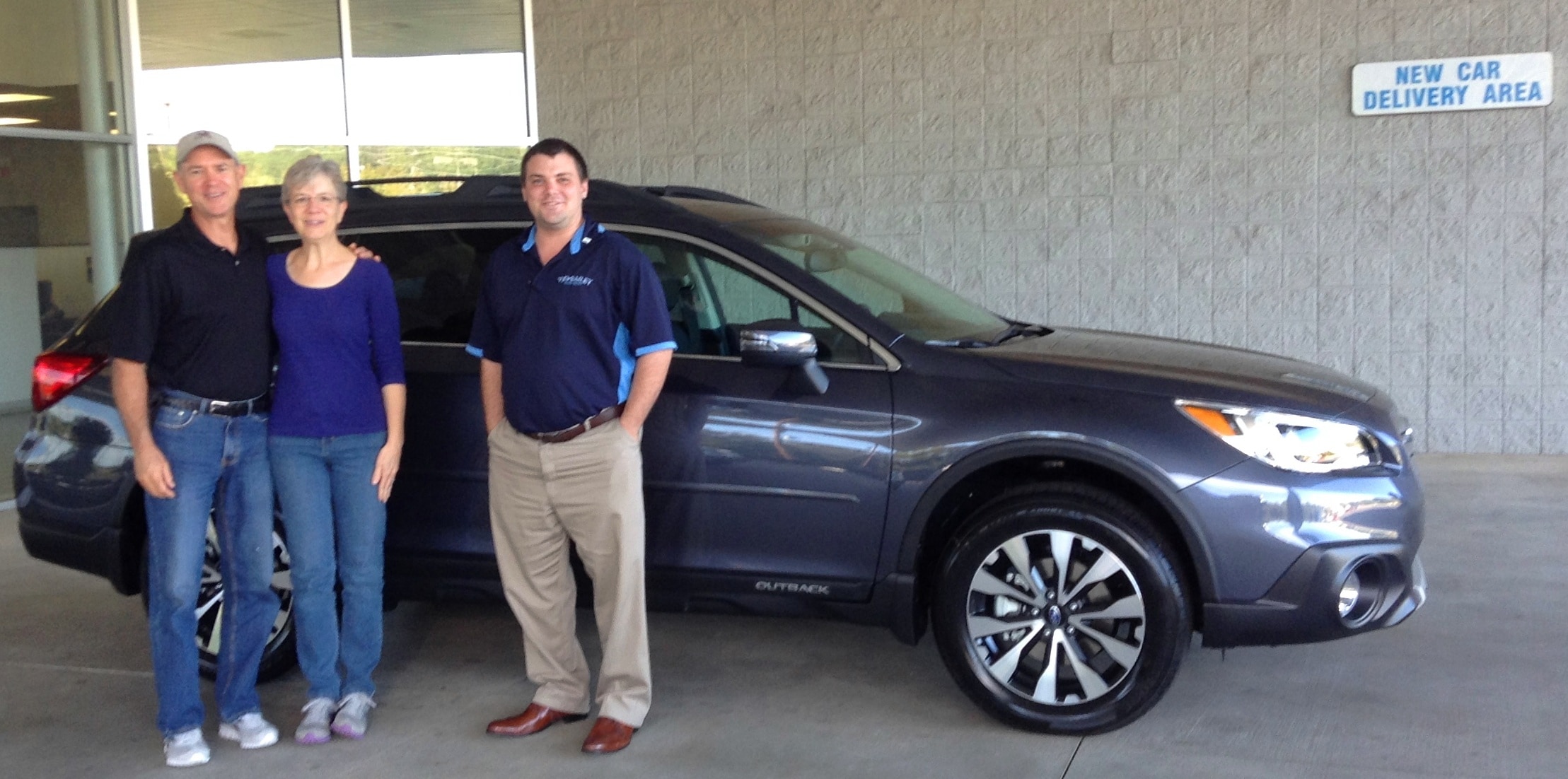 Laura Knox began her car search back in April. After considering almost every make and model, she decided on the 2015 Subaru Forester!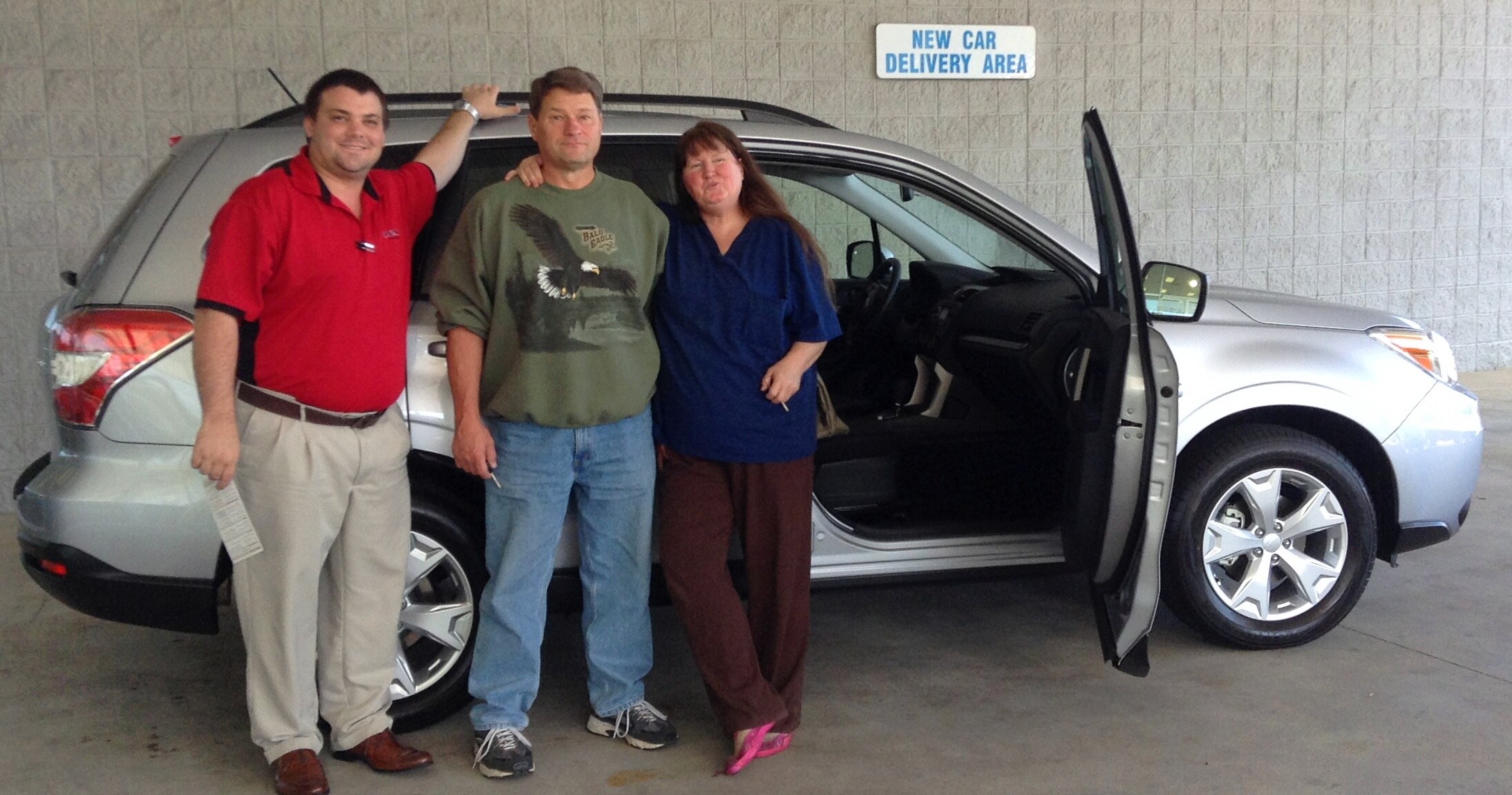 James Diamond and his family took advantage of the special we were having on our last 2014 Subaru Legacy and made the purchase from David!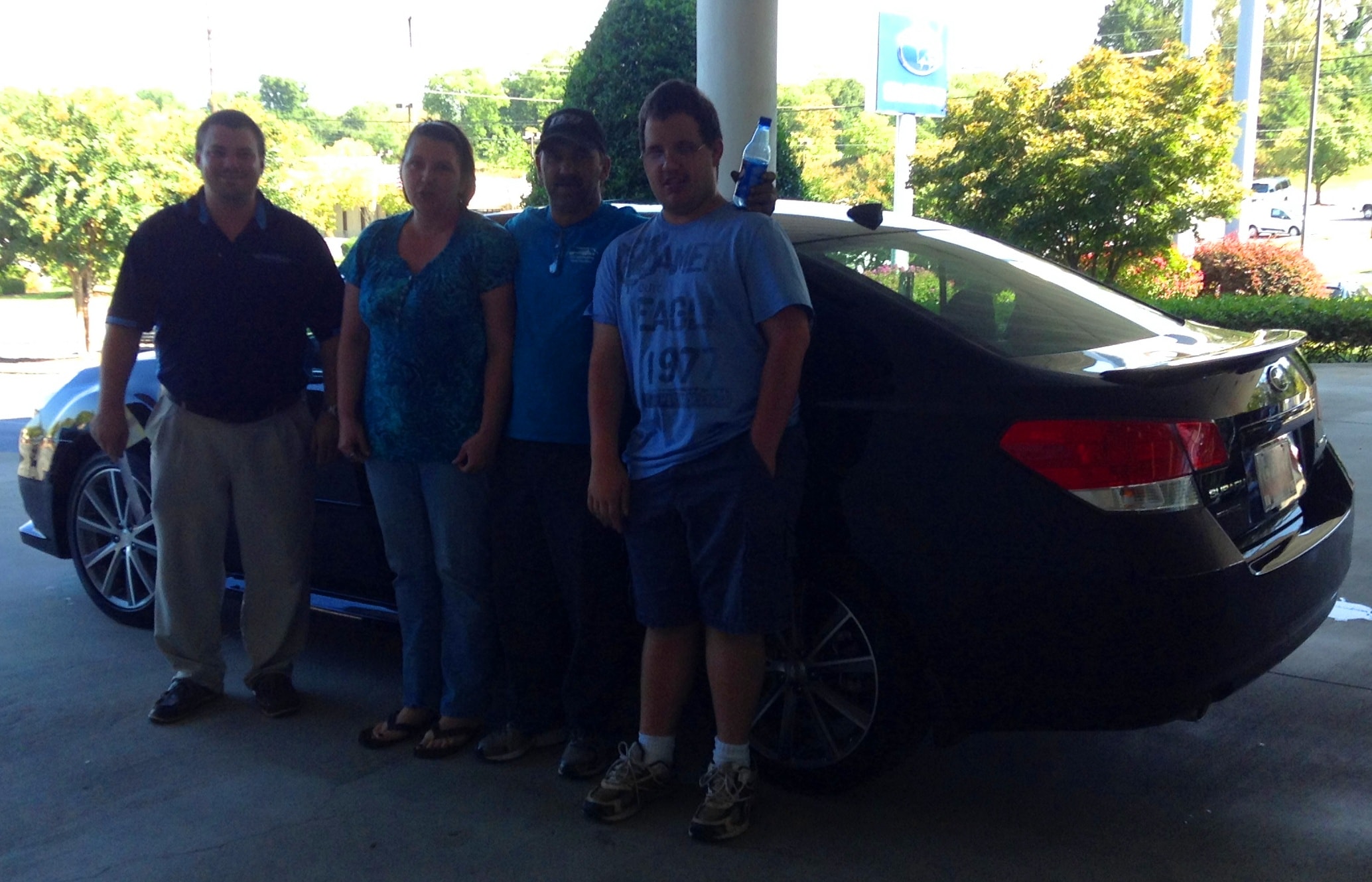 Joan loves her new 2014 Subaru Outback and was impressed with the knowledge and patience of salesman, David Hall!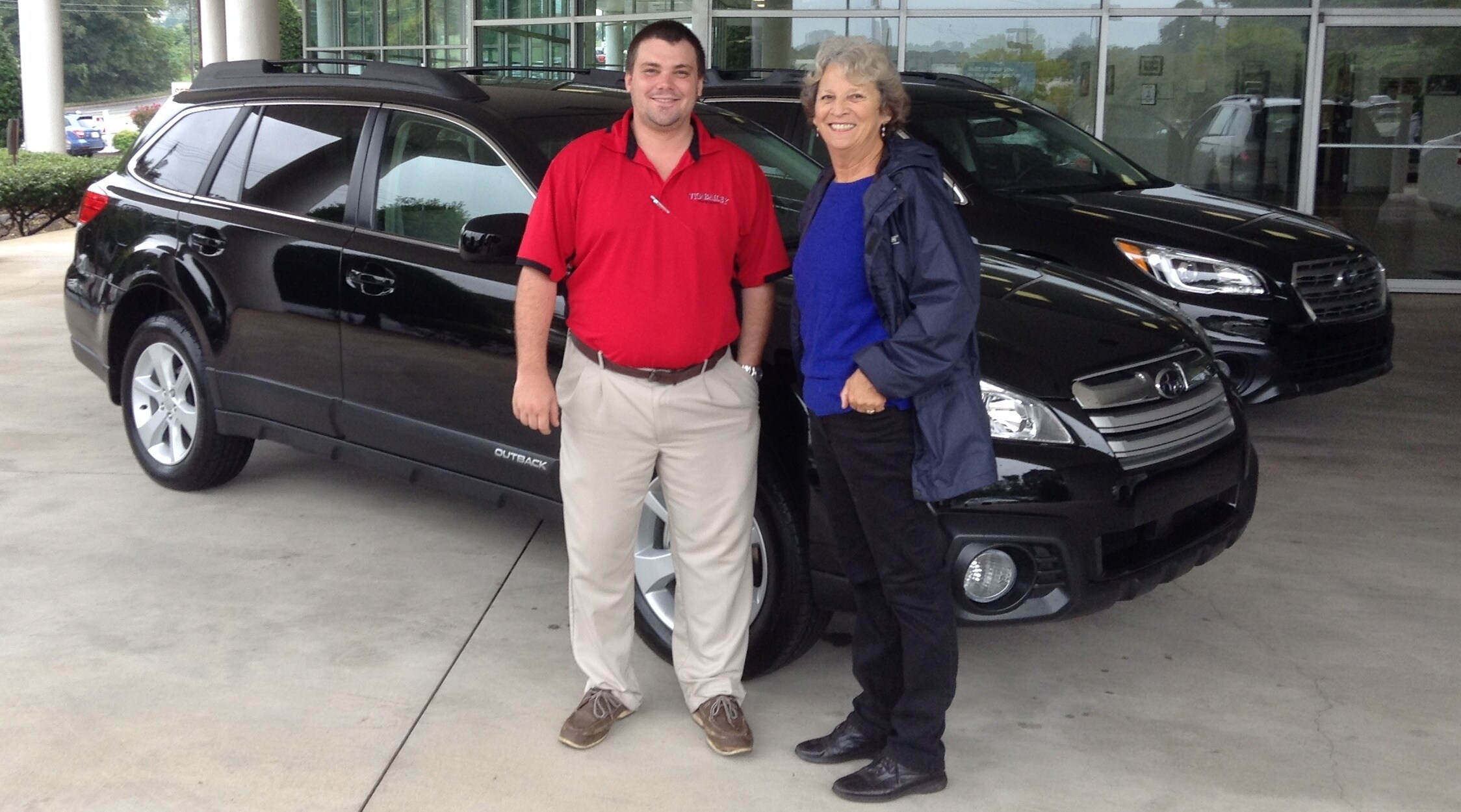 John and Crissy Lewis were pleasantly surprised with how easy it was to purchase their new 2015 Subaru Forester 2.5i Limited!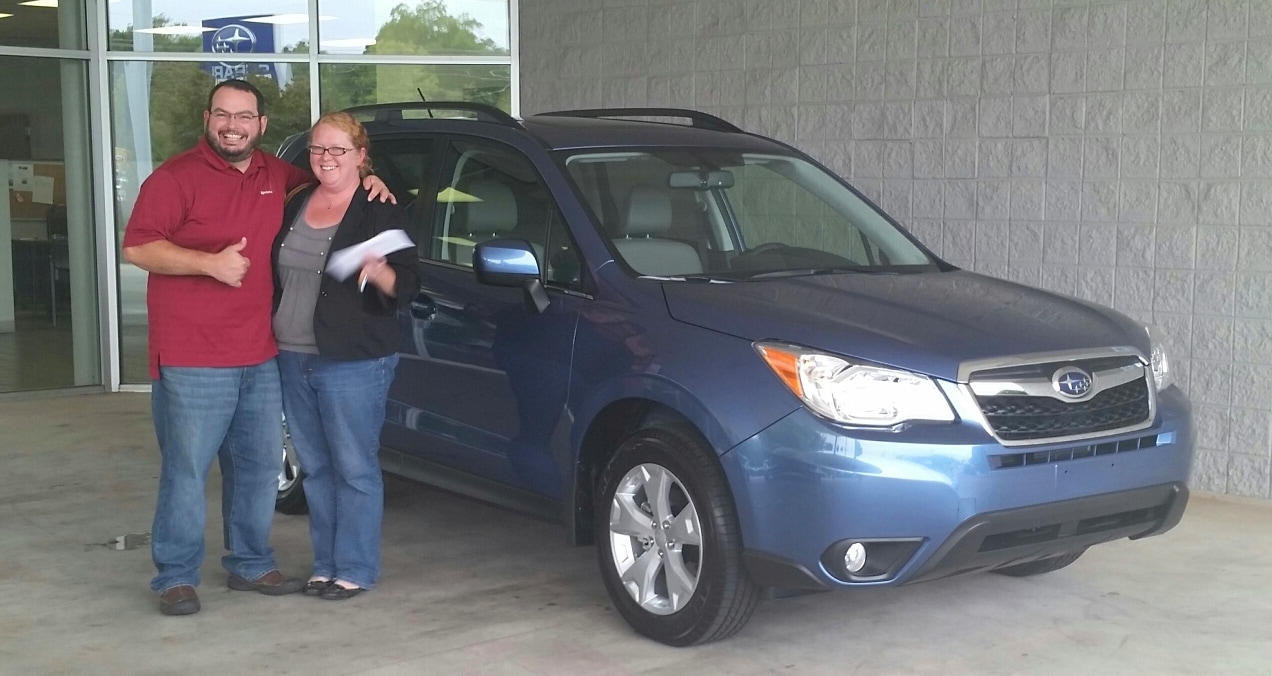 Hope and her husband Michael decided yesterday that it was time to purchase a safe, reliable, sporty, and fuel-efficient vehicle. Shannon knew this 2014 Subaru Crosstrek Limited was the one for them!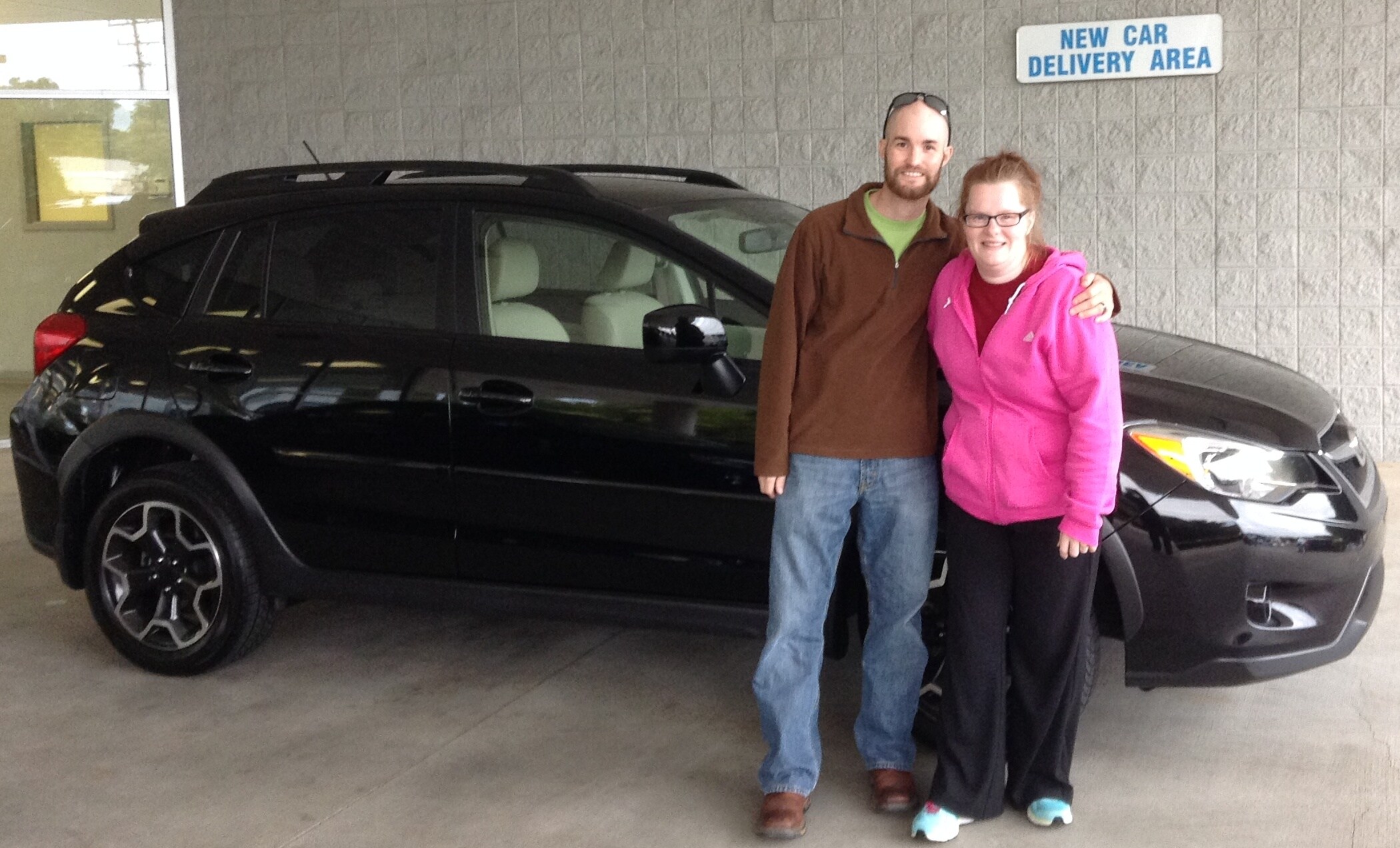 Cynthia traveled from Columbia to purchase her 2015 Touring Forester. This is Cynthia's 6th Subaru! She plans to go on many road trips, starting first with one to Texas!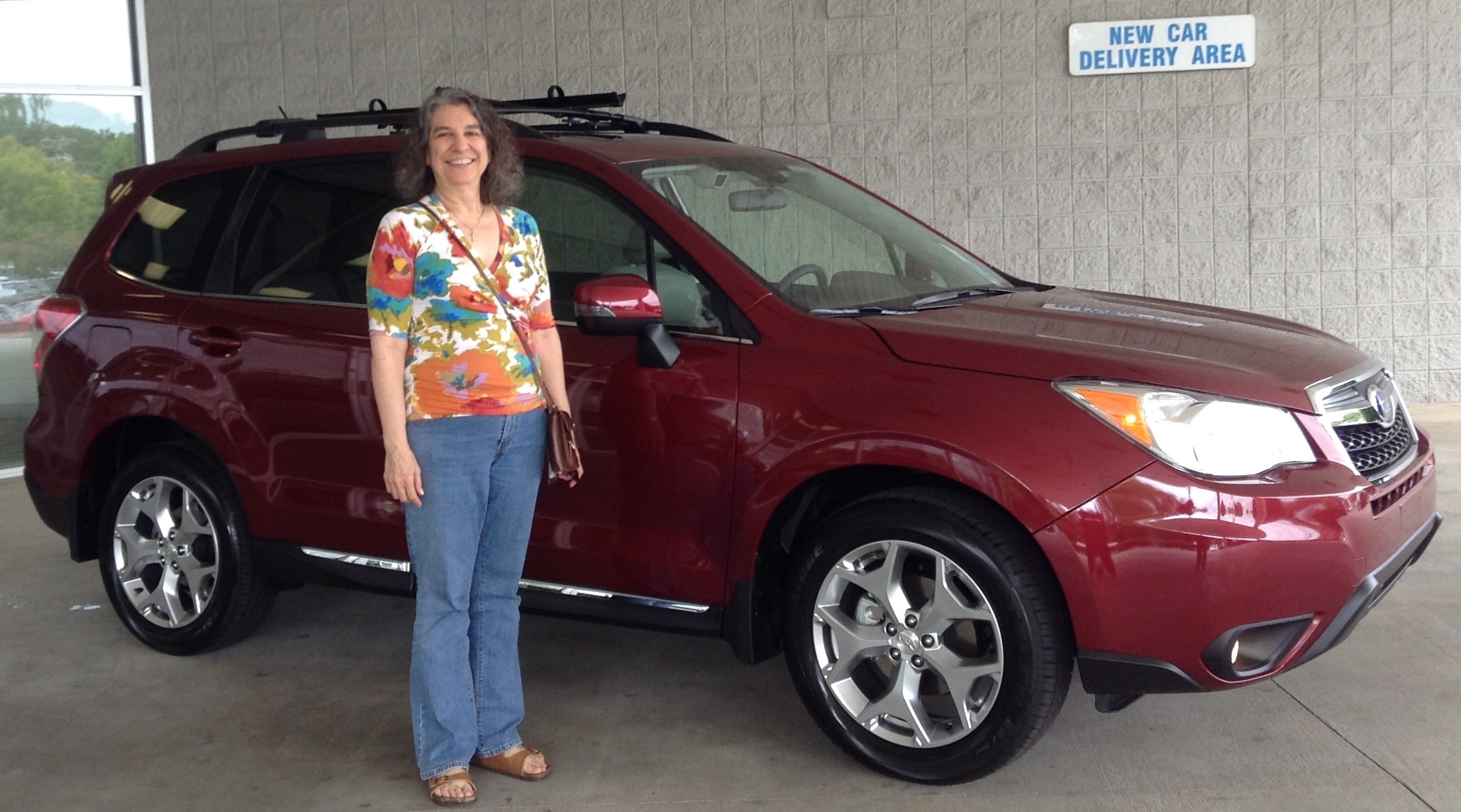 Marshal Westbrook, a student at JL Mann High School, was ecstatic to take delivery of his 2015 Subaru BRZ! Such a wonderful surprise from his parents!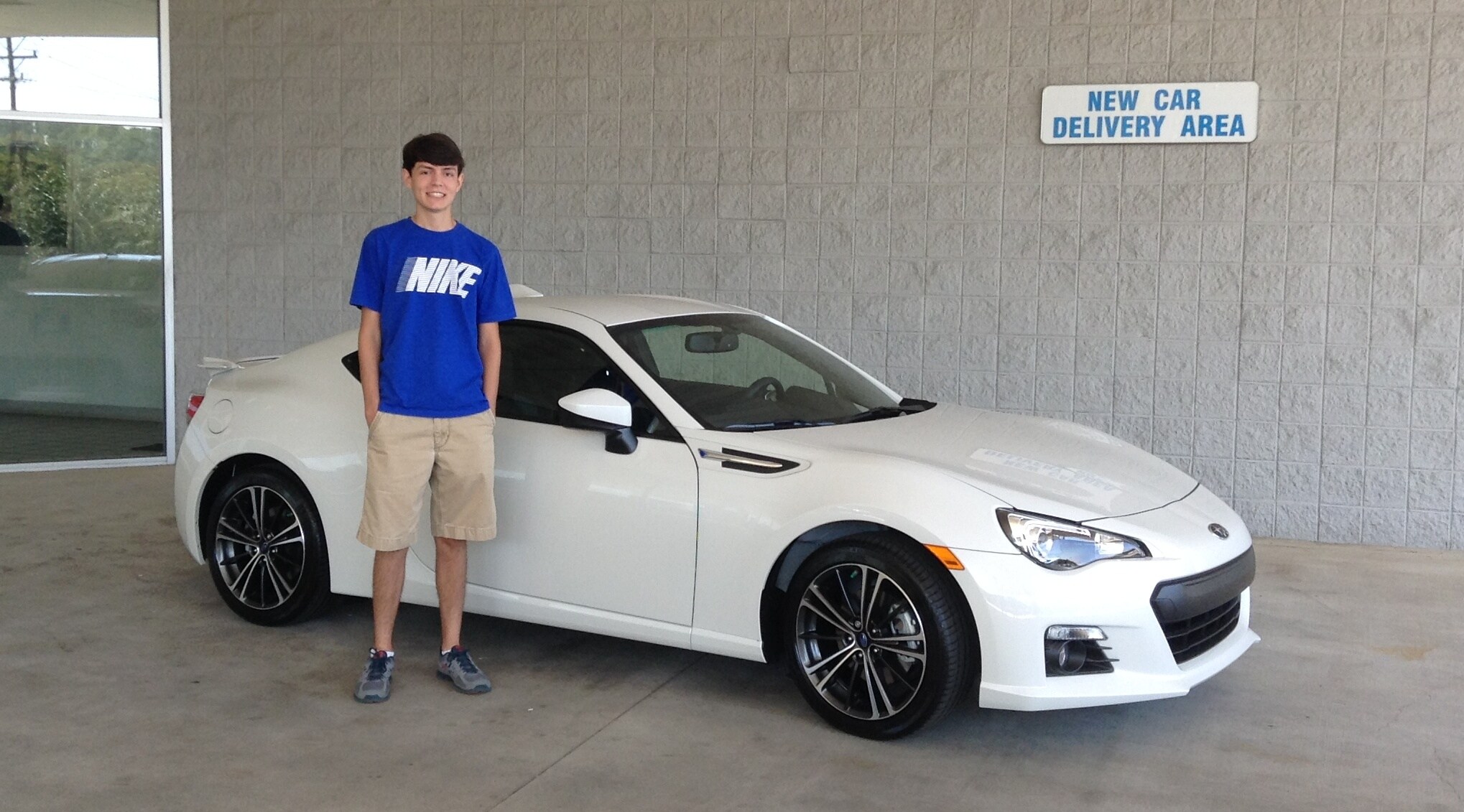 Tyler Hands is in the Marine and just moved back to town! He and his wife, Virginia, are celebrating with the purchase of a new Subaru XV Crosstrek!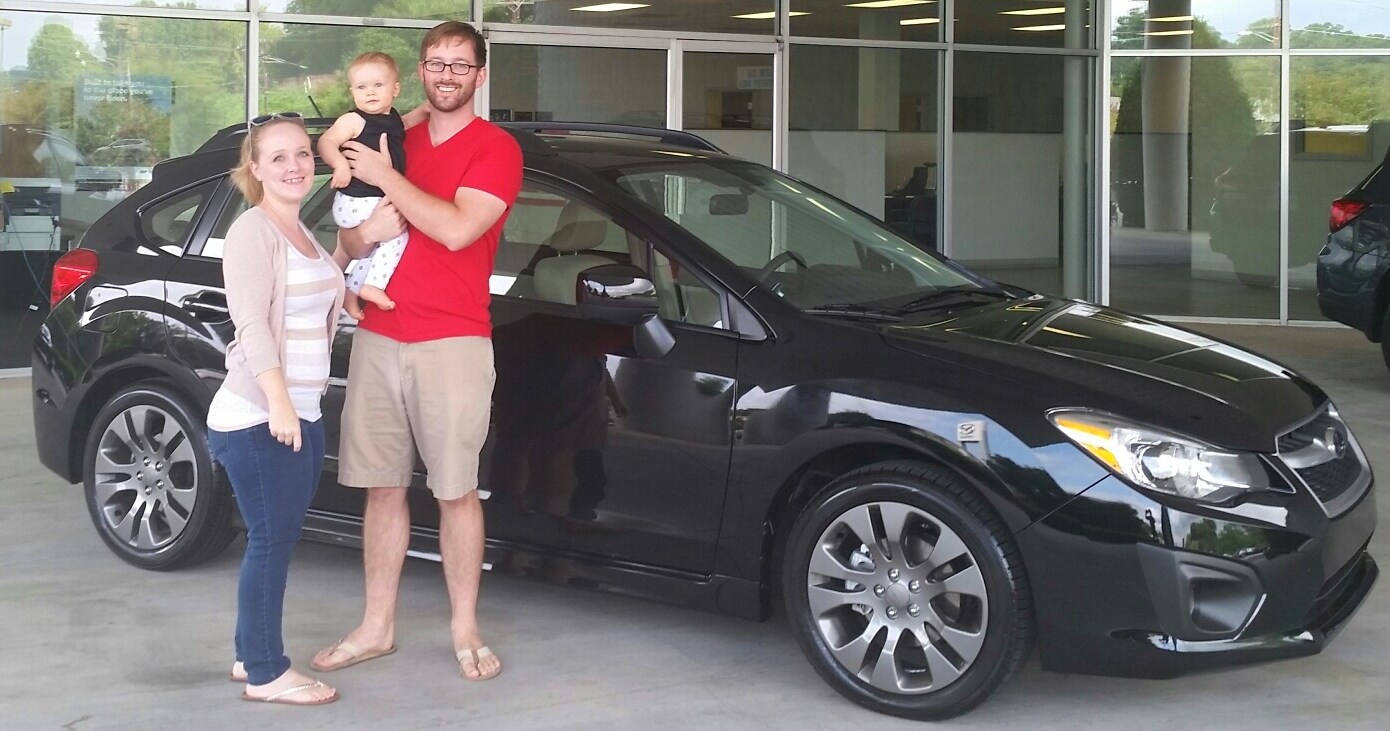 Leslie traveled all the way from Ann Arbor, Michigan to purchase her 2014 Subaru Outback. Yes...Vic Bailey Subaru really is worth the drive!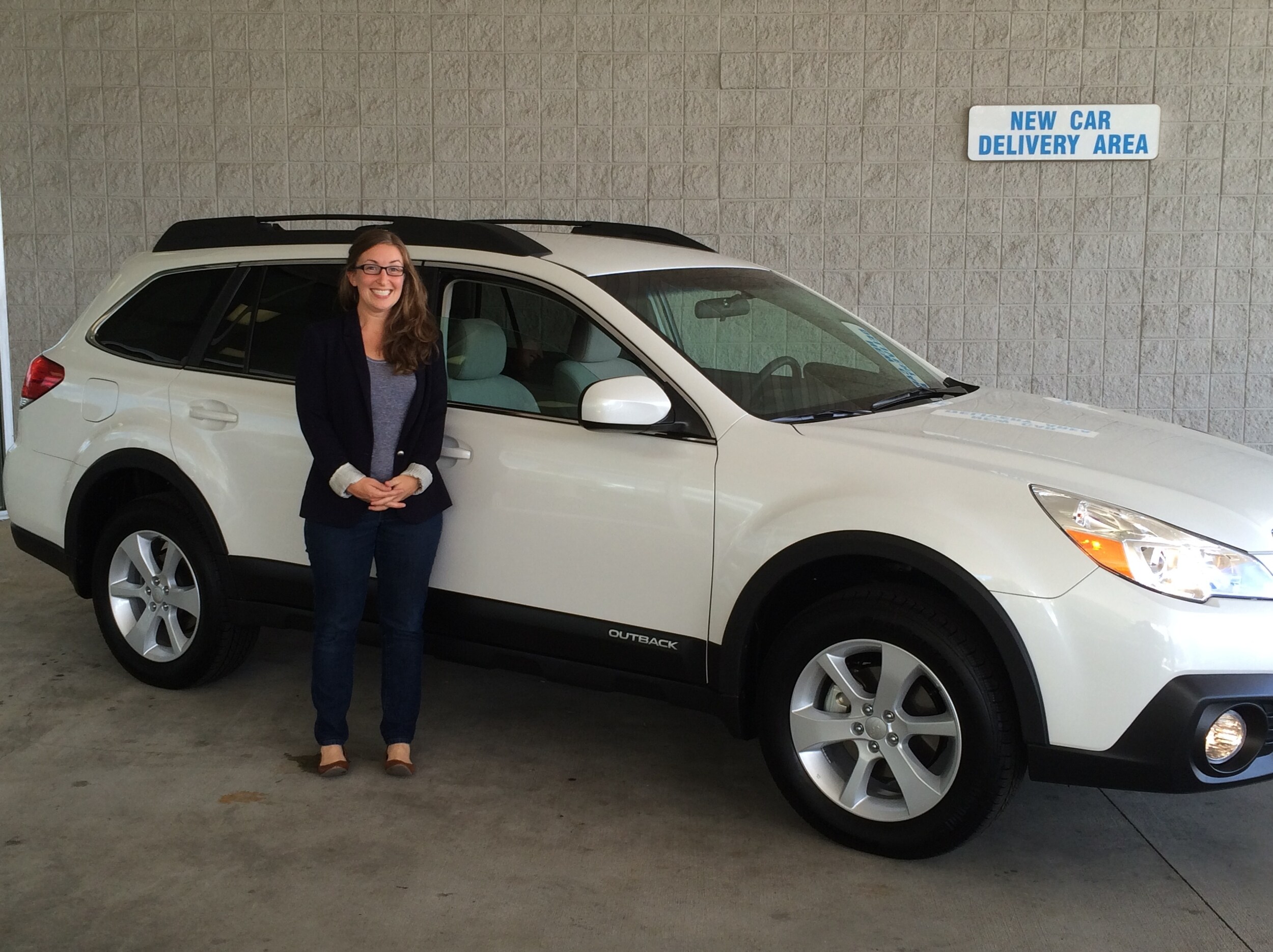 Julie Bayne is officially the best mom in the world! She purchased her son a Subaru BRZ and he can't even drive for another year!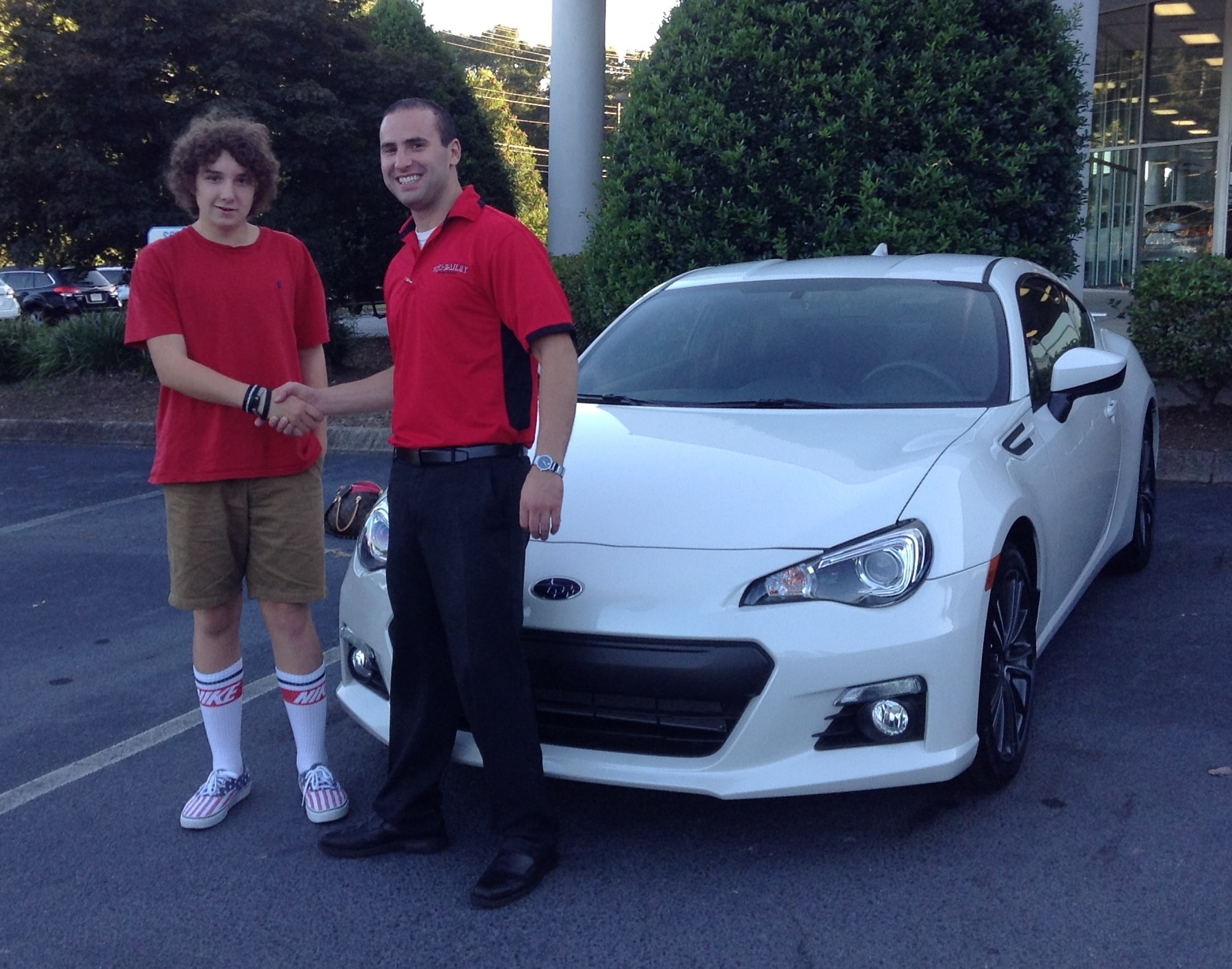 Chris and Mary Pat Walker test drove numerous SUVs and crossovers in their search for a new vehicle. Once Jerry took them on a 2015 Subaru Outback test drive, the search was over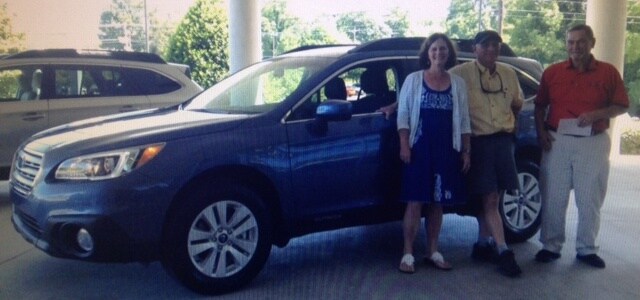 William Norton desperately wanted more space in a vehicle so Eric offered him a great deal on a used Subaru Outback. Mr. Norton couldn't be happier!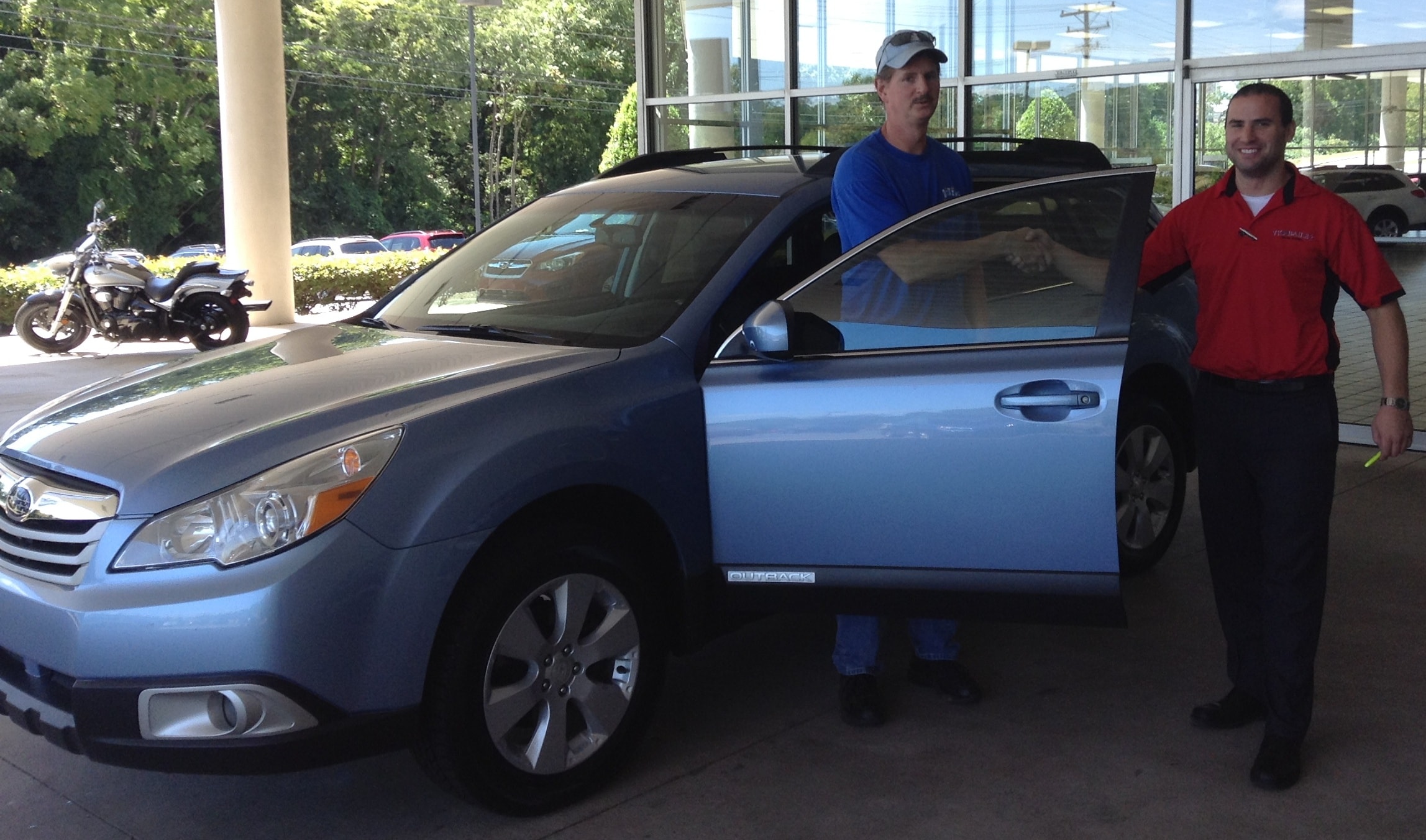 Poor Alexis' old Impreza was caught in a recent storm, flooding her car. A Subaru girl at heart, she stepped up to her new tangerine orange pearl XV Crosstrek Limited...officially named Gator!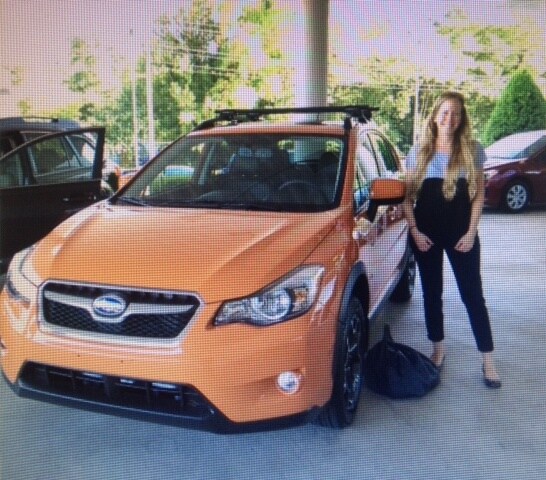 Mark and Chandler had been hunting down the exact color and trim level 2014 Outback they desired. and we had it!! After an effortless transaction, they drove off ecstatic in their brand new Outback Limited!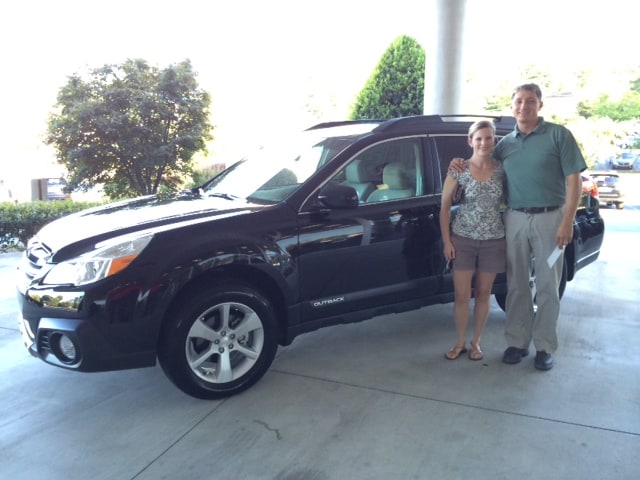 Marianna and Michael began research for their second Subaru almost a year ago with our salesman, Steven Darchiville. They wanted something to keep their 2014 Subaru Forester company in the driveway! After much deliberation, their special ordered wilderness green 2015 Outback Limited arrived! This vehicle will undoubtedly see multiple adventures for this crazy, fun-loving couple!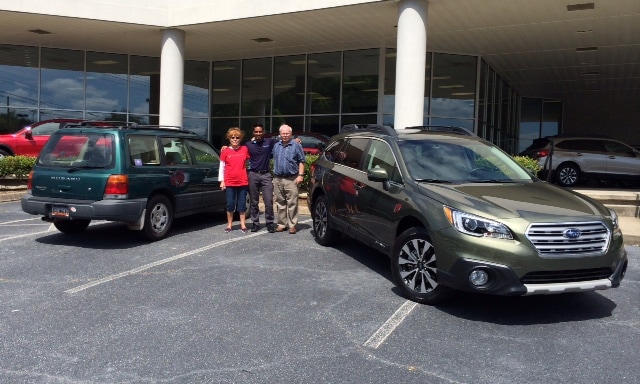 Julie Pyles & her husband Ashley traveled all the way from West Virginia, to purchase their 2015 Forester Touring!! Now they are off on an adventure to Lake Lure!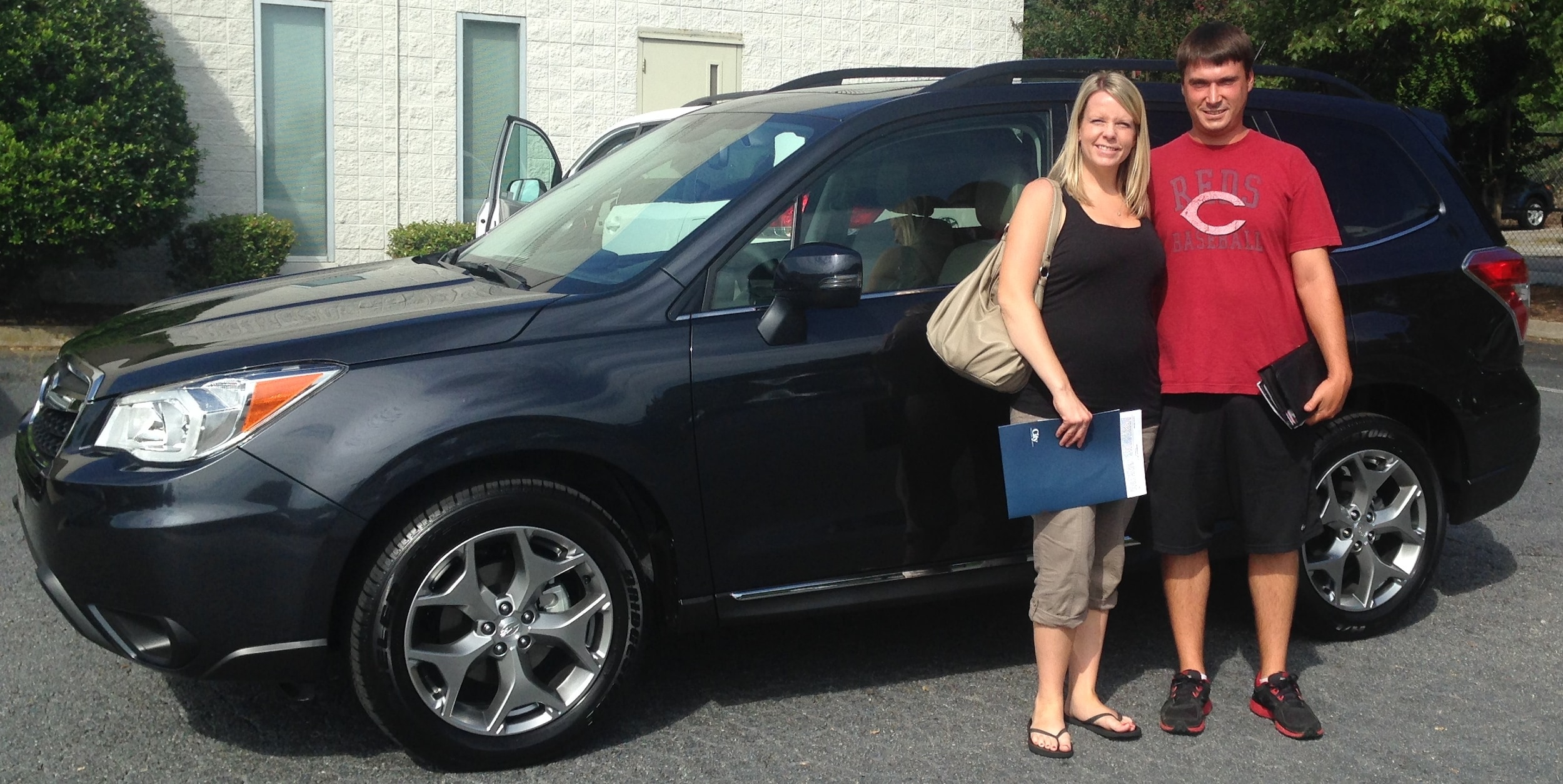 Terrific automobile!
Outstanding salesperson!!
Wonderful dealership!!!
Professional Sales Manager!!!!
Hot coffee.
Friendly family atmosphere!!!

John Allen Albree, LTC, USA (Ret)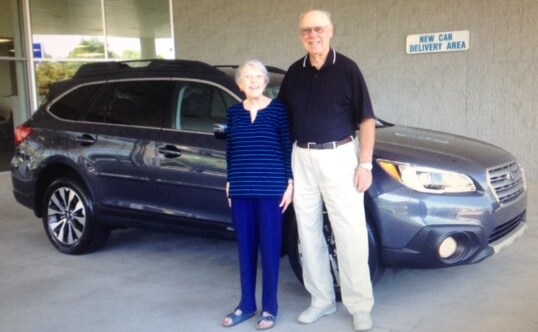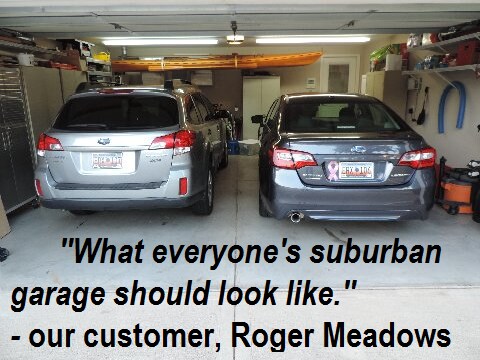 Robert was thrilled the delivery day of his ordered Subaru Outback 3.6 Limited finally came!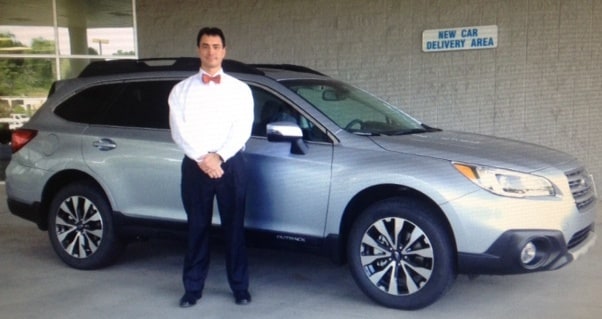 Roger Meadows and his wife love driving Subarus! They were happy with their Outback but loved the look of the all-new 2015 Subaru Legacy! Once they learned more about the infotainment system and new safety features, they were ready to place an order for this vehicle in high demand!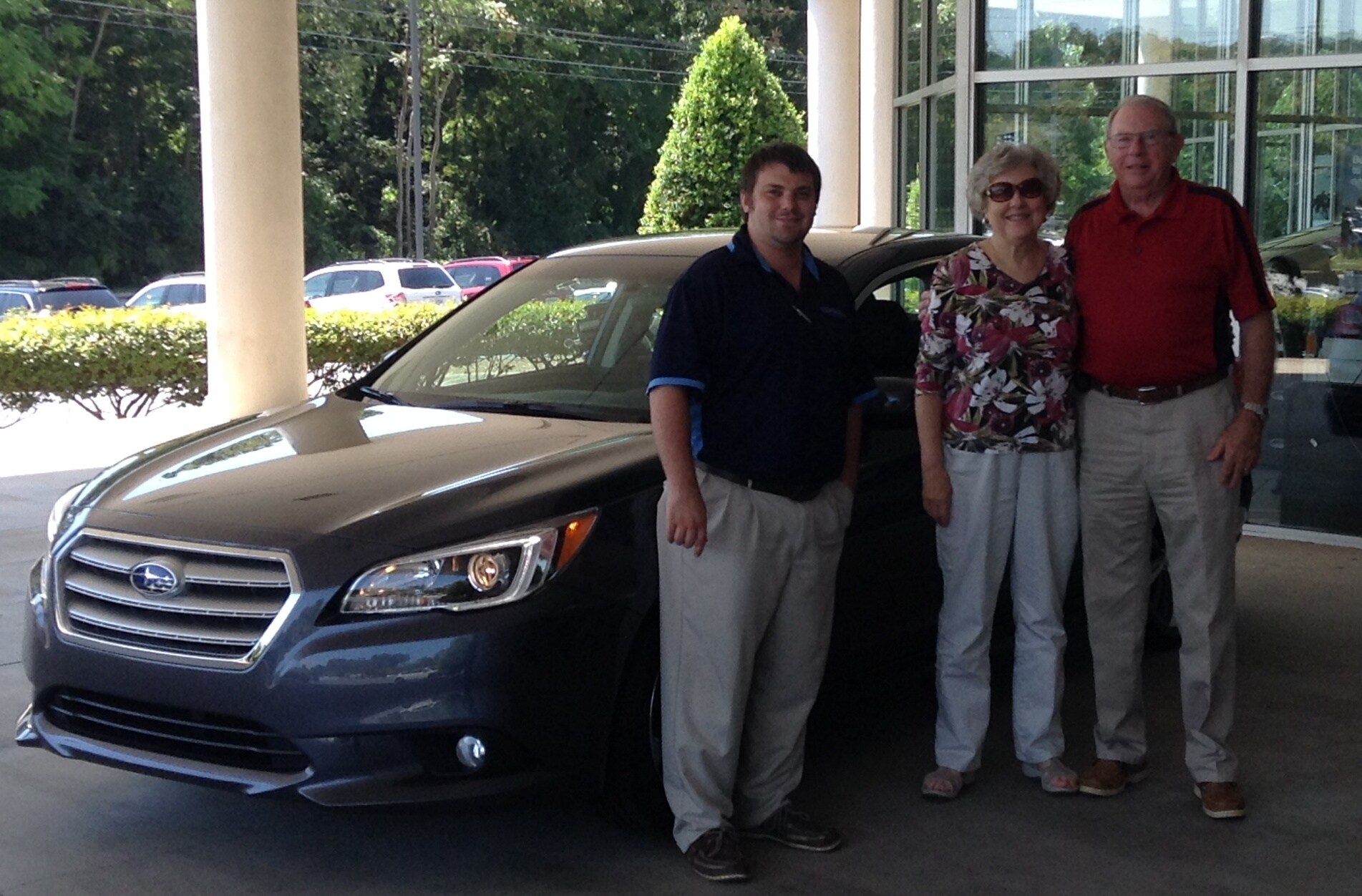 Our General Manager, Jim Sackett, knew he and his wife, Jodi, needed to trade their 2013 Outback in for the all-new 2015 Subaru Outback after hearing about all of the new features! Jim was one of the first to test drive the vehicle and was amazed at what a difference there is between the models! Jodi couldn't be more excited!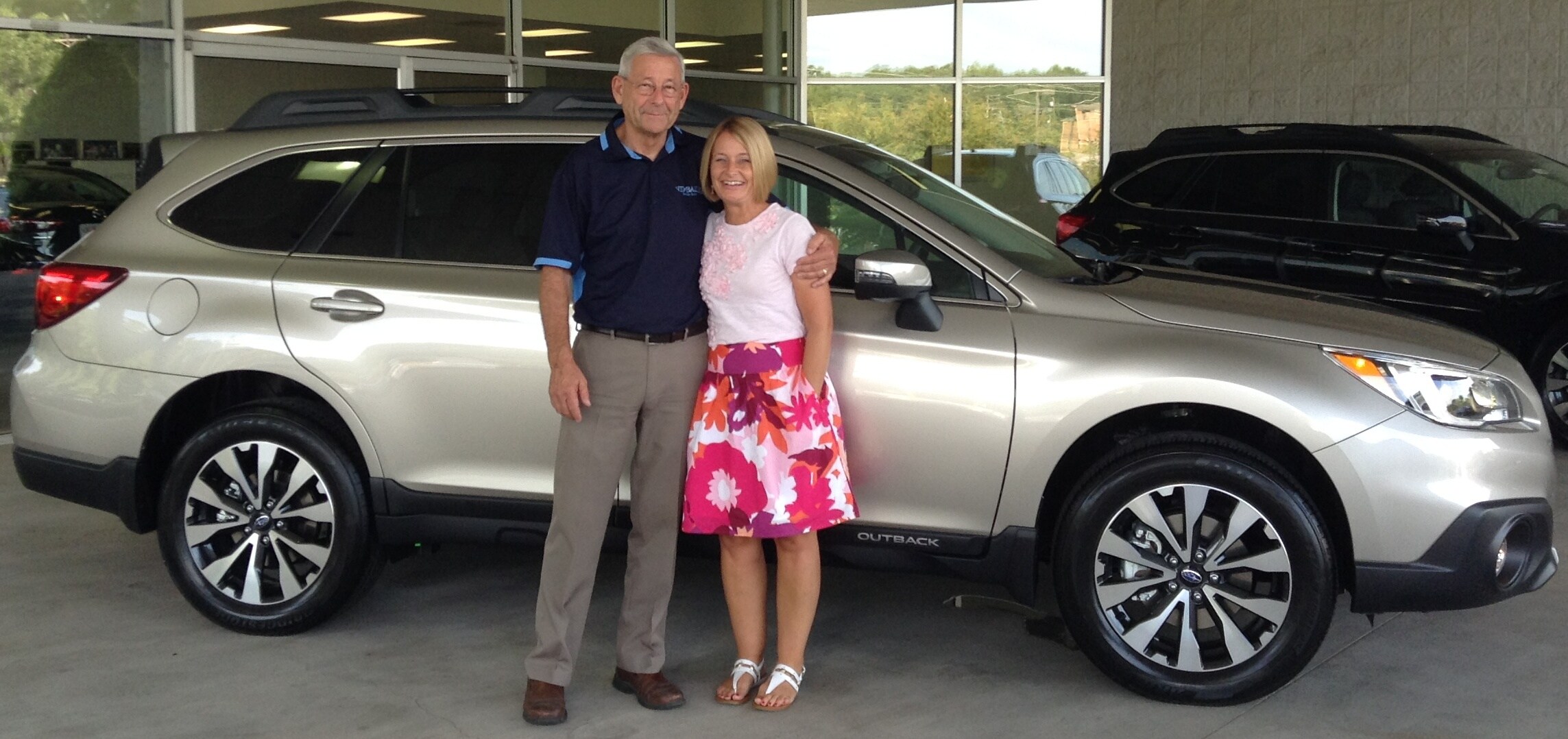 The Fosters were shopping for the perfect SUV, and after comparing and researching different brands, they decided that the 2015 Subaru Forester was the top pick!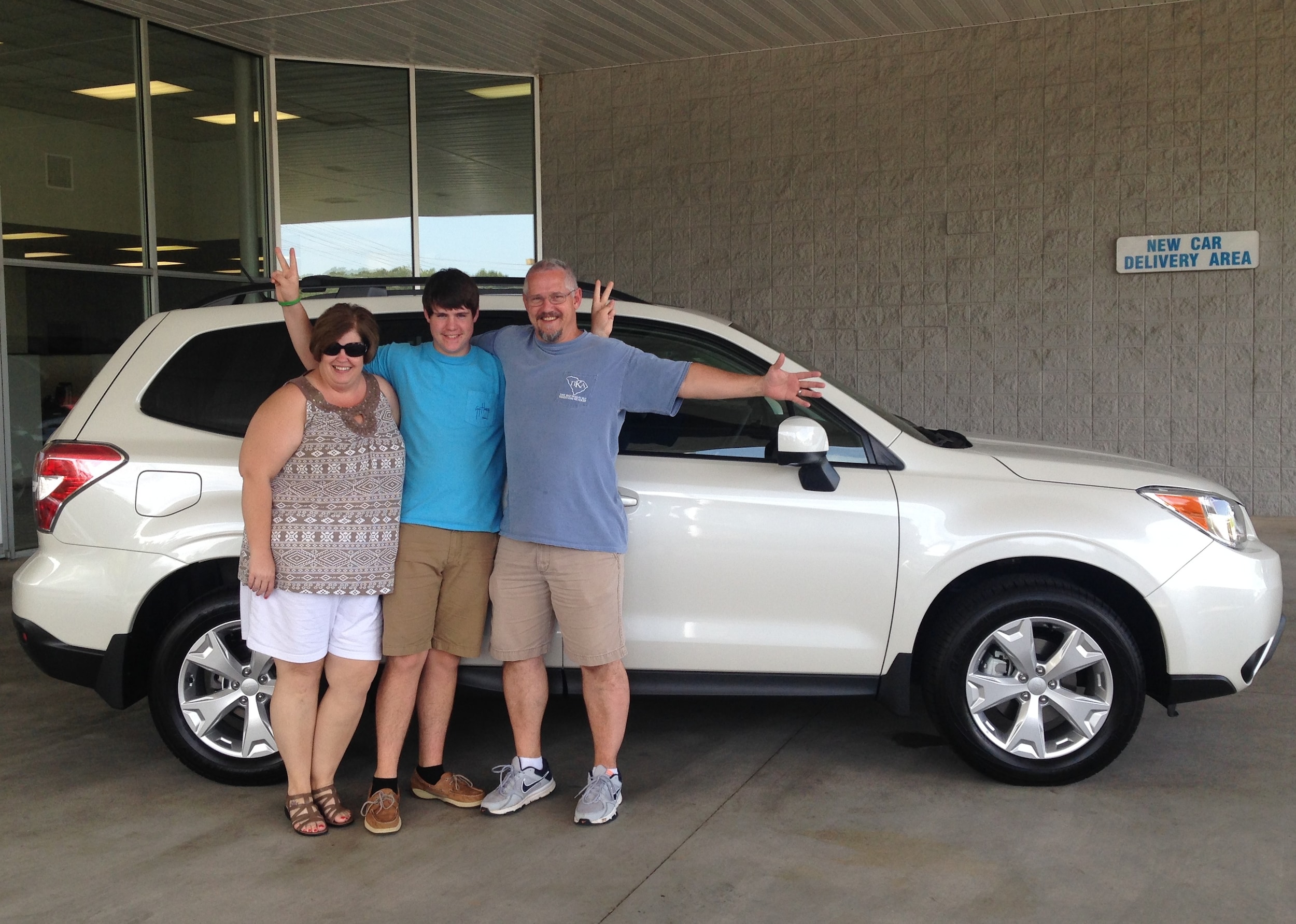 Kyle and Ariel Sikkila are ecstatic about their purchase of a 2015 Subaru Forester 2.5i Limited! David knew the Subaru SUV would fit the needs of this young couple on the go!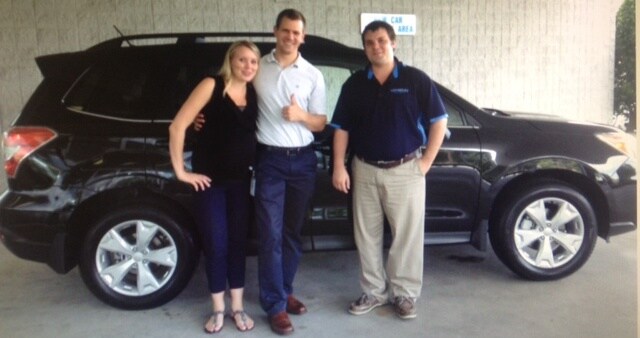 When this couple expressed safety for their newborn and space for a car seat were on the top of their priority list, Jerry knew the Subaru Forester was the perfect vehicle for their growing family!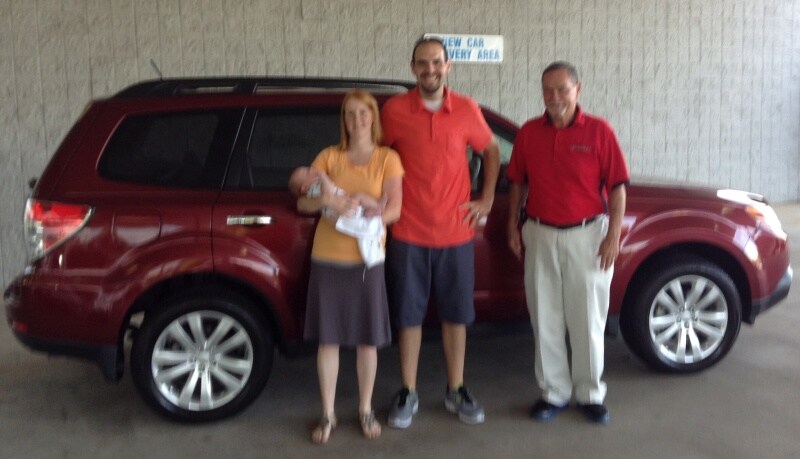 Robert & Autumn Andrews purchased their 2014 Subaru XV CrossTrek yesterday. Now they're headed to Pigeon Forge, TN for the weekend!!



The Hayes family - Nate, Vanessa, and little John John, wanted a fun-to-drive and fuel-efficient Subaru so they traded in their 2007 Tribeca for a 2014 Crosstrek!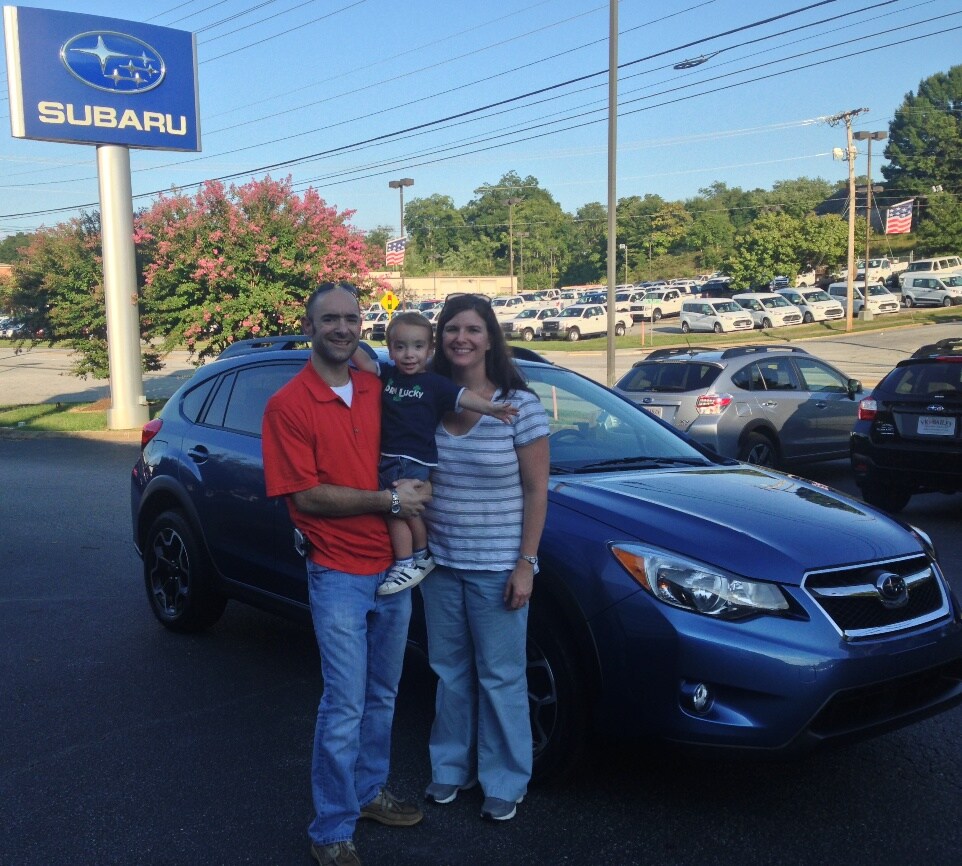 The Hagoods enjoyed their hassle-free used car buying experience at Vic Bailey Subaru!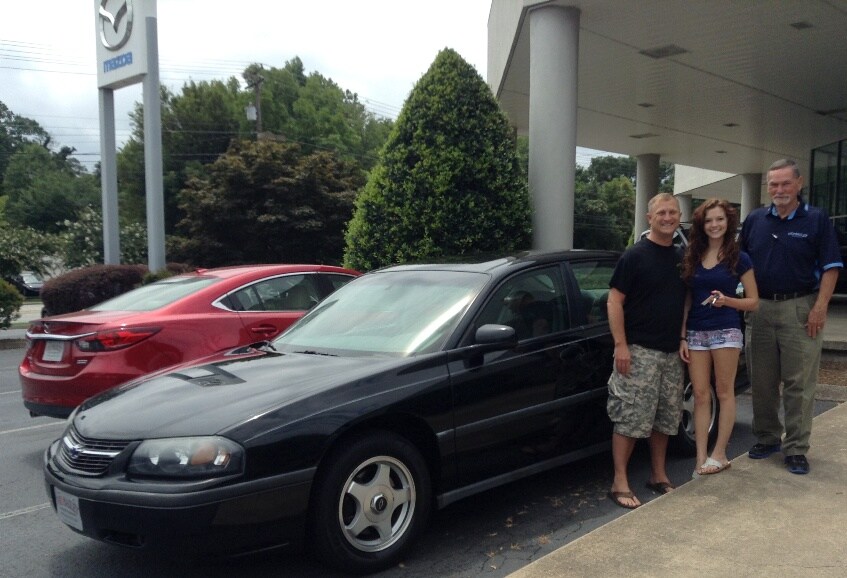 Mary and Steven Ramey were shopping around for a new car Thursday. Steven loves Subarus, but his wife hated them! He asked her to drive one just to satisfy him. It wasn't long before she fell in love!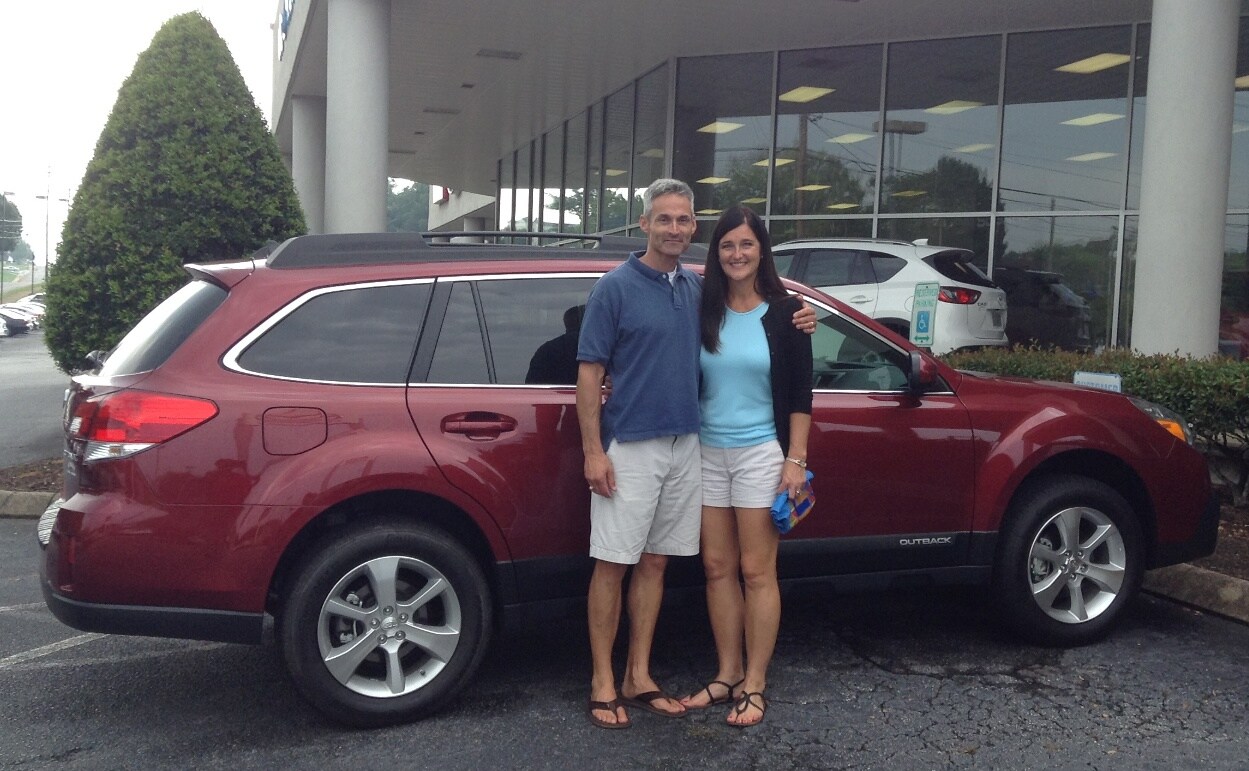 Our salesman, Jonathan Meredith, was able to put Jade into the car of her dreams for an affordable price!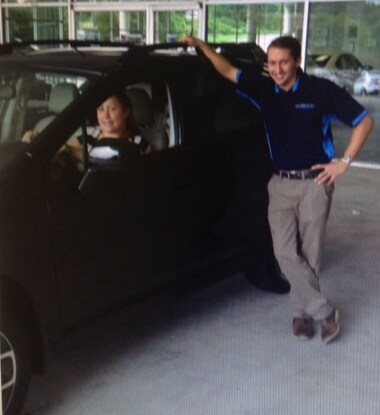 Mrs. Pruitt loves her new Outback! It is the most versatile vehicle she has have ever owned.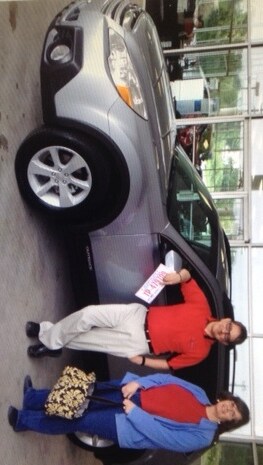 The Thompson family purchased a new Forester for its perfect size and level of safety!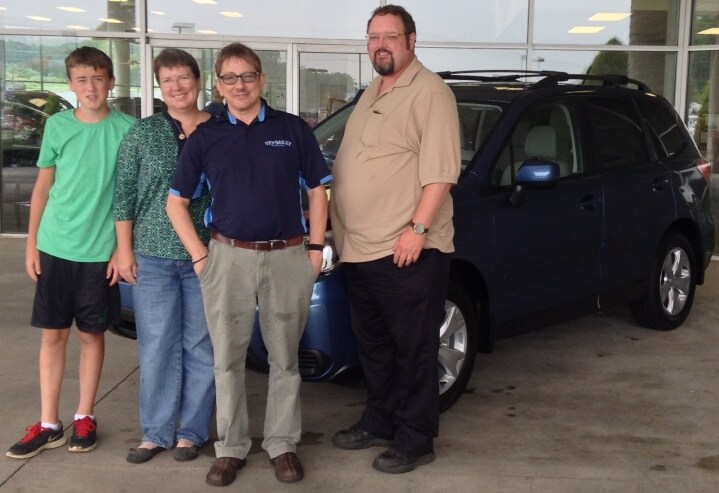 Carla Taylor loves the sporty feel of her new Subaru XV Crosstrek! With the Crosstrek's race car feel, driving is more exciting for her than it has ever been before!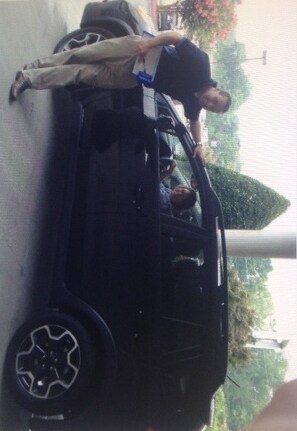 Laura and George Lipscomb needed a vehicle that was safe, practical, and fit their family of 6ft+ members. The outback was their perfect choice!




David and Terresa Deakins drove all the way from Tennessee to pick up their special ordered 2015 WRX! Looking for something practical and fun after a long day at the nuclear plant they both work at, the WRX was the perfect choice!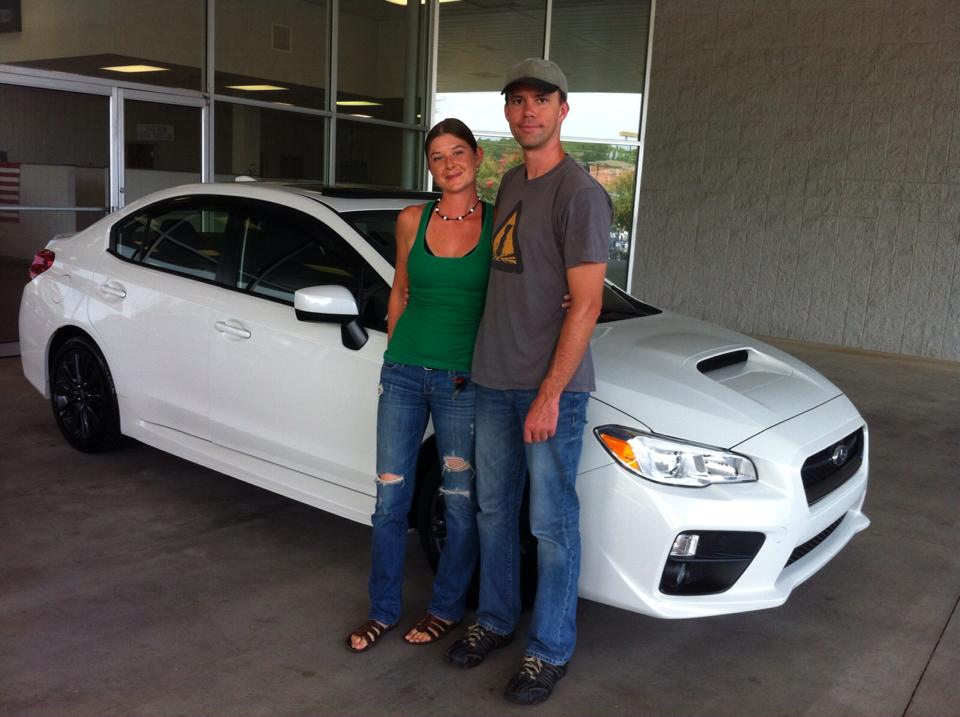 Once Daniel Peterson and his wife heard MotorTrend named the Subaru Forester the SUV of the Year, their hunt for the perfect SUV was over. They happily purchased this 2015 Subaru Forester 2.5i Limited with the help of Jonathan Meredith!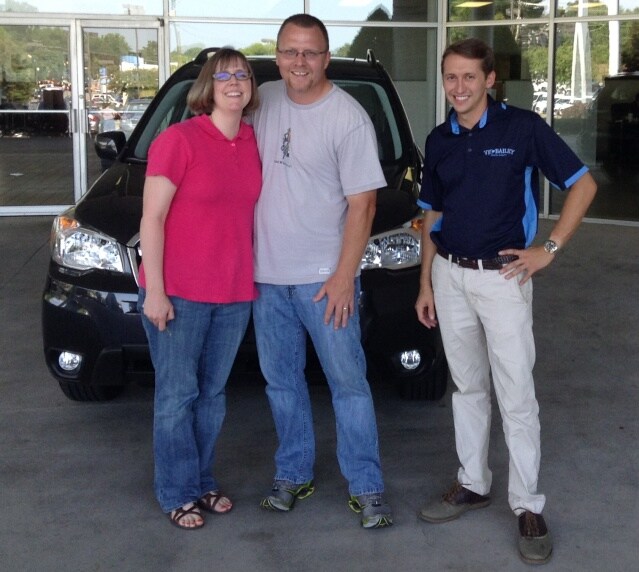 Richard and his wife bought 2 Subarus in 2 days from us! Jonathan Meredith helped them decide on a 2014 Subaru XV Crosstrek (pictured) and a Subaru Forester!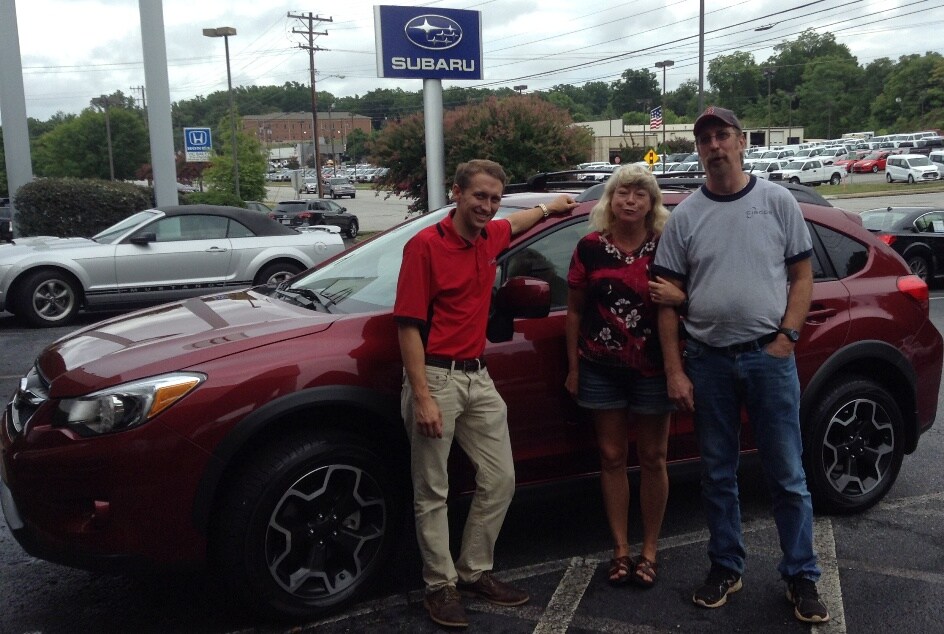 Arianna and David Greenberg happily drove away in this 2009 Subaru Forester after we gave them an amazing deal!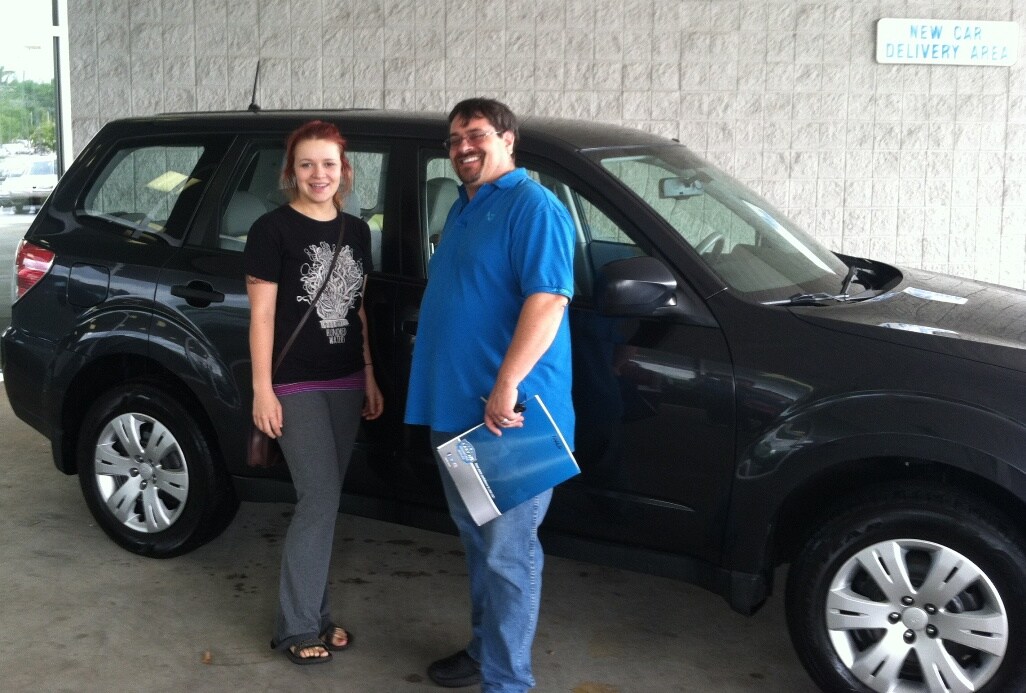 Lukasz and his son stopped in to pick up a new Impreza! Lukasz has always wanted a Subaru and in recent years he has missed driving a manual. He decided to come by and get just what he has been dreaming about!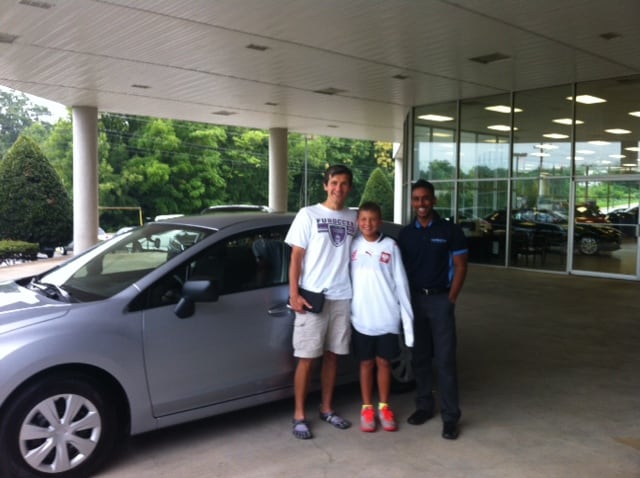 Joseph Burnett absolutely loves his new Subaru XV Crosstrek! and his kids now he is the coolest dad around!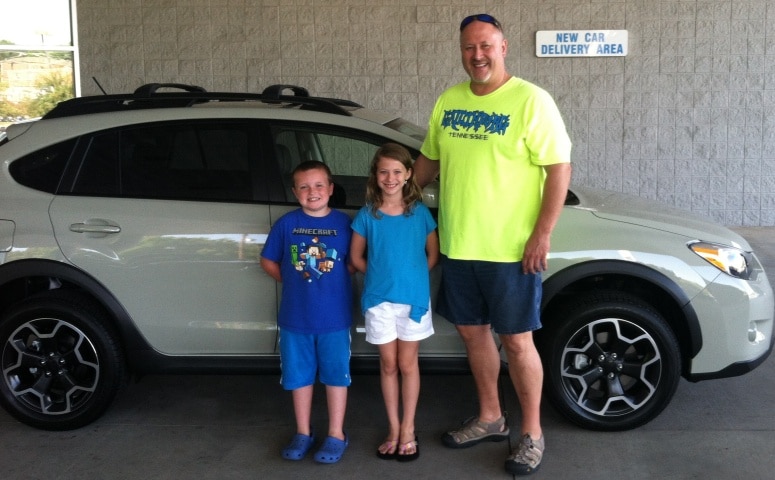 Lois Martin was thrilled to start her weekend by driving away in a new Subaru XV Crosstrek! She quickly discovered it is the perfect vehicle to fit her active lifestyle!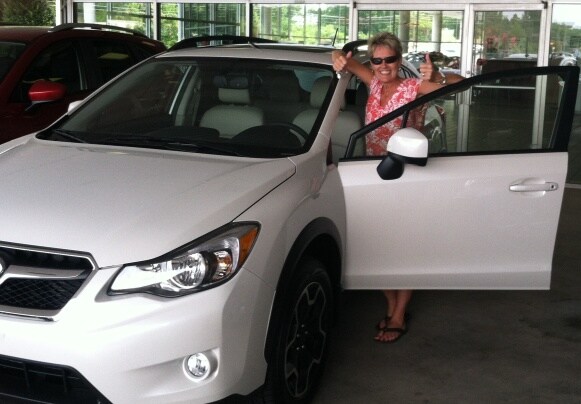 Kevin Riddle purchased a 2015 Subaru Outback this afternoon! He wanted something safe for his family. He knew the Forester was an IIHS Top Safety Pick. Once Eric educated him more about the Subaru Eyesight Safety System, the decision was made!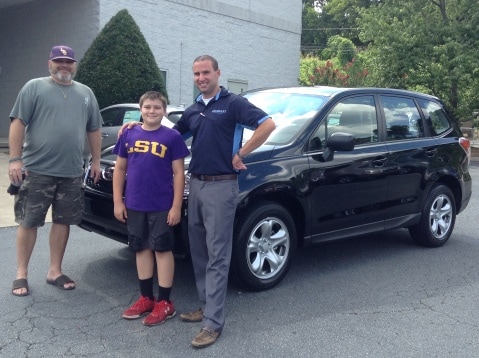 Robert and Heather Pickens just purchased their 3rd Outback from us! They are some of the first to own the all-new 2015 Subaru Outback! Robert and Heather always enjoy working with Shannon Whitener at our store.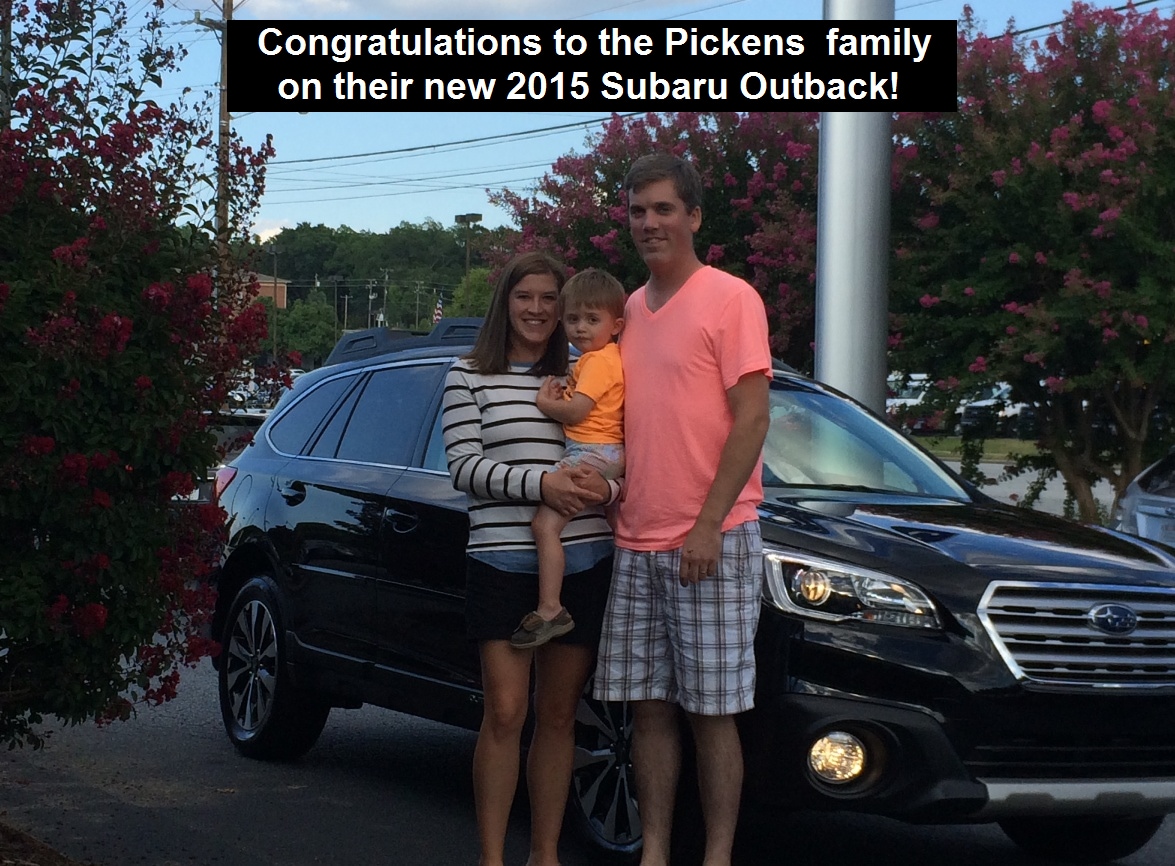 Jaime Wells Nash was nervous about buying a car for the first time on her own, but it ended up being a breeze! She knew she needed something spacious and safe for her family, but definitely not a minivan! The decision was easy once she started researching the Subaru Outback. She and her husband look forward to many fun road trips! Congratulations, Jaime!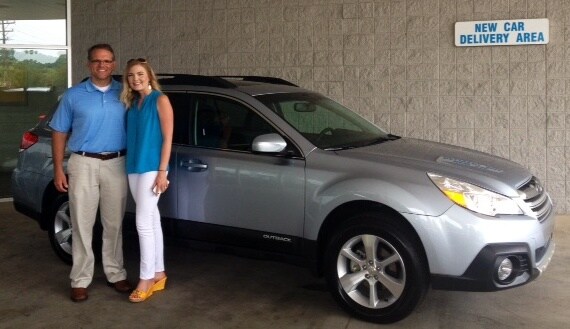 Congratulations to Wade on his very first vehicle purchase! He wanted something cool to drive but safe for his 6 year-old daughter to ride in. He got the best of everything with this
2014 Subaru XVCrosstrek!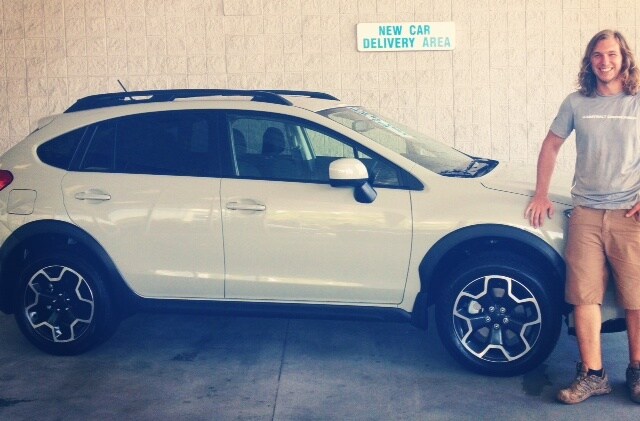 Roger and Wanda Meadows just returned from driving their faithful 2010 Outback from here through TN, KY, MO, ARK, OK, TX, LA, MS, AL, GA, and home. It now has about 79,000 miles and runs like the first day off the lot! They sent us a picture of Wanda using a different mode of transportation at the Fort Worth Stockyards!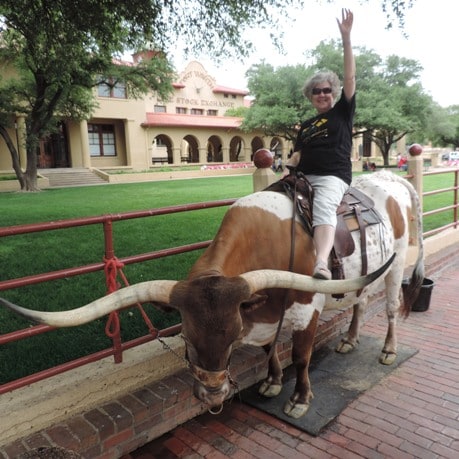 Tom Leland, a former employee, purchased his second Subaru today! Tom has always loved the XV Crosstrek & today he decided to make it official. Tom is pictured below with his wife Bambi and daughter Courtney. They look forward to a summer full of adventures!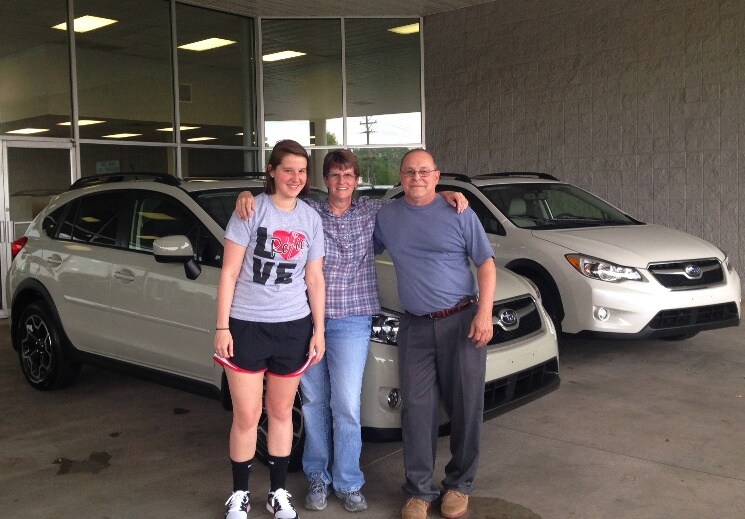 Laura Bauknight left the dealership in a brand new Subaru Outback! With its high level of comfort, safety, and fuel economy...there was really nothing else that compared!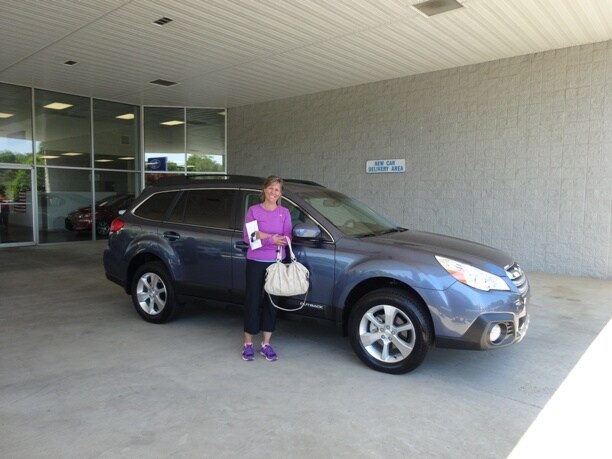 Our customer, Dorothy Kirk, had a frightening accident! Had she been in any other car besides her Subaru, she would be dead.
Read her full story.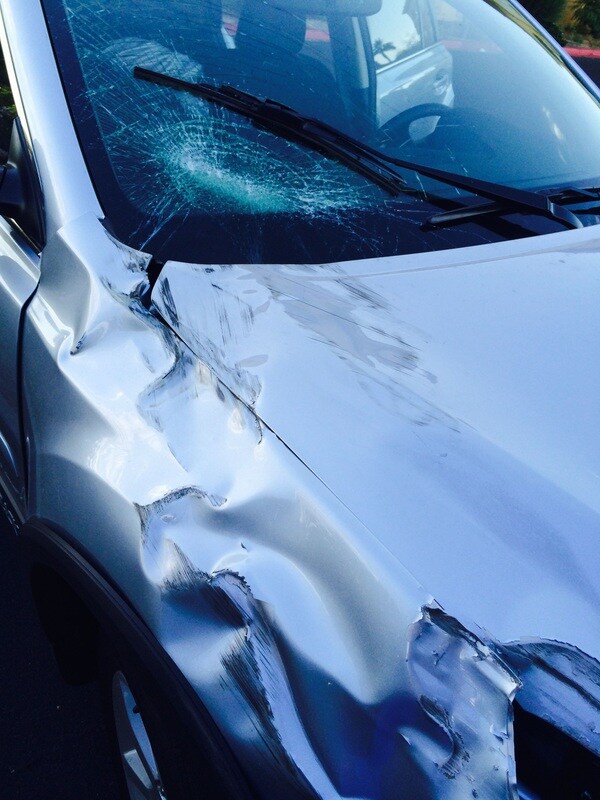 Marianne and Roman decided to trade in their minivan for a 2014 Subaru Outback. Having owned a Subaru years ago, they were very excited to be in one again! Many new adventures to come!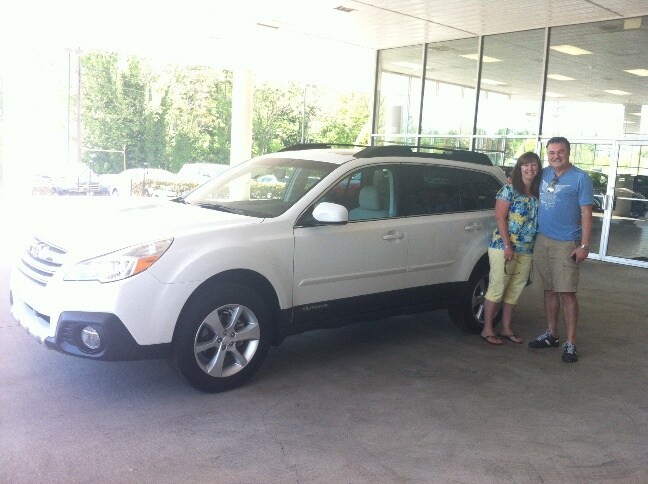 Mr. and Mrs. Maney came here from Sylva, NC to purchase this 2010 Outback! It was exactly what they were looking for!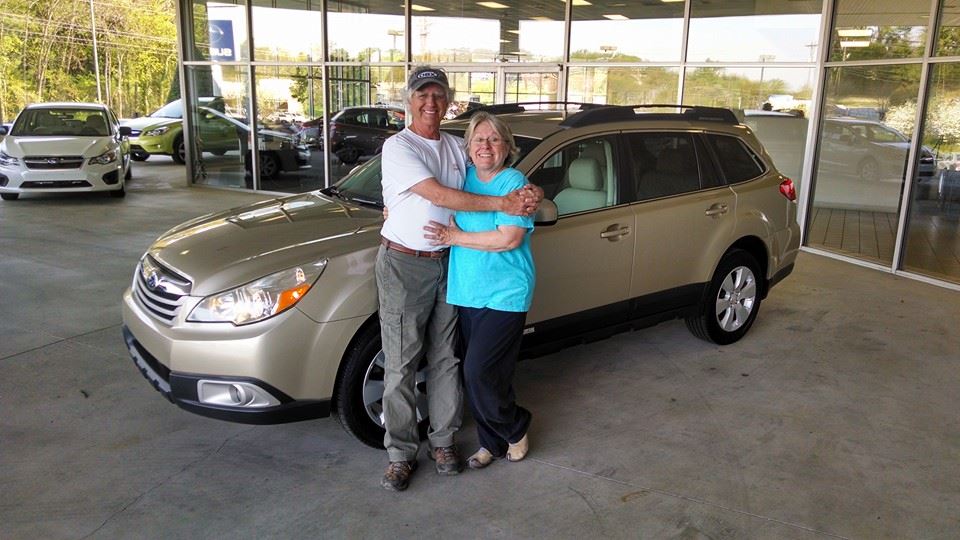 Gene drove all the way from Asheville for the great deal we gave him on a 2014 Subaru Outback!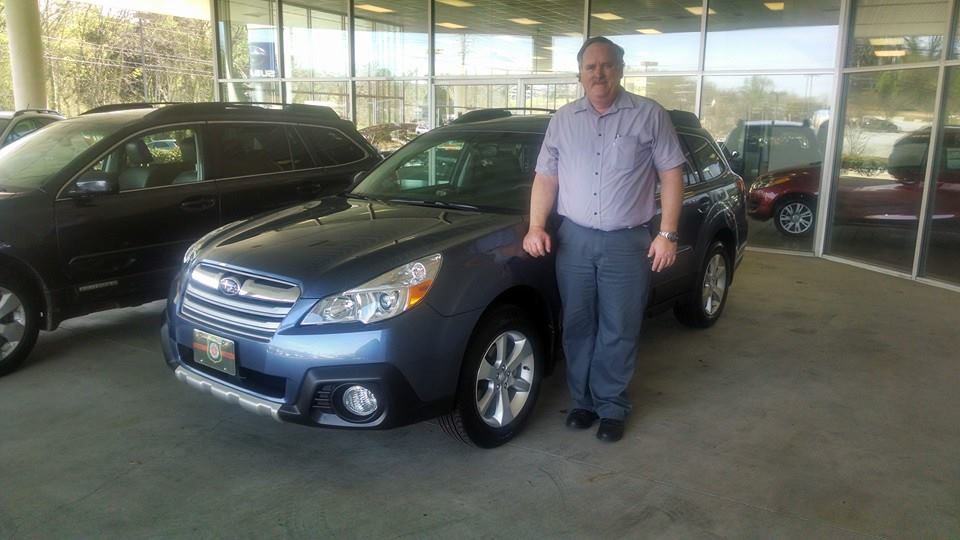 Mrs. Williams saw the 2014 Subaru XV Crosstrek for the 1st time when we had it on display at the Hub City Hog Fest in downtown Spartanburg. Four days later she traded her 2013 Accord in for one!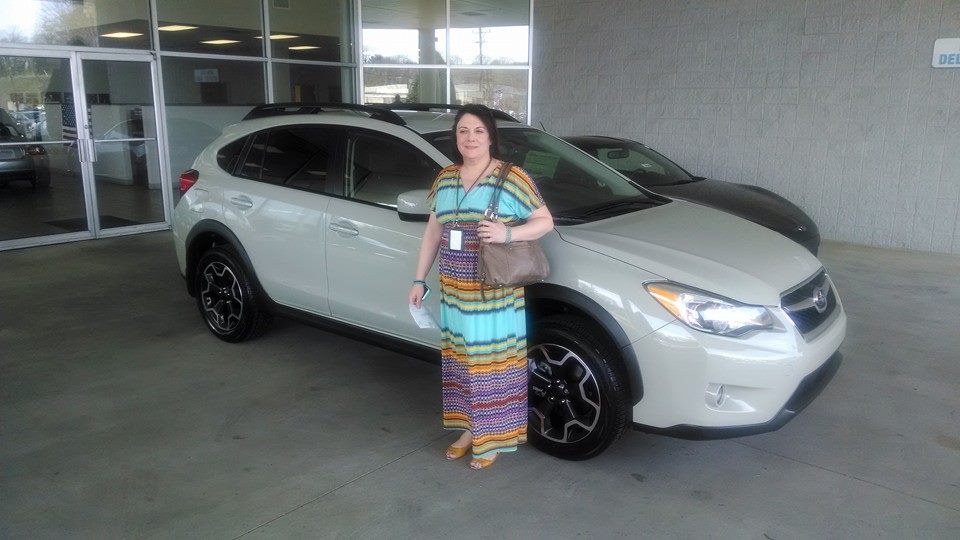 John Albree is loving his 2014 Subaru Forester! This is what he wrote about his experience on Edmunds.com...
"This was my second experience in purchasing a Subaru from Vic Bailey Imports in Spartanburg, SC. I never gave thought to visiting any other Subaru dealership. Their price was fair for the purchase and acceptable for my trade-in. My dealings were with Jason N (Sales Manager) Kyle R (Sales Consultant) and with Leslie B (Vice President of Marketing). All three were professional in attitude and were fully knowledgeable of their product. We have remained friends after the sale and I frequently visit them when in the Spartanburg area. Based upon my previous Subaru purchase, I am looking forward to my relationship with the Service Department."
John Albree has indeed remained great friends with us. He even helped deliver Mobile Meals with Vic Bailey Imports one morning!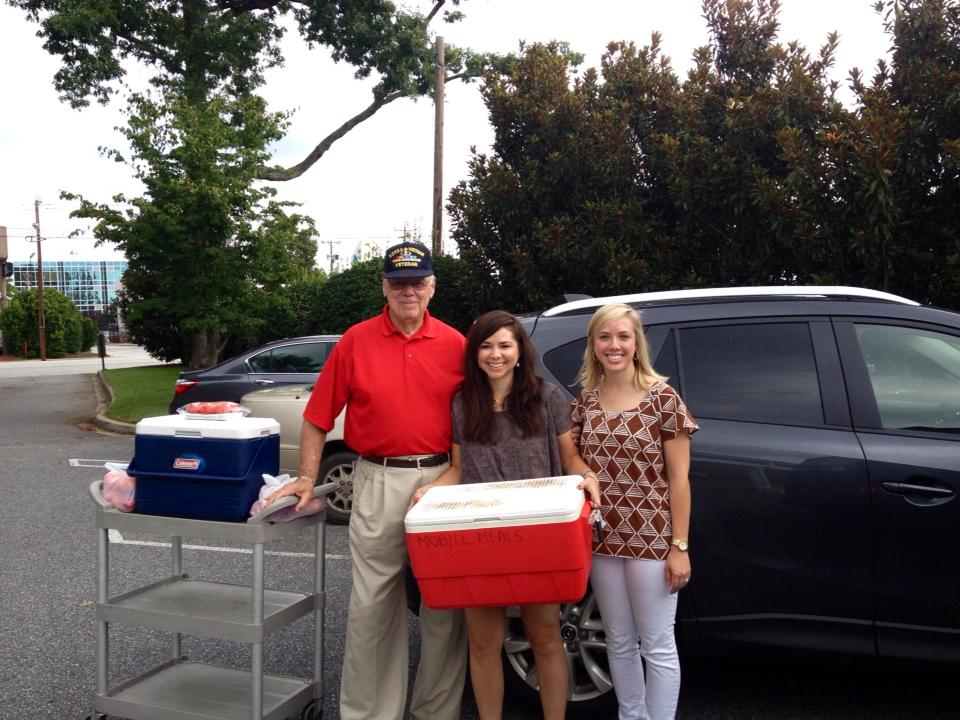 We delivered this used 2011 Outback 3.6R to Pete Angle at Surfside Beach! The Sky Blue color was produced for a limited time so Pete was happy to find one available on our website! If you're looking for a particular used vehicle, let us know so we can find it for you!
We are more than happy to deliver right to your door!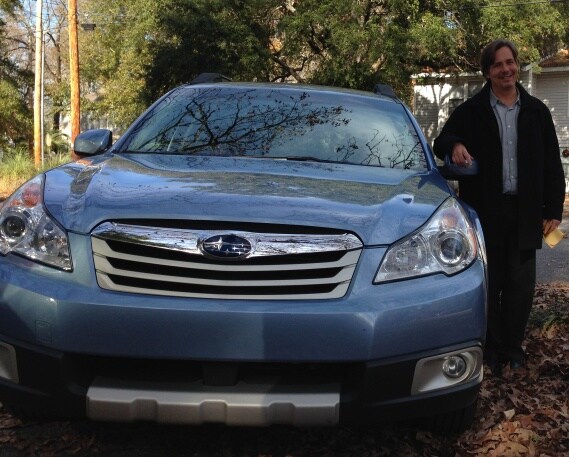 Andrew McGuffin is a HUGE automotive enthusiast! He eyed the Subaru BRZ for a long time before he was able to purchase one. Once Andrew finished his degree and started his career, he came in and made the purchase! We are so excited for him!
"I'll take anybody for a ride that wants one. This thing handles like a dream! and slides like it has spares on the back! I love this car! Many thanks to Steven for hooking me up!" - Andrew McGuffin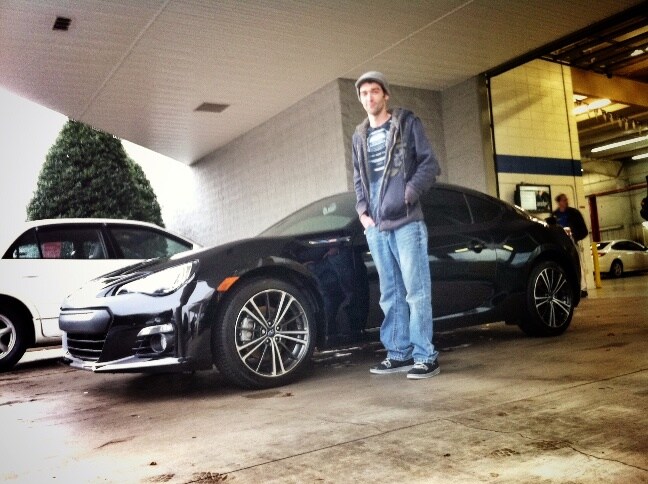 Our customer, Sarju Raiyani, has truly fallen in love with his Subaru Outback! He purchased the first 2010 Outback 3.6R we got in at our dealership and has been on the road as much as possible ever since! He recently reached the 100,000 mile mark and says he plans to drive it forever! He personalized it with larger wheels and a larger roof rack. He lives in Columbia and works all over the Carolinas but Sarju always gets his Outback serviced at Vic Bailey! We appreciate you, Sarju!!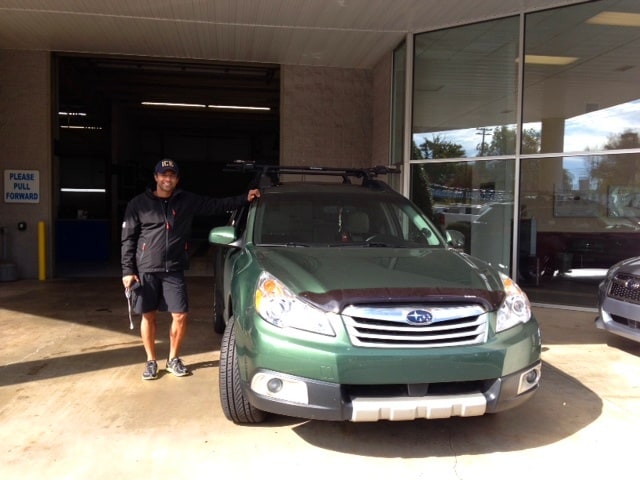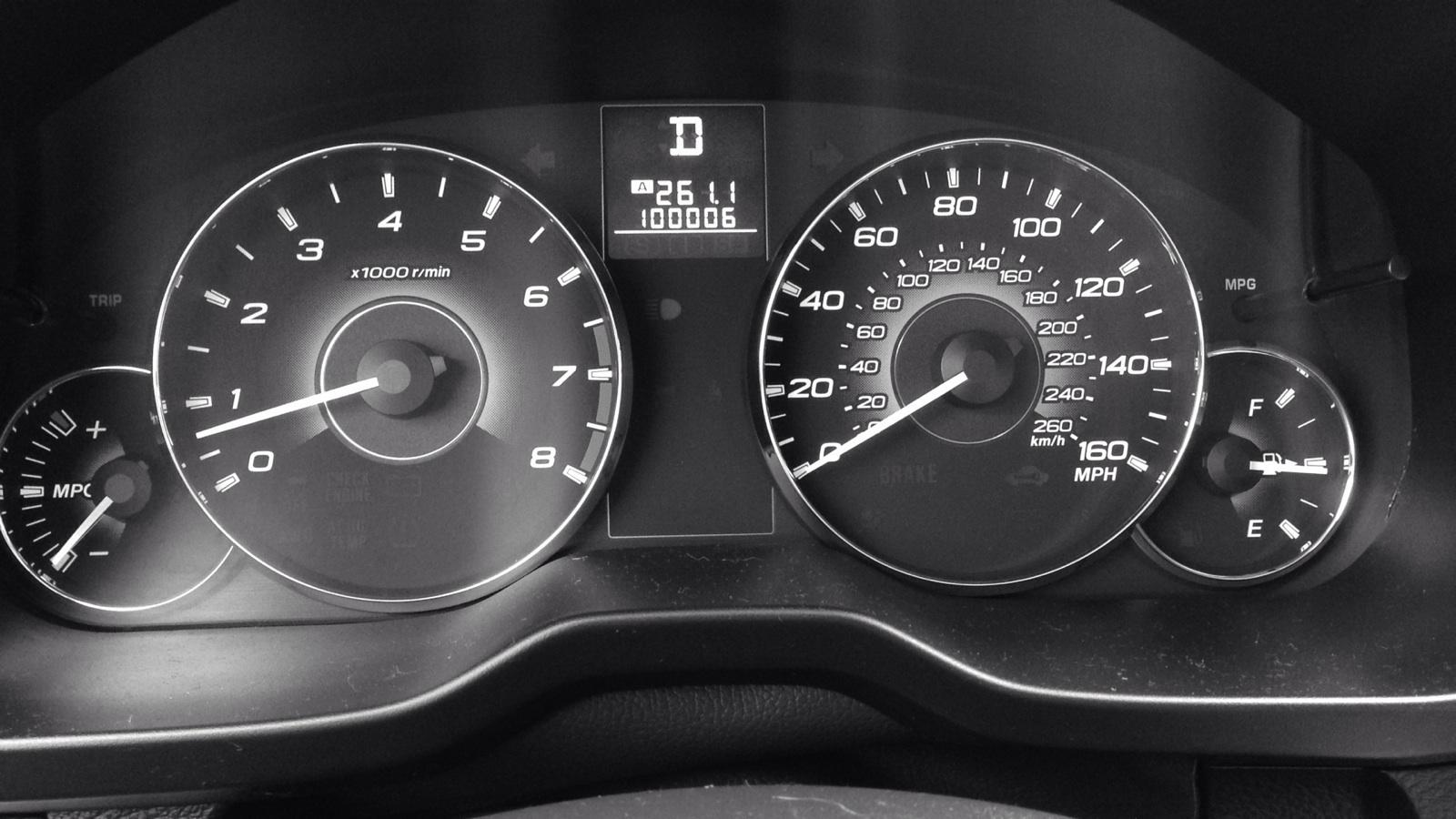 Young professional, Kate Conner, was sure to weigh all of her options before deciding to purchase a 2014 Subaru Forester. This was her first time shopping for a new vehicle! Kate decided on the Subaru Forester because it's the most affordable compact SUV on the market, yet it's fuel-efficient, spacious, and safe. The Symmetrical All-Wheel Drive will keep her safe on the roads this winter. Kate said now that she has her Forester all she wants to do is drive!