Vic Bailey Subaru Story

Vic Bailey Automotive has been a part of the Spartanburg community for almost 50 years and includes six new car franchises in Spartanburg, SC!
 It is a family business with seven members of the family working for the company.
 Since opening the doors of Vic Bailey Automotive, customer satisfaction has been first and foremost. Taking care of our customers allows them to become a part of the family, and they are able to rely on us for all of their automotive needs!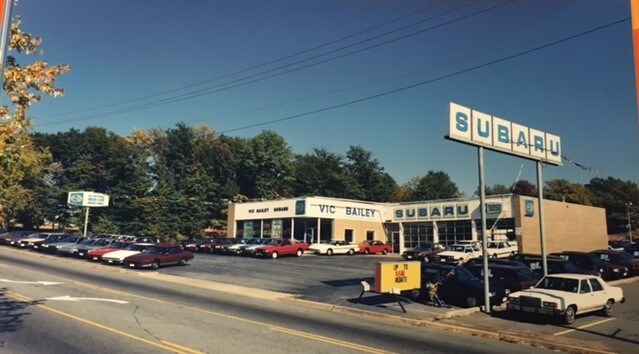 Vic Bailey brought Subaru to the upstate in 1985. Subaru is a great fit for Vic Bailey Automotive, allowing us to offer a high-quality vehicle in all categories. With Subaru's rating of the highest-predicted resale value, standard all-wheel drive, and all models rated IIHS Top Safety Picks, we are pleased to offer this unrivaled product!
Vic Bailey Subaru is passionate about giving back to our community. Subaru of America is a big supporter of ASPCA. As a result, we have a partnership with the Spartanburg Humane Society and have held pet adoption events  at the dealership, sponsored the organization's fundraisers, have the available pets listed on our website , and even get the pets to star in some of our commercials! Our reinvestment in the community doesn't stop with the Humane Society! Check out our Vic Bailey Subaru Gives Back page to see a list of organizations. 
We were voted "Best Used Car Dealer" in the 2016 Best of Spartanburg listings!